I first became interested in chicken adobo when I saw a recipe for it using a slow cooker. It looked delicious but completely different than the adobo that I was familiar with. I thought adobo was that rich, spicy, reddish-brown mexican sauce that comes with chipotle peppers. The recipe I saw didn't even involve any chile peppers. So then I just had to learn more…
What is Chicken Adobo?
Chicken Adobo is a Filipino dish and is not at all like the Mexican or Spanish Adobo that I was familiar with. Filipino adobo is a tangy, salty mix of vinegar, soy sauce, garlic, and spices that are used to marinate and stew meat. It creates the most flavorful and complex meat you've ever had. It almost reminds me of jerky that's not dried.
If you want to learn more about Filipino Chicken Adobo, check out these authentic recipes:
What Kind of Chicken Should I Use?
I used bone-in drumsticks for this recipe but you could really use any type of chicken pieces you'd like (or beef or pork for that matter). You'll want to use a bone-in chicken for the most flavor, and I suggest leaving the skin on to keep everything super moist and delicious. The skin crisps up nicely in the last step and keeps the meat nice and tender.
What to Serve with Chicken Adobo
I served my chicken adobo with some yellow jasmine rice, which isn't at all authentic, but I found the flavors to be really great together! The brine that the chicken simmers in is super delicious, so I do suggest serving it over rice or noodles of some kind to soak up that awesome broth.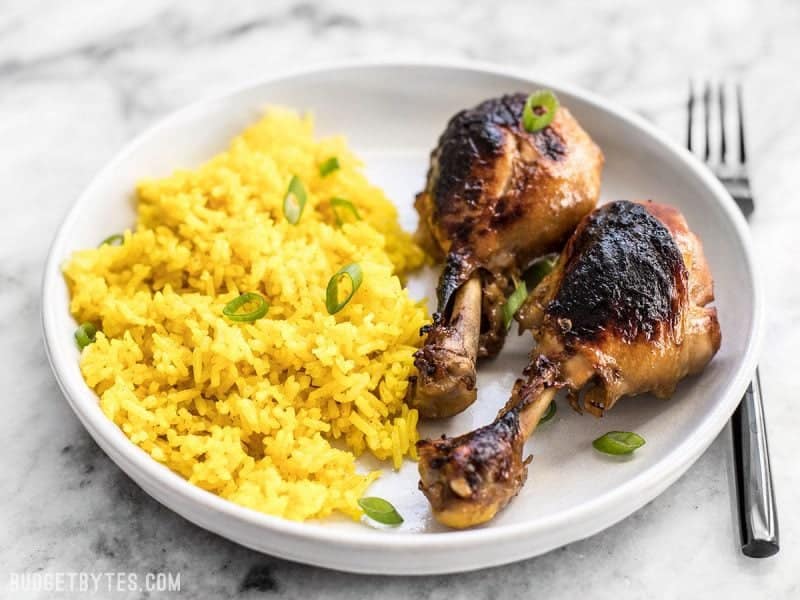 Chicken Adobo
Chicken adobo is a classic Filipino dish made with chicken marinated in soy sauce and spices, then cooked till tender.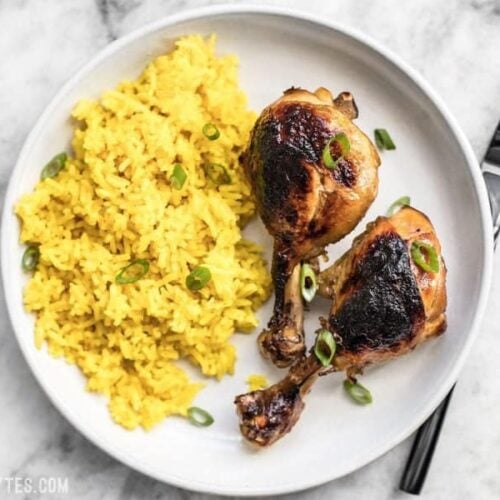 Ingredients
4

lbs.

skin-on, bone-in chicken

($7.96)

1/2

cup

soy sauce

($0.48)

1/2

cup

apple cider vinegar

($0.48)

2

Tbsp

vegetable oil

($0.08)

2

Tbsp

honey

($0.21)

2

whole bay leaves

($0.10)

1

Tbsp

minced garlic (about 2 cloves)

($0.20)

1

Tbsp

black peppercorns

($0.15)
Instructions
Arrange the chicken pieces in a large pot in one layer. Remove the skin if desired.

Combine the rest of the ingredients (soy sauce, vinegar, honey, oil, garlic, bay leaves, peppercorns) in a bowl and whisk until the honey is dissolved. Partially crush the peppercorns if desired. Pour the marinade over the chicken. Cover and refrigerate for a few hours or over night.

When you're ready to make the chicken, add just enough water so that the liquid comes just up to the top of the chicken (about 1/2 cup). Cover the pot with a lid, place the pot over a high flame, and bring it up to a rolling boil. When it reaches a boil, reduce the heat to medium/low and let simmer for 30 minutes.

Preheat your broiler on high. Remove the chicken from the pot and place it on a broiler pan (or a sheet pan with wire cooling racks placed on top). Place the chicken under the broiler until it is brown and crispy on top (5-10 minutes), depending on your broiler).

While the chicken is broiling, turn pot with the soy/vinegar liquid up to high and bring up to a rapid boil. Allow the liquid to boil heavily until it is reduced in volume by approximately one half. You may need to boil it for 5-10 minutes longer than the chicken is in the oven to get it to this point.

Use a soft brush to baste a few layers of the reduced soy/vinegar liquid onto the browned chicken. Serve over rice or noodles and spoon more of the reduced liquid over top.
See how we calculate recipe costs here.
---
Notes
Add in a few hours or over night to the prep time for this chicken to marinate.
Nutrition
Serving:
1
Serving
Calories:
760.45
kcal
Carbohydrates:
8.8
g
Protein:
69.53
g
Fat:
49.97
g
Sodium:
2173.43
mg
Fiber:
0.63
g
Read our full nutrition disclaimer here.
How to Make Chicken Adobo – Step By Step Photos

In a small bowl, whisk together 1/2 cup soy sauce, 1/2 cup apple cider vinegar, 2 Tbsp oil, 2 Tbsp honey, 2 bay leaves, 1 Tbsp minced garlic (about two large cloves), and 1 Tbsp peppercorns.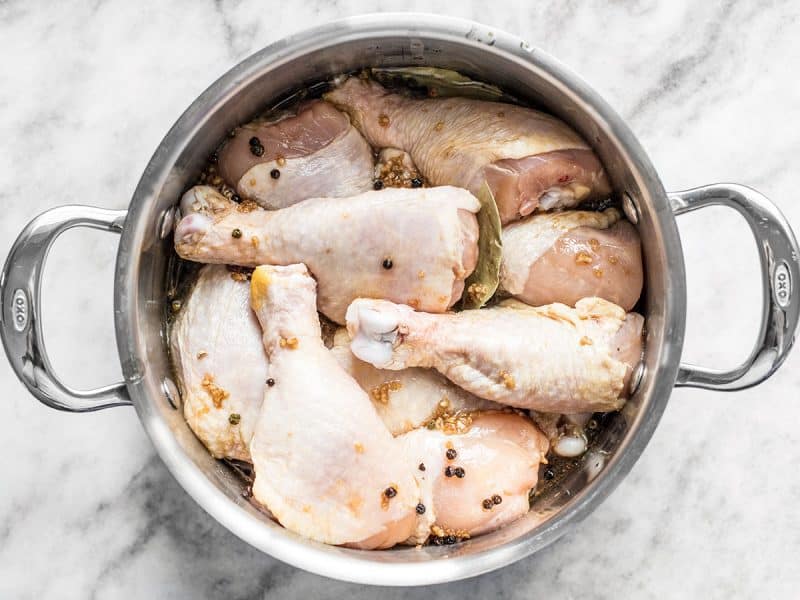 Place 4 lbs. chicken pieces in a large pot. They really should be in one layer to maximize exposure to the marinade, but my wide pot was in use when I made this. In hindsight, I should have used a wide casserole dish to marinate and then transferred back to the pot to cook. Anyway, do as I say not as I did. ONE LAYER. Then pour the marinade over the chicken, place the lid on the pot, pop it in the fridge. Let it marinate while you're at work, over night or just for a few hours.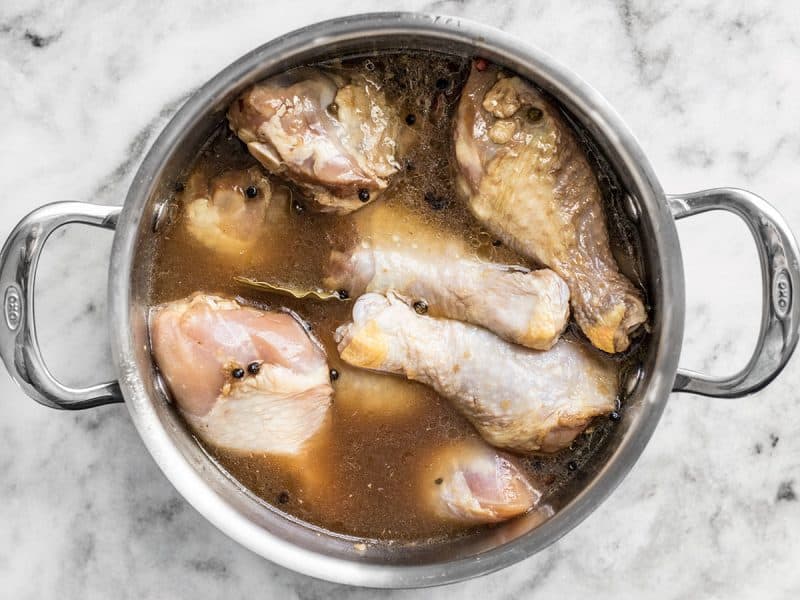 When you're ready to cook, add a little bit of water so that the liquid comes a little closer to covering the chicken. You don't want to add too much or else it will take too long for the sauce to reduce later. Cover the pot with a lid, place the pot over a high flame, and bring it up to a boil.

Once it reaches a boil, reduce the heat to medium/low and let it simmer for 30 minutes. The chicken should be cooked through by this point but it's not too pretty so we're going to broil it. Turn the broiler on to high.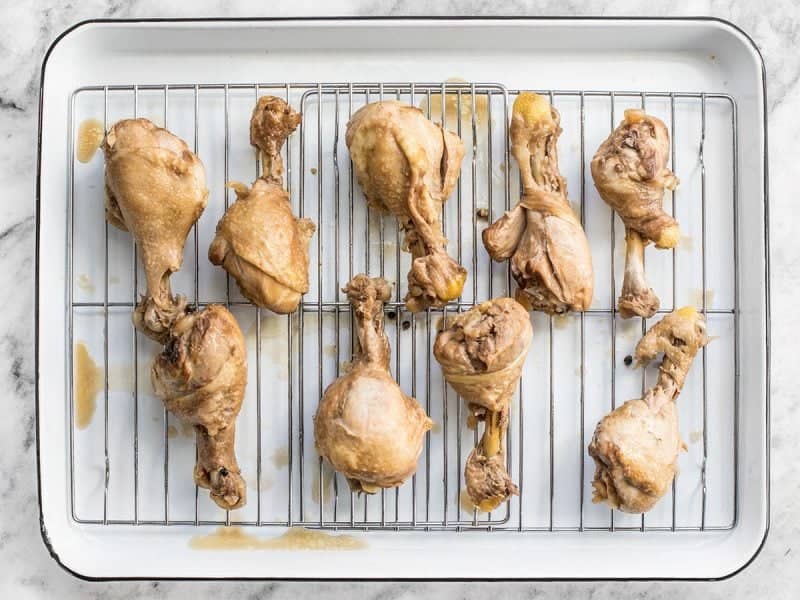 Boiled chicken is just so blond and sickly looking so we're going to add color under the broiler. If you don't have a broiler pan, you can create a make shift one by placing some wire cooling racks over a baking sheet, like I did. After you pull the chicken out of the simmering liquid, turn it all the way up to high and let it boil furiously while you finish broiling the chicken. You want it to reduce in volume and concentrate in flavor as much as possible.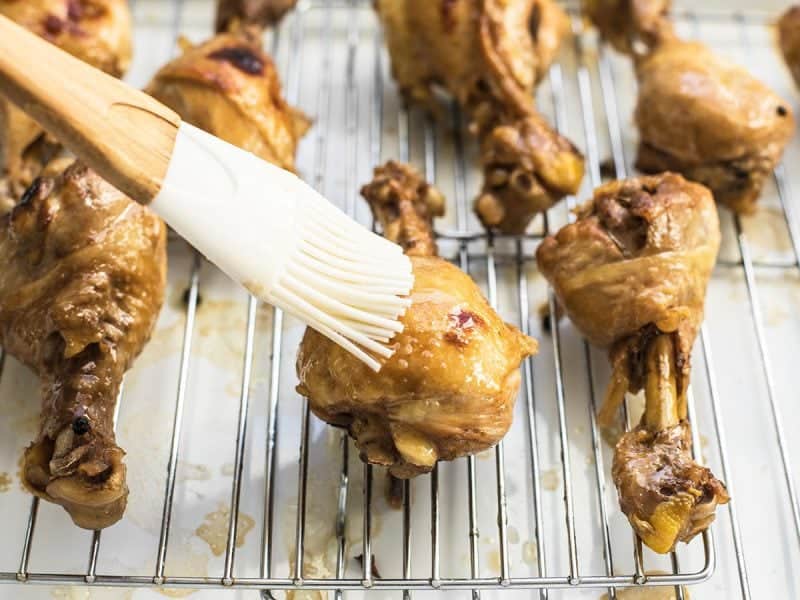 Place the chicken under the broiler for about 5-10 minutes or until it gets a nice brown color to it. The time it takes will depend on how hot your broiler is and how close you have your rack to the heat (it should be fairly close). So, you'll just have to keep an eye on it. You should hear crackling and popping as the skin begins to crisp. Once the soy/vinegar liquid has reduced in volume by half, use a brush and baste a few layers onto the chicken. This will add moisture and tons of flavor.

I like to let it broil just a few minutes more to let the basting liquid caramelize and get all nice and delicious!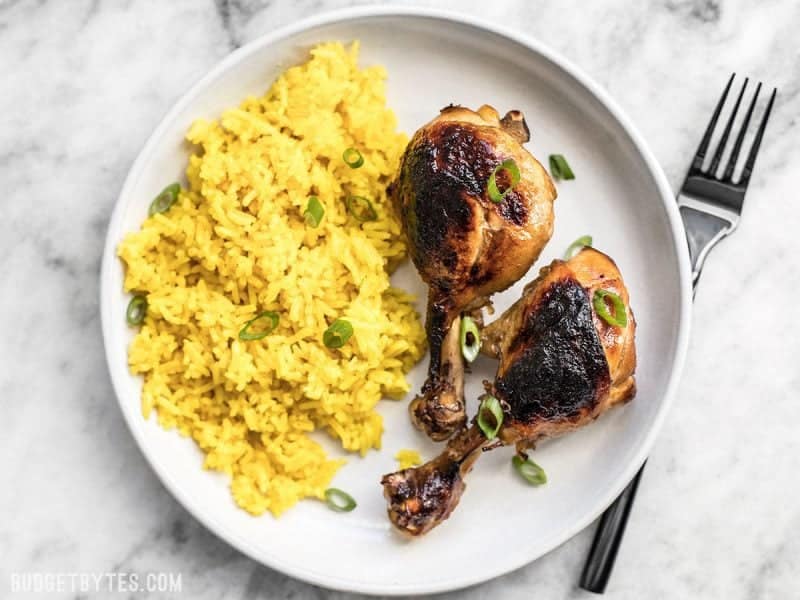 You can serve the chicken over rice or noodles. I suggest spooning more of the reduced liquid over top of the chicken and the rice or noodles. Pictured here with Yellow Jasmine Rice.
See this recipe used in my weekly meal prep.