Hey guys! I know it's been a couple weeks since I've posted a meal prep, but something I've been focusing on lately is getting up and jumping right back on the horse when you fall off. Whether it's meal prep, yoga practice, or any other routine, don't focus on the fact that you dropped the ball, just get up and keep going. SO, this week I revisited an old dish that I haven't made in years, Chicken Adobo, and paired it with two of my favorites, Yellow Jasmine Rice, and some simple garlic sautéed kale. This Chicken Adobo Meal Prep is just the kind of food I like−simple, comforting, filling.
I've never posted an actual recipe or garlic sautéed kale, but I'll post the quick instructions below and if you want some step by step photos, its basically the same way I prepare kale for my Garlic Parmesan Kale Pasta (just follow the steps all the way up to adding the pasta).
For more information about meal prepping, how it works, and why I do it, check out Meal Prep 101: A Beginner's Guide to Prepping and Portioning Meals, or check out my entire Budget-Friendly Meal Prep Archive.
Chicken Adobo Meal Prep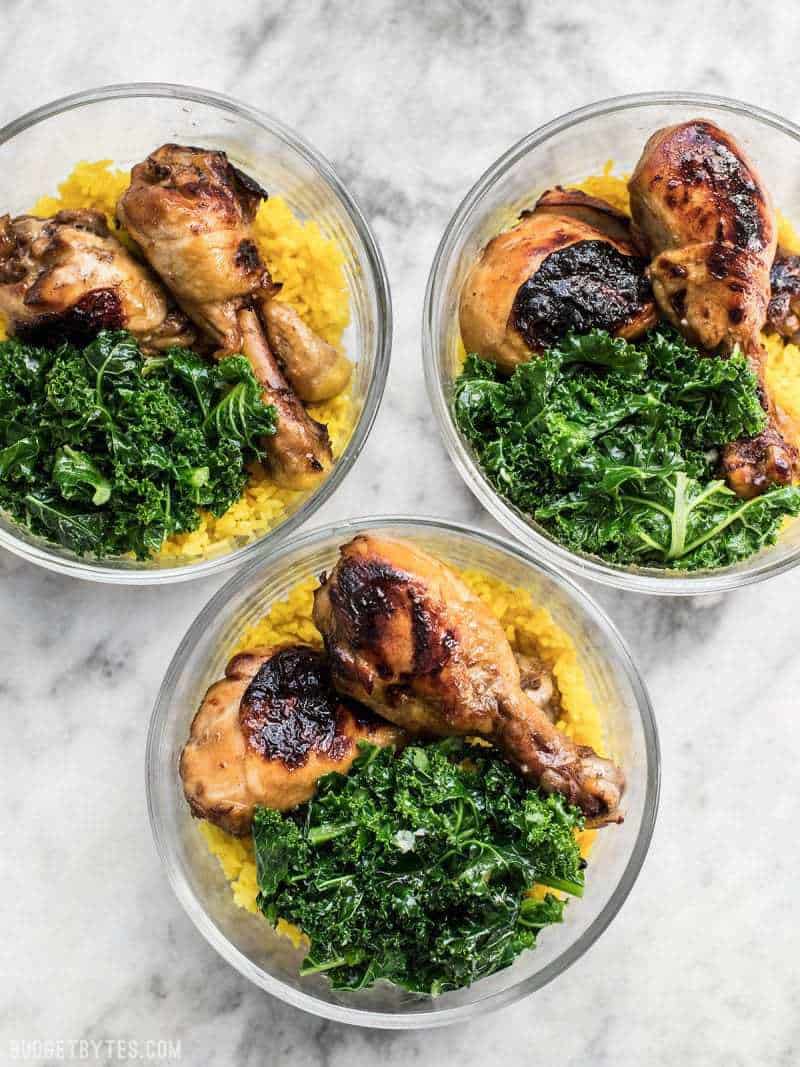 This Meal Prep Includes:
Chicken Adobo: $9.66
Yellow Jasmine Rice: $2.01
Garlic Sautéed Kale (recipe below): 2.29
Total Cost of Recipes: $13.96
Cost Per Meal: $2.52
Leftovers: The adobo chicken and Yellow Jasmine rice both make about six servings, so if you pack four meal preps you'll have leftover chicken and rice. Or about $3.89 of the total meal. You can either pawn those off on another member of your household (not a problem in my house!), add them to your packed meals to make each meal larger, or try to eat them as a second meal or snack throughout the day.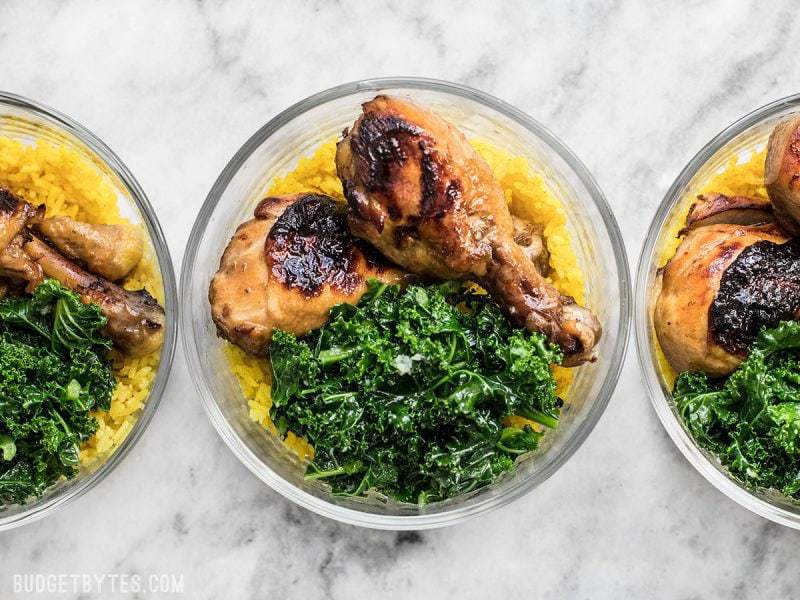 Now about that Garlic Sautéed Kale…
It's seriously the easiest way to prepare kale and probably my favorite, as well. And it goes with just about any meal!
Either buy the type of kale that is already destemmed, chopped, and in a bag, or get one bunch of kale, tear the leaves from the woody stems, and then tear them into 1-2″ pieces. Rinse the kale really well in a colander.
Mince a couple cloves of garlic and sauté them in a large pot with a tablespoon or so of oil. Once softened, add the rinsed kale and a pinch or two of salt. Then just sauté the kale until it has wilted to your desired tenderness. For me that's only about 5 minutes! So easy. :)
And again, it's basically the same thing I do to kale when I'm making Garlic Parmesan Kale Pasta, so you can check out that recipe for photos.
And these bowls? They're the Pyrex 4-cup containers that I got from Amazon.
This post may contain affiliate links which won't change your price but will share some commission. As an Amazon Associate I earn from qualifying purchases.