We're all about "catch-all" recipes here at Budget Bytes—flexible recipes that you can add just about anything to, so you can use up the leftover odds and ends in your fridge. This Baked Eggs recipe is especially great because it's an almost effortless way to treat yourself to an extra special weekend breakfast AND use up your leftovers at the same time. Now that's what I call working smarter, not harder. 🙌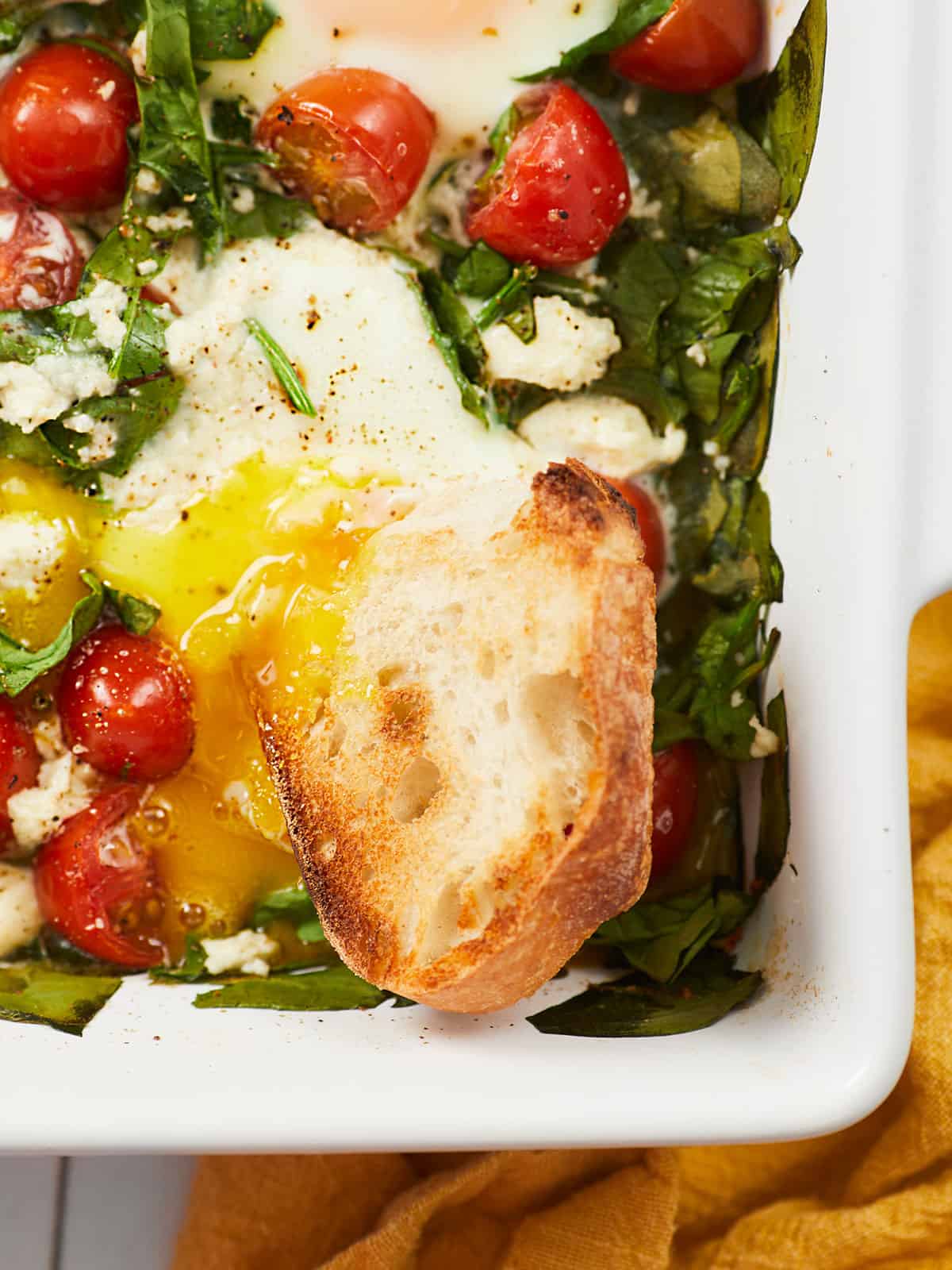 What Are Baked Eggs?
I know, the name sounds self-explanatory, but let me explain a little further about what we've got going on in this dish. These baked eggs are simply eggs that have been cracked into a casserole dish with a few "extras" (like vegetables and cheese), a little seasoning, and a splash of cream to keep the eggs moist and delicate as they bake. It's seriously the easiest breakfast dish you can make.
Baked eggs are usually baked only to the point where the whites are softly set and the yolks are still liquid. The yolks act as a sauce that pours over the eggs as they're eaten, and it can be dipped or stopped up with some good bread. It's the type of delicious simplicity that I love!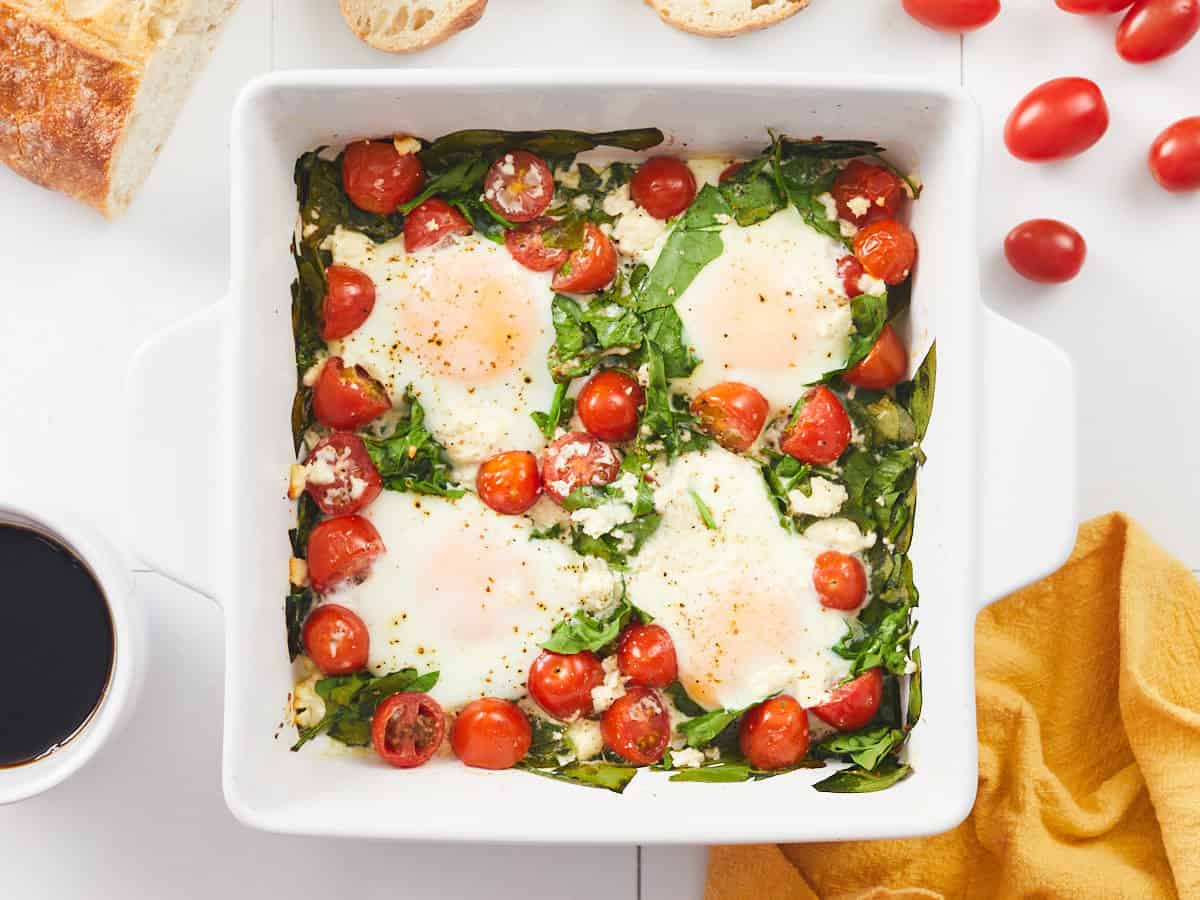 How Long to Bake Eggs
The amount of time needed to bake eggs to perfection is going to depend on several factors like the size and material of your baking dish, the temperature of the ingredients when they go into the oven, how many eggs you're baking, and your oven's temperature. So it's imperative that you check the eggs early and keep a close eye on them as they bake.
I suggest baking eggs at either 350ºF or 375ºF and checking their doneness after about 10 minutes. If the whites are still not set, give them a few more minutes and just watch them closely.
What Else Can I Add?
One of the main reasons I love baked eggs is that they're extremely versatile. Here are some ideas for other ingredients you can add to baked eggs:
Meat: try diced deli ham, cooked bacon, or cooked breakfast sausage.
Vegetables: bell pepper, onion, mushrooms, artichokes, zucchini.
Cheese: Parmesan, Chevre, Swiss, Cotija.
You can also drizzle your favorite sauce over your baked eggs, like salsa, hollandaise sauce, or chimichurri. Get creative with this baked eggs recipe!
What to Serve with Baked Eggs
Baked eggs are begging to be served with some crusty bread, a toasted English muffin, or a biscuit. You can dip the bread or spoon the baked eggs right on top of the bread or biscuit. Either way, you don't want to lose a drop of those liquid gold yolks! Round out the meal with some oven baked bacon or maple breakfast sausage, and then maybe some lemon blueberry scones for dessert. ;)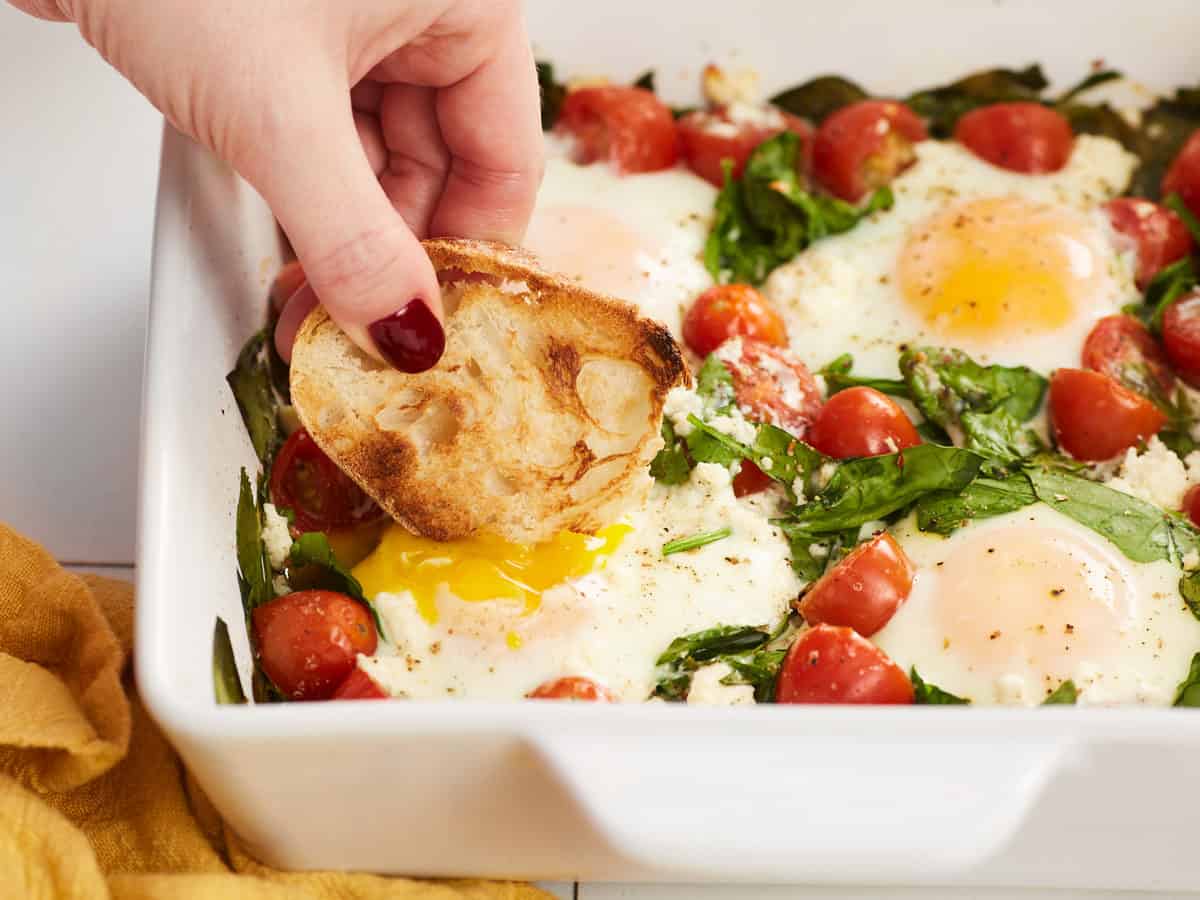 Baked Eggs
Baked eggs are an easy and affordable lazy weekend breakfast AND a great way to use up leftovers in your fridge.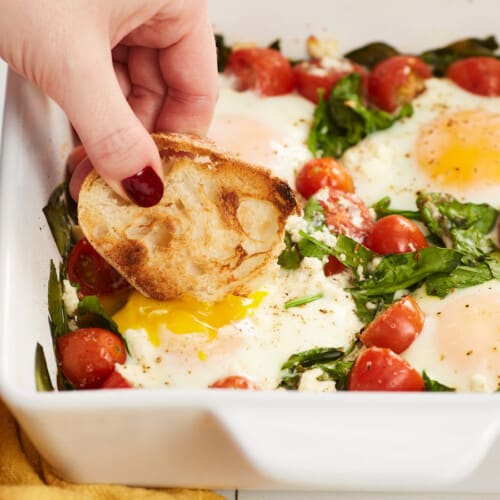 Ingredients
1

Tbsp

butter

($0.14)

2

cups

fresh spinach*

($0.65)

1

cup

grape tomatoes

($1.00)

4

large

eggs

($0.83)

1/8

tsp

salt

($0.01)

1/8

tsp

freshly cracked black pepper

($0.01)

1/8

tsp

crushed red pepper

($0.01)

2

Tbsp

heavy cream

($0.21)

2

Tbsp

crumbled feta**

($0.69)
Instructions
Preheat the oven to 375ºF. Melt the butter and brush the inside of an 8×8-inch casserole dish.

Roughly chop the spinach and slice the tomatoes in half. Sprinkle the spinach and tomatoes inside the casserole dish.

Crack the eggs into the casserole dish on top of the spinach and tomatoes. Season with the salt, pepper, and crushed red pepper. Drizzle the heavy cream over the eggs, then sprinkle the crumbled feta on top.

Transfer the casserole dish to the oven and bake for about 15 minutes, or just until the whites are set and the yolks are still liquid. (start checking around 10 minutes and add time as needed). Serve with crusty bread for dipping!
See how we calculate recipe costs here.
---
Notes
*You can use frozen spinach in place of fresh, just make sure to fully thaw and squeeze out the excess moisture first.
**You can use any type of cheese you like, although creamier cheeses work best.
To increase the servings to two eggs per person, simply keep all of the other ingredients the same and add 8 eggs to the dish instead of four. Baking time may increase.
Nutrition
Serving:
1
Serving
Calories:
155
kcal
Carbohydrates:
3
g
Protein:
9
g
Fat:
12
g
Sodium:
280
mg
Fiber:
1
g
Read our full nutrition disclaimer here.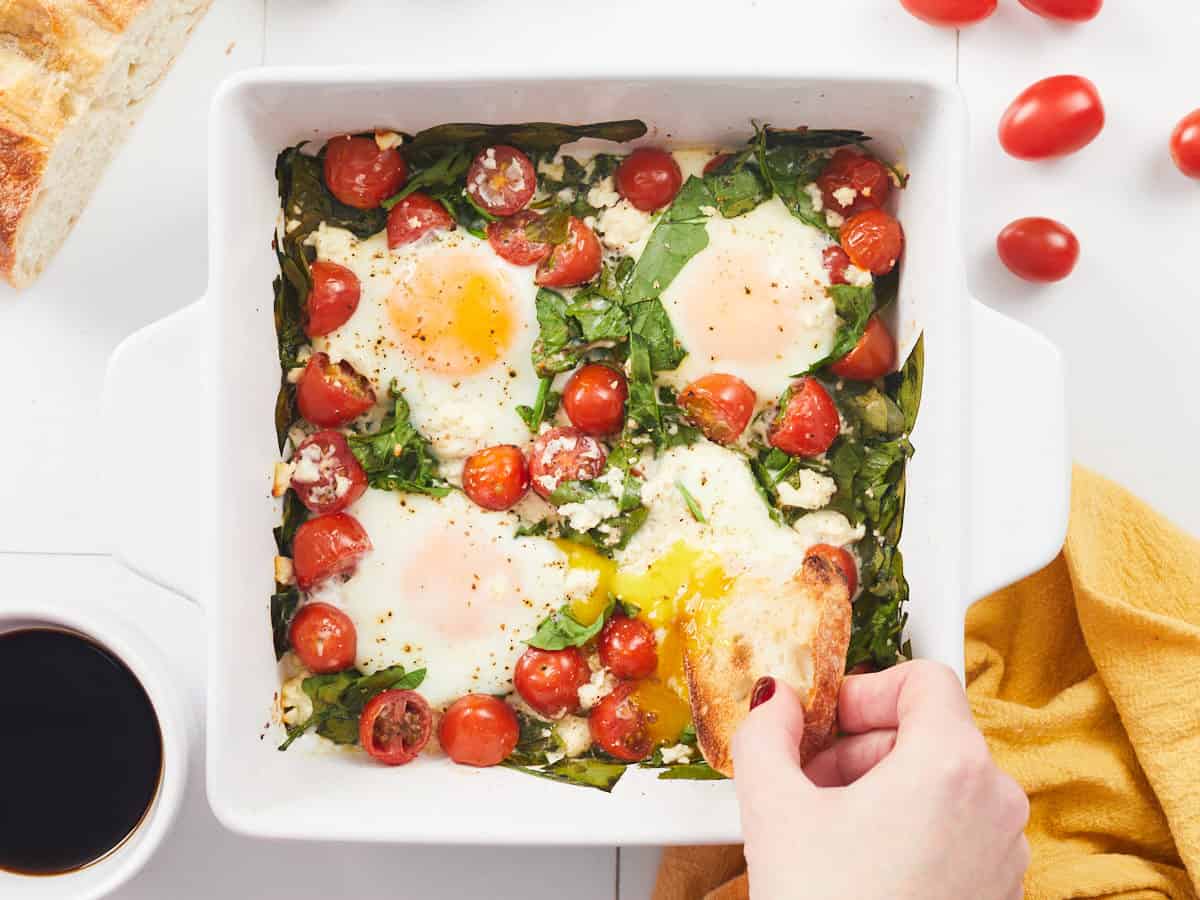 How to Make Baked Eggs – Step by Step Photos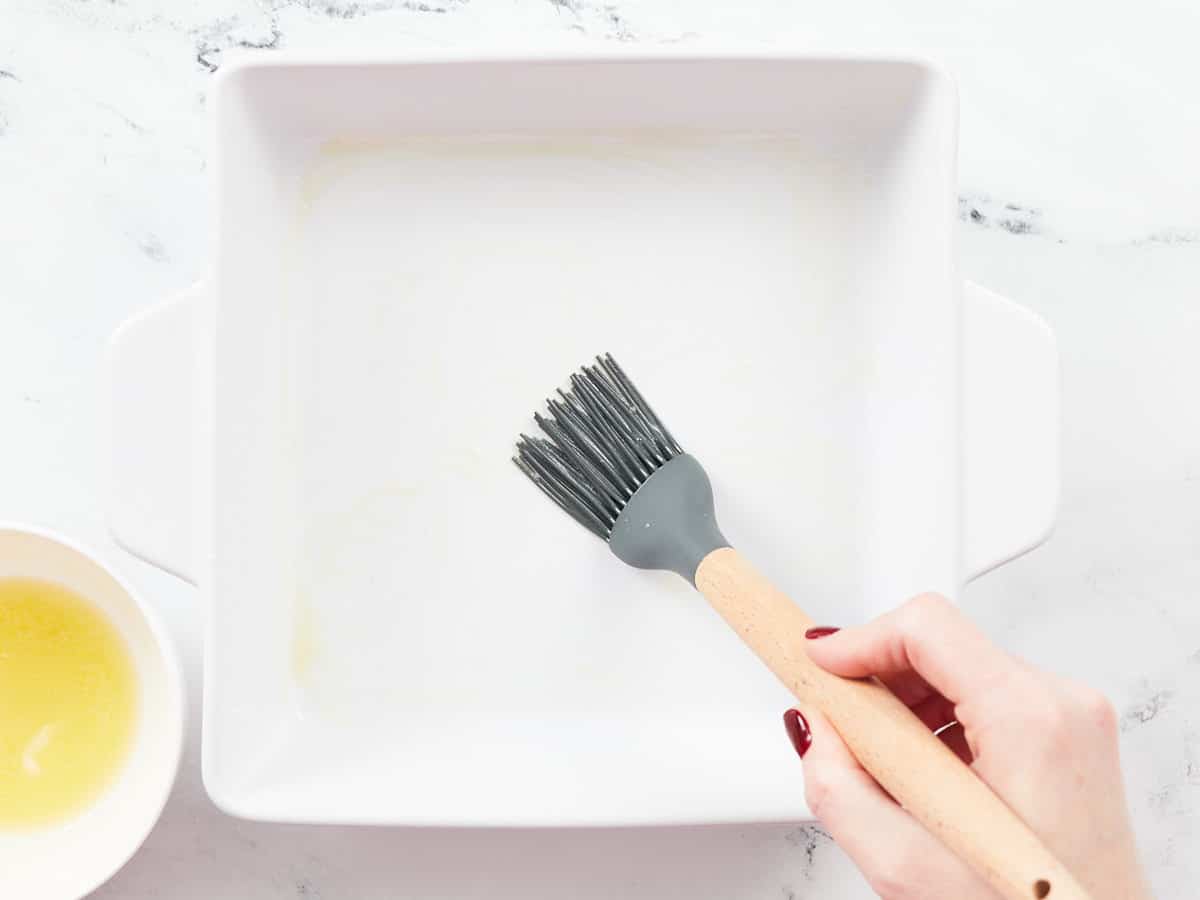 Begin by preheating the oven to 375ºF. Melt 1 Tbsp butter and brush the inside of an 8×8-inch baking dish with the melted butter.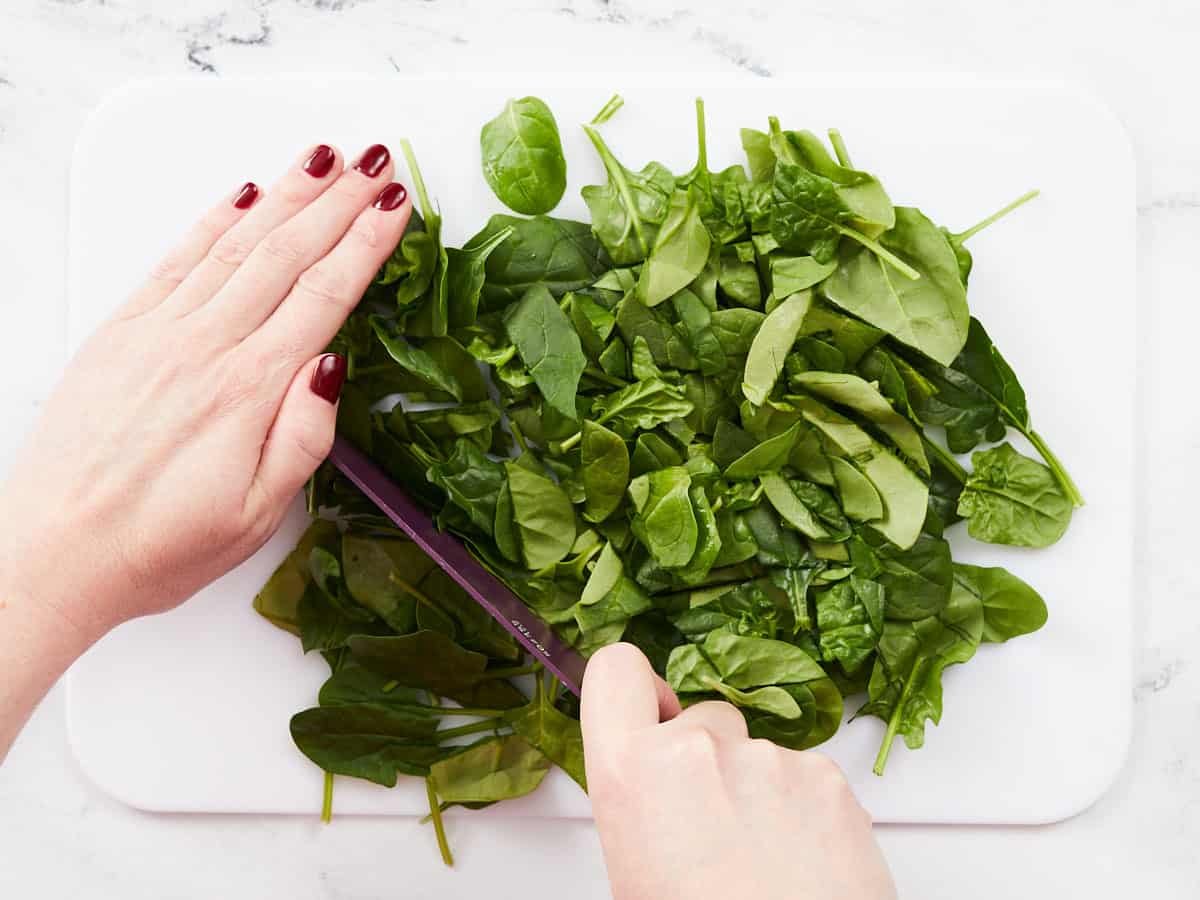 Prep your add-ins. We roughly chopped two handfuls of fresh spinach and sliced one cup of grape tomatoes. You could also sauté your vegetables first, if you prefer.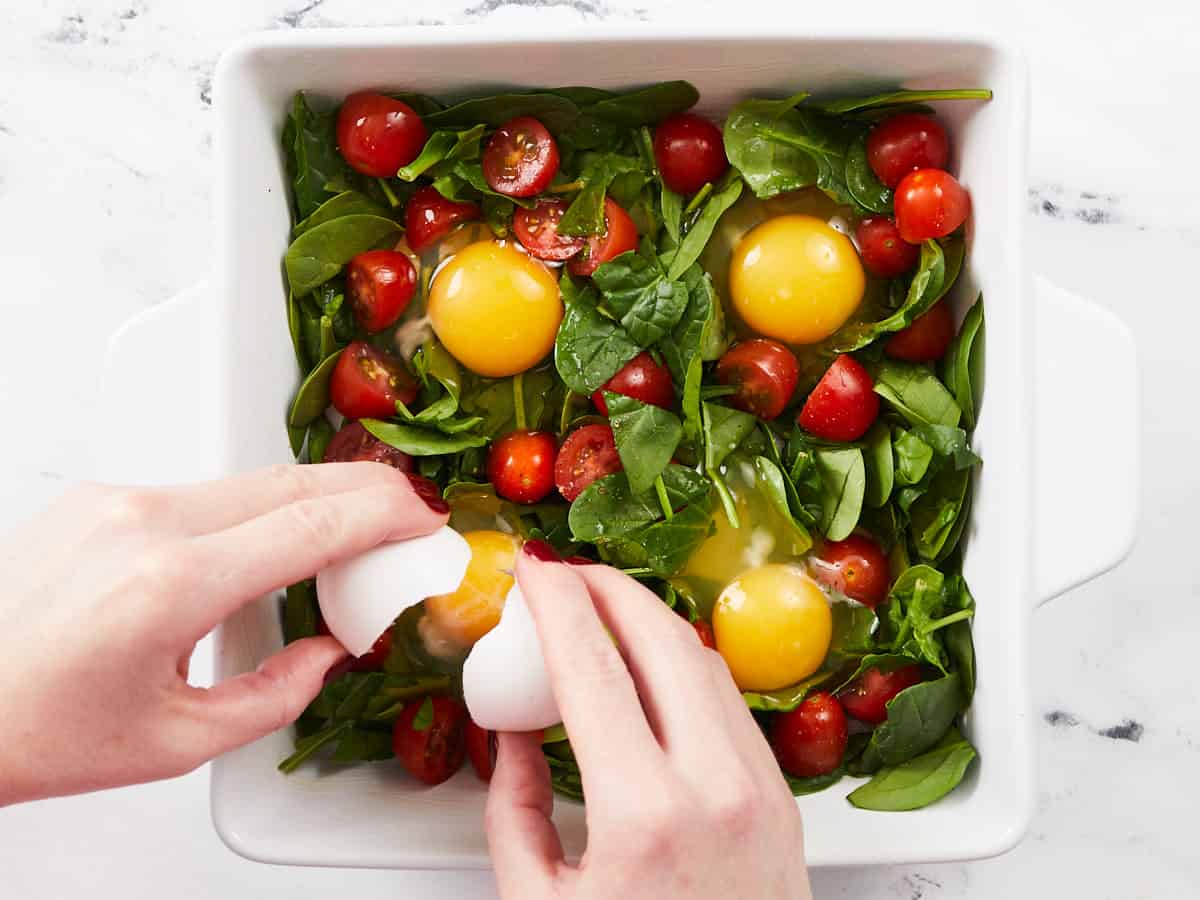 Place the spinach and tomatoes in the baking dish. Crack four eggs on top of the spinach and tomatoes.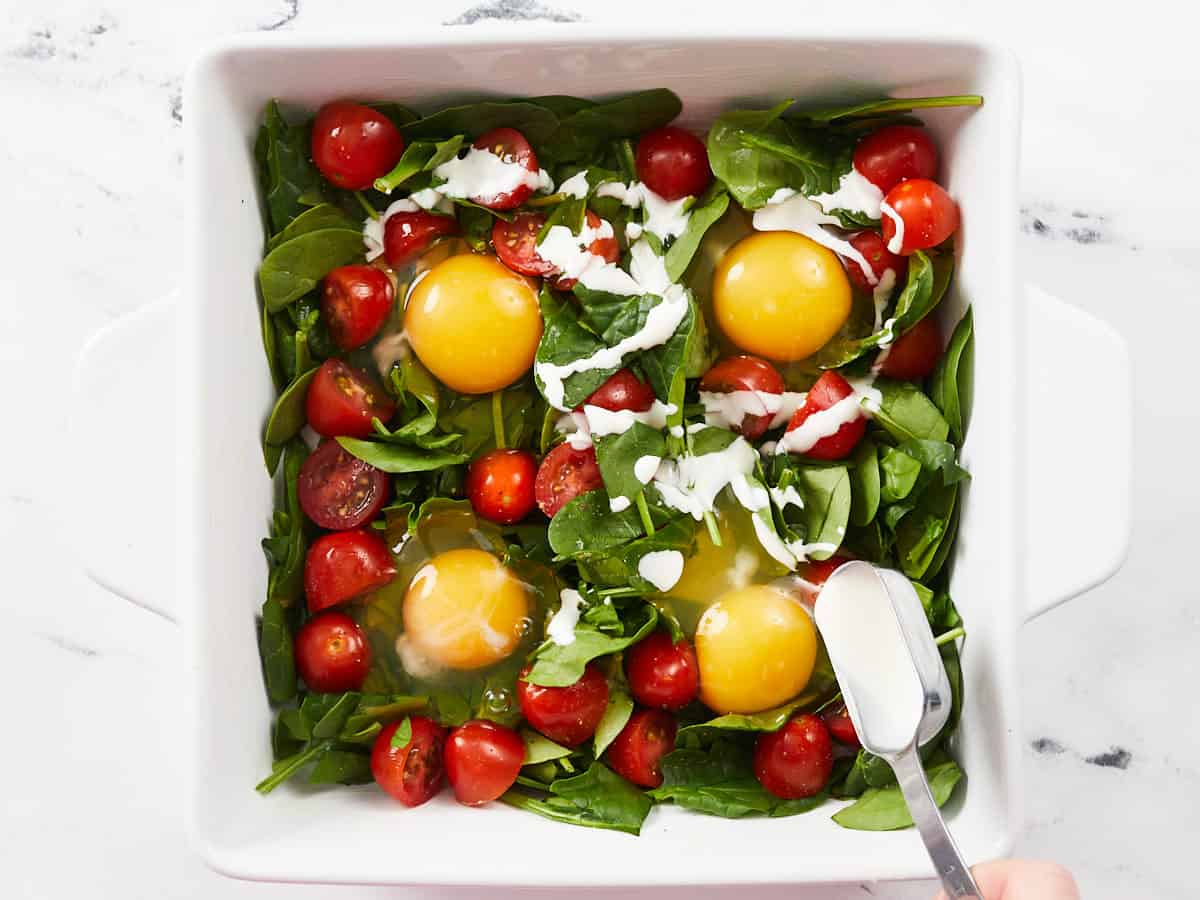 Drizzle 2 Tbsp heavy cream over the eggs. The fat and moisture in the cream helps keep the eggs soft and moist while they bake.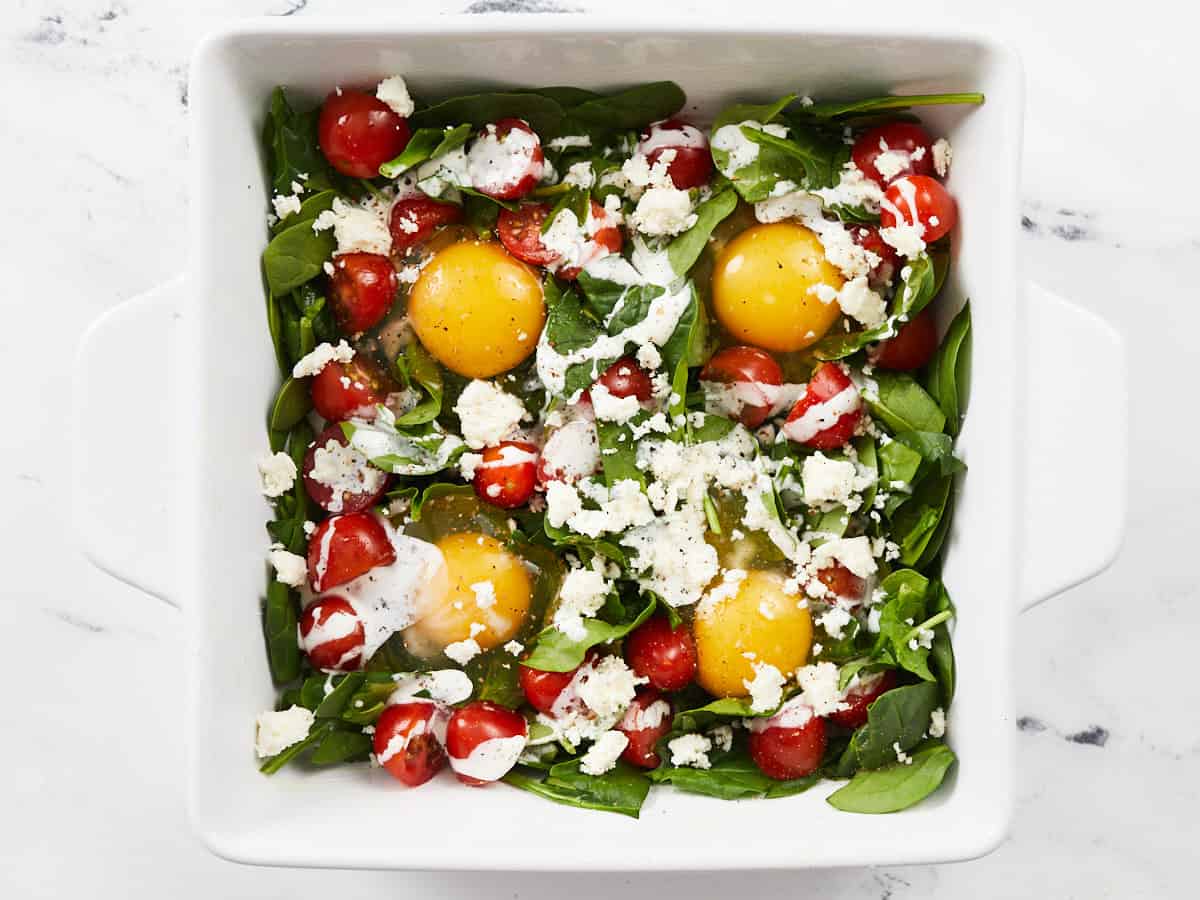 If you're adding cheese, sprinkle that over top (we added about 2 Tbsp crumbled feta). Season the eggs with about ⅛ tsp each of salt, pepper, and crushed red pepper.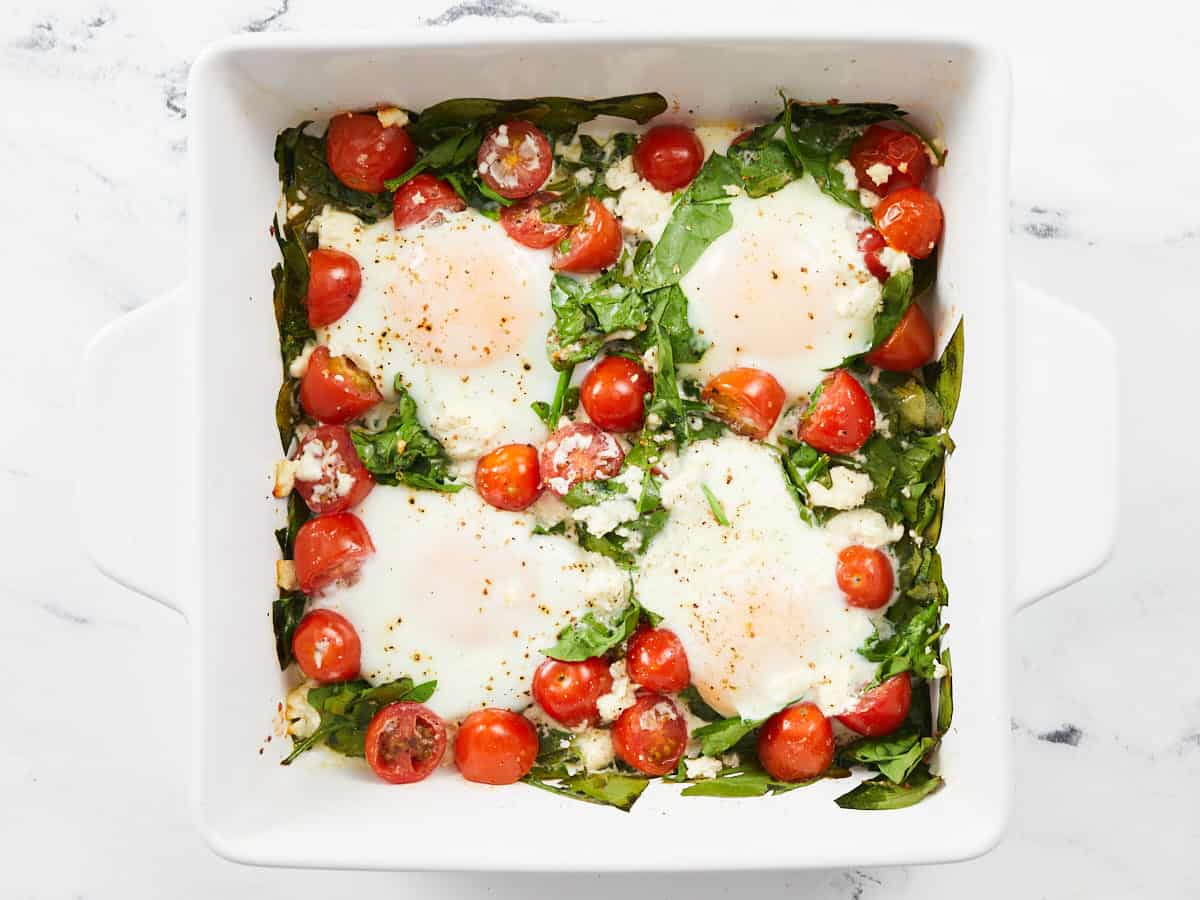 Bake the eggs in the preheated 375ºF oven for about 15 minutes, or until the whites are set and the yolks are still liquid (the tops might get a little cloudy, but that's okay). Start taking a peek at the eggs after about 10 minutes, just to make sure you don't over cook them.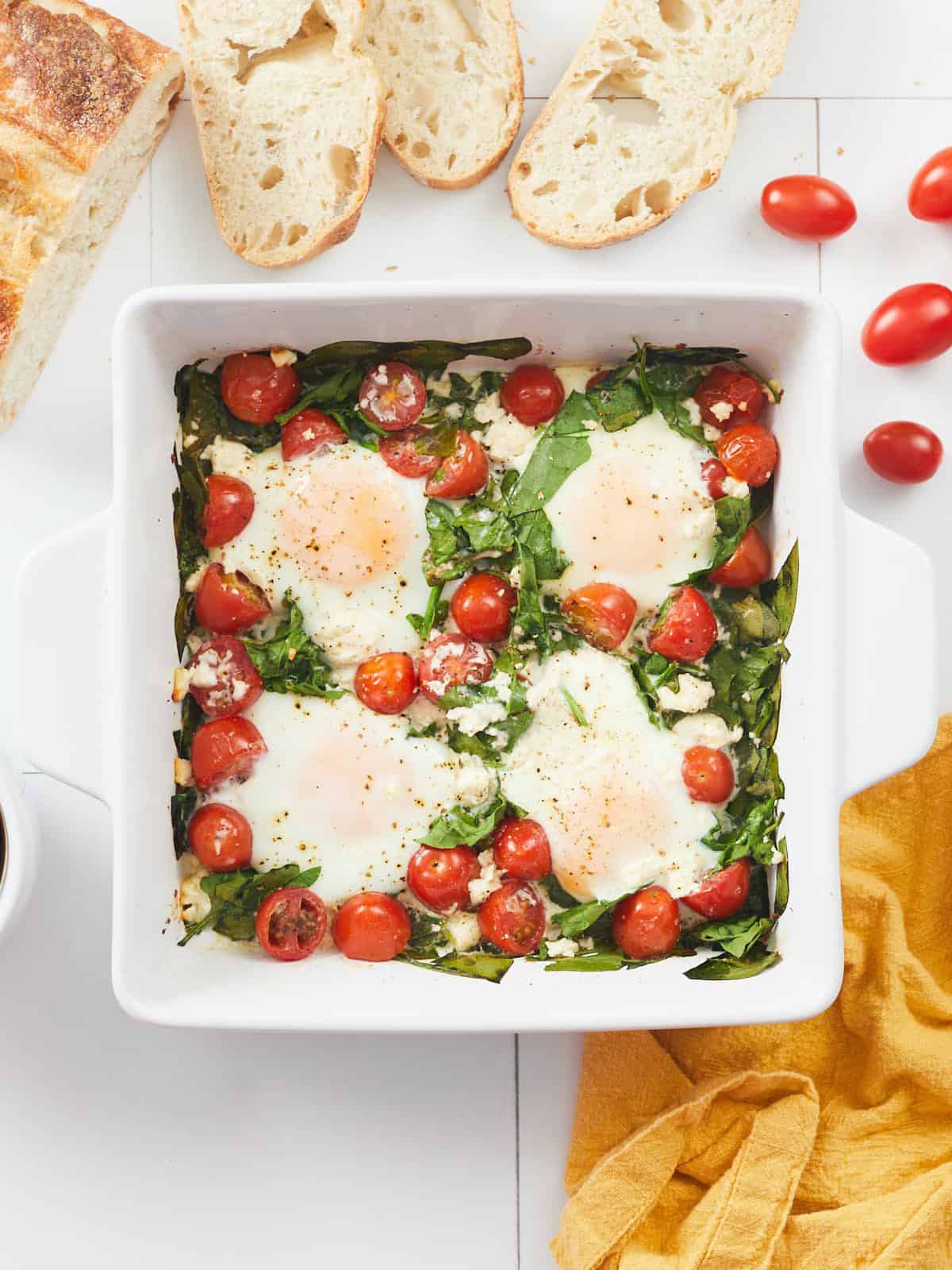 Enjoy the baked eggs with some crusty bread, biscuits, bacon, or sausage! Oh, and don't forget a cup of really good coffee… 🤤