Have you ever noticed that the fewer ingredients a recipe has, the more elegant it seems? Lucky for me, that also usually means it's pretty easy and, depending on the ingredients you choose, very inexpensive. This super simple baked egg dish is just that. Simple, elegant, inexpensive, and delicious.
This might seriously be the easiest "real" breakfast dish ever. All you do is layer the ingredients in a casserole dish, pop it in the oven, and take it out when it's done. Then it's ready to spoon over an English muffin, or serve with toast for dipping. If you want to impress someone for breakfast or brunch, MAKE THIS. (And hey, no one said that person you're trying to impress can't be you!)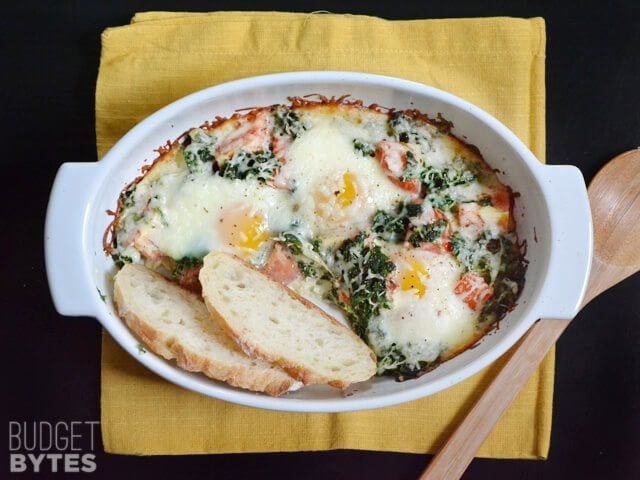 This is also a great "sweep the fridge" dish. You can add all sorts of leftovers to the mix. Leftover artichoke hearts? Yes ma'am. A sprinkle of feta? Okey-dokey. Extra shredded chicken or sausage? Toss 'em in there! Got a garden with fresh herbs? Oooh, you're the lucky one. Sprinkle those fresh herbs over top and experience an extra fancy pants breakfast. You deserve it.
I only made four eggs because I failed to check my egg stash before I went to the grocery store, but with a couple slices of toast and maybe a little fruit, one egg per serving would be plenty. You could easily up the servings to two eggs per person by using eight eggs and only add about 20 cents per serving. If you want two eggs per serving, keep the other ingredients in the same proportions, but use eight eggs instead of four. The baking time may increase slightly. If you want to double the recipe for eight people, use a larger dish and double all of the ingredients and use either 8 or 16 eggs.
Baked Eggs with Spinach and Tomatoes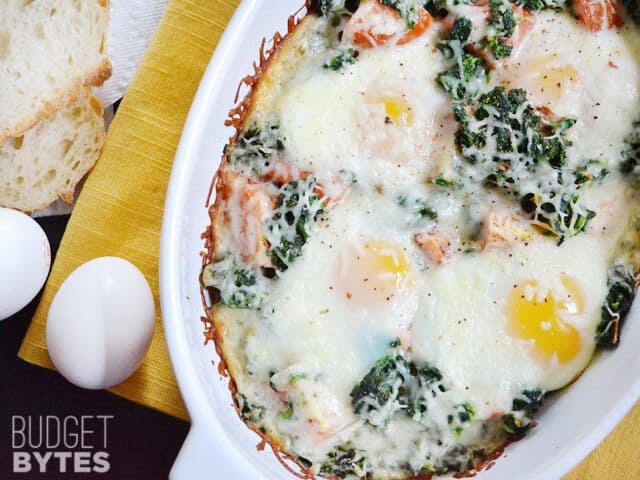 Baked Eggs with Spinach and Tomatoes
These amazingly flavorful baked eggs with spinach and tomatoes are the easiest way to impress your guests. Just layer the ingredients together and bake!
Ingredients
1/2

lb.

frozen spinach, thawed

($0.78)

1/8

tsp

garlic powder

($0.02)

1/8

tsp

red pepper flakes, optional

($0.02)

Salt and pepper

($0.05)

2

medium Roma tomatoes

($0.80)

4

large eggs

($0.86)

2

Tbsp

cream or half and half

($0.24)

1/2

cup

shredded cheese

($0.63)
Instructions
Preheat the oven to 400 degrees. Coat a 2 quart casserole dish with non-stick spray or coat with butter. Thaw the spinach and squeeze out most of the moisture (no need to go overboard here, just make sure it's not dripping).

Cut the tomatoes into chunks and place them in the bottom of the casserole dish. Sprinkle the spinach over the tomatoes. Season the tomatoes and spinach with the garlic powder, red pepper flakes, a pinch of salt, and some freshly cracked pepper (about 5 cranks of a pepper mill).

Crack the eggs on top of the spinach and tomatoes. Drizzle the cream over everything in the dish, then top with the shredded cheese. Bake the dish in the oven for 15-20 minutes, or until the whites are opaque, but still soft and moist (they should jiggle slightly when you shake the dish). The exact cooking time will depend on the size and shape of your dish, so begin checking for doneness at around 15 minutes.
See how we calculate recipe costs here.
---
---
Notes
To increase the servings to two eggs per person, simply keep all of the other ingredients the same and add 8 eggs to the dish instead of four. Baking time may increase.
You can use any type of shredded cheese you like, although creamier cheeses work best.
Nutrition
Serving:
1
Serving
Calories:
181.95
kcal
Carbohydrates:
5.23
g
Protein:
12.25
g
Fat:
12.98
g
Sodium:
539.83
mg
Fiber:
2.53
g
Read our full nutrition disclaimer here.
Step by Step Photos
Begin by preheating your oven to 400 degrees. Thaw 1/2 lb. of frozen spinach, then squeeze out most of the moisture. I like to use the spinach that is frozen loose in a bag like this, rather than the kind that is frozen in a block. It is usually sold in 1 lb. bags, so I just estimate half of the bag.
Coat a 2 quart casserole dish (small, like an 8×8 inch dish) with non-stick spray, or smear it with butter. Cut two Roma tomatoes into chunks, then place them in the bottom of the dish. Lay the squeeze spinach over top. Season the vegetables by sprinkling 1/8 tsp garlic powder, 1/8 tsp red pepper flakes (optional), 1/8 tsp salt, and a little cracked pepper over top (maybe five cranks of a pepper mill).
Crack four (or eight) eggs over top of the vegetables. This size dish and this amount of vegetables could have easily handled 8 eggs, but I didn't have that many left. Doh!
Lastly, drizzle 2 Tbsp of cream or half and half over the dish and then top with 1/2 cup shredded cheese. The cream is really important here, so don't skip it. It helps keep the whole dish moist and creamy. I may even be tempted to use 1/4 cup next time. I used an Italian cheese blend, but you could use just about any shredded cheese. Creamy cheeses (unlike the blend I used) are actually better, but this was still amazing!
Bake the eggs in the preheated oven for 15-20 minutes. The exact cooking time will vary greatly depending on the size of your dish and how many eggs you use, so just keep an eye on it after about 15 minutes. The eggs are finished with the whites have just solidified and turned opaque, but are still fairly soft. The yolks should still be liquid. If you jiggle the dish, the eggs should wobble slightly.
I scooped my egg and vegetables right onto a nice piece of bread and ate them like an open faced sandwich. SO DIVINE. This would also be amazing with an English muffin. THIS is how you make your day off special!