I grew up eating this Baked Barley with Mushrooms and I always looked forward to it on chilly winter nights. It's a simple dish made with pearled barley cooked in a flavorful mix of vegetable broth, butter, and mushrooms for an extra umami kick. Plus, it cooks mostly in the oven, leaving your hands and attention available to tend to other things. It's a nice alternative to plain rice for meals like pot roast, brisket, baked pork chops, or any roasted or braised meat. Those hearty little grains are perfect for soaking up every last drop of your pan drippings!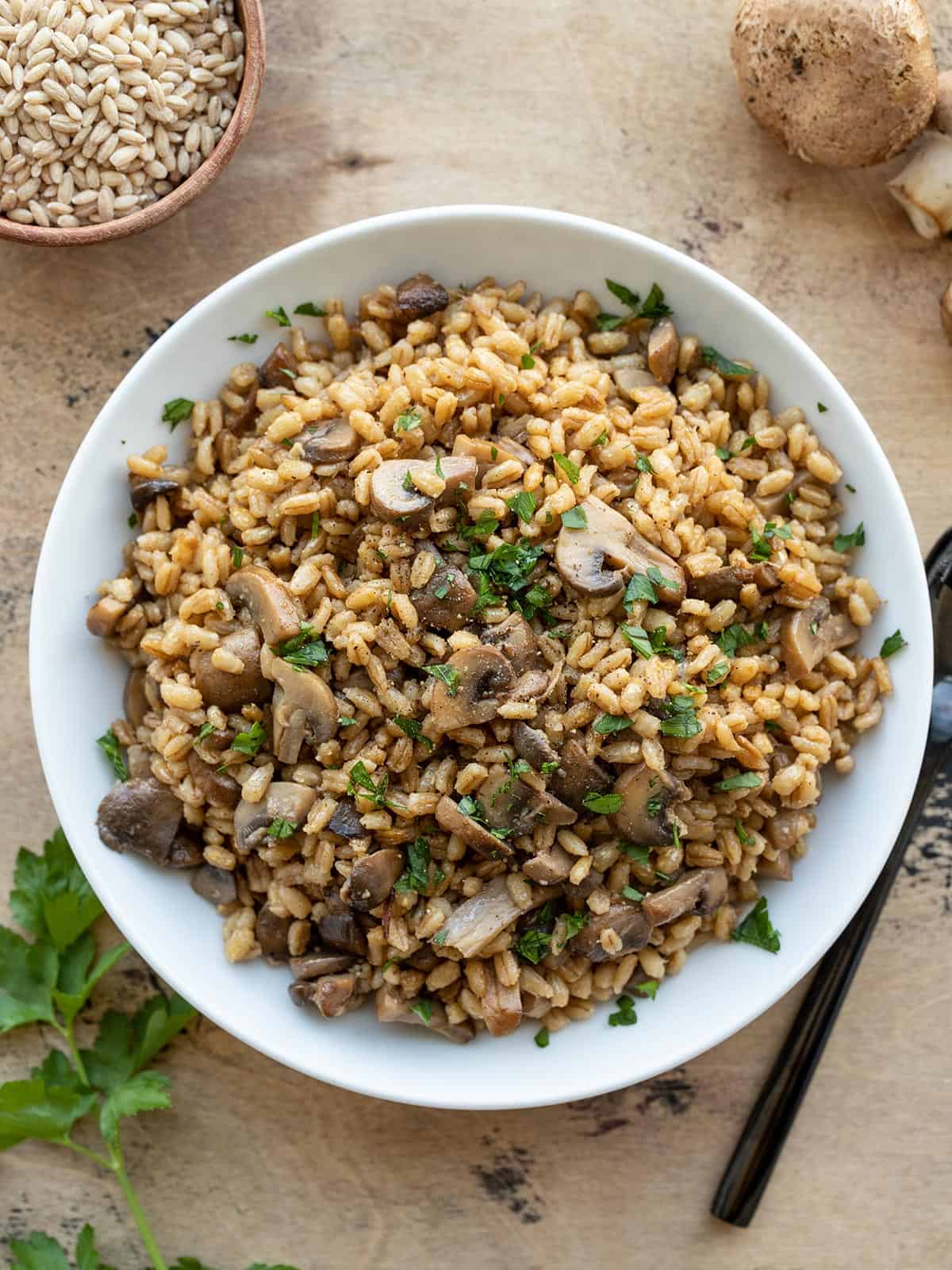 What Kind of Baking Dish to Use
You'll need some sort of baking dish with a tight-fitting lid, like a Dutch oven, because if the steam from the broth is not held inside as it bakes, the barley will not cook through. I used an enameled cast-iron Dutch oven that was probably a little too big for the scale of this recipe, but it still turned out great. The recipe makes about four cups, so something in the 2-3 quart size range is probably ideal. Glass, ceramic, or cast iron will all work as long as it has a tight-fitting lid.
If your baking dish is not safe for use on the stovetop, simply use a skillet for the first couple of steps (sautéing the mushrooms), then transfer to the baking dish when adding the barley and broth.
What is Pearled Barley?
It's very important that you use pearled barley for this recipe. Pearled barley is whole barley grains that have had the outer husk removed and are then are polished to remove some or all of the outer bran. The resulting grain is tender and chewy once cooked, and doesn't take quite as long to cook as hulled barley. You can usually find pearled barley near the dry rice and beans in the grocery store, or near other specialty grains.
I used the Bob's Redmill brand, which is slightly less polished than other brands that I've used and it resulted in a slightly more firm grain.
Add More Vegetables
This recipe is pretty flexible and you can experiment with adding more hearty vegetables, like carrot, celery, onion, turnip, or rutabega. I suggest dicing the vegetables and sautéing them briefly with the mushrooms before adding the remaining ingredients.
What to Serve with Baked Barley
This baked barley would go awesome with something like Creamy Mushroom Chicken with Crispy Onions, Herb Roasted Pork Tenderloin, Slow Cooker Rosemary Garlic Beef Stew, or pot roast.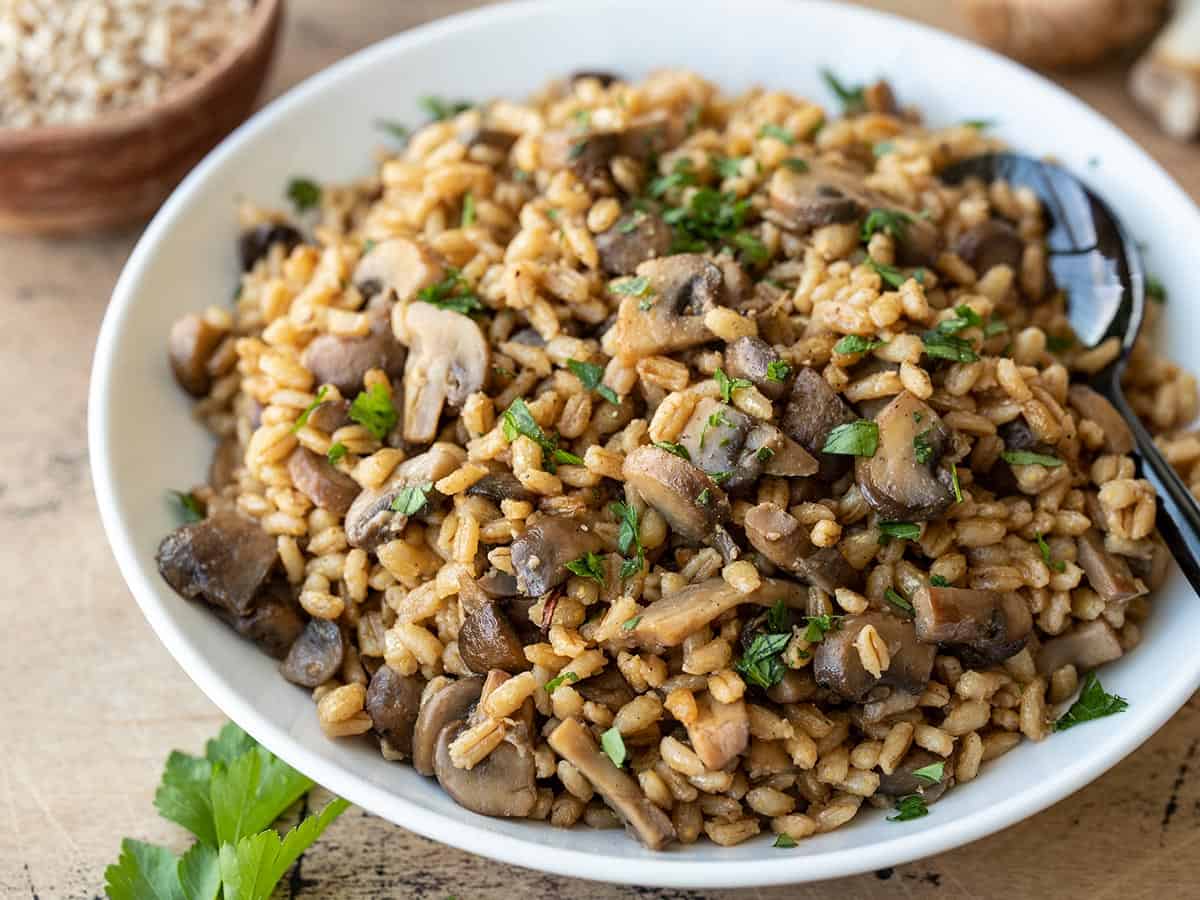 Baked Barley with Mushrooms
Baked Barley with Mushrooms is a hearty side dish perfect for chilly fall and winter nights that pairs perfectly with roasted meat or stew.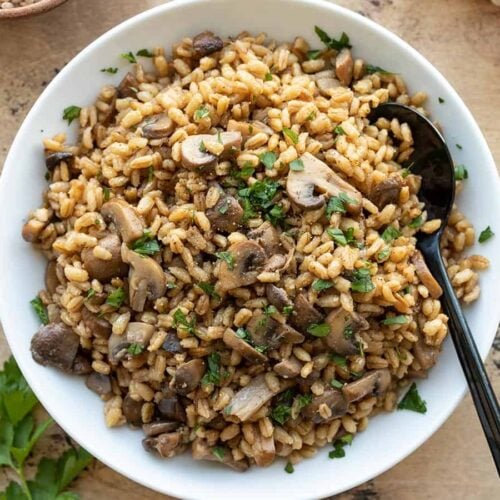 Ingredients
2

cloves

garlic

($0.16)

8

oz.

mushrooms

($1.49)

4

Tbsp

butter

($0.40)

1

cup

pearled barley

($0.57)

2

cups

vegetable broth

($0.26)

1/2

tsp

dried thyme

($0.05)

1/8

tsp

freshly cracked black pepper

($0.02)

1

Tbsp

chopped fresh parsley (optional)

($0.10)
Instructions
Preheat the oven to 350ºF. Mince the garlic and slice the mushrooms

Add the garlic, mushrooms, and butter to a Dutch oven. Sauté over medium heat until the mushrooms have softened.

Add the barley, vegetable broth, thyme and freshly cracked pepper to the dutch oven. Stir to combine, place the lid on top, and transfer to the oven. Bake the barley for one hour.

After baking for one hour, stir the barley to fluff it up. Give the barley a taste and adjust the salt or pepper to your liking. Top with chopped fresh parsley just before serving.
See how we calculate recipe costs here.
---
Nutrition
Serving:
1
cup
Calories:
298
kcal
Carbohydrates:
43
g
Protein:
7
g
Fat:
12
g
Sodium:
578
mg
Fiber:
8
g
Read our full nutrition disclaimer here.
How to Make Baked Barley with Mushrooms – Step by Step Photos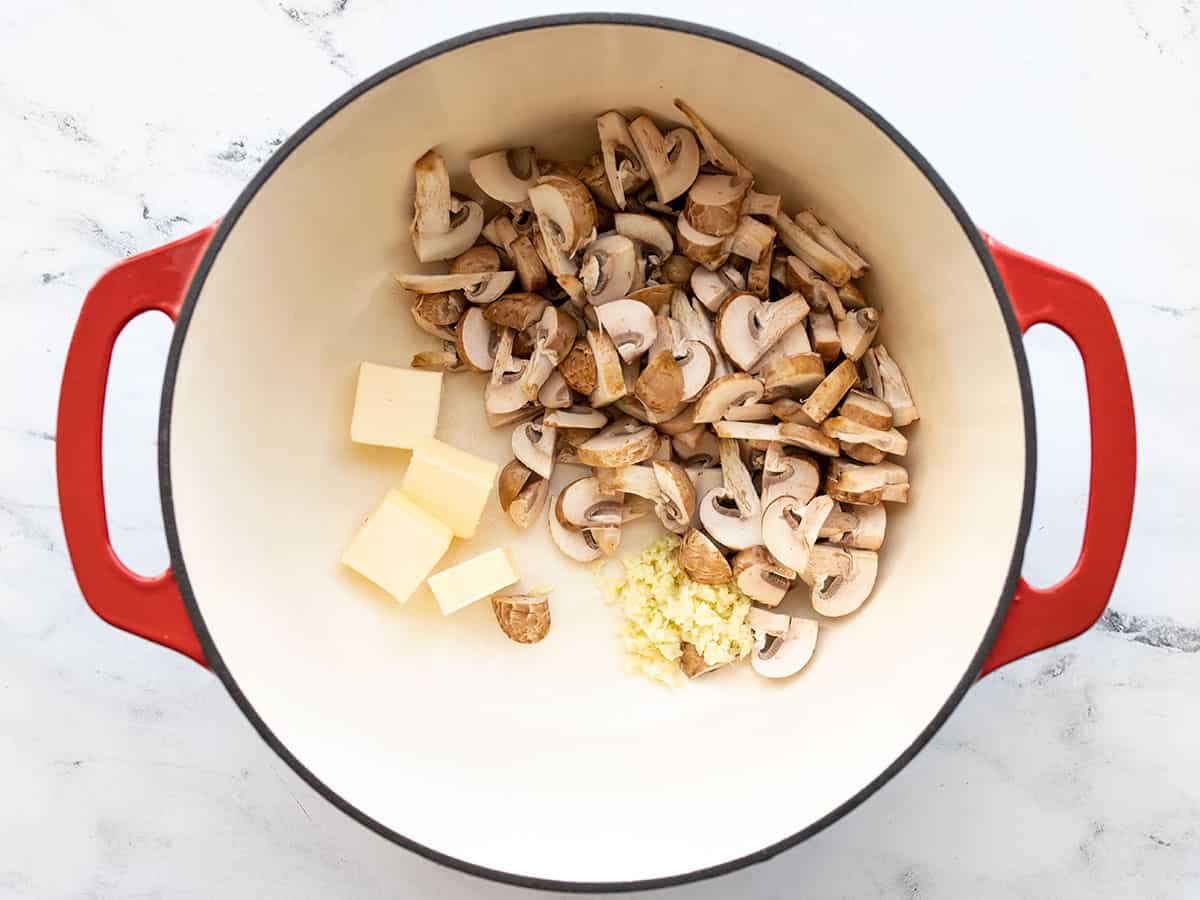 Preheat the oven to 350ºF. Add 4 Tbsp butter, 2 cloves of minced garlic, and 8oz. sliced mushrooms to a pot. Sauté over medium heat until the mushrooms have softened.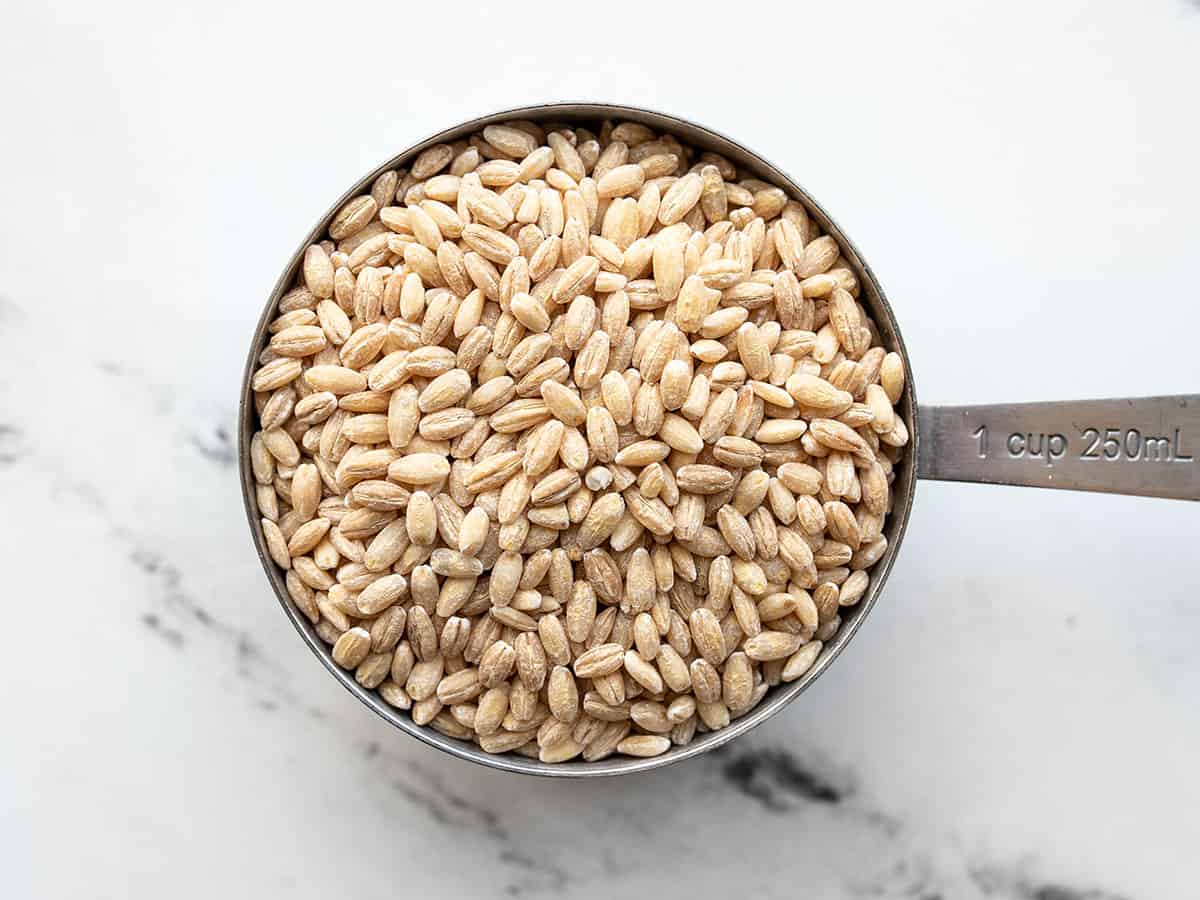 This is what the pearled barley looks like. As mentioned above, this is Bob's Redmill brand, which appears to be less polished than other generic brands I've used in the past. Pearled barley often looks very white, so this barley still has a considerable amount of bran left intact. Because of that, the grains were a little more firm this time around. Either way, it still tasted great!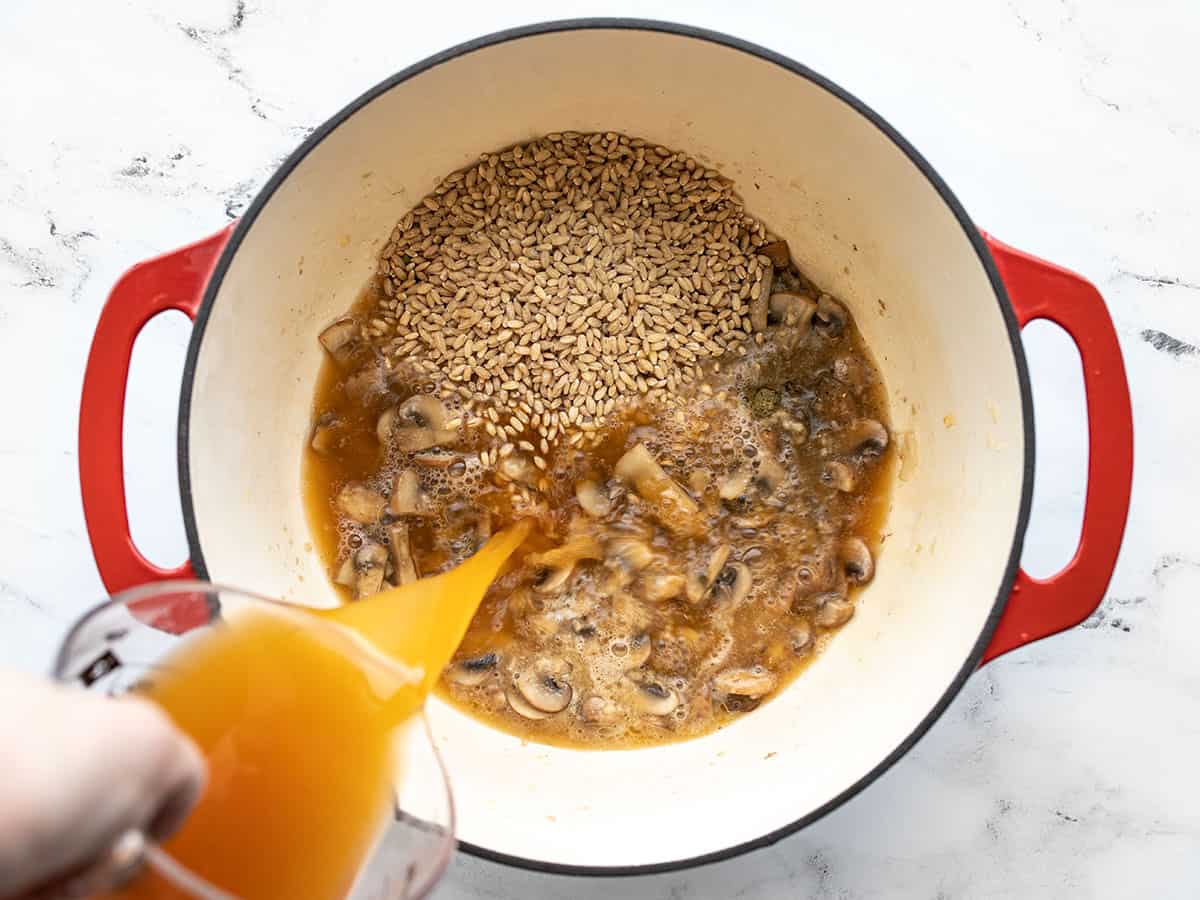 Add one cup pearled barley, ½ tsp dried thyme, a little freshly cracked black pepper (⅛ tsp), and 2 cups vegetable broth to the pot. Stir briefly to combine.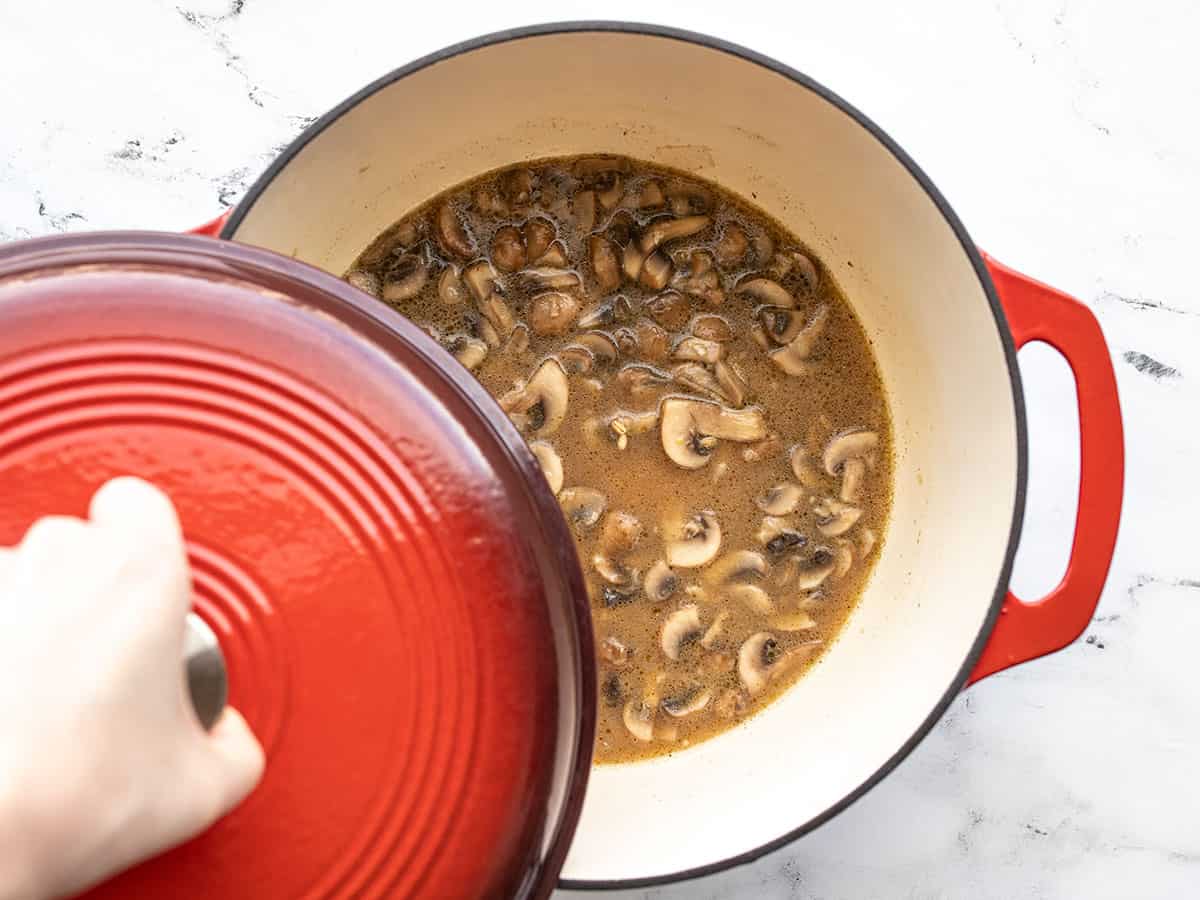 Place a lid on the pot and transfer it to the oven. Bake the barley in the 350ºF oven for one hour.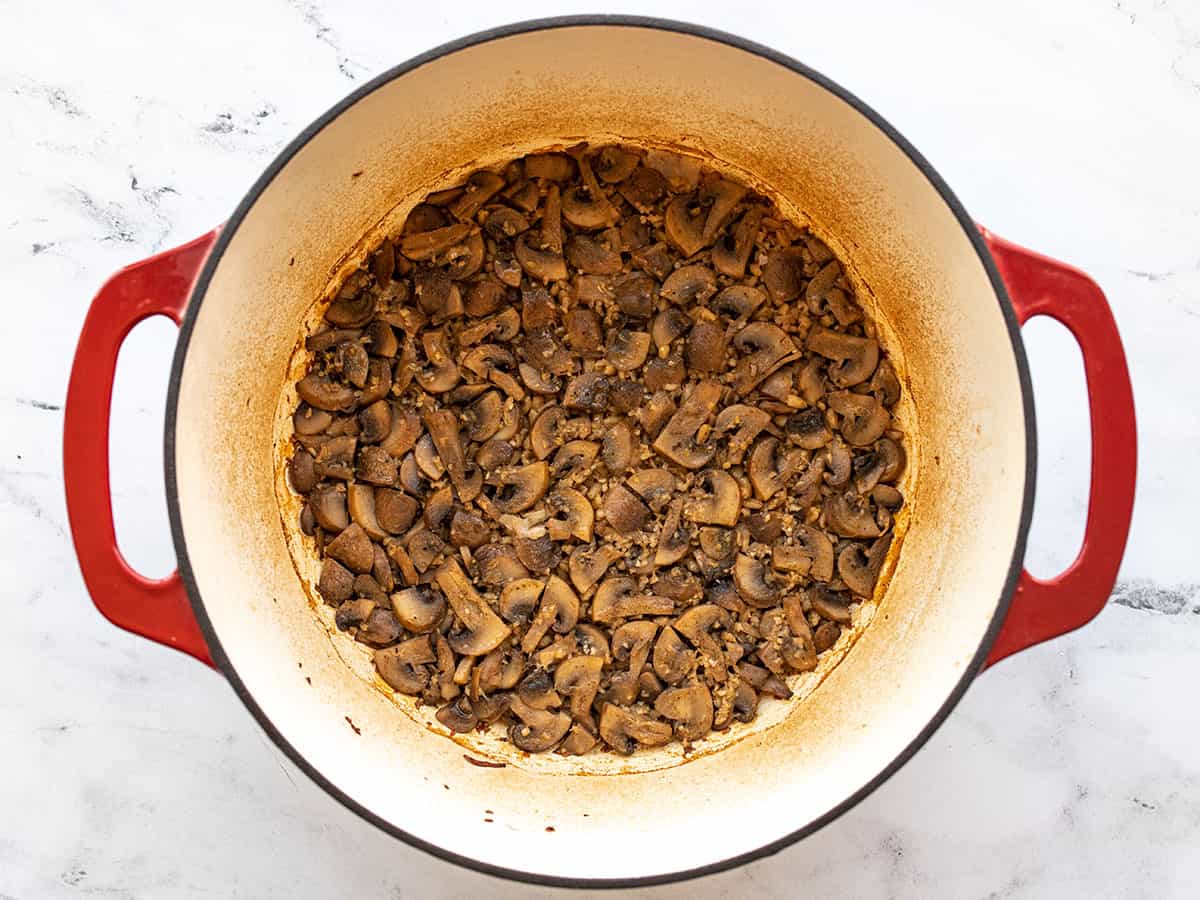 After baking it will look like this–the mushrooms will have risen to the top, fully covering the barley.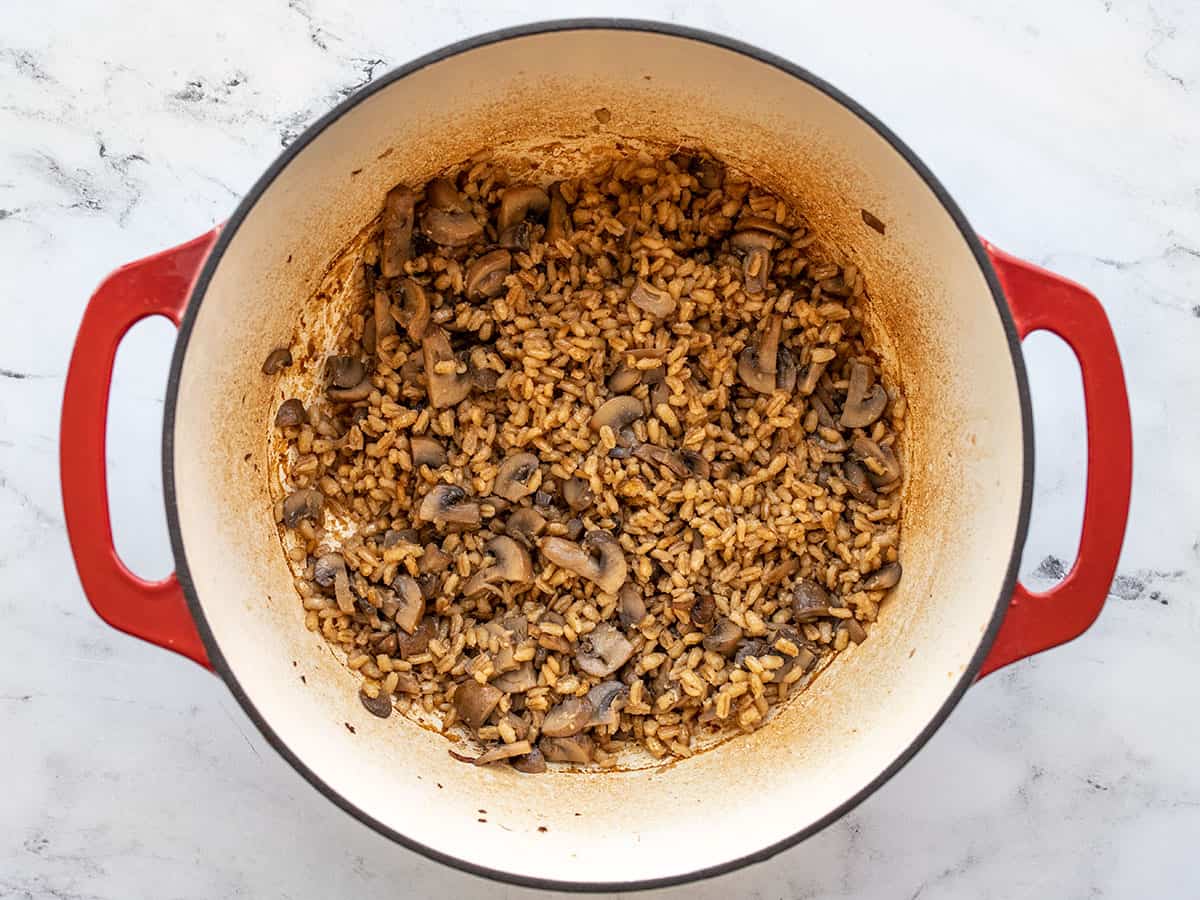 Give the barley a good stir. Taste the barley and add salt or pepper if desired.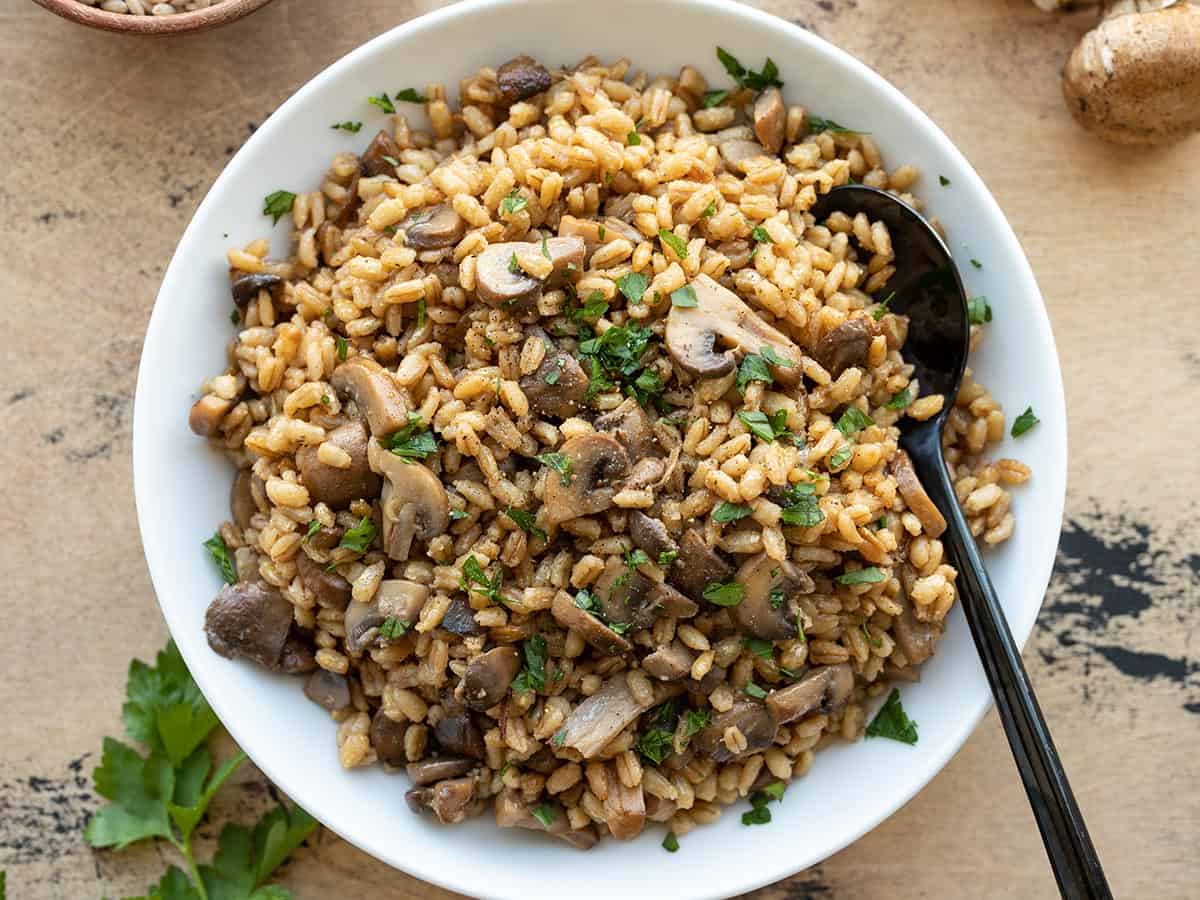 Top with chopped parsley just before serving.