Baked Barley with Mushrooms
Is it autumn yet? I mean, pumpkin flavored stuff is already everywhere, so I'm just gonna go ahead and start making some more fall-like recipes.
This is a recipe that my mom used to make, but with my own spin on the formula. The formula itself is simple: cook barley in broth to make it super yummy. Baking it in the oven means you don't have to babysit a pot on the stove and adding mushrooms gives it extra umami-oomph. These chewy little morsels are delicious, fun to eat, and very filling. I've set the servings to 6 for this recipe, which is about 1/2 cup each because it's just that filling (the recipe makes 3 cups total).
The changes I made from my mom's version are as follows: fresh mushrooms instead of canned, because canned mushrooms are just sad. Vegetable broth instead of chicken to keep it vegetarian, a dash of thyme because thyme and mushrooms are made for each other, and a handful of fresh parsley at the end for a pop of color and a little freshness.
You can also try sautéing a chopped carrot along with the mushrooms, adding a chopped onion, or even some beans. This recipe is very flexible and just waiting for your experimentation!
I used my cast iron dutch oven, but any casserole dish with a lid will work. If your casserole dish is not safe for use on a stove top, simply sauté in a skillet first, then transfer everything to a covered casserole dish before baking.
Baked Barley with Mushrooms
Baked Barley with Mushrooms
This Baked Barley with Mushrooms is a "set it and forget it" side dish that is bursting with flavor and ultra filling.
Servings: 6
Ingredients
3 Tbsp butter ($0.45)
2 cloves garlic ($0.16)
8 oz button mushrooms ($1.99)
1 cup pearled barley ($1.07)
2 cups vegetable broth* ($0.26)
1/2 tsp dried thyme ($0.05)
handful fresh parsley (optional) ($0.25)
Instructions
Preheat the oven to 350 degrees. Mince the garlic and add it to the bottom of a dutch oven along with the butter. Cook on the stove top over medium heat for 1-2 minutes, or until the garlic has softened.

Meanwhile, rinse and slice the mushrooms. Add the sliced mushrooms to the dutch oven and continue to cook until the mushrooms have softened and turned a dark taupe color.

Add the barley, vegetable broth, and thyme to the dutch oven. Stir to combine, place the lid on top, and transfer to the preheated 350 degree oven. Bake for one hour.

After one hour, stir the barley to fluff it up. Roughly chop a handful of fresh parsley and stir it into the barley before serving.
Notes
A dutch oven is a covered casserole dish that is also safe for use on the stove top. If you don't have a dutch oven, simply sauté in a skillet first, then transfer to a casserole dish with a lid before baking.
*I use Better Than Bouillon brand vegetable base to make my broth. It's less expensive than canned or boxed broths.
See how we calculate recipe costs here.
---
Nutrition
Serving: 1 Serving ・ Calories: 181.92 kcal ・ Carbohydrates: 28.52 g ・ Protein: 4.62 g ・ Fat: 6.28 g ・ Sodium: 318.62 mg ・ Fiber: 5.68 g
Nutritional values are estimates only. See our full nutrition disclaimer here.
---
The equipment section above contains affiliate links to products we use and love. As an Amazon Associate I earn from qualifying purchases.
Step by Step Photos
First preheat the oven to 350 degrees. Mince the garlic and add it to the dutch oven along with the butter. Cook over medium heat for a couple of minutes, or until the garlic becomes soft and fragrant.
Meanwhile, start slicing the mushrooms and adding them to the dutch oven. Continue cooking until the mushrooms are soft and dark taupe in color (the picture is just after adding the mushrooms, before the have fully cooked).
This is "pearled" barley. You can usually find it by the dry rice and beans, or in the bulk food bins. Pearled barley has had the hull removed, so it cooks a little faster (although it still takes quite a while).
Once the mushrooms have cooked, add the barley, broth, and thyme. Stir everything to combine. Place the lid on the dutch oven, then transfer to the preheated oven and bake for one hour.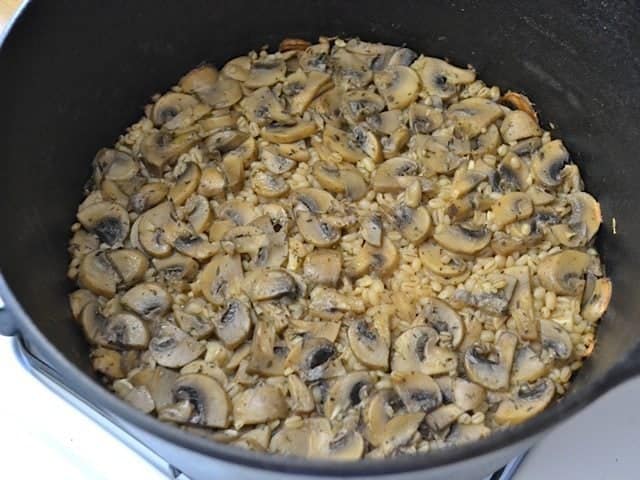 After one hour it looks like this – all compact, so you'll want to fluff it up some.
See, all fluffed.
If you want, you can add a handful of roughly chopped parsley to finish it off (if you're not a parsley person, don't worry. It will still be great).
So easy. So filling.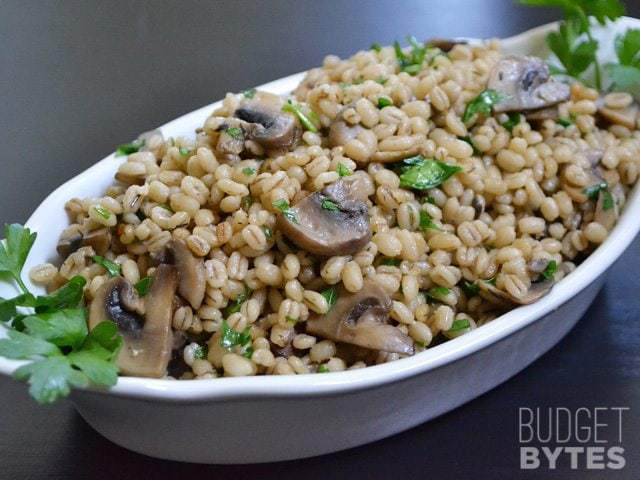 Yes please.