I swear, sometimes all I want to eat is bread (or chips) and some sort of dip. For a while I was crazy about hummus, but even with all the flavor possibilities there I ended up wanting to try something new. Enter Baba Ganoush. The incredibly creamy, roasty and toasty eggplant dip. This stuff is incredible, guys. So bookmark this for the next time you see eggplant on sale!
Baba Ganoush
What is Baba Ganoush?
Baba Ganoush (or baba ghanouj, baba ghanoush) is a roasted eggplant dip with origins in the eastern Mediterranean. If you like hummus, you may very well like Baba Ganoush because it is very similar. So similar, in fact, that I like to describe it as hummus made with roasted eggplant rather than chickpeas or garbanzo beans. It has all of the usual ingredients: tahini (sesame paste, think peanut butter but made with sesame seeds instead of peanuts), lemon juice, and garlic.
Learn More About Baba Ganoush
That being said, this is just my interpretation of the dish and I'm certainly no baba ganoush expert, so if you want to try an authentic recipe and learn all about the different ways it can be prepared and prepared right, check out the Baba Ganoush Recipe from The Mediterranean Dish.
Roast the Garlic for Mild Flavor
Although I love garlic, the breath that it leaves behind can be a little too strong, especially if the garlic is fresh. So, for this recipe, I used roasted garlic instead of fresh. Roasting garlic softens the flavors and makes it almost sweet instead of the sharp spicy flavor found with fresh garlic.
Anyway… this baba ganoush turned out great and I ate a boat load of it today for lunch with some whole wheat pita ($0.21 per pita pocket)! Even though it was a simple appetizer-like lunch, I'm still full over five hours later.
Baba Ganoush
Make your own fresh and flavorful Baba Ganoush to dip pita or fresh vegetables.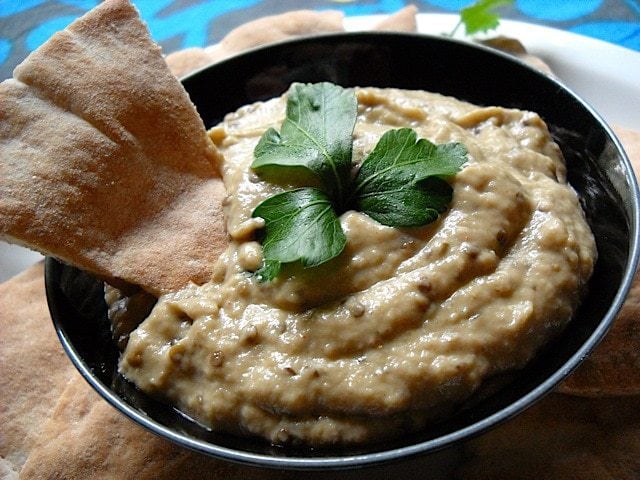 Ingredients
2

eggplant

($1.92)

1/2

bulb

roasted garlic

($0.18)

1

fresh lemon

($0.33)

3

Tbsp

tahini

($0.54)

1/2

tsp

paprika

($0.05)

salt to taste

($0.05)
Instructions
Preheat your oven to 400ºF. Place the whole eggplants on a baking sheet and prick all over with a fork (this allows the steam to escape while they roasts. Place the eggplant in the oven and roast for 45 minutes or until the skin is all wrinkled up and the flesh is very soft. You can roast the garlic at the same time if you choose to use roasted as opposed to fresh. Instructions for roasted garlic are here.

Once the eggplant are done roasting, slice them length wise and scrape the soft flesh into a bowl. Add the garlic, tahini, juice of the lemon, salt and paprika to the eggplant and either mash up with a fork, mortar and pestle or blend in a food processor or blender. Taste the mixture and adjust to your preferences.

Serve with pita bread cut into triangles and/or vegetable crudites!
See how we calculate recipe costs here.
---
---
Nutrition
Serving:
1
Serving
Calories:
149.38
kcal
Carbohydrates:
21.95
g
Protein:
5.18
g
Fat:
6.68
g
Sodium:
167.43
mg
Fiber:
9.88
g
Read our full nutrition disclaimer here.
How to Make Baba Ganoush – Step By Step Photos

Here is a picture of the tahini I used, if you have never heard of or seen it before. There are many brands and they can be found in most major supermarkets either near the peanut butter or in the international foods aisle.

Place two eggplant on a baking sheet and roast at 400ºF for about 45 minutes, or until they are soft and the skins are wrinkled. You can place your bulb on garlic on the baking sheet to roast at the same time.

Slice the eggplant lengthwise and scoop out all of that creamy good flesh! Mix the eggplant with ½ of the roasted garlic bulb, 3 Tbsp tahini, juice of the lemon, 1/2 tsp paprika, and salt to taste.

Serve with pita bread or vegetables. Garnish with parsley or a drizzle of olive oil.