I love cooking from scratch because it usually offers both cost and nutritional benefits, but there are always nights when you just need something fast. Recipes like this Zucchini Sausage Ravioli are for those days. Days when you just want to take some basic store bought items and jazz them up just enough to make them feel like a homemade meal. It's still far less expensive than eating out and you maintain some control over what goes into the meal. Recipes like this are also great for people who are just transitioning into cooking for themselves and might not quite be to the "everything from scratch" level. This is a great place to start!
For this super quick weeknight meal, I took advantage of a bag of frozen cheese ravioli, a jar of pasta sauce, and some Italian sausage links that I had left over in the freezer. Since I've been a bit heavy on the pasta lately, I wanted to make this meal at least equal in vegetable content as pasta. So, I cut up two pounds of zucchini (one of summer's least expensive and versatile vegetables) and tossed that into the pot. Zucchini goes extremely well with both pasta sauce and Italian sausage, so it was a natural choice. Italian sausage is heavily seasoned, so even adding just a 1/2 pound to the dish helped increase the flavor of the dish by quite a bit.
Now, you could transfer this pasta into a baking dish, cover the Zucchini Sausage Ravioli with a layer of cheese, and bake until it's nice and bubbly on top. That would have made a beautifully irresistible "pin" but you know what? The ravioli already has cheese and I just didn't want to over do it. So, I saved time, effort, money, and extra calories, and just ate the ravioli as is. It was SO tempting. So very tempting. #littlevictories
It's also interesting to note how the total recipe cost and price per serving on this Zucchini Sausage Ravioli compares to recipes that are more from scratch. I'd estimate that this recipe is roughly twice the price of "from scratch" recipes due to the pre-made ravioli and pasta sauce. For reference, this Penne Pasta with Sausage and Greens is very similar, but about half the price per serving. Instead of frozen ravioli it uses regular pasta and has cheese added into the mix. So, as you can see, you really do pay for convenience!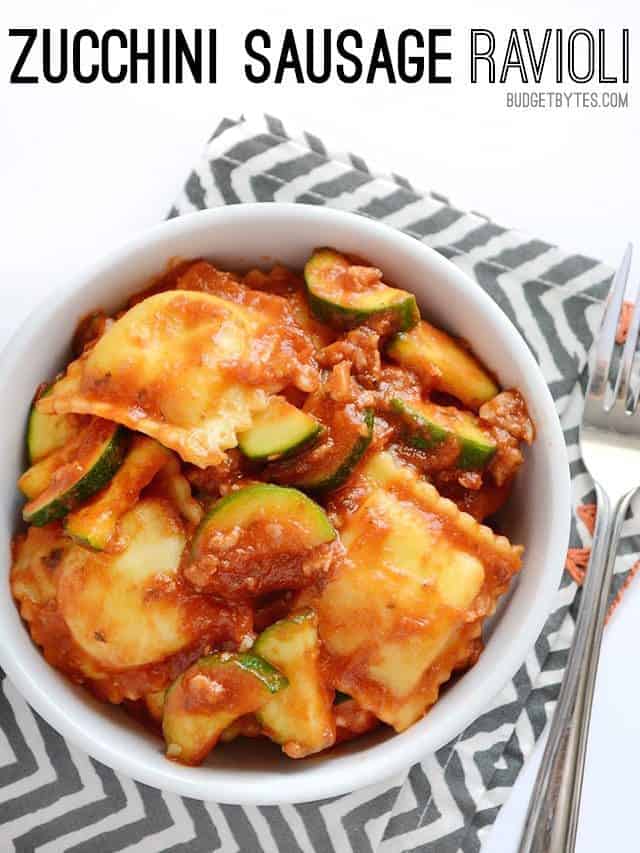 Print Recipe
Zucchini Sausage Ravioli
Adding a healthy dose of vegetables to these grocery store staples makes this Zucchini Sausage Ravioli a quick, delicious, and healthy weeknight meal.
Prep Time: 5 mins
Cook Time: 30 mins
Total Time: 35 mins
Servings: 4 (1.5 cups each)
Ingredients
20 oz. bag frozen cheese ravioli ($3.99)
1 Tbsp olive oil ($0.16)
8 oz. Italian Sausage ($1.99)
2 lb. zucchini ($3.21)
24 oz. jar pasta sauce ($1.97)
Instructions
Cook the ravioli in a large pot according to the package instructions, then drain in a colander.

Add the olive oil to the pot used to the cook the ravioli, then add the Italian sausage. If the sausage is in a casing, squeeze it out of the casing and into the pot. Sauté the sausage over medium heat until golden brown and crispy. Break the sausage up into small pieces as it cooks. Drain off the excess grease if needed.

While the sausage is browning, slice the zucchini into half moons. Once the sausage is browned and excess grease drained away, add the zucchini. Continue to sauté for about 5 minutes more, or just until the zucchini is slightly softened.

Add the pasta sauce and cook a few more minutes to heat through. Finally, add the drained ravioli and stir until the pasta is coated in sauce. Serve hot.
---
Nutritional values are estimates only. See our full nutrition disclosure here.
Zucchini Sausage Ravioli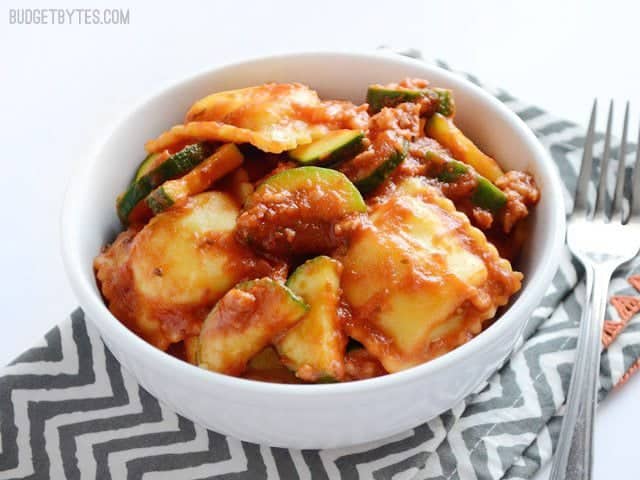 Step by Step Photos
Start with a 20oz. bag of ravioli (or similar size). Cook the ravioli according to the package directions. This brand only needed a quick 5 minute simmer in boiling water. I was determined to use only one pot to make this meal, so cook the ravioli in a large pot that is big enough to house all the ingredients later.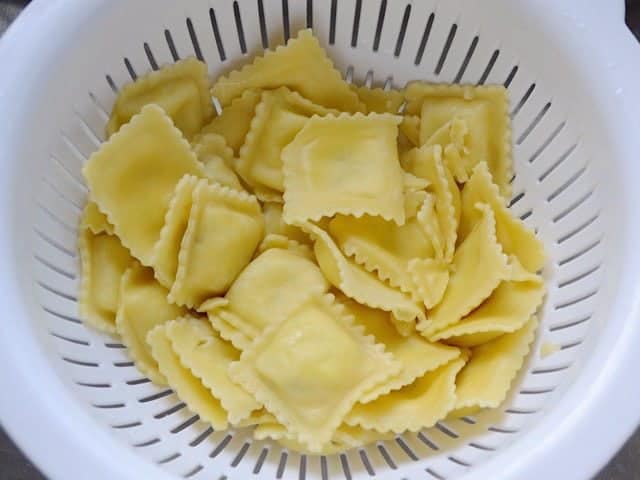 Drain the ravioli after cooking. You can just leave it there while you prepare the rest of the ingredients.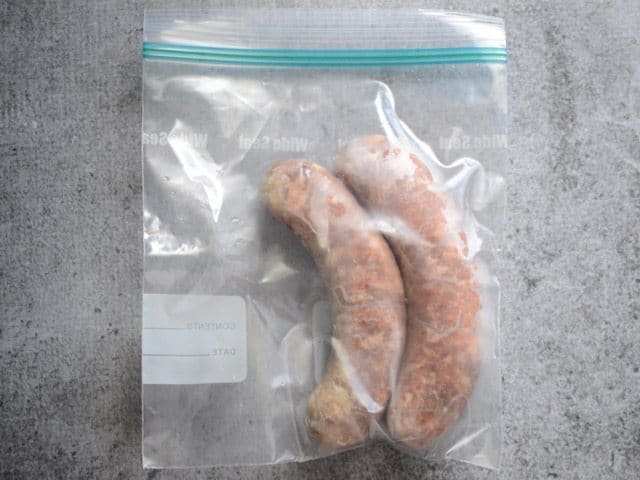 A while back I had bought a large pack of Italian sausage and frozen them in two link portions. Two links is 1/2 lb., which is about the amount of meat that I like to use in recipes. I tend to go light on the meat and higher on vegetable content.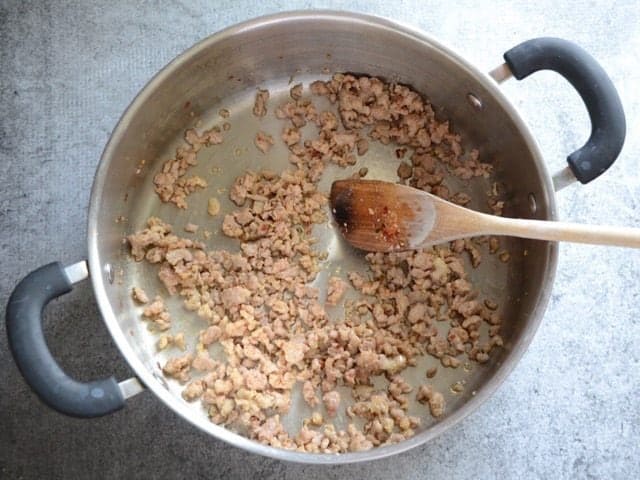 Add one tablespoon of olive oil and the 8oz. of Italian sausage to the same pot that was used to cook the pasta. If your sausage is in links, squeeze it out of the casing. Sauté the sausage over medium heat until golden brown, breaking it into small pieces as you cook. If there is a lot of grease on the bottom of the pot, drain it off (mine didn't have much, so I didn't drain).
While the sausage is browning, cut 2 lbs. of zucchini into half moon slices. These zucchini were a little on the small side, so two pounds was about 4 zucchini.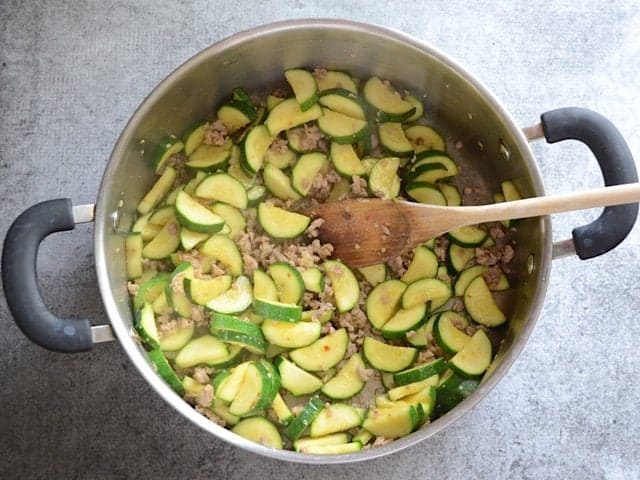 Once the sausage has browned, add the sliced zucchini. Continue to sauté just until the zucchini begins to soften (about 5 minutes). You don't want it completely limp, just soft around the edges. It will still cook a bit more and you don't want it to end up mushy.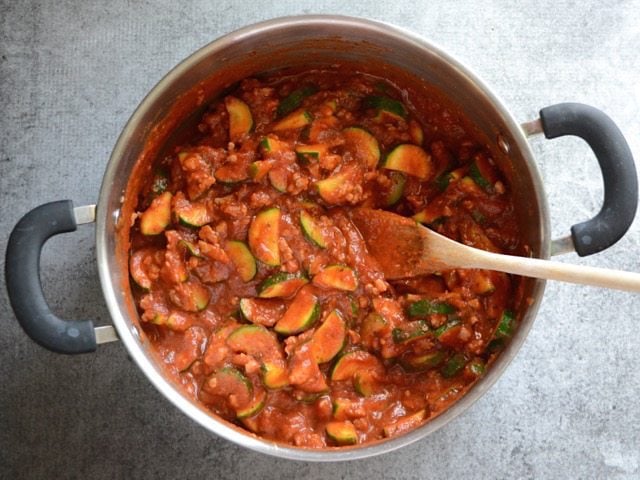 Finally, add a 24oz. jar of sauce and let it heat through (just a few more minutes). This is where you have some control over the ingredients. You can use a low sugar sauce or whatever flavor sauce you prefer. I used a very basic pasta sauce, but mushroom flavor or garden blend sauces would be nice as well.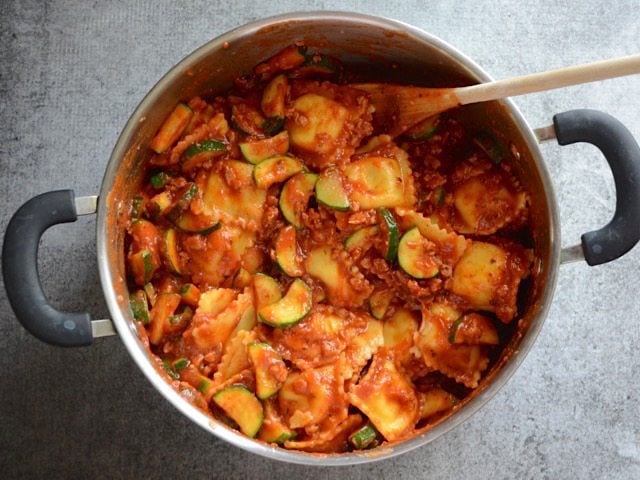 Finally, add the drained ravioli and stir until everything is coated in sauce. The raviolis might be stuck to one another from chilling in the colander for a while, so just stir gently and carefully separate them. You don't want the ravioli to tear. You can loosen them with a quick rinse of water while still in the colander, but I don't like that method because then the sauce doesn't stick to them quite as well. I'll carefully pry my ravioli apart instead. :)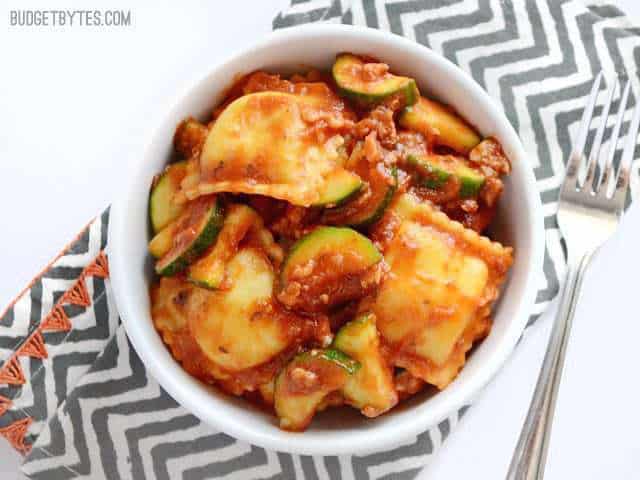 Zucchini Sausage Ravioli – a very quick, very filling, and a great alternative to take out!
A little meat, a little pasta, and a lot of vegetables.