THANK YOU, dear Anonymous, who left a comment on the (not) Sun Dried Tomato Sauce recipe last night about adding artichoke hearts and making a "pantry meal" out of the sauce! I wasn't sure what I was going to cook today until I saw that comment and thought, "YES. That's exactly what I feel like eating!" All I had to buy was some tomato paste and a can of artichoke hearts, and the rest I had on hand! Love it!
This pasta is super fast and easy, and is just bursting with flavor. The secret is the (not) Sun Dried Tomato Sauce, which is basically tomato paste, olive oil, and a bunch of herbs. The zesty, herbal sauce perfectly coats the pasta, artichoke hearts, and spinach, adding flavor to every single nook and cranny available. I like to use bow tie pasta for this, because I find it difficult to stir other ingredients into long pasta, like spaghetti.
I sprinkled a little parmesan cheese over top of each bowl, but that's completely optional. In fact, this makes quite a delicious vegan pasta dish if you skip the parmesan!
Zesty Tomato & Artichoke Pasta
zesty tomato & artichoke pasta
For quick prep and BIG flavor, try this Zesty Tomato & Artichoke Pasta. Quick weeknight dinners never tasted so good.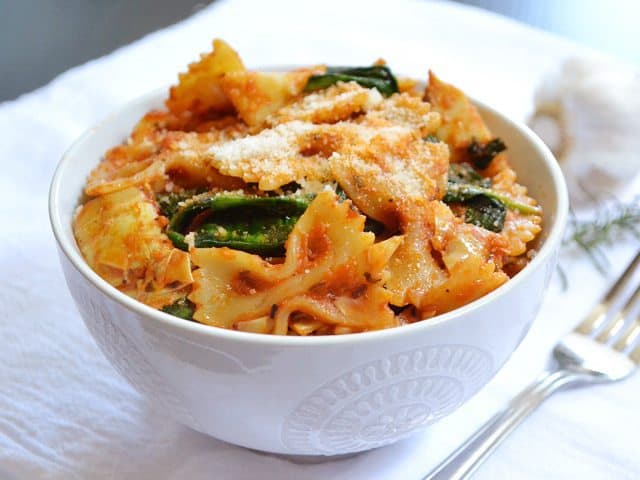 Ingredients
1

recipe

(not) Sun Dried Tomato Sauce

($1.17)

8

oz.

bow tie pasta

($0.55)

3

cups

fresh spinach

($0.50)

1

13oz. can

artichoke hearts

($2.50)

1/4

cup

grated parmesan (optional)

($0.42)
Instructions
Bring a large pot of water to a rolling boil over high heat. When it reaches a boil, add the pasta, and continue to let it boil for 7-10 minutes, or until the pasta is tender. Drain the cooked pasta in a colander.

While waiting for the pasta to cook, prepare the (not) Sun Dried Tomat Sauce according to the directions here. Once the sauce is finished, add the fresh spinach, stir, and cook it over low until the spinach wilts (1-2 min.). Drain the artichoke hearts, roughly chop them, and then add them to the skillet with the tomato sauce and spinach.

Once the pasta is cooked and drained, add it to the skillet with the sauce, and stir until everything is coated and combined. Serve hot with a sprinkle of parmesan cheese over top if desired.
See how we calculate recipe costs here.
---
---
Nutrition
Serving:
1
Serving
Calories:
343.45
kcal
Carbohydrates:
61.18
g
Protein:
14.23
g
Fat:
3.28
g
Sodium:
406.38
mg
Fiber:
8.2
g
Read our full nutrition disclaimer here.
Step By Step Photos

You can find the directions for whipping up the (not) Sun Dried Tomato Sauce here, but I'll give you a quick run down, since it's really fast and easy. First, add your olive oil, herbs, and spices to the skillet.

Cook them over low for one to two minutes, or just until the garlic is fragrant and now longer smells/tastes raw.

Next, add the tomato paste and continue to stir and cook over low heat for a few minutes more, or until the tomato paste becomes darker in color. Stir in the honey. Ta-da! Done.

Now, add the fresh spinach and continue to cook and stir over low heat until the spinach is wilted. This will only take a minute or two.

Drain the can of artichoke hearts, give them a rough chop (into bite-sized pieces) and then stir them into the skillet.

Oh yeah, and while you're making the sauce, have the pasta cooking. Or, if you don't like to multi-task, just make the sauce first, turn off the heat, and turn your attention to the pasta. You can heat everything up again later after the pasta is done cooking.

Drain the cooked pasta and then add it to the skillet with the sauce.

Then stir everything together and you're done! SO easy! You can add a little parmesan on top if you'd like, or leave it out for a vegan version. Honestly, the sauce has SO much flavor that parmesan isn't a deal breaker!