Happy Friday! This is my first week back on weekly budget after having my freebie-fun week. I decided to do a series on farro this week that kind of messed with my weekly menu plan, but I stayed on track for the most part. :)

I was in an experimental mood this week, so I decided to try out a new grain: farro. Because grains are extremely versatile, I wanted to cook a big batch of it and use it in a variety of recipes throughout the week. It was fun, but I'll admit, I was a little tired of farro by the end of the week. ;) I think a more realistic approach (if I wasn't trying to make a series of blog posts), is to make a big batch, freeze half of it for later use, and eat the farro for maybe a few days.
So, what did I plan to make with my farro? Before the week began, I brainstormed five different recipes that I could potentially make with cooked farro:
My favorite savory breakfast bowl (grain + frozen spinach + coconut oil + sriracha + soft boiled egg)
Cumin Roasted carrots with farro, parsley, and feta
While I did eat a couple of the savory breakfast bowls, I unfortunately did not get a chance to photograph them. I usually make them with rice, though, and you can see a photo of it in my post about how to soft boil an egg. The last salad, cumin roasted carrots with farro, parsley, and feta, I didn't have time for this week. :(
With those five recipes as my plan, let's take a look at what my grocery list looked like:
Staple items that needed replenishing last week included milk, peanut butter, and garlic. I forgot to add feta to my list, so it's kind of good that I ran out of time to make the last salad on the list. I would have had to make a second trip to the store and I haaaate having to do that. I do have a ton of unused carrots in my fridge now, though. Luckily, they'll stay good for quite some time.
What I Bought
As we all know, your grocery list and receipts usually aren't an exact match. ;) So, let's take a look at what I bought:
Weekly total: $29.78
I had actually bought the farro the week before (during my fun week), and the cost of that was $3.73. It was about 2.5 cups uncooked, and about 7-8 cups once cooked.
I love buying nuts from bulk bins because it allows me to buy a small amount and not impact my overall weekly budget by a huge amount. Both stores have bulk bins and both stores have walnuts in those bulk bins, but the price is drastically different. At Whole Foods the walnut pieces (not organic) are $8.99/lb. At my local store, Rouse's, they're $13.99/lb. HUGE difference. This is why it pays to shop around and pay attention to prices.
When I got to Whole Foods I saw that they were running a sale on chicken drumsticks, so I picked up a pack. It's a large family pack, so this should last me for two recipes, and about four servings for each recipe. I didn't have chicken planned for this week, so they went directly into my freezer.
I paid the higher price for cucumbers at Whole Foods because the cucumbers at the other store are pretty terrible on a consistent basis (even when in-season, surprisingly). And since I only needed one, the higher price didn't have a huge impact on the overall budget. The same was true for the Roma tomatoes. I haven't liked them at the local store lately, so I sprung for the more expensive tomatoes at Whole Foods.
The sale on Potatoes was also a surprise, but I'm glad I took advantage and picked up a few. Having those Garlic Parmesan Oven Fries was a nice change of pace from all the farro, and it added only a dollar to my overall bill. ;)
Here are photos of the weekly grocery haul:
What I Ate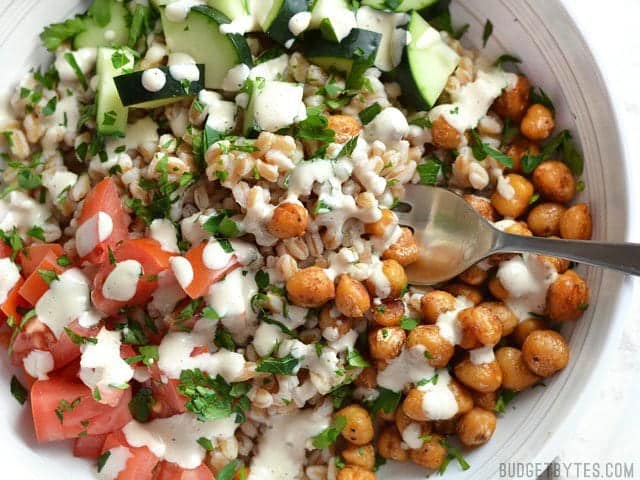 This Mediterranean Farro Salad with Spiced Chickpeas was my first recipe of the week. It was incredibly filling and refreshing at the same time. After the first one I had to make them a bit smaller because I almost felt too full with all that fibrous goodness. The dressing I used for this salad, BTW, is my favorite dressing of all-time. It's a shame that I haven't given it its own post yet.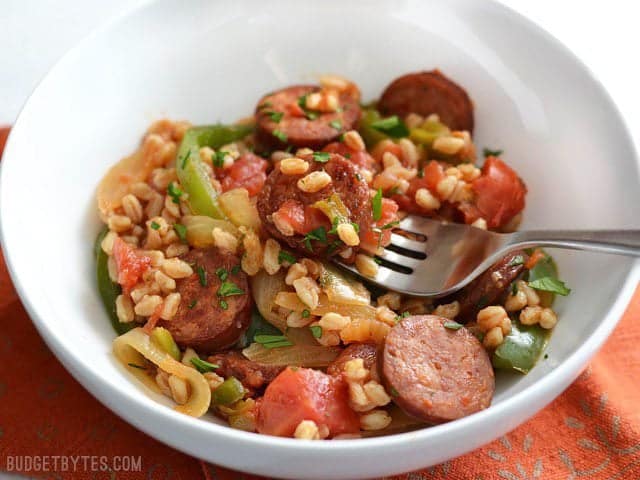 Next up was this really fast skillet meal–Smoked Sausage Skillet with Peppers and Farro. This was my comfort food recipe of the week. Warm, flavorful, and filling. Plus, it's deceptively healthy. I like deceptively healthy things.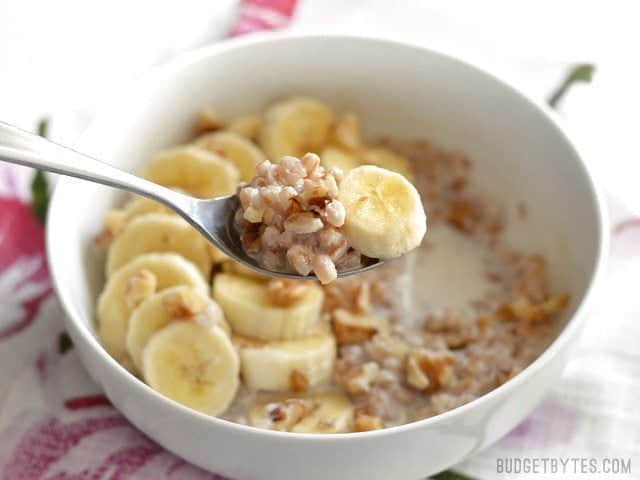 I tried to incorporate the farro into breakfast, too, just for the fun of it. I made two different breakfast bowls, this Banana Nut Breakfast Farro being the first. I also made a savory breakfast bowl with frozen spinach (microwaved with the farro to warm it up), coconut oil, sriracha, and a soft boiled egg. That's one of my favorite breakfast combos. Sometimes I even sprinkle a little jerk seasoning into the grain/greens mix.

To break up the monotony of the farro, I made these awesome Thick Cut Garlic Parmesan Oven Fries. Totally indulgent without doing too much damage. I only made one potato's worth though, so the other two potatoes will have their day soon.
I also broke into my stockpile of freezer meals a few times this week because as the week wore on, my appetite for farro waned. I ate some of my African Peanut Stew (I can't believe I still have one portion left in there) and the Curried Red Lentil and Pumpkin Soup.
I also had some leftover cheddar from my fun week when I made 5 Minute Nacho Cheese Sauce, and I found myself making quick quesadillas a few times during the week (tortilla + cheese x microwave = irresistible to me).
Boyfriend wasn't really into the farro thing, so he ate a lot of his own food this week. And, despite my pleads for him not to buy any groceries, he replenished my milk and eggs half way through the week. So, that probably would have been another $6 or so on my bill, brining me right up to around the $40 mark.
Oh, and we ate out twice. Once was pizza night, which left us with one meal of leftovers. :)
Reflection
Even though I love stocking my freezer with single serving meals that are ready to reheat, it's still sometimes tempting to go pick up something fresh and pre-made. Every time I overcome that urge and reheat one of my freezer meals, I'm always more delighted while eating it than I expected, and therefore even more proud that I didn't break down and go buy something. I guess it's kind of like working out… it doesn't sound very appealing when you're thinking about doing it, but once you're done you're very proud and satisfied!