I'm about mid-way through my "week of farro" experiment. I cooked a big batch of farro earlier in the week and am using it in a variety of different dishes. Yesterday I used the cooked farro to build a simple breakfast bowl with bananas, walnuts, and just a touch of vanilla and brown sugar. I loved this Banana Nut Breakfast Farro because I can actually use this base template, make simple adjustments, and have a slightly different bowl every morning.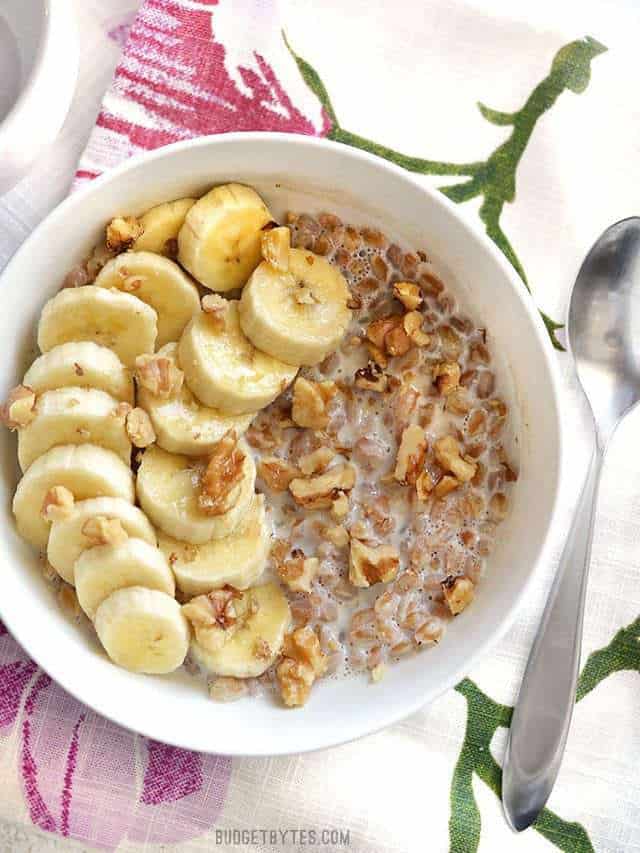 What is Farro?
Farro is a nutty, chewy grain that is often considered one of the "ancient grains" which means it has not changed much through selective breeding over the past thousand years. Like other grains, it's incredibly versatile and can be used in both sweet and savory dishes. In this breakfast farro, I essentially just replaced oats, another grain, with farro.
How to Cook Farro
This breakfast farro bowl uses farro that is already cooked. I suggest cooking a batch of farro in the beginning of the week, then using the cooked farro in different dishes throughout the week. Cooking farro is easy. Just like other grains, you simply boil it in water until tender. For detailed instructions, read my tutorial on how to cook farro.
What Else Can I Add to Breakfast Farro?
You can add all sorts of other toppings to this breakfast bowl like, flax seed, coconut, or raisins. Or you can stir different flavors into the cooked farro, like cinnamon or peanut butter. Basically, farro is just as flexible of a breakfast grain as is oatmeal. The major difference being the texture. Oatmeal is rolled flat into flakes, whereas farro is plump and chewy and doesn't get as thick or pasty when cooked. Instead, it kind of looks like rehydrated Sugar Smacks! :D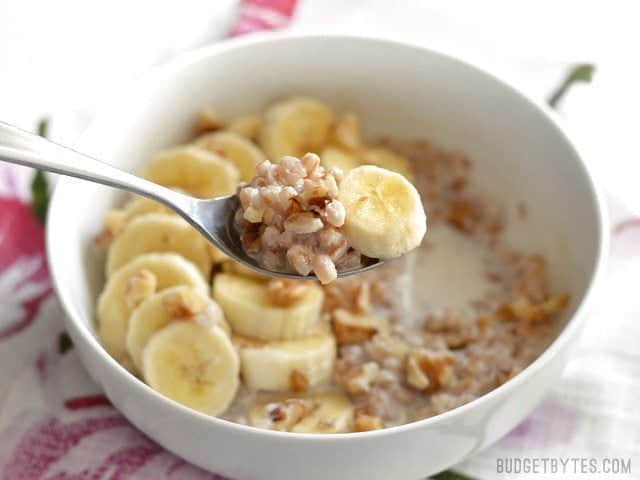 Banana Nut Breakfast Farro
Oatmeal isn't the only grain that is great for breakfast! Take leftover cooked farro and turn it into this delicious Banana Nut Breakfast Farro bowl.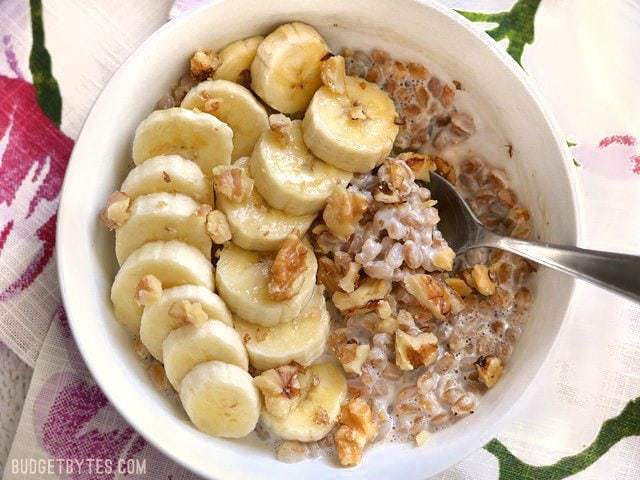 Ingredients
1/2

cup

cooked farro

($0.25)

1/2

cup

milk (dairy, soy, or almond)

($0.19)

1/4

tsp

vanilla extract

($0.07)

1/2

tsp

brown sugar, maple syrup, or honey

($0.02)

1

banana

($0.21)

2

Tbsp

chopped walnuts

($0.29)
Instructions
Add the cooked farro and milk to a bowl. Microwave on high for one minute (watching to prevent overflow) then stir. Cook for 2 minutes more, in 30 second intervals, stirring in between. After 3 minutes total, the farro should have absorbed some of the milk, be softer in texture, and the milk slightly more starchy and thick.

Stir in the vanilla extract and sweetener (brown sugar, maple syrup, or honey).

Slice the banana and place it on top. Sprinkle the chopped walnuts over the bowl, and enjoy.
See how we calculate recipe costs here.
---
Nutrition
Serving:
1
Serving
Calories:
391.3
kcal
Carbohydrates:
59.4
g
Protein:
9.8
g
Fat:
13.9
g
Sodium:
71.8
mg
Fiber:
6.1
g
Read our full nutrition disclaimer here.
Scroll down to see the step by step photos!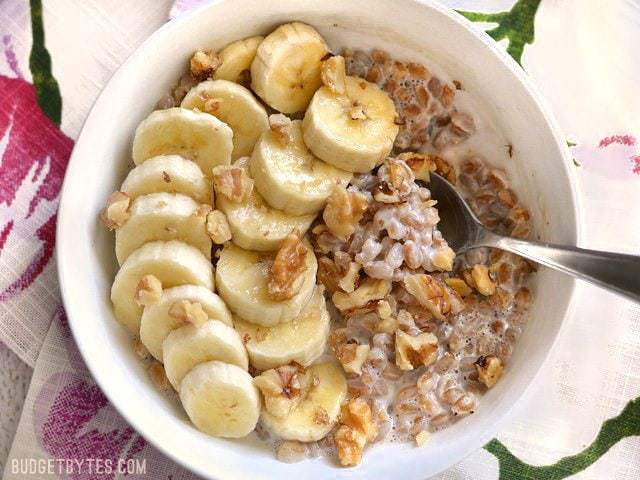 How to Make Breakfast Farro – Step by Step Photos
Add 1/2 cup cooked farro and 1/2 cup milk to a bowl. Microwave on high for one minute (watching to make sure it doesn't bubble over), then stir. Microwave for 2 more minutes in 30 second intervals, stirring between each interval.
After 3 minutes in the microwave, the farro should have absorbed some of the milk and will be slightly more plump, while the milk will be a little more starchy and thick. Stir in 1/4 tsp vanilla extract and 1/2 tsp of sweetener of your choice (brown sugar, maple syrup, or honey).
Finally, slice a banana, lay it on top, and sprinkle 2 Tbsp chopped walnuts over everything.
Now you're ready to eat!
I decided last minute to add a teaspoon or so of ground flaxseed. Coconut would also be a delicious and textural addition. Peanut butter would make things a little on the savory side, while cinnamon would add warmth. There are so many different ways you can take this Banana Nut Breakfast Farro! :D