Happy Friday! It's finally time to recap all the things I bought, cooked, and ate last week (my week runs from Thursday through Wednesday, BTW). The week went pretty smoothly and we were very well fed. I went about $10 over budget (thanks in part to a rotisserie chicken impulse buy later in the week), but we didn't go out to eat at all, so it's not such a shabby trade off!
This week's menu plan started with an incredible craving that I was having for my old One Pot Chili Pasta, so I put that on the list. I had also wanted to try Nam Sod, a dish that my hair stylist tells me about just about every time I get my hair cut, and I thought that would make a nice light contrast to the heavier chili pasta. Lastly, I had second box of gnocchi in the pantry that needed to be used up, so I decided to toss that into a soup with kale, which I noticed was on sale when I check the weekly sale circulars.
I knew the ground pork was going to be expensive (because I'm trying to buy higher quality meat), so I decided to make the chili pasta and gnocchi soup vegetarian. That all back fired one night when I was craving meat and ran out to the store to buy a rotisserie chicken (why do they have to be so stinking good?!). I ended up adding leftovers of the chicken to the soup, which actually turned out quite nice.
I made a last minute, in-store decision to make Garlic Parmesan Kale Pasta because both the kale and pasta were on sale and all the rest of the ingredients I keep on hand. Plus, it's a dish that I love but haven't had in quite a while.
So, those were my four recipes that I planned for the week: Cheesy Vegetarian Chili Mac, Nam Sod, Kale Chicken and Gnocchi Soup, and Garlic Parmesan Kale Pasta.
What Did I Buy?
Here's what my grocery list looked like for those four recipes, plus weekly staples:
(Milk was the last item on the list, but it got cut off because the list was too long.)
My staples this week were milk, olive oil, and eggs. I knew olive oil was going to be a big expense (maybe up to 25% of the $40 budget), so I had to be careful. Luckily I found a great deal at Whole Foods and paid only $7.99 for a 32oz. bottle (cold pressed, extra virgin, Mediterranean blend). That might be the lowest price I've ever paid for that size bottle.
I made a note on my list to get the kale at Whole Foods because it was on sale. I thought about getting a cucumber to add to the Nam Sod, but they were too expensive at one store and looked old and wrinkly at the other store, so that was a "no go." I was bummed that I didn't have any cheddar left in my freezer from the amazing sales that kept happening through December ($1.67 for 8oz. bags), but at least they were still on sale for $2.50. And lastly, instead of buying a 15oz. can of tomato sauce for $1.09, I got two 8oz. cans because they were on sale for $0.44 each. Small savings add up!
Here are my receipts for the week:
Whole Foods prints the last bit of their receipt on the back to save paper, so the total for that one, with tax, was $29.89. Both stores totaled $44.78. I was a bit over even before my "impulse buy" later in the week, which had me wondering if $50/week was a more realistic goal. Nah. I'm going to stick to $40 as a goal. Setting my goals higher makes me work harder to achieve them, even if I don't always succeed.
Oh yeah, so when I perused down the tomato/pasta aisle, I noticed that my favorite pasta (DeLallo) was on sale again! I only needed macaroni for this week's recipes, but I grabbed a box of orecchiette just to stock up. I used that in place of spaghetti for my Garlic Parmesan Kale Pasta. :)
And then, as I mentioned, I impulse bought a rotisserie chicken for $5.99 later in the week (sorry no photo).
What Did I Eat?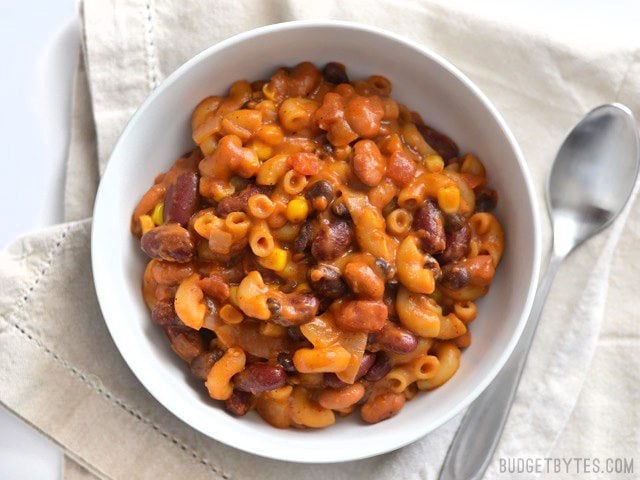 This Cheesy Vegetarian Chili Mac served as my base recipe for the week. It makes a huge batch, is very filling, and tastes so good that I wanted to eat it for every meal. So, I knew that this recipe would be a bulk of my food for the week, and I wasn't at all upset about eating it every day (or almost every day, anyway).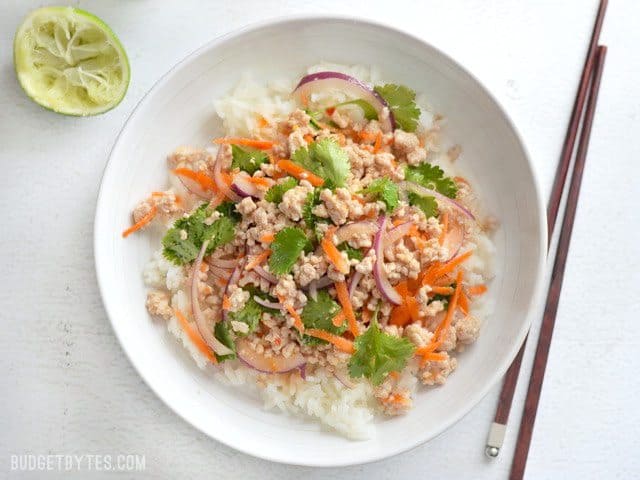 Next was Nam Sod, which is a recipe I've wanted to make for quite a while. It's on the lighter side and the batch was smaller (4 servings), but it was nice to have a lighter meal to add variety to the week. (Oh man, looking at that photo is making drool. I want more!)

With my second bunch of kale, I decided to make this Garlic Parmesan Kale Pasta, originally posted in 2013. I've always loved this dish because it's so simple, flavorful, and filling, but haven't had the chance to make it in forever. The original recipe uses spaghetti, but I used orechiette this time (they're like little concave discs). This pasta also happened to make the perfect side for the rotisserie chicken that I splurged on.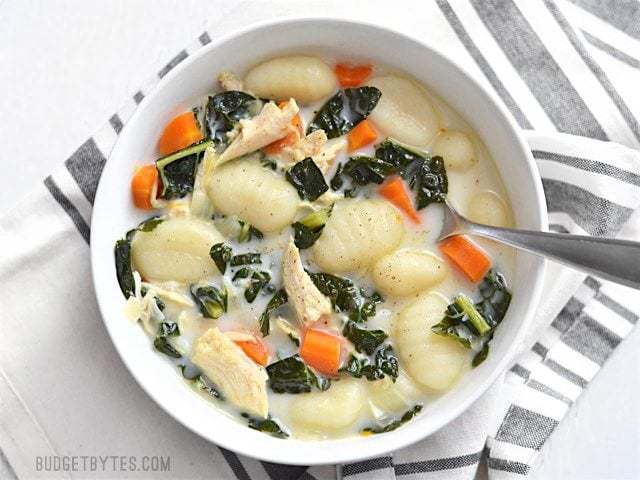 And lastly, I whipped up this super fast Kale Chicken and Gnocchi Soup with the leftover rotisserie chicken and the extra box of gnocchi in my pantry. Because I made this towards the end of the week, it has actually extended to a couple of meals this week. It's so good that I actually ate two bowls of it for lunch yesterday. Oops!
Breakfast continues to either be my homemade yogurt (still eating through the last batch from a couple weeks ago) with a handful of dry oats, fruit, and maple syrup; oatmeal with peanut butter and brown sugar; or eggs with whatever I happen to have around (I had some Focaccia Rolls in the freezer that work well with eggs).
I made popcorn once this week and drizzled it with some of the flavored oils my friend got me for Christmas (YUM) and snacked on the bananas and oranges that were part of this week's groceries.
What Didn't I Eat?
Restaurant food! We didn't go out to eat at all last week. Part of that is because we were both just really busy and tired, but I think that little splurge with the rotisserie chicken definitely helped. It felt like going out to eat, but not nearly as expensive and I could sit at home in my pajamas while eating it. :P heheh
I only ate one of the oranges, but I'm continuing to try to eat them this week, so at least they didn't end up in the trash. I didn't remember to wrap my banana stems in foil this week, either, so one of them went brown before I could finish it. And lastly, we ate all but about 2 portions of the Cheesy Vegetarian Chili Mac. I planned to freeze some in the beginning of the week because I knew we wouldn't finish it all, but I kept forgetting. Oh well, it was a good meal while it lasted and it was insanely cheap! :D
Thoughts
Is $40 per week a realistic goal? I'm not sure. I want to keep shooting for that goal and as I experiment with it I'm sure it will become clear. Our food needs vary from week to week with work schedules, so it's kind of strange to have a static budget. But I guess I need to remember not to splurge when my grocery "needs" come in under budget so that on weeks like this when I go over, it will all even out in the end. :)