I hope y'all are enjoying the long holiday weekend! I thought it would be a good opportunity to round up my Top 20 Recipes for Eating Healthy on a Budget. You see, it's about this time every year that I start getting serious about eating healthy and working out. No, not because bikinis are rapidly approaching (okay, maybe a little), but because the sudden sunshine and warm air begin to energize and awaken me from the inside out. As soon as the sun starts to come out from behind those winter clouds, I spring to action like a little energizer bunny.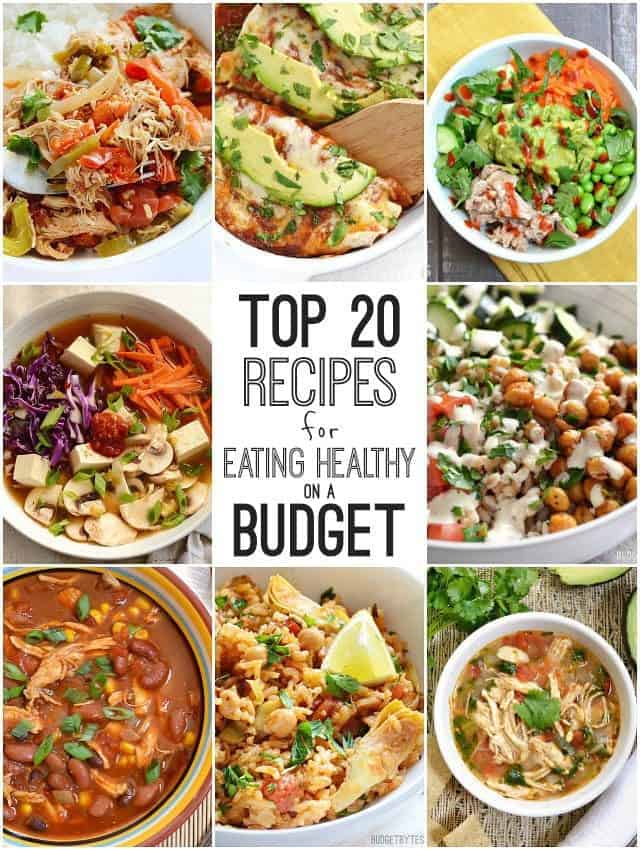 I went through my archives and pulled these 20 recipes (10 meat and 10 vegetarian) that you might find useful if you suddenly become a health monster every spring, like me. "Healthy" is obviously a very subjective term, so take the list with a grain of salt.
My criteria for healthy means: plenty of vegetables and/or fiber, low or no added sugar, and reasonable fat content (lower animal based fats). And of course, what do all of these recipes have in common? They're satisfying and budget friendly. Enjoy! :)
Meat Recipes
Vegetarian Recipes
Want to share your favorites? Feel free to share your favorite recipes for eating healthy on a budget (from anywhere around the web!) in the comments below.