Spring rolls are all about texture. The rice paper wrapper is so unique, almost skin like; a little sticky, quite stretchy and just really cool. Inside the stretchy wrapper you've got rice vermicelli, lettuce, other crunchy vegetables and usually some type of meat or seafood. So many textures, flavors and colors wrapped up in one little package. They're so very cool.
You really can put anything in a spring roll: shrimp, tofu, pork, all veggies, whatever you want. I'm not super crazy about shrimp so I used krab (a mix of snow crab and pollock) and then added sliced mango, red bell pepper, cilantro, lettuce and bean threads. I meant to buy rice vermicelli but accidentally got bean threads instead. They look almost identical in the package but rice vermicelli needs to be boiled while bean threads only need to be soaked for about 10 minutes in warm water. The vermicelli is much softer but the bean threads still worked okay.
I also made a super quick, simplified peanut sauce for this recipe. I have made a peanut sauce from scratch in the past, but in this case I just wanted something quick and easy.
This recipe was definitely more difficult and costly than I had anticipated. That being said, it was still a really FUN project and I know a lot of you will be interested so I'm posting it anyway. The recipe also left me with a bunch of left over ingredients which I usually try to avoid (lots of left over wrappers, bean threads and lettuce). Luckily, most of it was dry goods that can sit safely in my pantry while I think about what other interesting fillings could be put in thescool wrappers. We'll see… (feel free to suggest something in the comments!)
Spring Rolls & Quick Peanut Sauce
Spring Rolls & Quick Peanut Sauce
Make your own Vietnamese style spring rolls and a quick peanut sauce for dipping!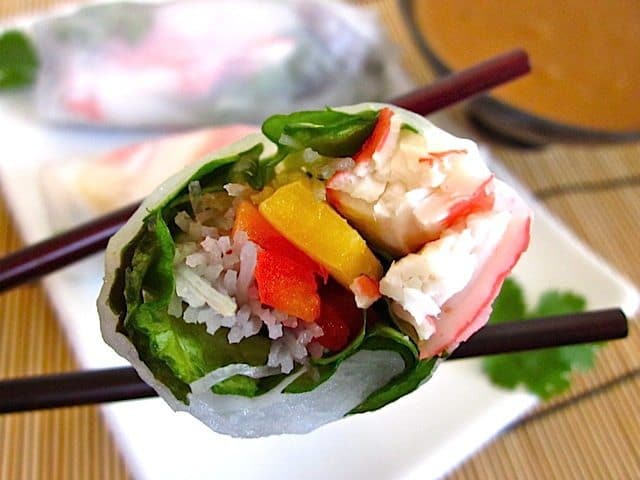 Ingredients
SPRING ROLLS
10

rice paper wrappers

($0.66)

1/2

head red leaf lettuce

($0.75)

2 oz.

1/2 pkg.

bean threads

($0.75)

1

med mango

($1.09)

1

med red bell pepper

($1.52)

1/2

bunch cilantro

($0.35)

8 oz.

pkg.

krab

($2.99)
QUICK PEANUT SAUCE
1/4

cup

smooth natural peanut butter

($0.33)

1/4

cup

hoisin sauce

($0.60)

1/2

inch

fresh ginger, grated

($0.09)

1/4

tsp

sriracha sauce

($0.02)

1/4

cup

+ 2 Tbsp hot water

($0.00)
Instructions
Prepare the sauce by combining the hoisin sauce, peanut butter, sriracha and grated ginger. Add 1/4 cup of hot water and whisk the ingredients together. Continue to add hot water until the sauce is the consistency you desire. I used 1/4 cup plus two more tablespoons of hot water.

Gather and prepare the filling ingredients. Slice the red bell pepper and mango, soak the bean threads, chop the lettuce and pull the cilantro leaves from the stems.

When your fillings are ready to go, take one rice paper wrapper at a time and soak it in warm water for five seconds or until it is soft and limp like a wet paper towel. Lay the soft wrapper on a clean surface, place the fillings on top near one side and then roll the wrapper around them. Fold the left and right sides in as you roll to close up the ends. Here is an excellent video of how to roll them.

Serve with the dipping sauce on the side!
See how we calculate recipe costs here.
---
Nutrition
Serving:
1
Serving
Calories:
379.84
kcal
Carbohydrates:
65.02
g
Protein:
10.56
g
Fat:
16.54
g
Sodium:
776.12
mg
Fiber:
4.02
g
Read our full nutrition disclaimer here.
Step By Step Photos

Begin by making the sauce. This is a really pared down recipe for peanut sauce with only four ingredients.

Add the hoisin sauce, peanut butter, sriracha sauce and a little bit of grated ginger to a bowl.

Add 1/4 cup of hot water to the bowl and whisk the ingredients together. Add more hot water to achieve your desired consistency. I added 2 Tbsp more then it was perfect.

Here are the items that I used to fill my spring rolls: lettuce, cilantro, mango, red bell pepper, krab and bean threads.

Prepare the ingredients for filling. I thinly sliced the mango, bell pepper and lettuce. The bean threads were soaked in warm water for 10 minutes to soften.

These are the rice paper wrappers that I used. This pack has about 30 wrappers in it and only cost $1.99 at Whole Foods.

Here is the back of the package. You can see how simple the instructions are.

When the rice paper is dry, it is brittle and transparent.

After soaking the rice paper for five seconds, it gets soft like a wet paper towel and kind of sticky. Only soak and fill/roll one wrapper at a time.

Lay the rice paper out as flat as possible (this part is a little tricky) and then pile your fillings on top toward one side.

Roll up the spring roll, making sure to fold the sides in so that the ends of the roll are sealed. Again, here is a video showing how it's done. My spring rolls were far from perfect looking but guess what? They still taste great! So, don't worry if they're rolled kinda messy.

Continue filling and rolling until you run out of ingredients. I got ten spring rolls before I ran out of mango and krab.

Serve the spring rolls with the peanut sauce on the side. They're like little salad pouches that are dipped in dressing!