Happy hump day! You're half way done with the week, but you still have half way to go. I think you deserve a little something special, like maybe some Pesto Hummus!
I make hummus at home a lot and have made several different flavors (I think my favorite is still Sriracha Hummus), and this week I had an opportunity to try yet another flavor. You see, I bought this little jar of pesto last week with the intention of using some of it with pasta, but I haven't yet. Even if I had used it already, I wasn't planning on using the whole jar on the pasta, so I knew I'd need to come up with some "leftover pesto" recipes. Hummus is a great way to use up leftover pesto because you really don't need a lot of pesto to add quite a bit of flavor.
The herbal flavor that the pesto imparts makes this hummus perfect for dipping vegetables or for spreading onto sandwiches. I've already used it in place of cheese in my breakfast egg "quesadilla" and it was a HUGE hit. Hummus and eggs always go great together and pesto jumps right into that party seamlessly. I keep imagining this hummus slathered thick onto two slices of artisan whole wheat bread and then topped with an assortment of delicious vegetables… and maybe a slice of havarti. Okay, enough food fantasy for today. I'm content with my vegetable sticks. ;)
Herby Pesto Hummus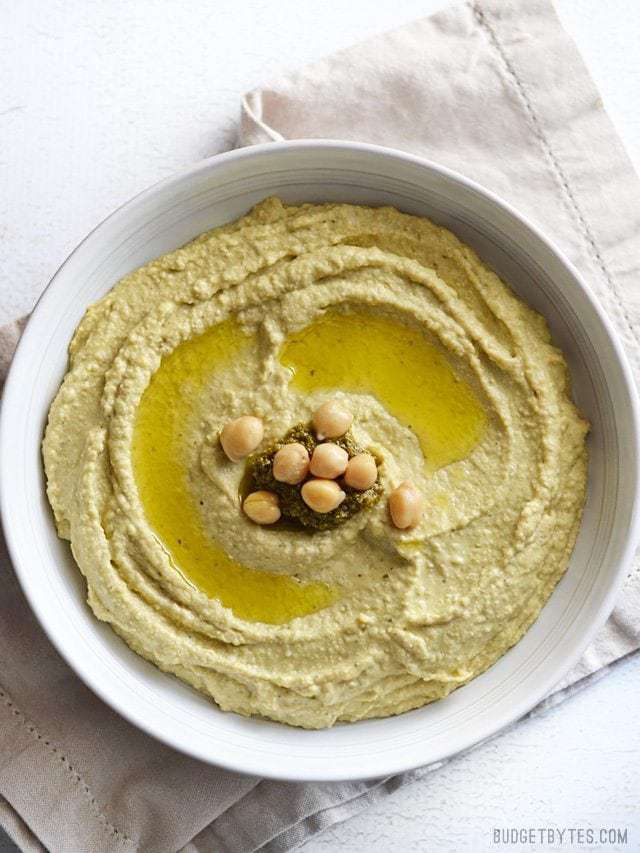 Oh, and I often get asked about food processors. I use this Hamilton Beach model, which was about $50 when I got it (it's more expensive on Amazon now, but I think that's because it's out of production). According to Amazon, this is the newer version of the same product, although it looks quite different. It's too bad if they did stop manufacturing mine, because I LOVE it. Small, inexpensive, but a total workhorse!
Print Recipe
Pesto Hummus
Spiking a basic hummus recipe with a dollop of basil hummus adds big flavor. This pesto hummus is great for sandwiches or as a dip!
Prep Time: 10 mins
Total Time: 10 mins
Servings: 8 (2 cups total)
Ingredients
15 oz can chickpeas ($1.15)
1/4 cup lemon juice ($0.18)
1/4 cup olive oil ($0.48)
1/4 cup tahini ($0.85)
1/4 cup basil pesto ($1.33)
1/4 tsp salt (or to taste) ($0.02)
1/8 tsp garlic powder (or 1 clove fresh)* ($0.02)
Instructions
Drain the chickpeas and add them to a food processor along with the rest of the ingredients.

Process the ingredients until smooth, adding a little water, olive oil, or drained liquid from the chickpeas to thin out the mixture if needed.

Garnish with a few whole chickpeas, a drizzle of olive oil, or a dollop of pesto, if desired.
Notes
*I used garlic powder this time instead of fresh garlic because it's a bit easier on the stomach. The pesto also contains garlic, so I didn't find I needed to add much. One clove of fresh garlic can be used in place of the powdered garlic.
---
Nutritional values are estimates only. See our full nutrition disclosure here.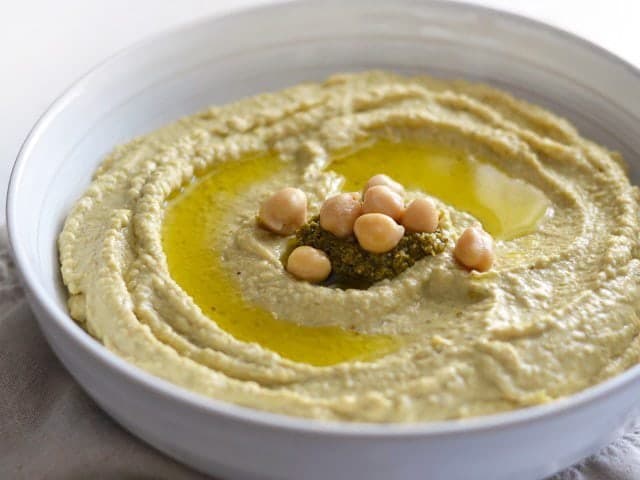 How to Make Pesto Hummus – Step by Step Photos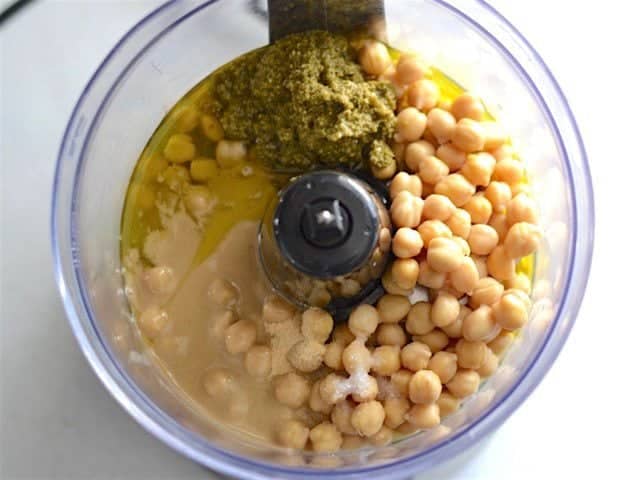 Drain one 15oz. can of chickpeas and add it to a food processor along with 1/4 cup lemon juice, 1/4 cup olive oil, 1/4 cup tahini, 1/4 cup basil pesto, 1/4 tsp salt, and 1/8 tsp garlic powder (or one clove fresh garlic).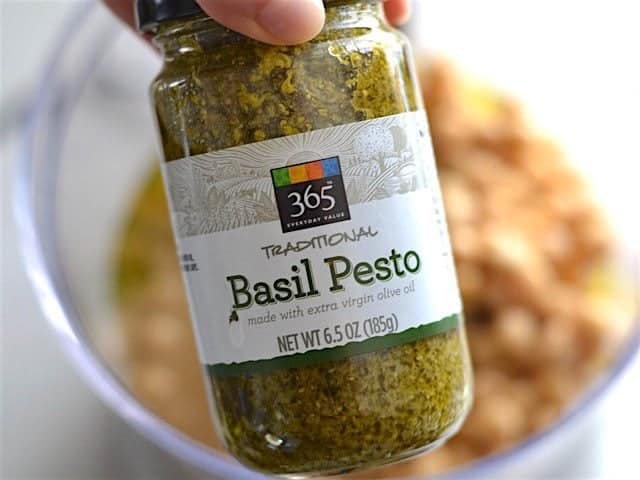 This is the little jar of basil pesto that I bought. It contains about 3/4 cup and was $3.99, which isn't bad if you don't have access to fresh basil to make it yourself! :) Basil pesto is very potent, so you really don't need a lot of it to really pump up a recipe. This little jar will probably end up being utilized in three recipes or so.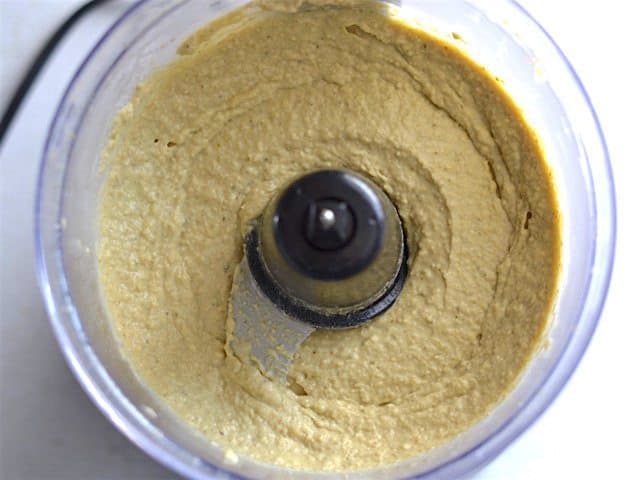 Process the ingredients until the hummus is smooth. You may need to add more liquid to thin it out a bit and to get it really smooth. You can add water, olive oil, or some of the liquid from the can of beans. Just add a tablespoon or two at a time until the mixture processes smoothly.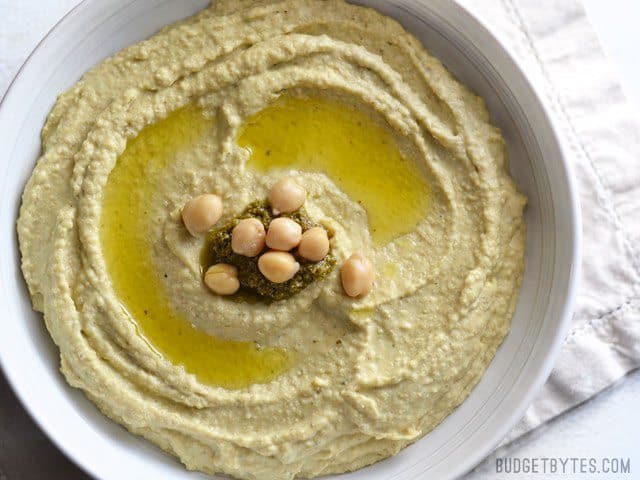 And that's all it takes to make Pesto Hummus! Super easy, right? #snacktime