Today's post isn't as much a recipe as it is a meal idea or example of how I build meals on the fly based on what I have in the refrigerator. I've posted about my savory breakfast bowls before, but I've recently discovered a new bowl-changing ingredient, hummus. Hummus adds a creamy, tangy element to the bowl that really takes it to the next level. And since I made FOUR flavors of hummus the other day, I'm pretty much in Hummus Breakfast Bowl heaven this week! :D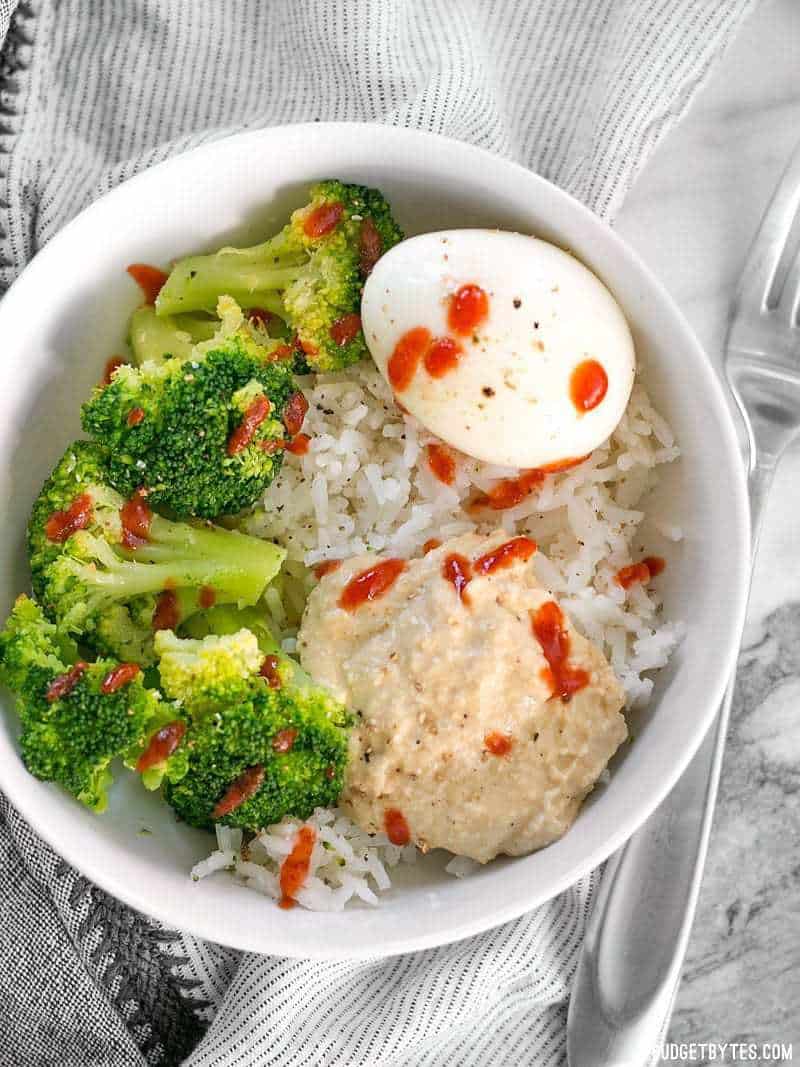 Start Here, Then Make it Your Own!
If you're a savory breakfast lover like I am, I think you'll really love the convenience and flexibility of these hummus breakfast bowls. All you really need to keep on hand are eggs, frozen broccoli (or spinach), cooked rice, and hummus. Those are the main components. Everything else is flexible. Some other things that I like to add to my breakfast bowls on occasion are: sriracha, sesame seeds, kimchi (using both kimchi AND hummus can be a bit much, but I grew to really enjoy it), sliced green onions, coconut oil (mixed into the warm rice and broccoli), leftover rotisserie chicken, or any other vegetable I have hanging out in the fridge.
Perfect for Leftovers
Use these bowls as an opportunity to reduce waste and experiment with new flavor combinations. Let me know if you have a new ingredient or combo that you've discovered is great in a breakfast bowl!
Hummus Breakfast Bowls
Hummus Breakfast Bowls are a medley of colors, flavors, and textures, and a great way to work vegetables into the most important meal of the day.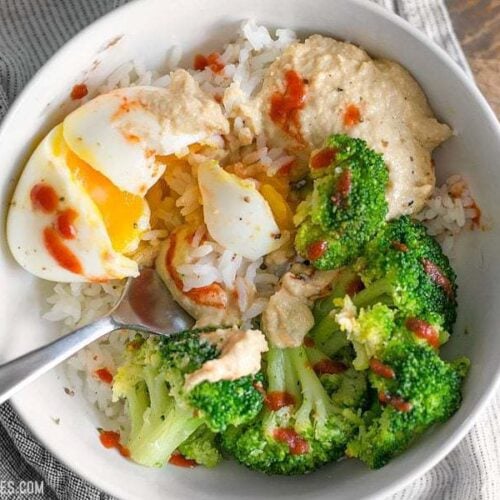 Ingredients
1

cup

cooked rice

($0.19)

4-5

frozen broccoli florets

($0.21)

1

large egg, soft boiled or fried

($0.27)

2

Tbsp

hummus

($0.19)

Pinch of salt and pepper

($0.05)

Pinch of sesame seeds

($0.05)

Sriracha to taste

($0.05)
Instructions
Soft boil

or fry one egg, leaving the yolk runny to provide extra "sauce" for the bowl.

While the egg is cooking, add the pre-cooked rice and broccoli florets to a bowl. Microwave on high for one minute, or until the rice is hot and the florets are warmed through.

Add the hummus, cooked egg, and a pinch of salt and pepper to the bowl with the rice and broccoli. Drizzle with sriracha and sprinkle sesame seeds over top. Enjoy!
See how we calculate recipe costs here.
---
---
Nutrition
Serving:
1
Serving
Calories:
378.3
kcal
Carbohydrates:
59.7
g
Protein:
16.6
g
Fat:
9.1
g
Sodium:
1293.6
mg
Fiber:
6.8
g
Read our full nutrition disclaimer here.
Broccoli for breakfast isn't that weird!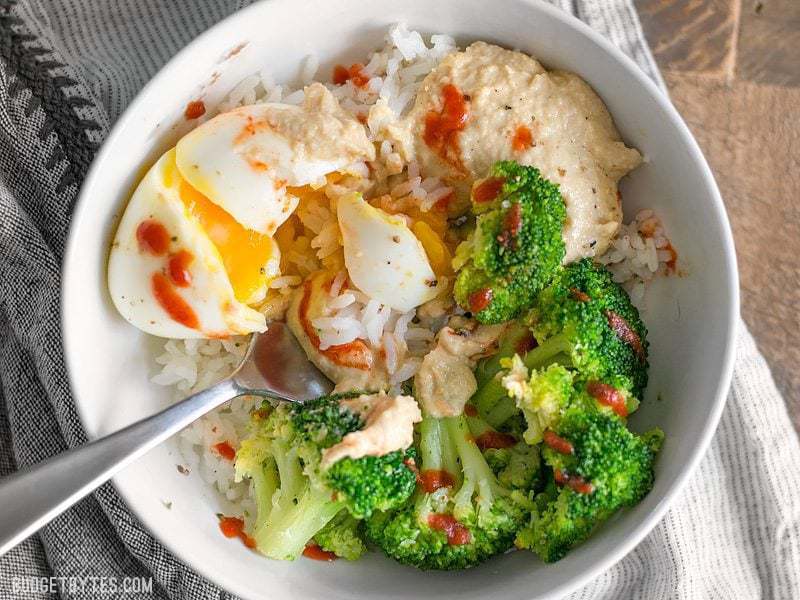 There aren't step by step photos for this "recipe" because you literally just pile everything in a bowl and eat it. I will say that I like to reheat the rice and broccoli florets in the microwave as I cook my egg, bringing the total prep time for this breakfast to about 10 minutes. Sometimes I do fried eggs, sometimes soft boiled. Click here for instructions for making PERFECT soft boiled eggs. It's so easy.
I know all you sweet breakfast people out there are probably recoiling in disgust right now. Ha! :)
Oh, and P.S. I totally eat these at any time of the day, not just breakfast.