And now for the much anticipated Naan recipe!
If you're unfamiliar with naan, it is basically just an Indian-style flatbread. Okay, it's not "just" flatbread. This stuff is AMAZING. It is soft, pillowy, full of lovely bubbles and so extremely versatile. This recipe is so quick, easy, and delicious that it is most definitely my new favorite yeast bread recipe. I can't quite get enough of it. Scroll on down to see how I freeze my naan so I always have it on hand!
See this recipe used in my weekly meal prep. Originally posted 8-8-10, updated 12-15-15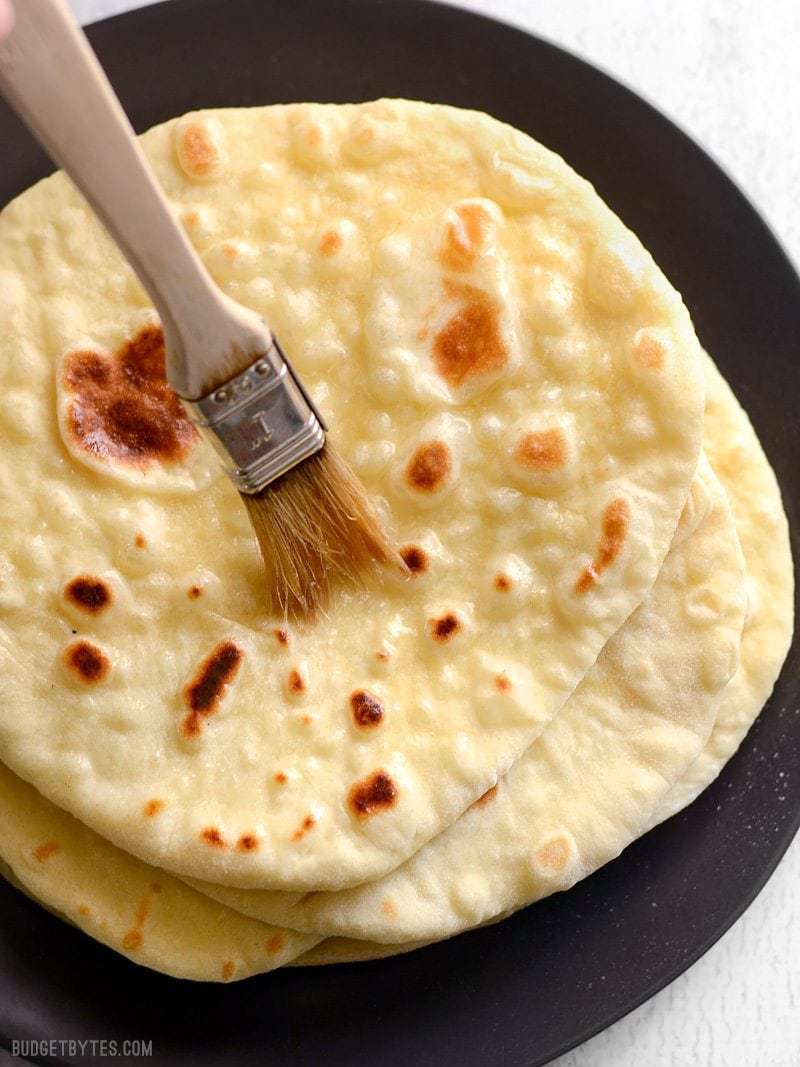 What is the Difference Between Naan and Pita Bread?
While both types of bread are in the "flatbread" family, they hail from different regions of the world, their dough is comprised of different ingredients, and they are cooked using different methods.
Naan is a traditional flatbread made in South and Central Asian countries, while pita bread is eaten in the Mediterranean and the Middle East. Pita is made with a very simple dough, using just flour, salt, yeast, and olive oil, while naan dough has ingredients like yogurt and egg that make it a little more tender and fluffy.
Pita is cooked in an extremely hot oven, which causes the characteristic hot air pocket to form in the center of the dough. Naan is cooked on a griddle with less heat, which causes multiple smaller bubbles rather than one large air pocket.
What do you eat with Naan Bread?
Pretty much anything. You can eat naan alongside a meal to sop up gravies or dip into sauces, use it to make flatbread "wrap" sandwiches, top it with tomato sauce and cheese for a quick naan pizza, use it in place of tortillas for quesadillas. Here are some of my favorite ways to eat naan:
How to The Leftovers
After cooking the naan, make sure to let it cool completely to prevent condensation. Once cooled, keep your naan in a gallon-sized zip top bag. The naan will last 1-2 days at room temperature, or about 4-5 days in the refrigerator. You can also freeze naan for longer storage.
Freeze Some for Later
Because this recipe makes more than one person can eat in a few days, I always end up freezing at least some. To freeze your naan, first let it cool completely at room temperature, then transfer to a zip-top freezer bag, label and date it, then toss it in the freezer. Try to use up your frozen naan within a few months. Frozen naan bread thaws quickly at room temperature.
How to Make Garlic Naan
It's really easy to transform the classic naan recipe below into a garlic flavored naan. Simply add about ½ tsp of garlic powder in with the flour and salt, and then after cooking the naan you'll want to brush it with some fresh garlic butter. To make the garlic butter, mince a couple cloves of garlic and then stir them into a few tablespoons of melted butter.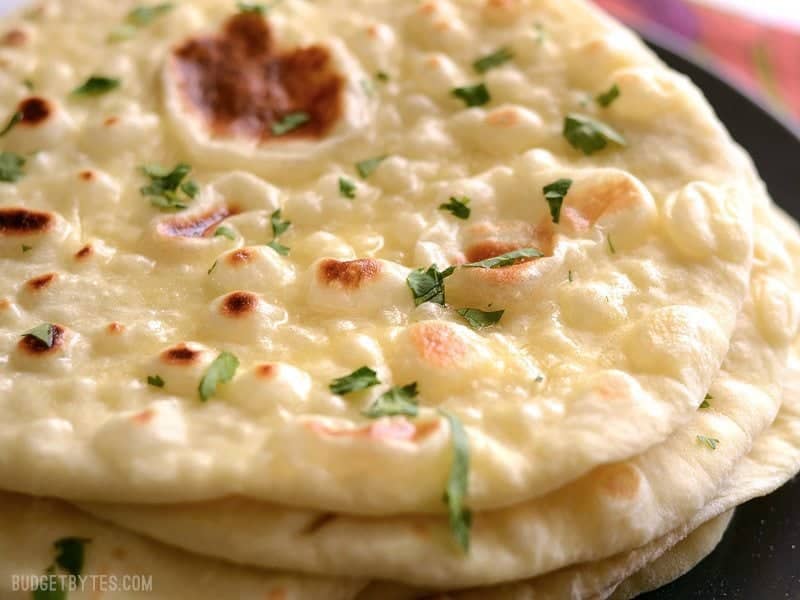 Homemade Naan Recipe
Soft, pillowy, homemade naan is easier to make than you think and it's great for sandwiches, pizza, dipping into soups and sauces, and more.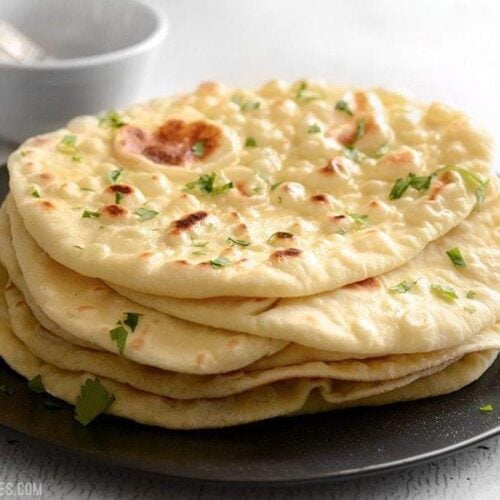 Ingredients
Instructions
In a small bowl, combine the yeast, sugar and warm water. Stir to dissolve then let sit for a few minutes or until it is frothy on top. Once frothy, whisk in the oil, yogurt, and egg until evenly combined.

In a separate medium bowl, combine 1 cup of the flour with the salt. Next, pour the bowl of wet ingredients to the flour/salt mixture and stir until well combined. Continue adding flour, a half cup at a time, until you can no longer stir it with a spoon (about 1 to 1.5 cups later).

At that point, turn the ball of dough out onto a lightly floured surface and knead the ball of dough for about 3 minutes, adding small amounts of flour as necessary to keep the dough from sticking. You'll end up using between 2.5 to 3 cups flour total. The dough should be smooth and very soft but not sticky. Avoid adding excessive amounts of flour as you knead, as this can make the dough too dry and stiff.

Loosely cover the dough and let it rise until double in size (about 1 hour). After it rises, gently flatten the dough into a disc and cut it into 8 equal pieces. Shape each piece into a small ball.

Heat a large, heavy bottomed skillet over medium heat. Working with one ball at a time, roll it out until it is about 1/4 inch thick or approximately 6 inches in diameter. Place the rolled out dough onto the hot skillet and cook until the bottom is golden brown and large bubbles have formed on the surface (see photos below). Flip the dough and cook the other side until golden brown as well. Stack the cooked flat bread on a plate and cover with a towel to keep warm as you cook the remaining pieces. Serve plain or brushed with melted butter and sprinkled with herbs!
See how we calculate recipe costs here.
---
Notes
TIPS: For the most bubbles, don't roll out the ball of dough until just before it is ready to be placed in the skillet. I experimented with different skillet temperatures and found that a medium heat produces the most bubbles in the dough and does not burn the surface.
Nutrition
Serving:
1
Serving
Calories:
250.81
kcal
Carbohydrates:
37.23
g
Protein:
6.36
g
Fat:
8.18
g
Sodium:
161.29
mg
Fiber:
1.54
g
Read our full nutrition disclaimer here.
There is seriously nothing like a warm piece of naan with melted butter on top… 🤤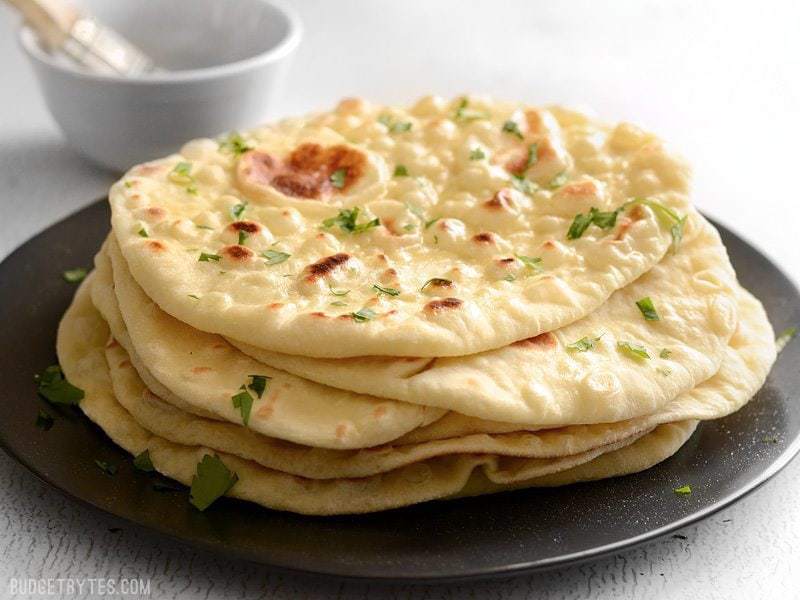 How to Make Homemade Naan – Step by Step Photos
Start by dissolving 2 tsp yeast and 1 tsp sugar into 1/2 cup warm water. Let the mixture sit a few minutes, or until it becomes frothy. Meanwhile, measure out 1/3 cup plain yogurt (regular or Greek style), 1/4 cup olive oil, and 1 large egg.
Once the yeast mixture is frothy, whisk the yogurt, oil, and egg into the yeast water until smooth.

In a separate bowl, mix only 1 cup of the flour with 1/2 tsp salt until they're evenly mixed.

Pour the bowl of wet ingredients to the bowl of dry ingredients and stir well.
Continue adding flour, a half cup at a time, until it forms a cohesive ball of dough that you can no longer stir with a spoon.

Turn the ball of dough out onto a lightly floured surface and knead for 3 minutes. Add small amounts of flour as needed (to keep the dough from sticking) until you have a smooth, very soft ball of dough. I used about 2.75 cups of flour total for the dough. Avoid adding too much flour as you knead because this can make the dough stiff and dry, and prevent the classic bubbles.

Shape the dough into a ball, loosely cover, and let rise until it is double in size (the photo is BEFORE it has risen).

After it has risen, flatten it out slightly and cut it into 8 equal-sized pieces.

Shape each piece into a small, smooth ball.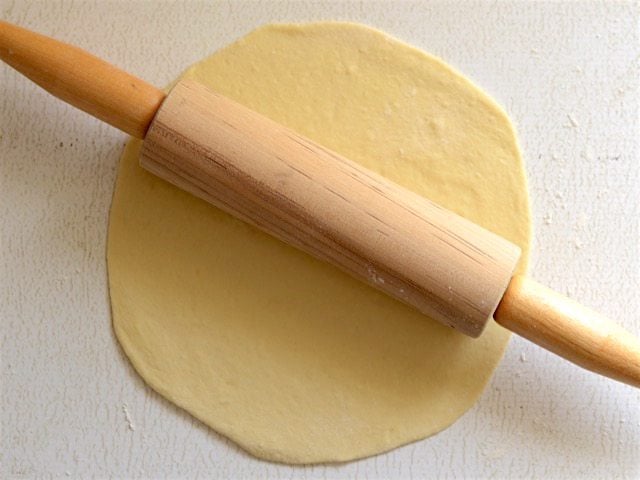 Heat a skillet over medium flame. While waiting for the skillet to get hot, roll out a ball of dough until it is 1/4 inch thick or about 6 inches in diameter.

Place the rolled-out dough in the hot skillet and cook on one side until large bubbles form and the side touching the skillet is golden brown. The bubbles will start small, like in the photo above, but eventually grow and merge together to form larger bubbles.

Flip the dough over and cook on the second side until golden brown as well. Naan is kind of like pancakes in that the first side is smooth and has relatively even brown marks, while the second side (where the bubbles were), has a different texture or pattern in the browned surface.

Here's that second side flipped back up so you can see the characteristic browned bubbles.
As the naan comes out of the skillet, stack them on a plate and cover with a clean towel to keep warm.
Brush the naan with melted butter, garlic butter, or traditional ghee!