Riced cauliflower, or "cauliflower rice," has become so popular over the past five or six years. So popular, in fact, that it's become a staple in the freezer aisle of most major grocery stores in the U.S. While it is convenient to buy frozen bags of pre-made cauliflower rice, it's also really easy to make at home from fresh cauliflower, so I want to show you this quick technique. It can help you shave a few dollars off your weekly food budget, especially when cauliflower is on sale!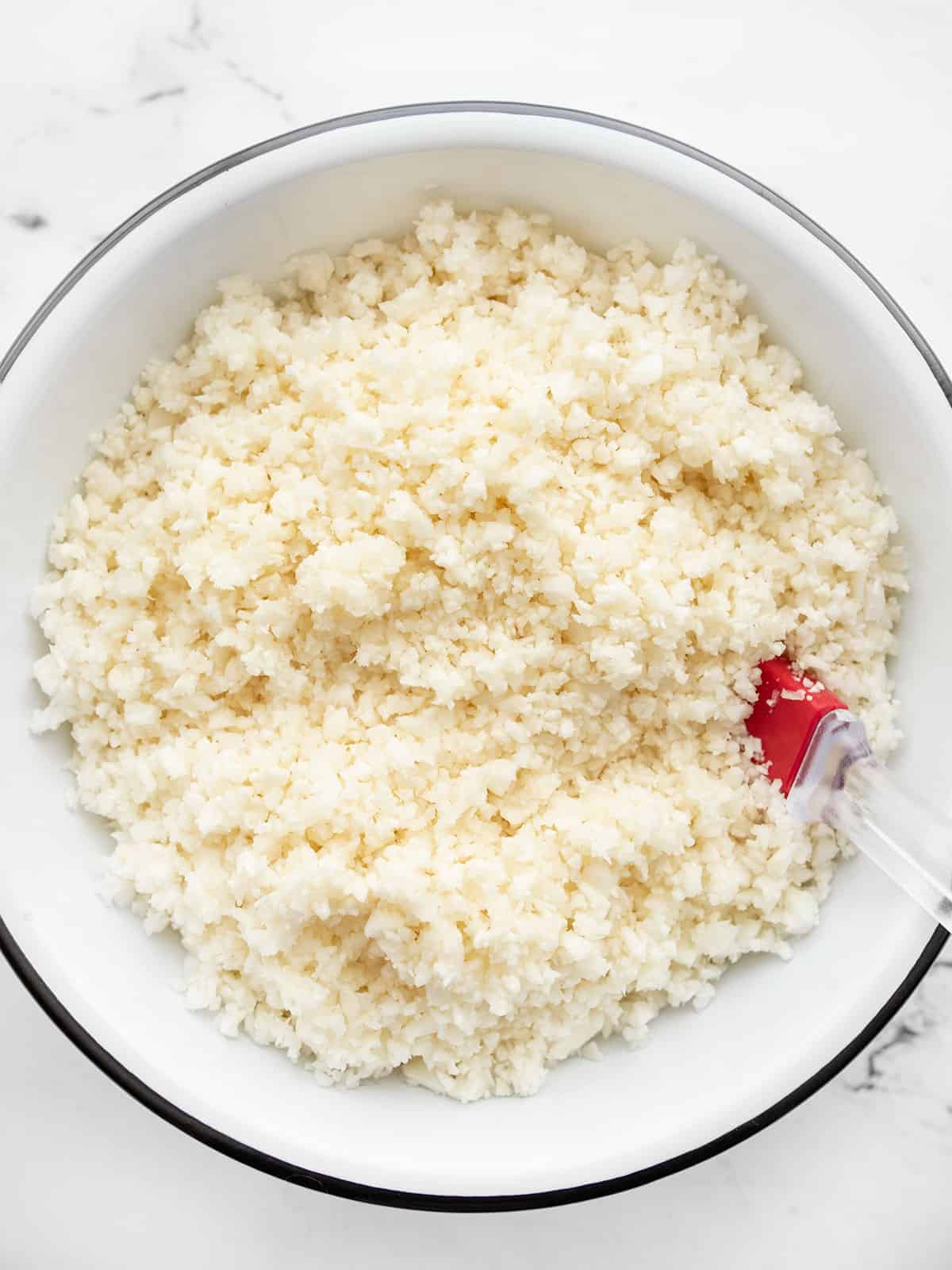 What is Riced Cauliflower?
Riced cauliflower, also known as cauliflower rice, is simply cauliflower that has been chopped into tiny rice-sized pieces. Many people use this as a low-carb alternative to rice, but it's so versatile that it can be used many other ways as well.
How to Use Cauliflower Rice
The most basic preparation of cauliflower rice is to just sauté it in a skillet with oil or butter, then add the seasonings of your choice. It's really that simple. But riced cauliflower also makes a great bed for bowl meals, you can stir it into rice pilafs to up your vegetable intake, you can add it to stews, stir it into casseroles (it almost disappears!), stir it into your morning oats, or even blend it into a smoothie (try my Chocolate Coffee Breakfast Smoothie or Cherry Almond Smoothie).
It's one of those ingredients that once you start adding it to things you begin to see all the other millions of ways it can be used.
Freeze Some for Later
The best part about making your own riced cauliflower rice is that you can freeze it for later and just use a little here and there as needed. I'll include instructions for how I freeze cauliflower rice in the step by step photos below. I usually use riced cauliflower straight from the freezer. It thaws and cooks through in a skillet in just a matter of minutes!
Do I Have to Use a Food Processor?
There are several methods for making riced cauliflower (knife, box grater, etc.), but I find using a food processor the fastest, easiest, and least messy. I'm limiting this tutorial to just showing the food processor method because the other methods either require a lot more work or a lot more cleanup, making them not quite worth doing yourself (in my opinion, anyway). If you want to see some of the other methods, check out my friend Jessica's post about How to Make Cauliflower Rice 4 Ways.
How to Make Riced Cauliflower – Step by Step Photos
Step 1 – Clean the Cauliflower
Remove the leaves and stem from the cauliflower. Make sure to rinse the cauliflower well and then let as much water drain off as possible. The less wet the cauliflower rice is the easier it will be to freeze without it making large clumps.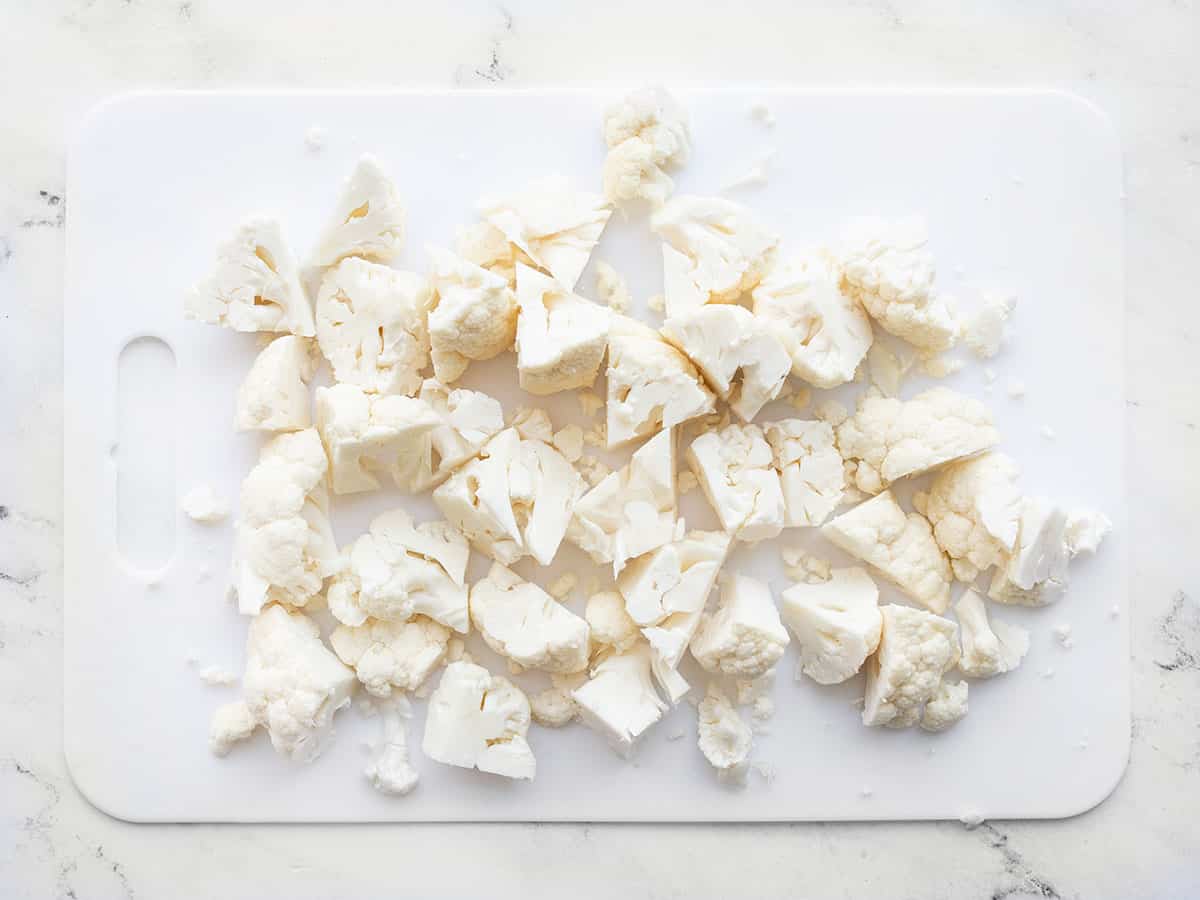 Step 2 – Chop Cauliflower
Chop the cauliflower into one to two-inch pieces. This helps the cauliflower move around more easily in the food processor, which will result in a more even texture of your cauliflower rice. If you have a smaller food processor you'll want your pieces to also be smaller.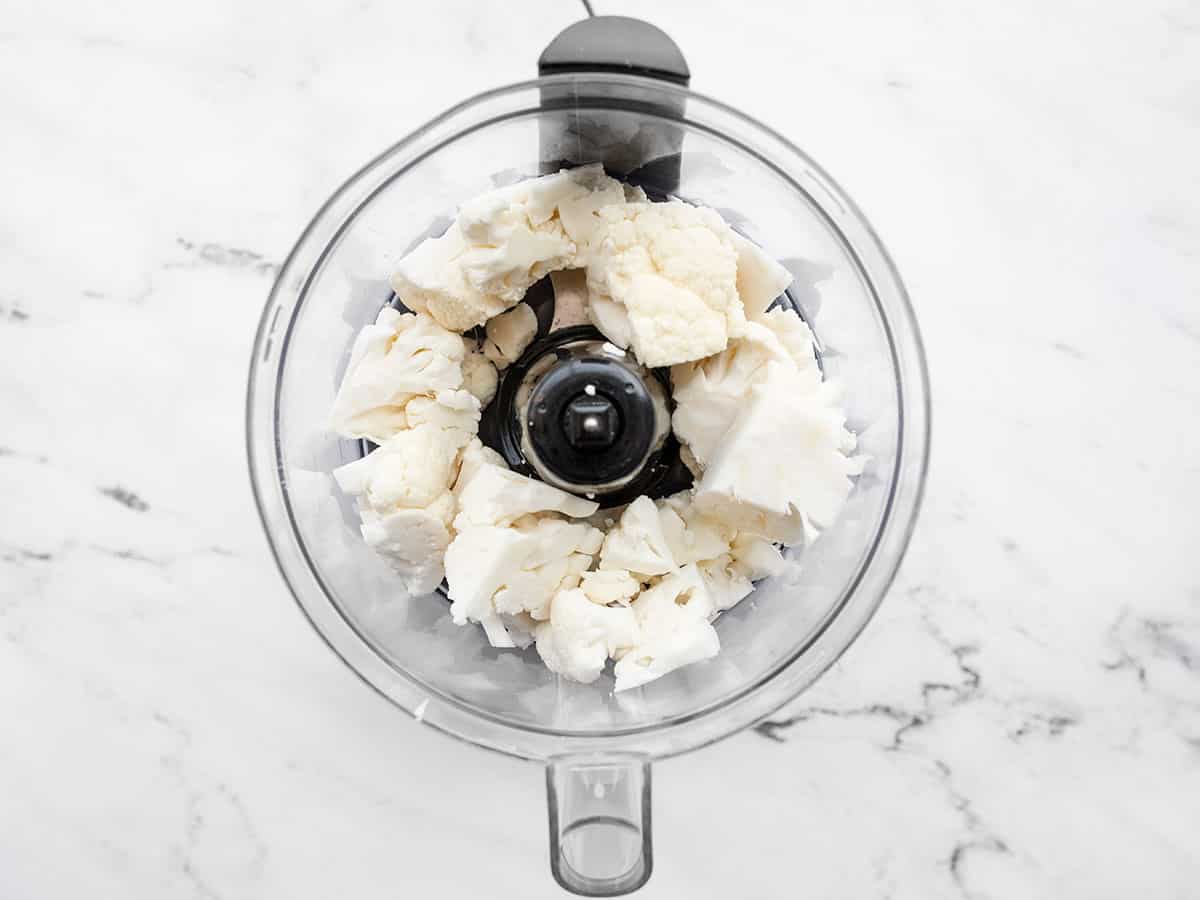 Step 3 – Fill the Food Processor
Add the cauliflower chunks to a food processor, only filling it about halfway, working in two batches if needed. Again, you want the cauliflower to be able to move freely within the food processor, or else you'll end up with finely minced cauliflower on the bottom and large, unprocessed pieces at the top.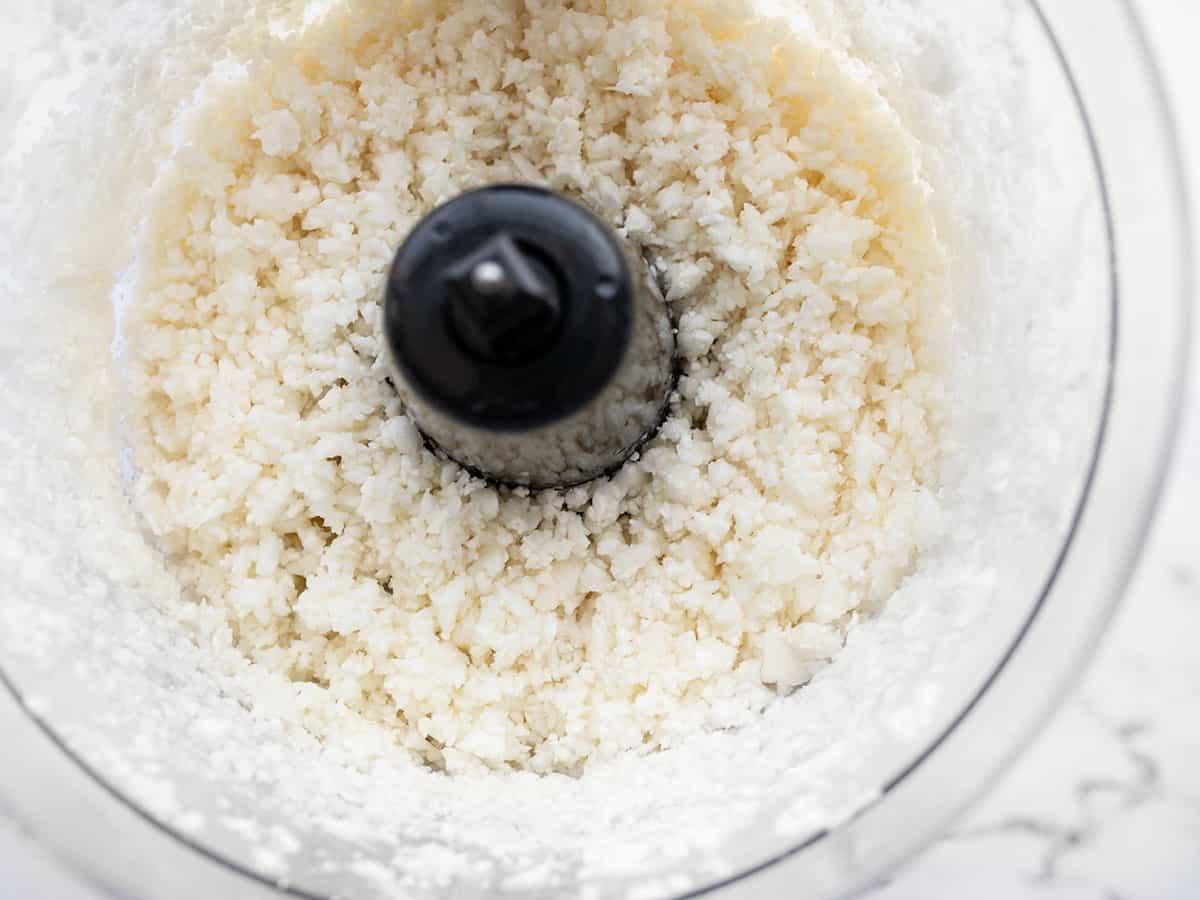 Step 4 – Pulse the Cauliflower
Pulse the cauliflower in the food processor until the cauliflower is minced to your desired size. Stop occasionally to scrape down the sides if you need to. When deciding how small you want your riced cauliflower, keep in mind that smaller pieces cook a little faster but also disappear into recipes more. If you plan to use it like rice you may want slightly larger pieces than what is shown in the photo above. I like to use mine in smoothies, so smaller pieces work a little better.
How to Store Riced Cauliflower
You can refrigerate the riced cauliflower for one to two days, but keep in mind that it does let off gas like any cruciferous vegetable, so it can get stinky quick. I prefer to freeze mine. To freeze, simply scoop it into a freezer bag, spread it out flat, and then place it in the freezer. The flatter the better because it's easier to break it up into pieces if it's frozen in a thin layer.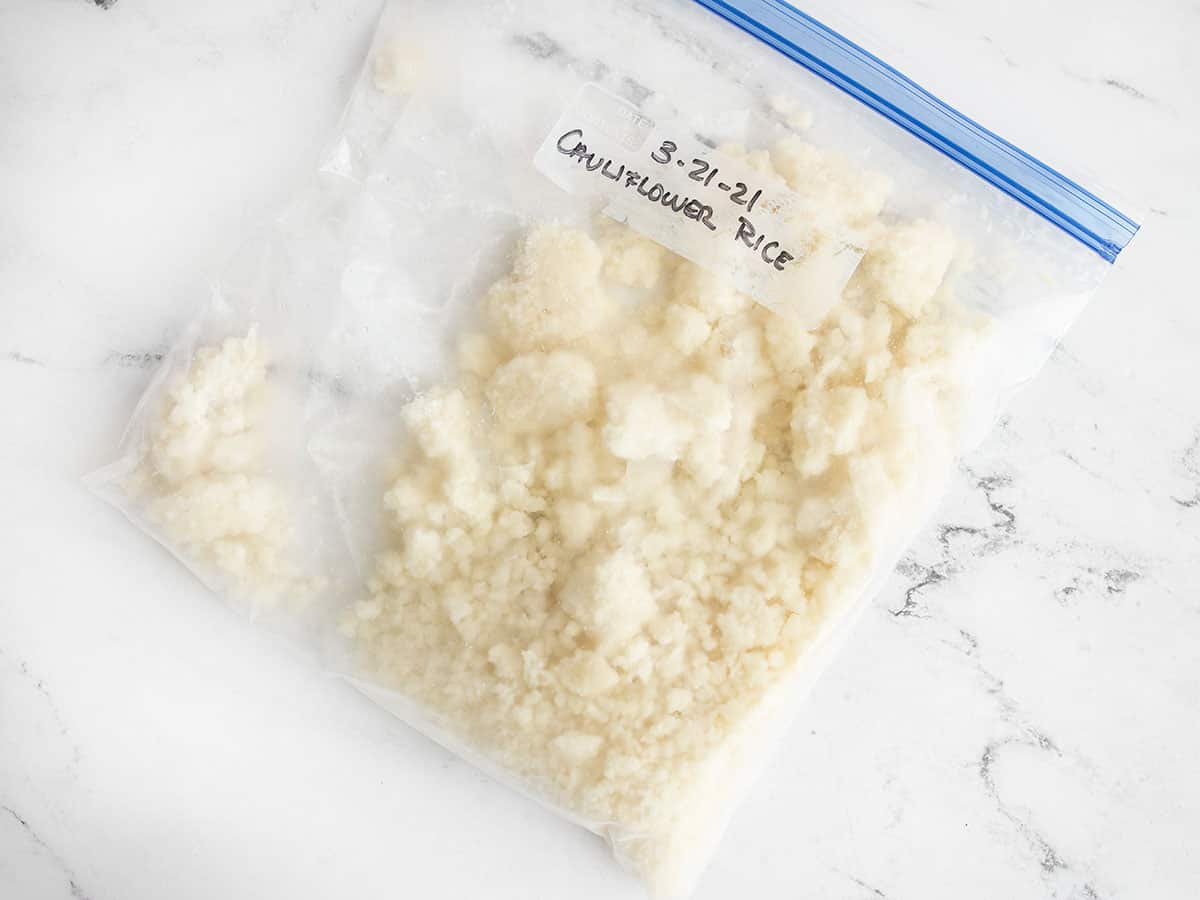 Here is what it looks like after it's been frozen (and I've used some of it). You can see that some of it does freeze in larger chunks, but it's fairly easy to break up into crumbles. Again, the less water on the cauliflower the easier it is to break apart when frozen.
You can keep the riced cauliflower in the freezer for one to two months.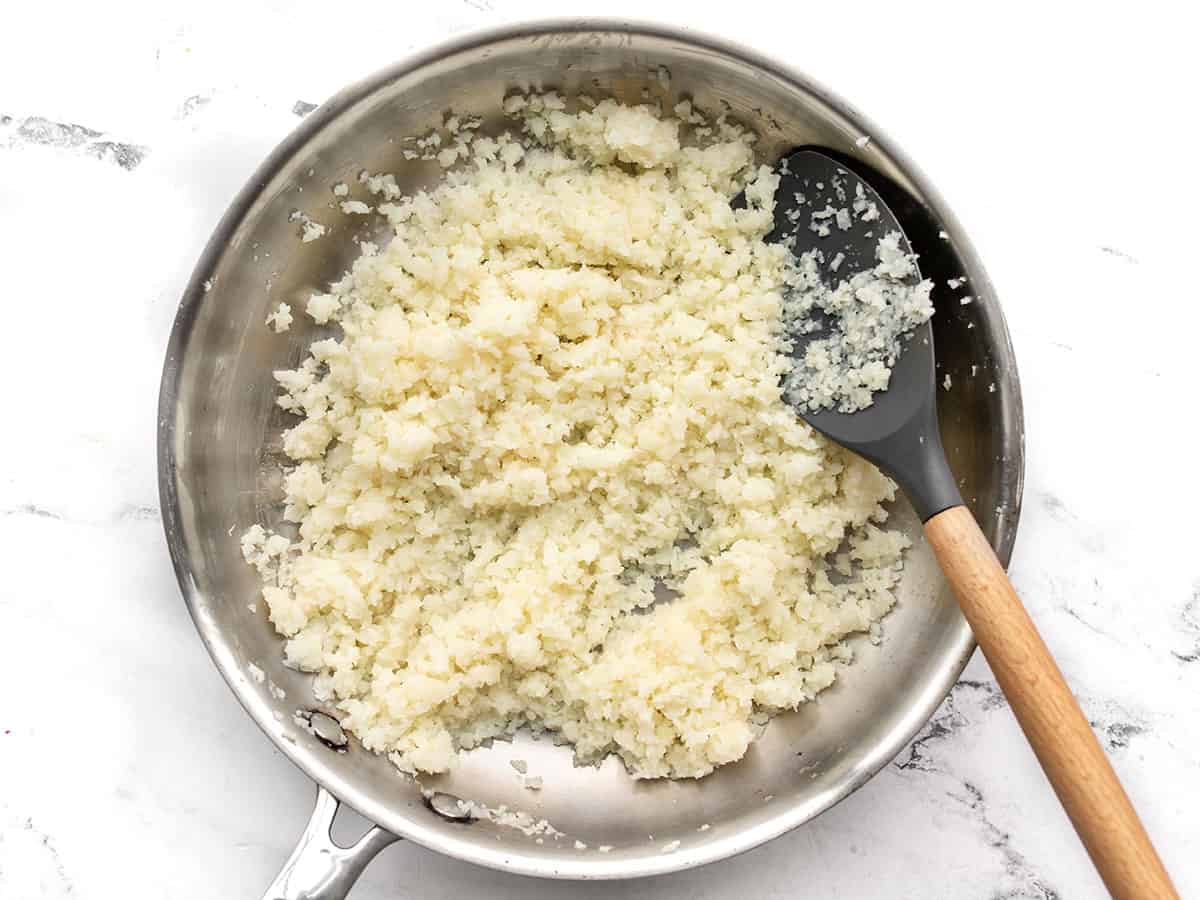 And then I just use it straight from the freezer into my recipe (in most cases). It thaws and cooks through in a matter of minutes! (shown here being prepped for Southwest Cauliflower Rice)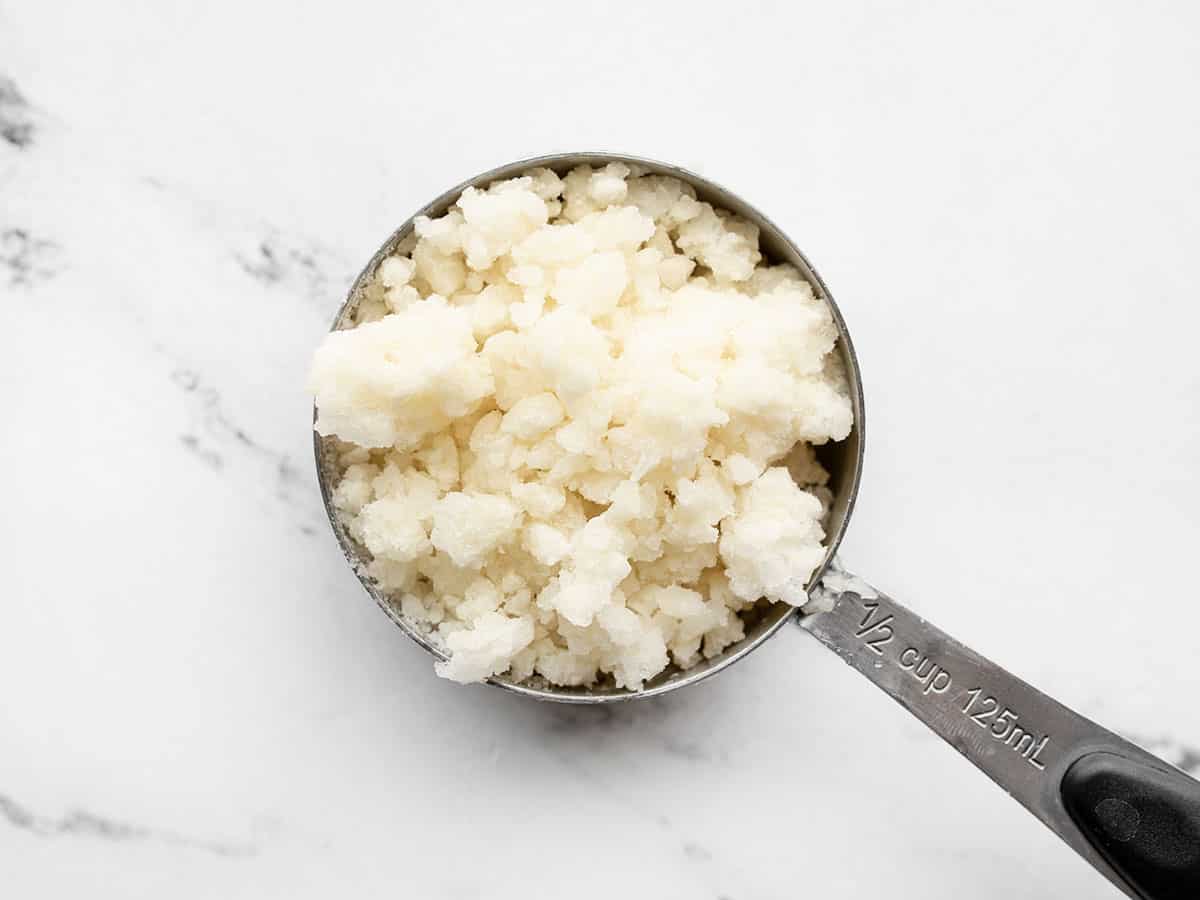 How Much Rice Cauliflower Does it Make?
The volume yield for making your own cauliflower rice will obviously depend on the size of your head of cauliflower, but I got about six cups out of one medium head of cauliflower. And just to compare prices, one head of cauliflower is $2.49 at Kroger right now (or $0.42 per cup), but frozen riced cauliflower is $3.49 per bag (or $0.93 per cup).
So is it worth it to DIY your cauliflower rice? That's up to you. But at least now you know how and can make the choice!