I recently polled my Facebook followers to see what recipes they've been too intimidated to try, and hollandaise sauce was a popular answer. Well, I'm here to tell you that it's a lot easier than you think! This super quick and easy hollandaise sauce recipe will get you rich, creamy, lemony hollandaise sauce in just a few minutes and with nothing more than just a sauce pot and a whisk. So you can have this dreamy sauce whenever you want and without breaking a sweat. Let me show you how it's done.
P.S. if you've ever made my Luscious Homemade Lemon Curd, this hollandaise sauce is basically the same thing, but savory!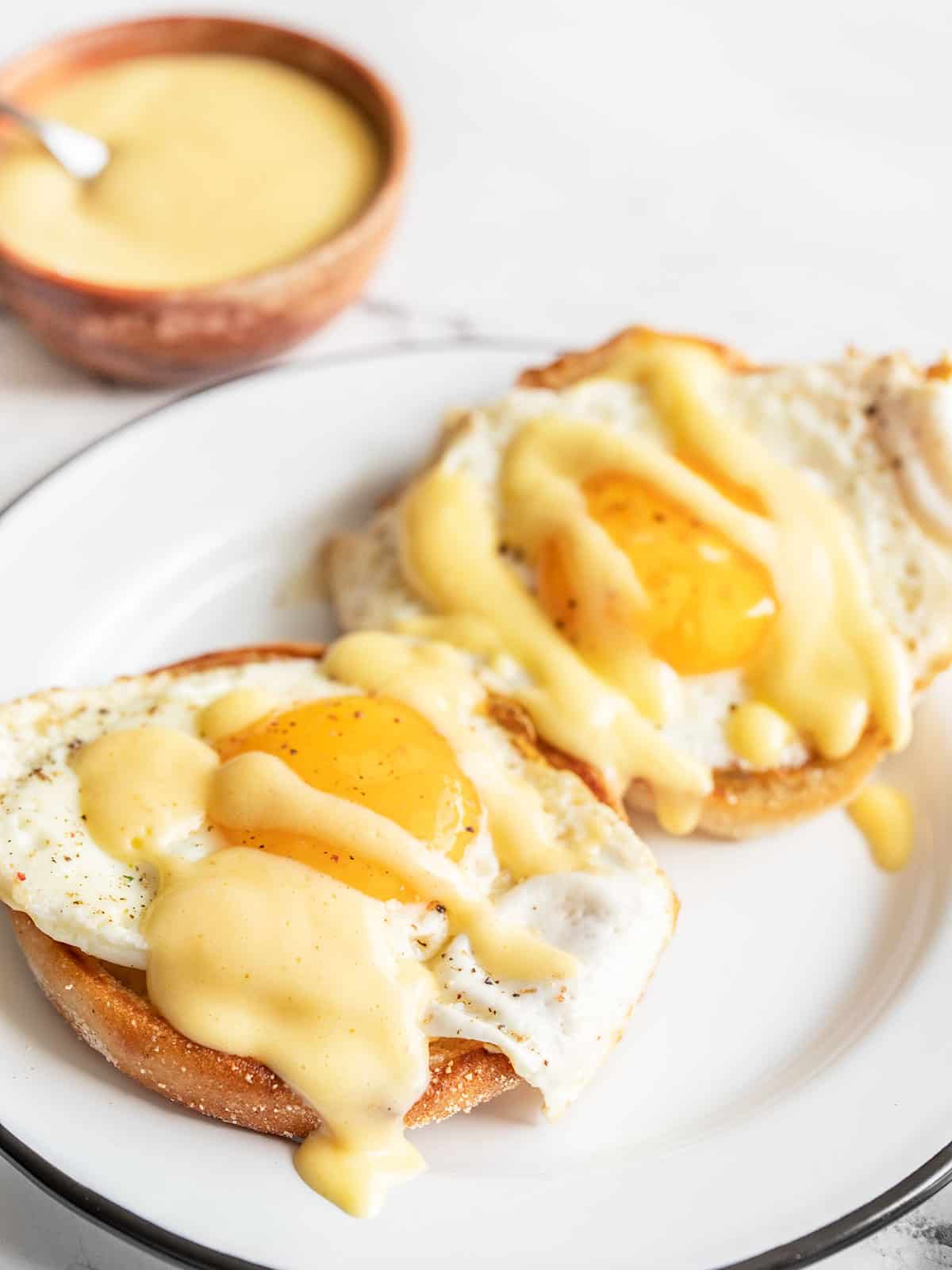 What is Hollandaise Sauce?
If you've never experienced the magic of hollandaise sauce, let me attempt to describe it to you. It's a very simple savory sauce made with butter, egg yolk, lemon, and salt. It has a smooth, velvety texture with just the right amount of bright lemon flavor to keep it from being too heavy. If you've ever had Eggs Benedict, this is the dreamy yellow sauce that is drizzled over top. But it's great on a lot more than just Eggs Benedict…
How to Use Hollandaise Sauce
As mentioned above, hollandaise sauce is often served over poached eggs, like in Eggs Benedict, but it's also great over steamed or roasted vegetables, like asparagus, potatoes, or broccoli. The buttery lemon flavor is also great on salmon, crab, or even steak. Hollandaise sauce is practically all butter and I think we can all agree that butter tastes great on everything!
Small Batch for No Leftovers
Hollandaise sauce is very rich, so you don't need a lot. And since reheating leftovers of emulsified sauces can be tricky, I decided to make this a small batch recipe so you can avoid the trouble of trying to use up your leftovers. The recipe below makes about ⅓ cup, or just enough for two people (about 3 Tbsp each).
If you want to make a larger batch, it's just as easy. Simply adjust the number in the "servings" box in the recipe below and the ingredient quantities will adjust for you. The method will be exactly the same, but it may take a few minutes longer for the sauce to heat as you whisk.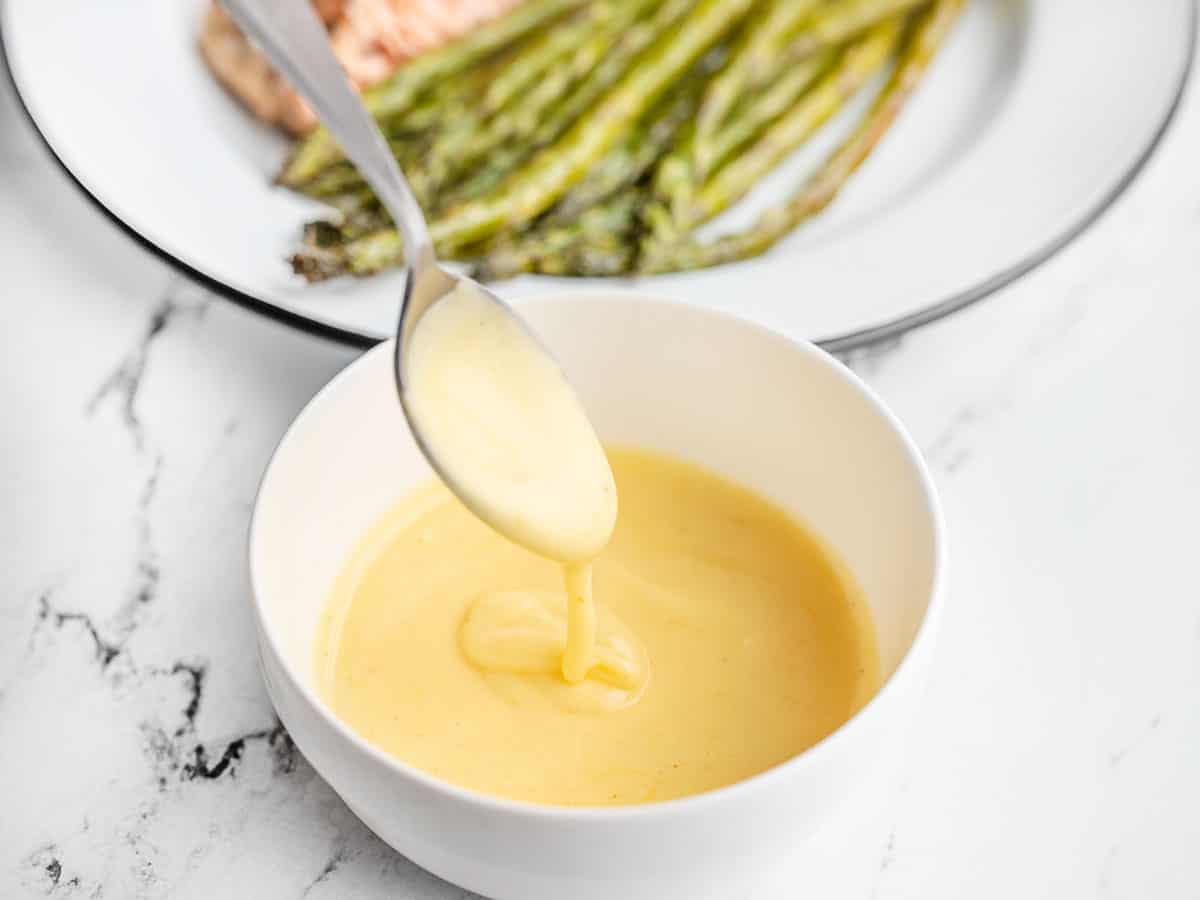 Easy Hollandaise Sauce
An easy, no-fail method for making homemade hollandaise sauce in just minutes. Anyone can make this rich and creamy lemon butter sauce!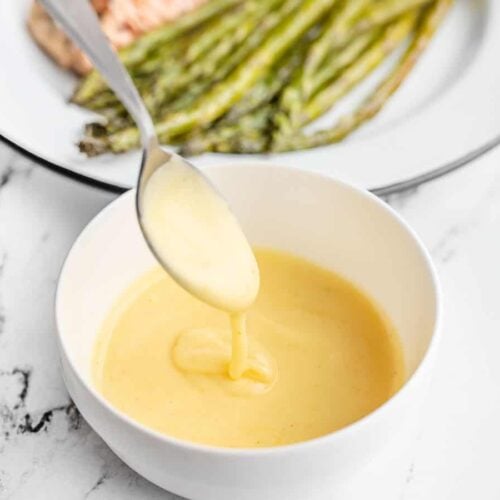 Ingredients
1

large

egg, separated

($0.23)

1

Tbsp

water

($0.00)

1/2

Tbsp

lemon juice

($0.02)

4

Tbsp

butter*

($0.44)

1/8

tsp

salt

($0.01)

1/8

tsp

cayenne pepper

($0.02)
Instructions
Separate the egg and place the egg yolk in a small saucepot. The whites can be saved for a different recipe.

Add the water and lemon juice to the pot with the yolk and whisk until smooth (no heat yet).

Cut the butter into small pieces (about ¼ Tbsp size) , then add them to the saucepot with the egg yolk, lemon, and water.

Place the pot over medium-low heat. Continuously whisk as the mixture heats. First the butter will melt, then the mixture will begin to get a bit frothy. Finally, as the egg yolk begins to cook, the sauce will thicken. Make sure you're whisking the entire time to achieve a light, smooth sauce. Once it thickens to the consistency of gravy, remove the pot from the heat.

Season the sauce with salt and cayenne, then drizzle the sauce over your favorite food!
See how we calculate recipe costs here.
---
Notes
*I use salted butter, but if you have unsalted butter simply add a pinch more salt to your sauce.
Nutrition
Serving:
3
Tbsp
Calories:
238
kcal
Carbohydrates:
1
g
Protein:
3
g
Fat:
25
g
Sodium:
381
mg
Fiber:
1
g
Read our full nutrition disclaimer here.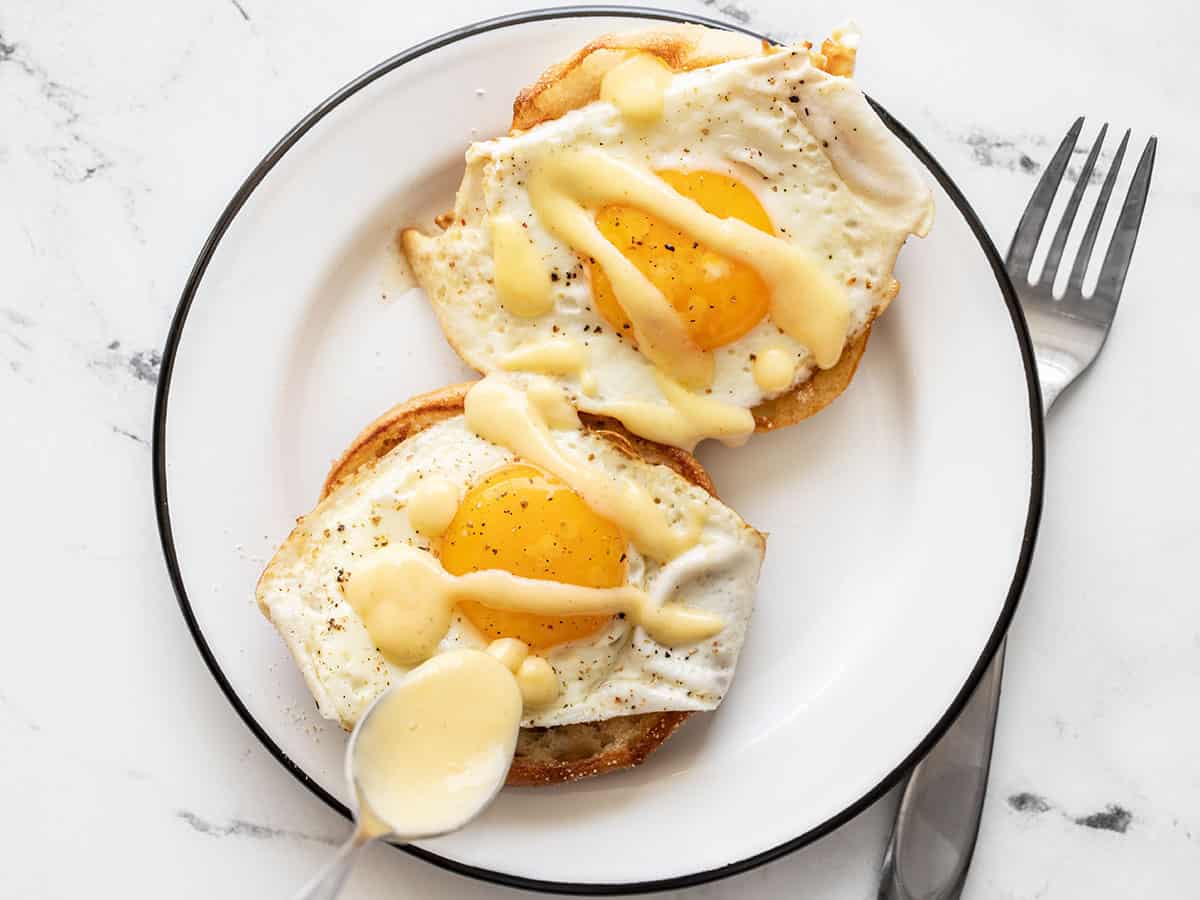 How to Make Hollandaise Sauce – Step by Step Photos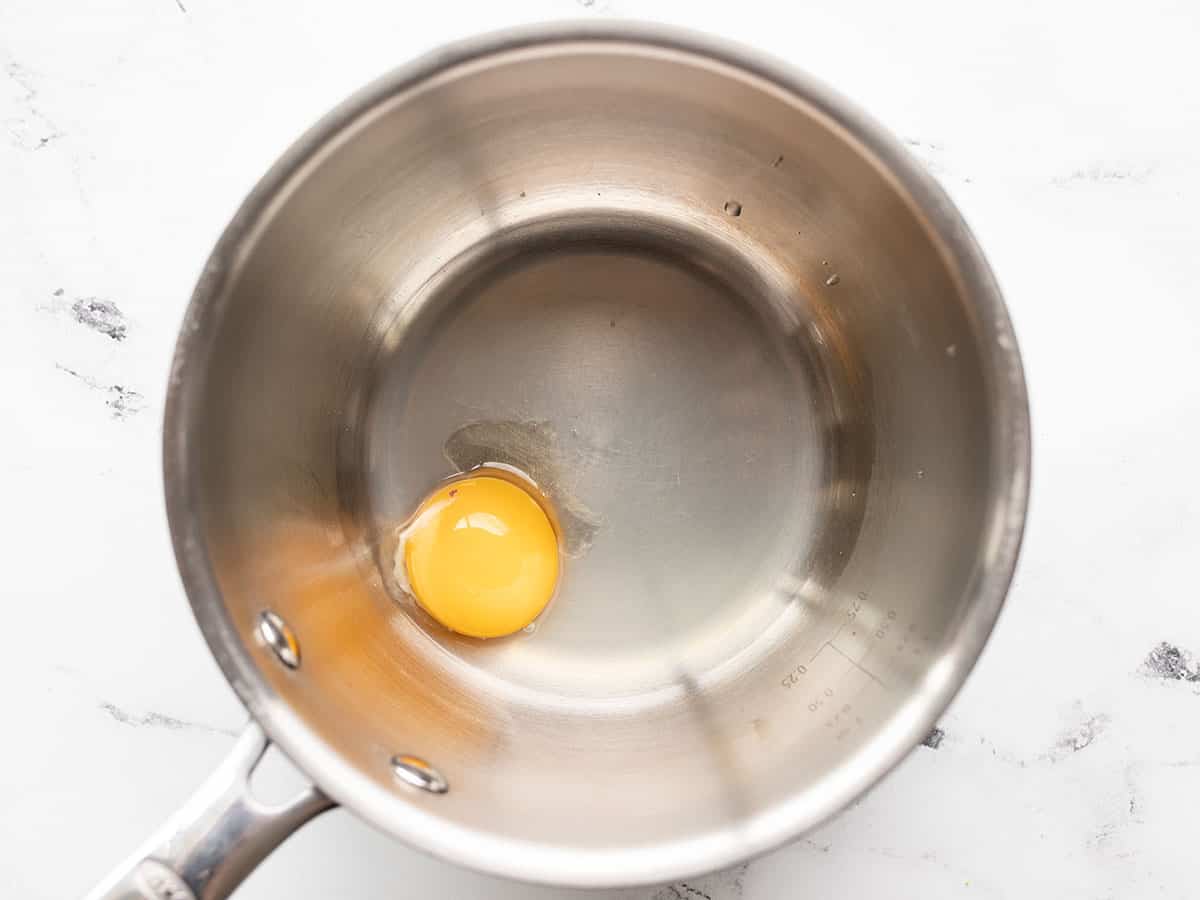 Separate one large egg and place the egg yolk in a small saucepot (this is a 1 qt. saucepot)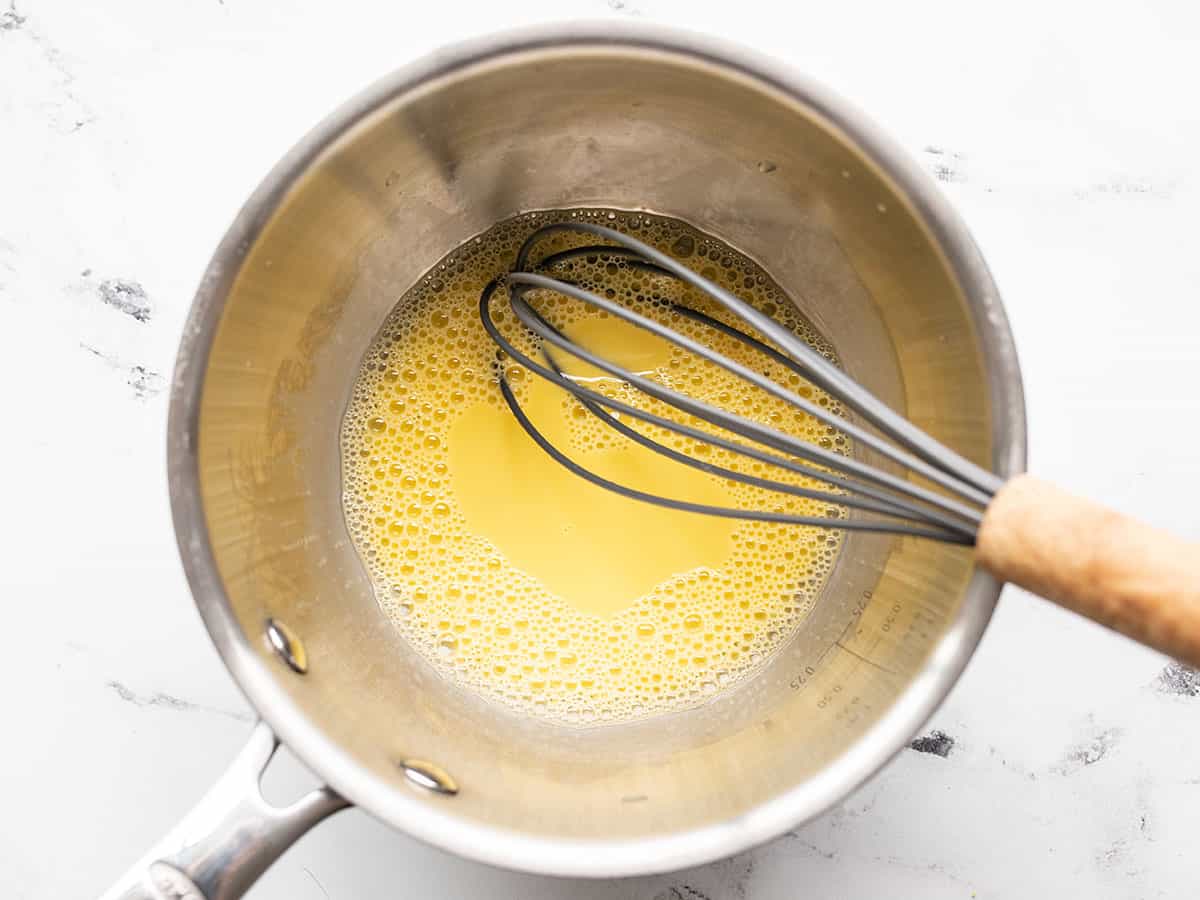 Add 1 Tbsp water and ½ Tbsp lemon juice to the pot with the egg yolk, then whisk the yolk and lemon juice until smooth (do not heat the mixture at this point).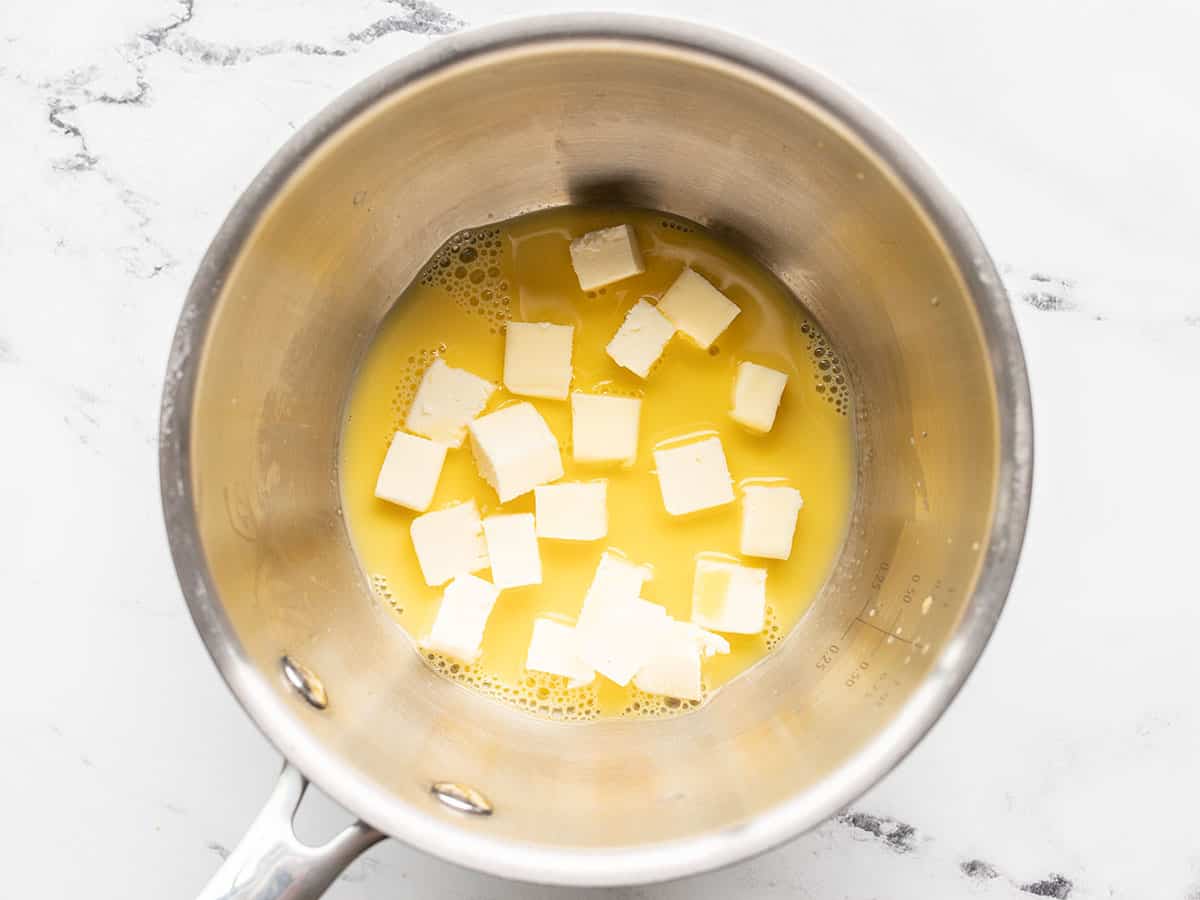 Cut 4 Tbsp butter into small pieces (about ¼ Tbsp sized pieces). Add them to the pot with the yolk, water, and lemon juice.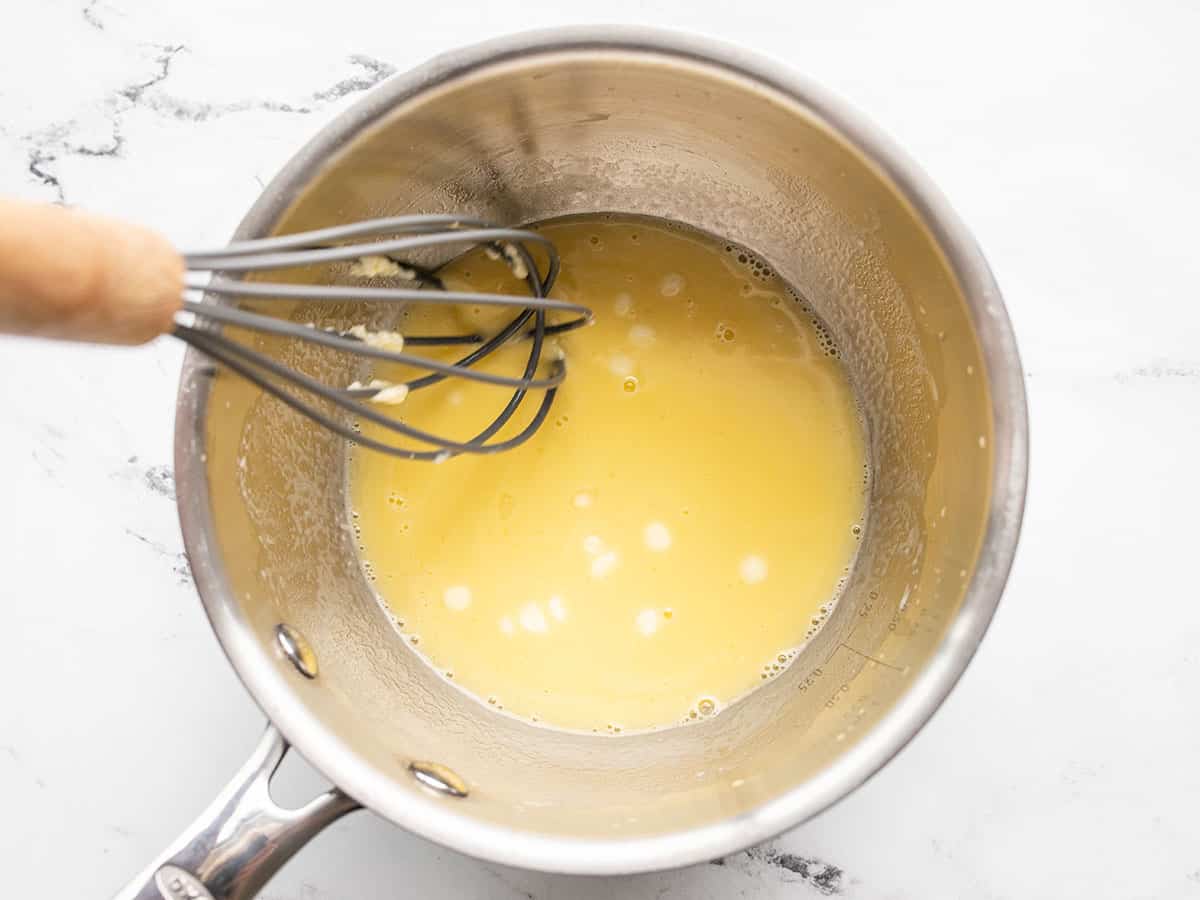 Place the pot over medium-low heat and continuously whisk while the butter begins to melt.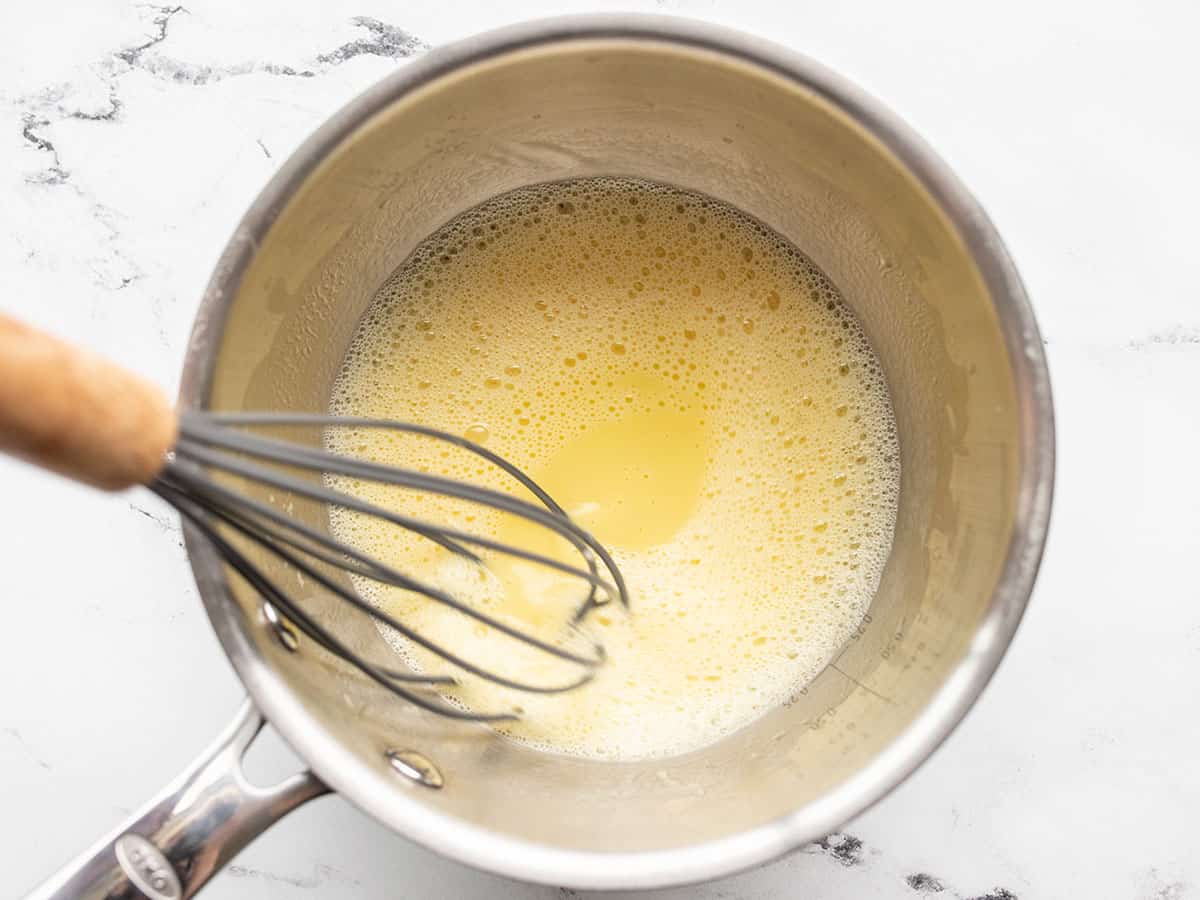 Continue to whisk as the mixture begins to heat. You'll notice it begin to get frothy…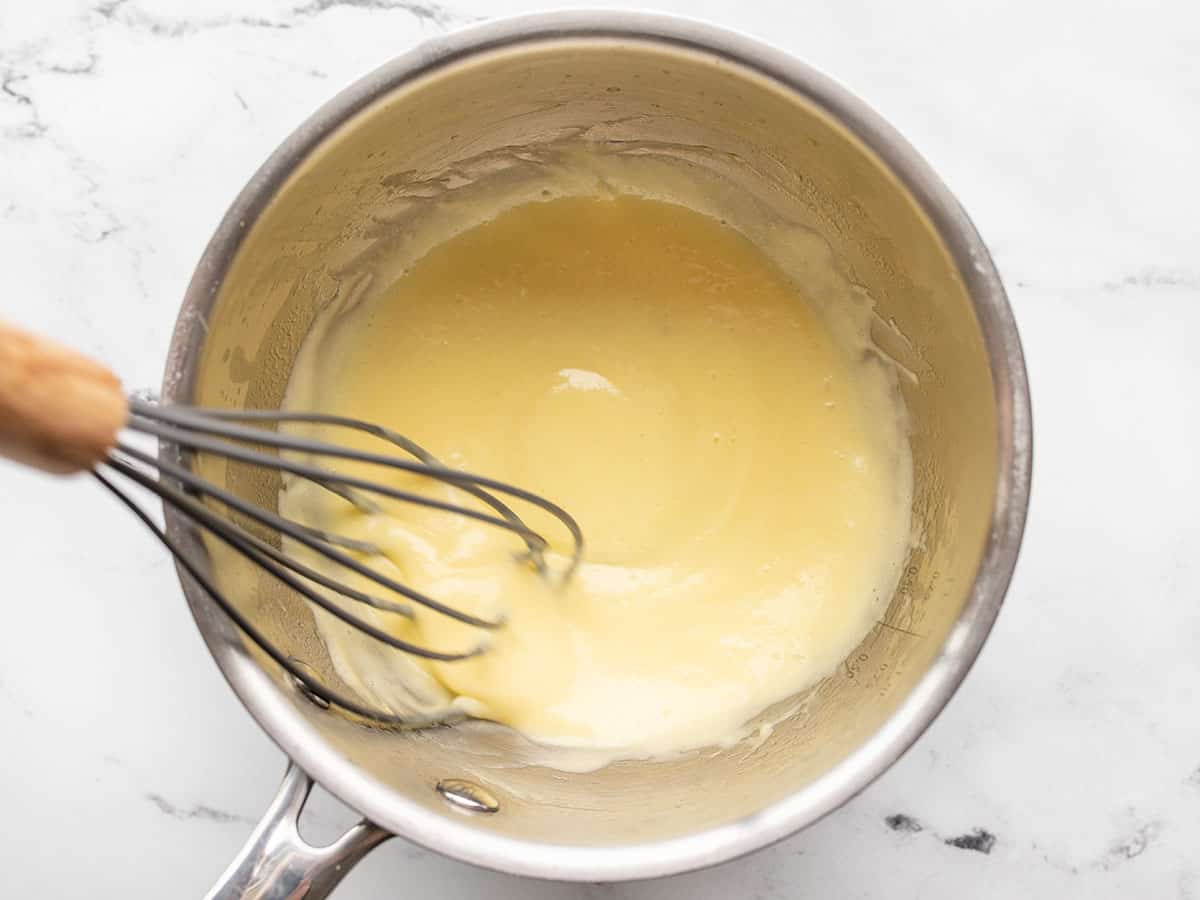 And then when the egg yolk begins to actually cook, it will thicken the sauce to a consistency similar to gravy. Make sure you're whisking throughout this entire process. It should only take 3-5 minutes for the sauce to thicken. Remove the sauce from the heat once thickened.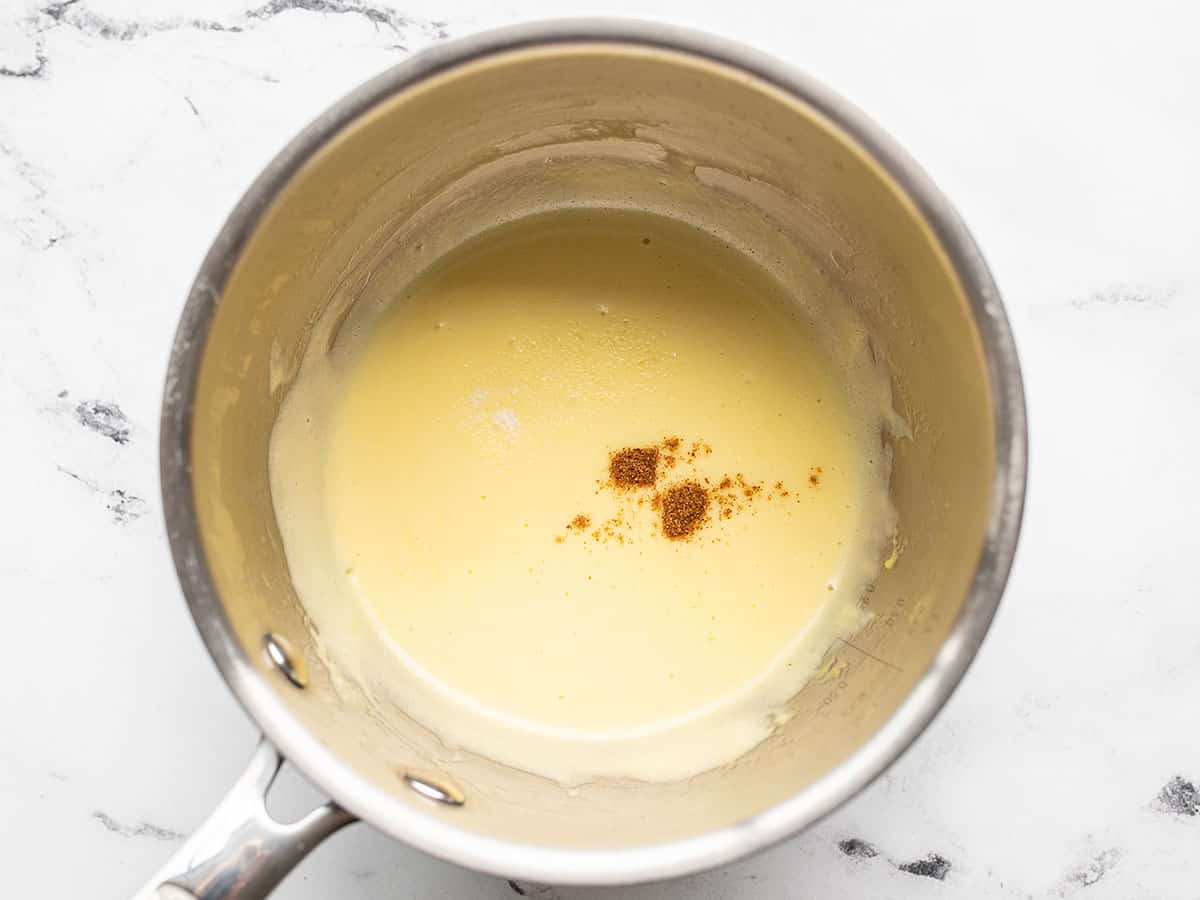 Season the sauce with about ⅛ tsp cayenne and ⅛ tsp salt (or to taste).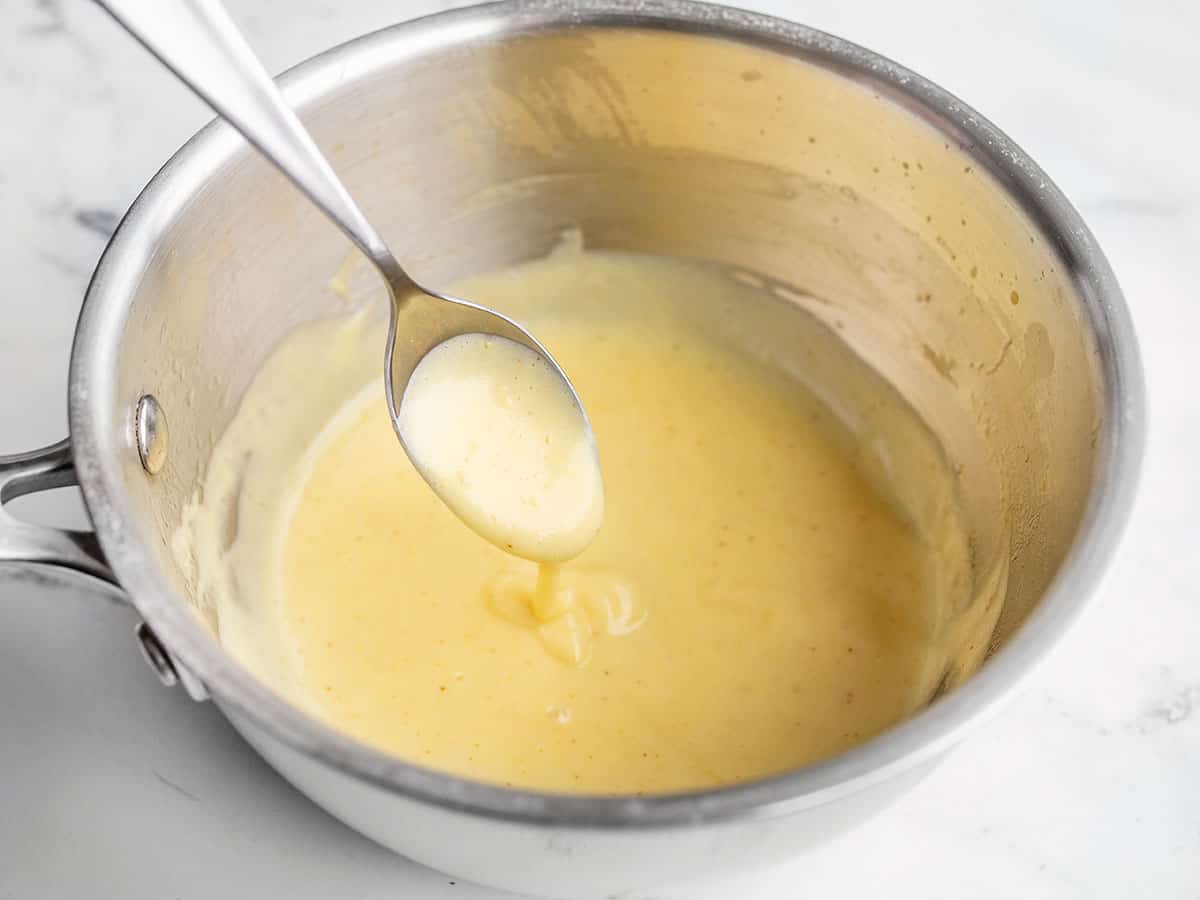 And now your rich and dreamy lemony sauce is ready to eat! You did that!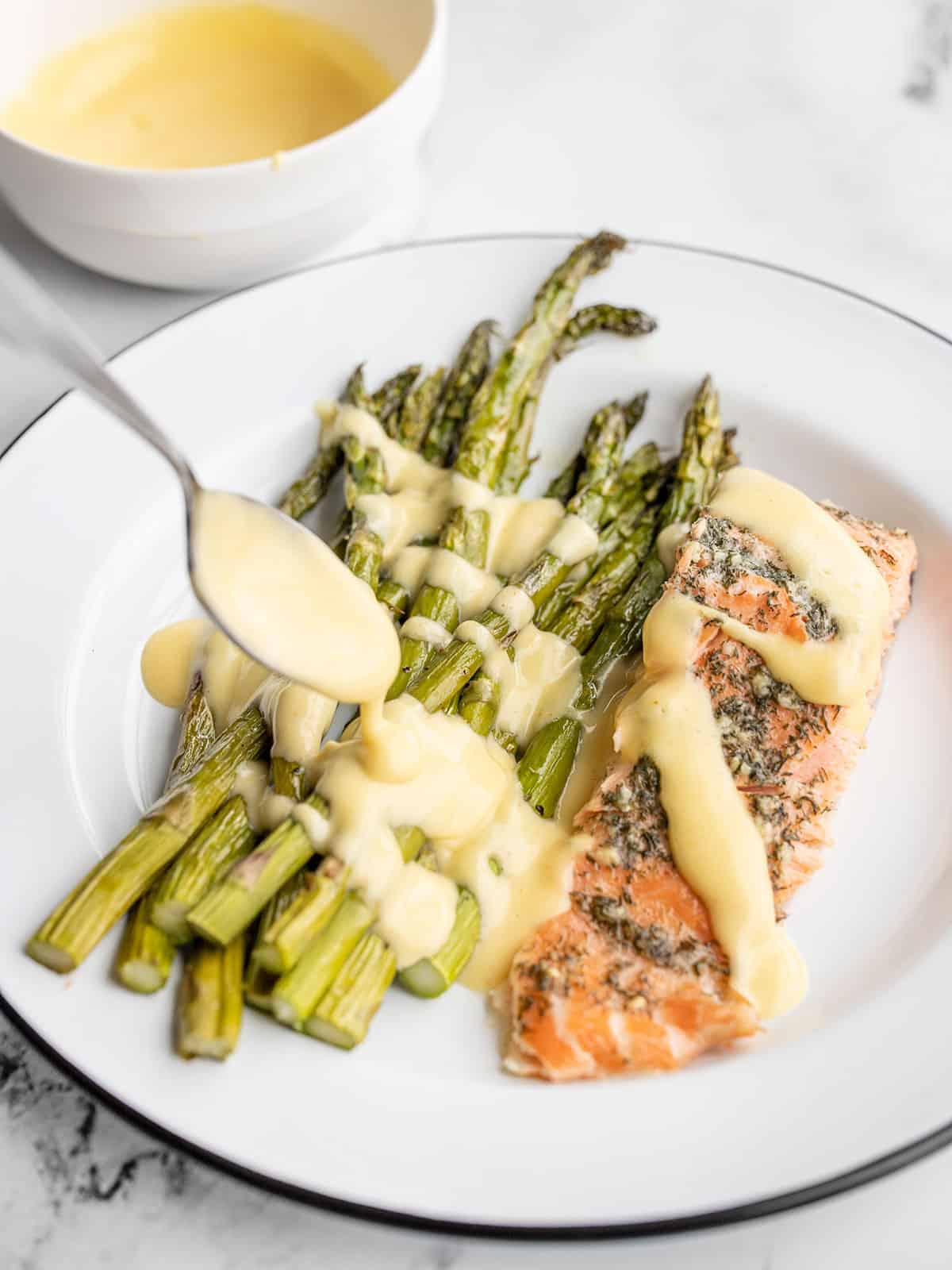 Drizzle that heavenly sauce over all your favorite foods!