Oh boy, I love me some collard greens. Love 'em so much that I want to experience them ever way there is.
During a recent not-so-coherent-after-gym run to the grocery store, I bought a six pack of beer. The problem is that I'm not a huge beer drinker… So, I drank one and the other five have just been sitting in my fridge taking up space. Good thing beer is great for cooking. Braising more specifically.
This recipe started out similarly to my last recipe for collard greens but minus the ham hock. I also realized that I was out of chicken bouillon so I used vegetable. I decided to play up the sweetness of the beer by adding just a smidge of brown sugar and then offset that with just a little red pepper flakes for heat.
The result was truly unique and I've been gobbling it up like crazy. They're slightly sweet, slightly malty and they have that wonderful dark green earthy flavor. MMMmmmmmm.
There's no rule to how long to cook your greens. You can eat them just after wilting, while they're still a vibrant dark green, although they may be more tough. I simmered mine for about two hours at which point they were tender but still had shape. If you let them go even longer, you'll eventually get to that "melt in your mouth" point. Just keep taste testing along the way until you get to a flavor and texture that you like.
Beer Braised Collard Greens
Beer Braised Collard Greens
Collard greens braised in beer provides a unique flavor and a tender texture.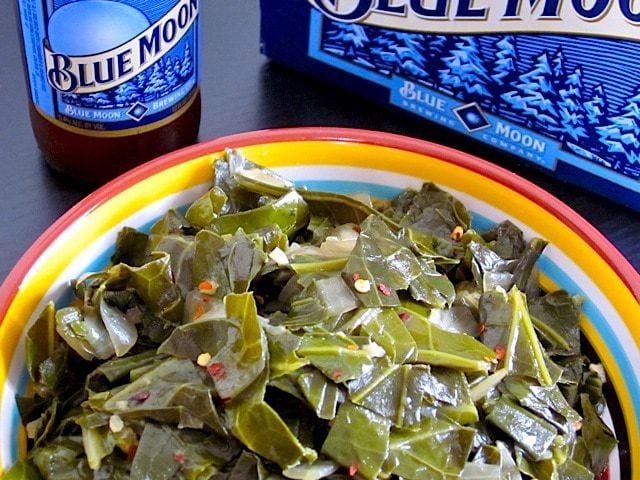 Ingredients
2

Tbsp

olive oil

($0.22)

1

medium onion

($0.38)

2

cloves

garlic

($0.14)

12

oz

beer

($1.17)

1

xlg bouillon cube (makes 2 cups)

($0.23)

2

cups

water

($0.00)

1

lb

chopped collard greens

($1.93)

1

Tbsp

brown sugar

($0.02)

1/2

tsp

red pepper flakes

($0.05)

cracked black pepper to taste

($0.05)
Instructions
Chop the onion and mince the garlic. Cook both in a large pot with olive oil over medium heat until softened.

If you are using fresh collard greens, they will need to be washed, stems removed and cut into 2 inch pieces. I used pre-washed and chopped, bagged collard greens (the fresh bunches didn't look so hot that day).

Add the beer, bouillon cube, water, collard greens, brown sugar, red pepper flakes and black pepper to the pot. Place a lid on top and allow the pot to come to a boil.

Once the pot begins to boil, the collards will have wilted enough to give it all a stir without everything spilling out. Stir everything up good then place the lid back on top, reduce the heat to low and let simmer until the collards are to the desired tenderness (I simmered for two hours). Stir every 15 minutes or so.
See how we calculate recipe costs here.
---
---
Nutrition
Serving:
1
Serving
Calories:
111.12
kcal
Carbohydrates:
10.82
g
Protein:
3.05
g
Fat:
5.2
g
Sodium:
375.17
mg
Fiber:
3.38
g
Read our full nutrition disclaimer here.
Step By Step Photos

Start with the trusty mix of chopped onion and minced garlic.

Cook those down in some olive oil in a large pot until soft.

Add your beer, bouillon cube and 2 cups of water.

I used one pound of pre-washed, stemmed and chopped collard greens (the fresh bunches didn't look so fresh). One pound would probably equal 2-3 bunches once they were trimmed and stems removed. This was a two pound bag so I just froze the second half.

Put the collard greens in the pot with the brown sugar, red pepper flakes and a generous amount of black pepper flakes. Put a lid on top to trap the heat and allow the greens to wilt a bit before stirring.

After just a few minutes they've wilted enough to stir. The liquid in the pot should be boiling at this point. Give it a good stir, replace the lid and reduce the heat to low. Allow the greens to simmer until they are tender. Stir every 15 minutes or so.

See the progression of the color as they cook? The color gets more muted and the texture gets more tender the longer they cook. It's up to you how long to let them go. The last picture is after about 2 hours which is where I like it. They still have enough texture to chew but they are tender and flavorful.
… There are still four bottles of beer in the fridge. What to do with the rest? Beer biscuits? Chili? Beer braised pork roast? Suggestions?