If you're not on the "overnight oats" train, it might be time to hop on. Overnight oats are an amazing way to eat oats cold, which is perfect for the summer. And the tropical flavors these Tropical Yogurt Overnight Oat Parfaits are great any time of year.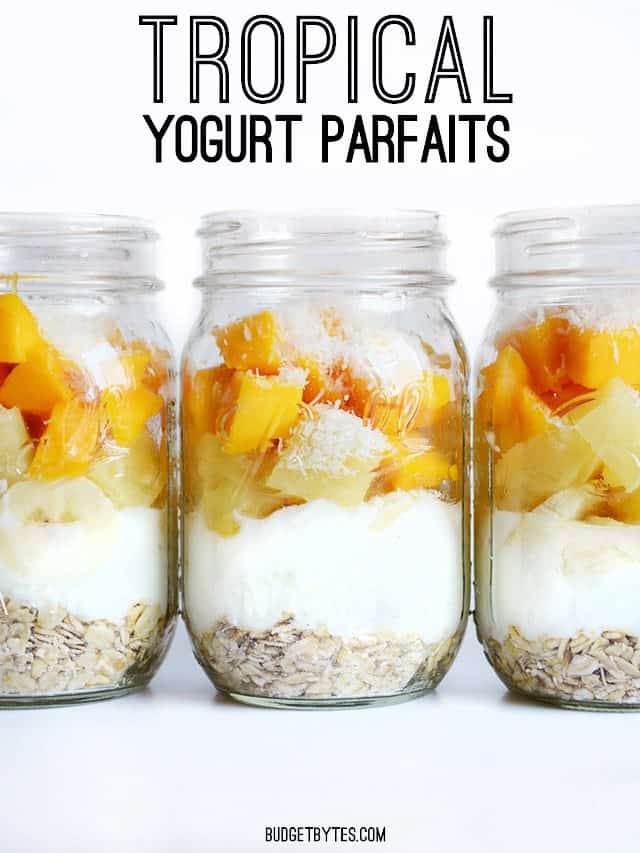 How Do You Make Overnight Oats?
Making overnight oats is simple. Instead of boiling oats in water, you let them soak overnight in the fridge, which gives them a fabulously soft and chewy texture. But letting them soak in water would be just plain boring, and that's not how we do things around here. Instead I like to kill two birds with one stone and soak my oats in yogurt.
As the oats absorb moisture from the yogurt, it magically transforms it into thick Greek style yogurt. Add a few fun extras like fruit or nuts and you have a well rounded breakfast with next to no work. Seriously, just throw everything into a jar (or other container) and come back the next day. That's it.
What Makes Them "Tropical"?
For this tropical version of overnight oats I've combined bananas, pineapple, mango, and shredded coconut. I like to use plain yogurt because that's my jam, but you could use vanilla if you prefer things a bit sweeter. I found that between the banana and mango I had all the sweetness that I needed. The same goes for coconut. I paid a little extra to get unsweetened coconut shreds, but if all you have is the regular sweetened coconut that is used for baking, go ahead and toss it in. Your parfait will just be a bit more sweet.
How Long Do They Stay Good?
You can keep these Tropical Yogurt Overnight Oat Parfaits in the refrigerator for about 4-5 days.
Tips for Dicing Mangoes
If you need help learning how to cut a mango, check out this tutorial from thekitchn.com. You may also be able to find diced mango in the freezer section. You can just pop the frozen cubes into the jar and they'll thaw as the oats soak overnight. ALSO, I saw this amazing trick for peeling mangos with a cup the other day and it kind of blew my mind. I've done it a couple times now and it works great, although it works best with super ripe mangoes.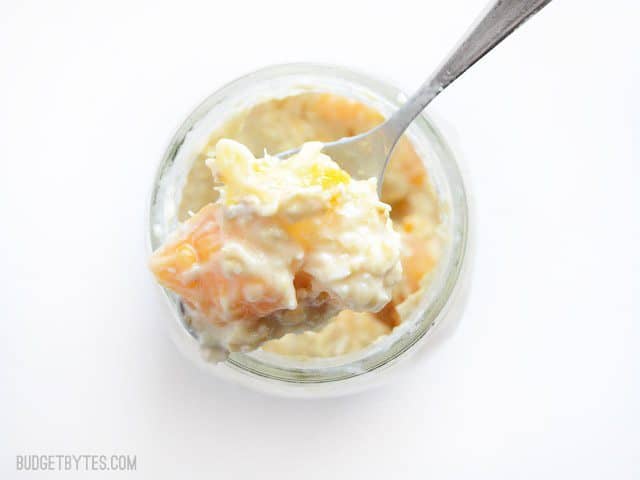 Tropical Yogurt Parfaits
Tropical Yogurt Parfaits are the perfect healthy summer breakfast when you're short on time. Prepare them on the weekend and eat good all week.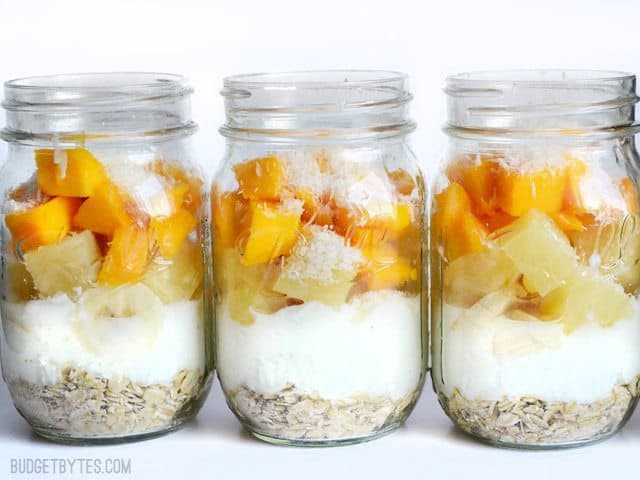 Ingredients
1

cup

rolled oats

($0.17)

1 1/3

cup

yogurt*

($0.66)

2

bananas

($0.43)

1

20oz. can

pineapple chunks in juice

($1.37)

1

mango

($1.00)

4

Tbsp

shredded coconut

($0.33)
Instructions
Add 1/4 cup rolled oats to the bottom of four 12oz. mason jars, or another container of comparable size. Add 1/3 cup of yogurt on top of the oats in each jar.

Slice the bananas, drain the pineapple (the juice can be saved for smoothies), and dice the mango. Divide the sliced bananas, pineapple chunks, and mango between the four jars. Layering the bananas between the yogurt and pineapple will help prevent the banana from browning. Top each jar off with a tablespoon of shredded coconut.

Refrigerate the jars overnight to allow the oats time to soak and soften. Use a spoon to stir the ingredients in the jar just before eating. Refrigerate the parfaits for up to five days.
See how we calculate recipe costs here.
---
Notes
*Use plain or vanilla flavored yogurt, but avoid Greek style yogurt as there may not be enough moisture to help the oats soften.
Nutrition
Serving:
1
Serving
Calories:
316.93
kcal
Carbohydrates:
62.45
g
Protein:
7.68
g
Fat:
6.75
g
Sodium:
80.38
mg
Fiber:
5.75
g
Read our full nutrition disclaimer here.
Try These Other Overnight Oat Recipes:
I don't have any step by step photos for these Tropical Yogurt Parfaits because there's only one step–put the ingredients in the jar…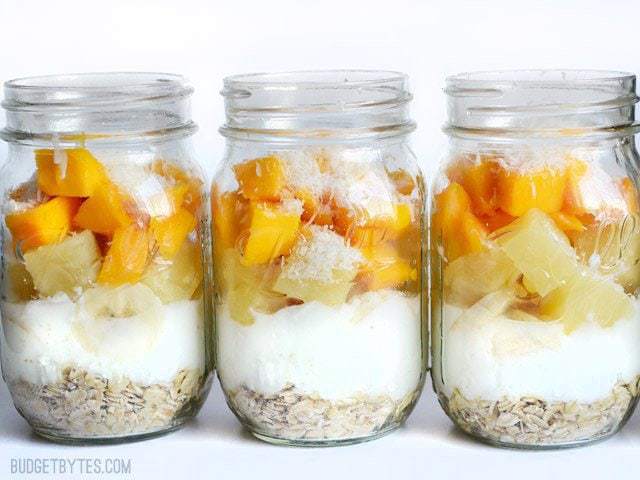 Have a great weekend!