This week has been super crazy, but I'm proud of myself for still getting my weekly meal prep in order. Even though I'm only prepping four days worth of one dish, it's still been a huge help and greatly reduced my tendency to just grab something to go in the midst of all this chaos. Thanks to the meal prep, I already have something "to go" that I made myself! Woot! This week I'm hitting those summer/southwest flavors with this super easy Cilantro Lime Chicken Meal.
This week I've paired my super inexpensive Cilantro Lime Chicken Drumsticks with a classic Taco Rice and a simple mix of corn and black beans. If you're looking to reduce your refined carbs, you can switch out the Taco Rice for Chili Roasted Sweet Potatoes, which can roast in the oven at the same time that the chicken bakes.
The mix of corn and black beans included in this meal is really amazing thanks to the frozen fire roasted corn kernels from Trader Joes that I had leftover in my freezer. I can't even express how much flavor that "fire roasted" bit adds. It's seriously amazing.
BUT I know that not everyone has access to Trader Joes or frozen fire roasted corn kernels, so you can still use regular frozen corn kernels, or skip the corn all together and just 2 cans of black beans. I'd also suggest looking for "seasoned" canned black beans, which are usually the same price as plain black beans, but have the spices already cooked in so it's a little less work. 👍
For more information about meal prepping, how it works, and why I do it, check out Meal Prep 101: A Beginner's Guide to Prepping and Portioning Meals, or check out my entire Budget-Friendly Meal Prep Archive.
Sunday Meal Prep: Cilantro Lime Chicken Meal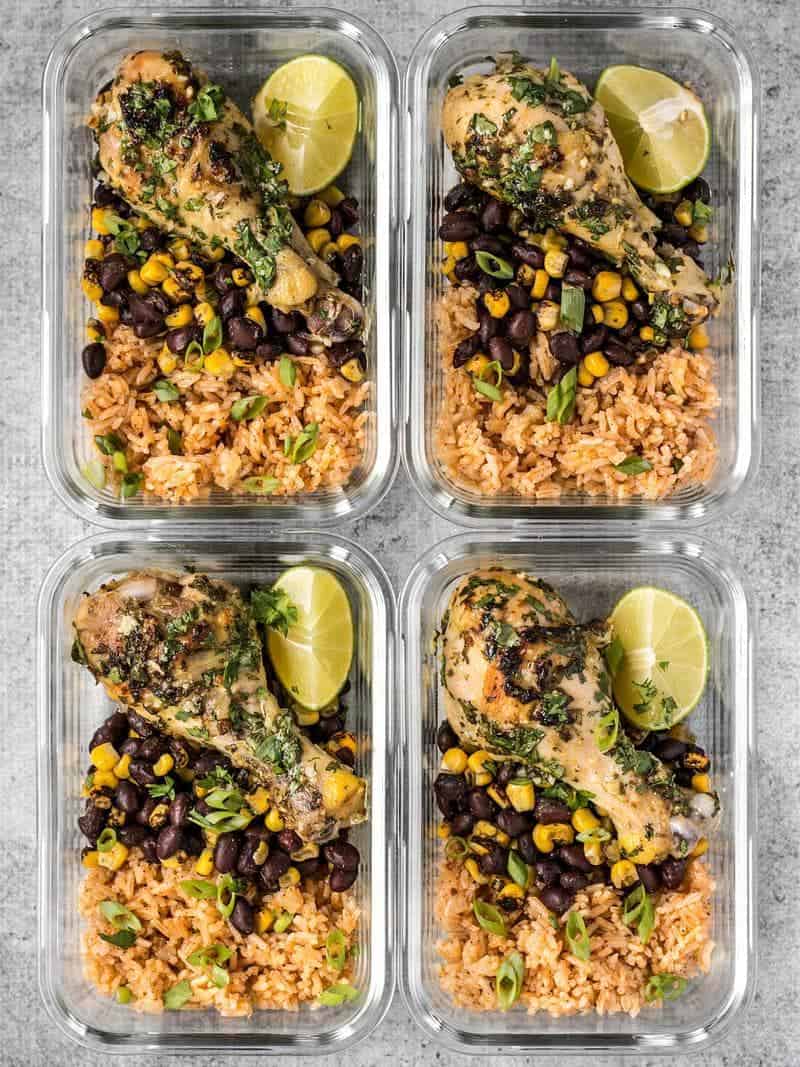 This Week's Meal Prep Includes:
Cilantro Lime Chicken Drumsticks: $5.25
4 cups Taco Rice: $1.52
Corn & Black Bean Mix: $2.17
Total Cost: $8.94
Price Per Meal: $2.24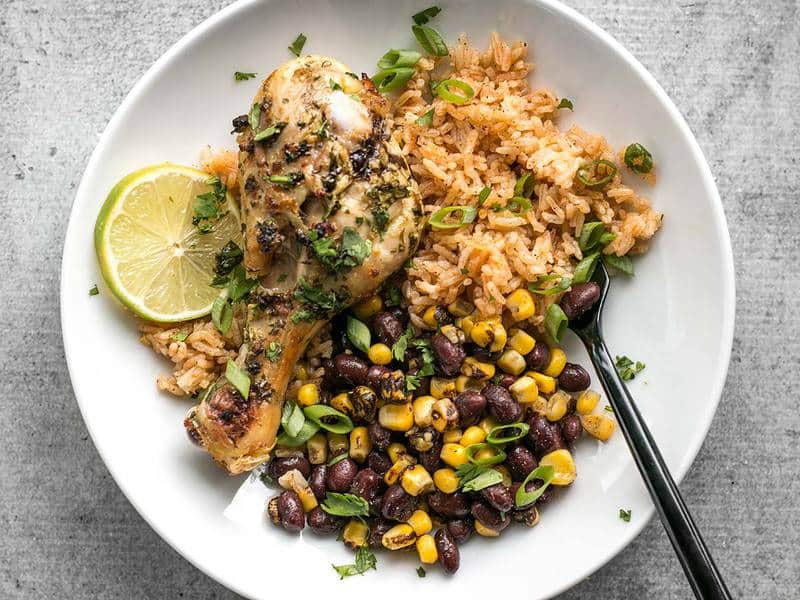 About that Corn and Bean Mix…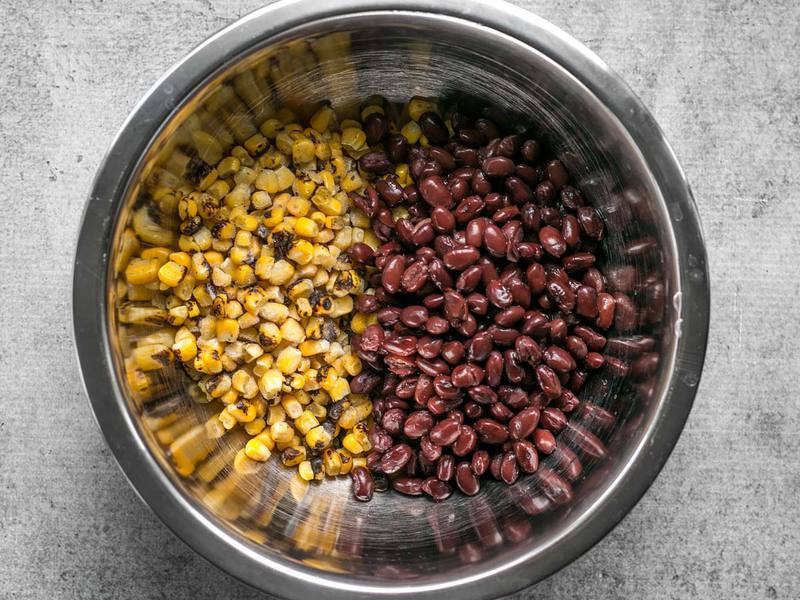 I rinsed and drained a can of black beans, which is about 1.5 cups and combined it with about an equal amount of the frozen fire roasted corn kernels. I seasoned it with a pinch of salt and a light sprinkle of cumin and left it at that. I knew I'd be adding green onions from the taco rice over top and there would be a wedge of lime from the Cilantro Lime Chicken Drumsticks to squeeze over the whole box, so I didn't feel like the corn and beans needed much else. This made about 3 cups of the mixture, so I put about 3/4 cup in each meal box.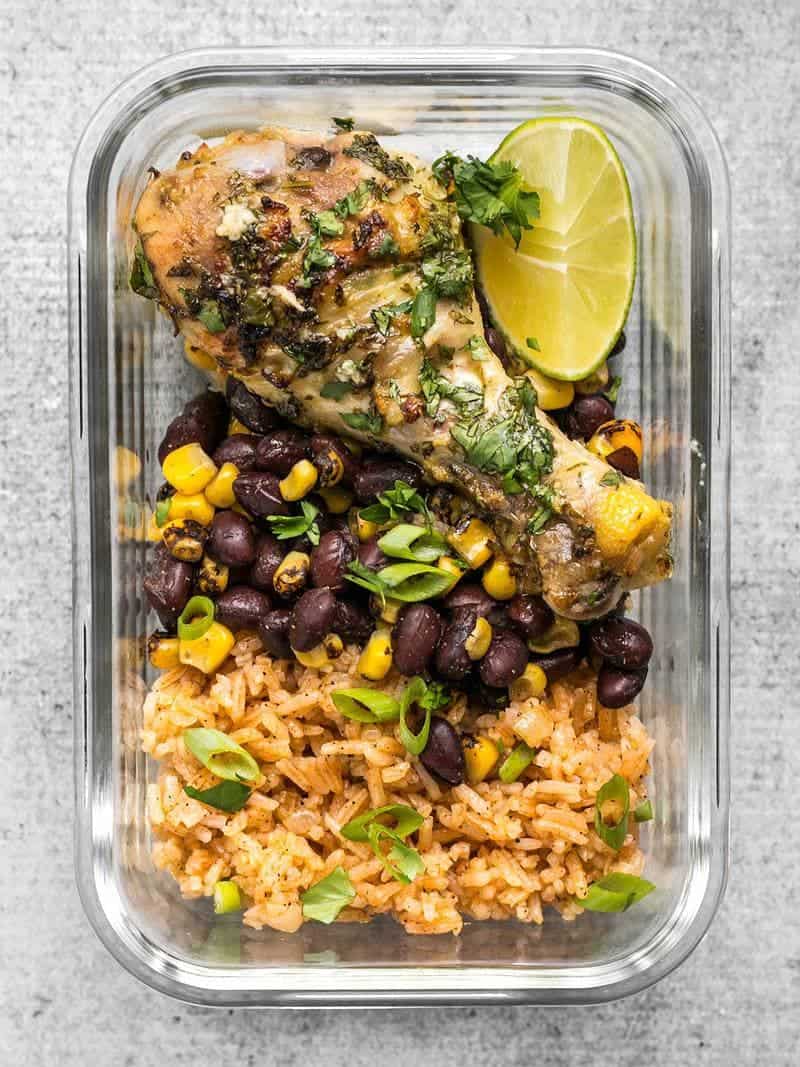 Notes:
I got new containers! While I do love my reusable Ziploc containers, they don't make a meal-sized rectangular option anymore and for some meals I really want a longer rectangle shape. So, I decided to try out these glass containers. They feel really well constructed, the lids fit on super tight, and although the lids are plastic, they are BPA free. The lid has a neat steam vent for reheating, although I usually just leave my lids sitting on top, unlatched, and slightly cocked to get the same effect. These containers are slightly smaller than I expected, but I think they'll work nicely. Plus, they came in a pack of four which is exactly what I wanted. :)
The Cilantro Lime Chicken recipe makes 4-6 drumsticks, depending on how many you buy in a pack. My pack had 5 this time, so I'd have one drumstick leftover. I simply gave that to myself as an extra with one of the boxes, or you could eat it with another meal. I don't find that freezing cooked bone-in meat reheats that well. It takes far too long to get the bone portion to heat through.
The rice, on the other hand, freezes well. The Taco Rice recipe makes about 6 cups, so you can either give each meal prep box 1.5 cups instead of one cup to use it all up within four days, or portion out the extra two cups and freeze it as soon as possible. It's very important with rice to cool it down quickly after cooking to reduce the possibility of food poisoning, so make sure to portion it, cool it completely, then transfer it to freezer bags for freezing.
General Meal Prep FAQ
Q: What if I can't stand to eat the same thing for multiple days in a row?
A: Meal prep just might not be for you. Meal prep works when your desire to either A) do as little cooking as possible, B) Eat healthy with as little decision making as possible, or C) Eat on a budget with as little grocery shopping as possible, outweighs your desire to have variety in your daily meals. It's also possible that you might just not have found the right recipe for you yet. Sometimes I get sick of my meal by the fourth day, but there are definitely some recipes where I eat it all week and am still sad when I eat the last portion! So you may just need to find the recipes that really make you super happy day after day. :)
As I've also mentioned, I like to prep only four days in a row to maintain quality and help reduce my "burnout". Right now I'm only prepping one out of my three meals per day, so I still get a lot of variety through my other meals. I also always have at least a portion or two of other meals stashed in the freezer that I can grab to mix things up, if necessary.
Q: Instead of eating one meal throughout the week, how do I use one ingredient across multiple recipes?
A: I feel like that would be more along the lines of meal planning than meal prepping. Meal prep is cooking enough of one recipe to last several days so that you only have one set of ingredients and only cook one time. Meal planning strategically combines recipes to make the most out of your ingredients, but still requires purchasing multiple sets of ingredients and cooking multiple recipes. I DO plan on putting together some meal plans for you soon, though! Just as soon as I finish my move and get settled into my new home. :)
Q: Doesn't the food get limp/soggy/gross?
A: Yes and no. Leftovers are never going to be the same as they were the day you cooked them, and they'll continue to change every day that they're in the fridge. Whether or not this will be tolerable to you is very personal, but I will try my best to include tips for each meal to keep the food tasting its best over the four days! But, as with question number one, if you are super sensitive to flavor and texture changes, meal prepping might not be the solution for you.
That's it for this week!!
This post may contain affiliate links which won't change your price but will share some commission.