High five to me for not accidentally erasing all the meal prep photos from my camera like I did last week! Ha! The Chorizo Stuffed Bell Peppers I made earlier this week are absolutely perfect for meal prep, since they're already in perfect little portions, so I combined them with some Cowboy Caviar and some tortilla chips that were in my pantry for this weeks Stuffed Bell Pepper Meal Prep.
I'm showing all three elements of the meal prep together in the same container so people can get the idea with a split second glance when they see this photo on social media, but in reality I would pack the chips in a separate bag to keep them from getting soggy. And since I like to eat the cowboy caviar cold and the pepper hot, I'd eat the cowboy caviar and chips as my appetizer, then heat the bell pepper for my main course. :)
Oh! And you may notice that my Cowboy Caviar looks a little different… They didn't have any black eyed peas when I was at the store, but I did have a miscellaneous can of chickpeas in my pantry that needed to be used, so I just swapped them. It's not the most ideal ingredient swap, but it works and makes use of what I have on hand, so that's a win in my book!
For more information about meal prepping, how it works, and why I do it, check out Meal Prep 101: A Beginner's Guide to Prepping and Portioning Meals, or check out my entire Budget-Friendly Meal Prep Archive.
Stuffed Bell Pepper Meal Prep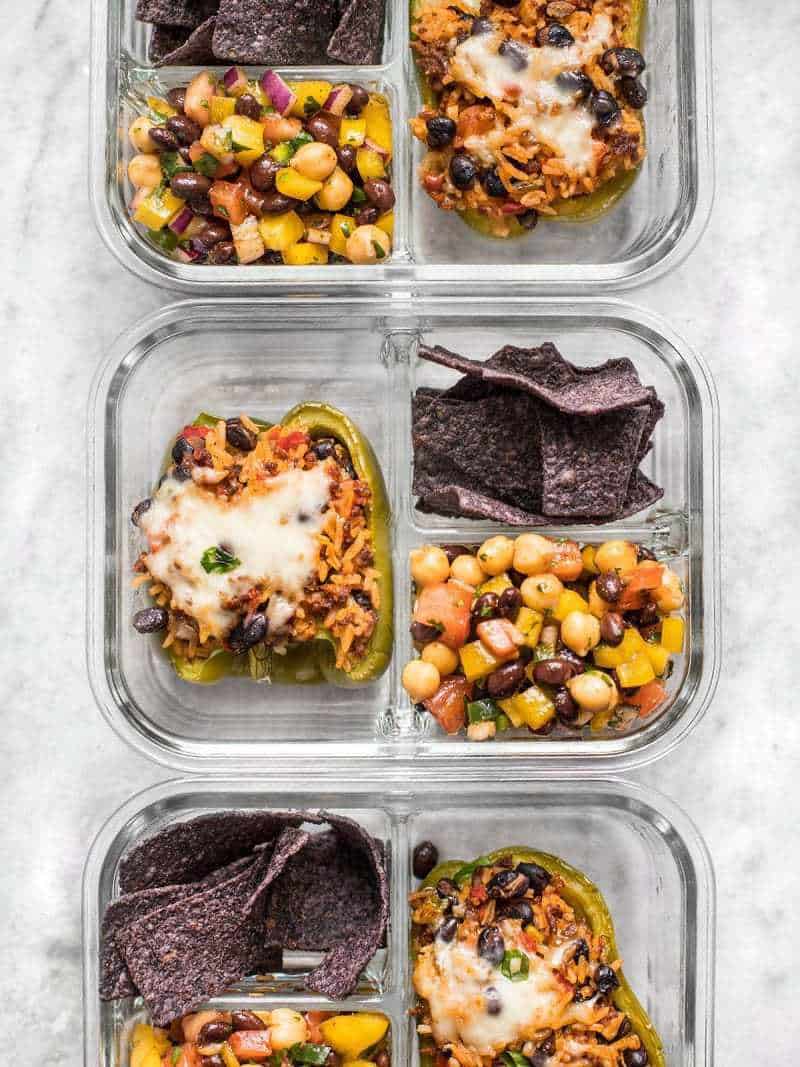 This Meal Prep Includes:
Chorizo Stuffed Bell Peppers: $8.15
Cowboy Caviar: $5.80
Large Bag Tortilla Chips: $2.50
4 lunches: $2.14 each
Leftovers: 2 stuffed bell peppers, 3 cups cowboy caviar, 2/3 bag of chips = $7.87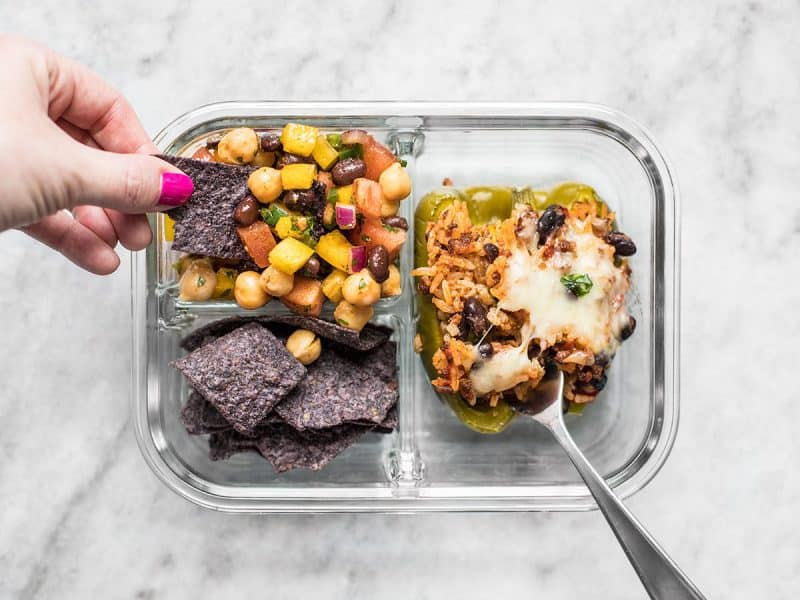 Notes:
There are a lot of leftovers this week! Luckily, the bell peppers freeze well, so you can just package those up individually and pop them in the freezer (I like the blue-top Ziploc containers for freezing). There is a lot of leftover cowboy caviar and chips, but honeslty, I don't have a problem polishing that off as a snack during the day or at another meal. Cowboy caviar also makes a great taco topper, so you could always re-purpose it for a dinner throughout the week.
As I mentioned above, I like to eat the cowboy caviar cold and the stuffed peppers warm, so I would probably eat the chips and caviar as an appetizer, then reheat the pepper and eat that as my main dish.
While I showed the chips in the container, I'd probably pack them separately to keep them from getting stale, since these glass containers do not fully seal off each compartment and moisture would likely be an issue.
And there are no rules when it comes to meal prep! If you want to just package each of these items in separate containers, you can totally do that. The important thing is that you got four lunches or dinners taken care of in one swoop. :)