Hey guys! I hope you're having a fantastic weekend! I got back from a short trip to Seattle a couple of days ago, but wanted to hop right back on the meal prep wagon ASAP. I didn't have a lot of time to brainstorm a new recipe combo, so I turned to an old classic, and something that I've been craving the past few days—Maple Dijon Chicken Thighs.
I paired the sweet and tangy thighs with the same side dish as the first time I made this recipe, Carrot and Orzo Salad, and then added in some roasted zucchini for more green. Roasted zucchini certainly isn't the prettiest food in the world, but I love the creaminess that zucchini takes on when roasted. I kept the zucchini simple with just some salt and pepper because there's already a lot of flavor going on with the Maple Dijon Chicken Thighs.
Plus, it's good to keep things simple. Don't make your meal prep more complicated than it needs to be. Have one star of the show and then pair it with something simple on the side. :)
And, since I know I'll be asked several times, these containers are the 3 cup Pyrex glass containers with red lids, purchased from Amazon. ;)
For more information about meal prepping, how it works, and why I do it, check out Meal Prep 101: A Beginner's Guide to Prepping and Portioning Meals, or check out my entire Budget-Friendly Meal Prep Archive.
Maple Dijon Chicken Thigh Meal Prep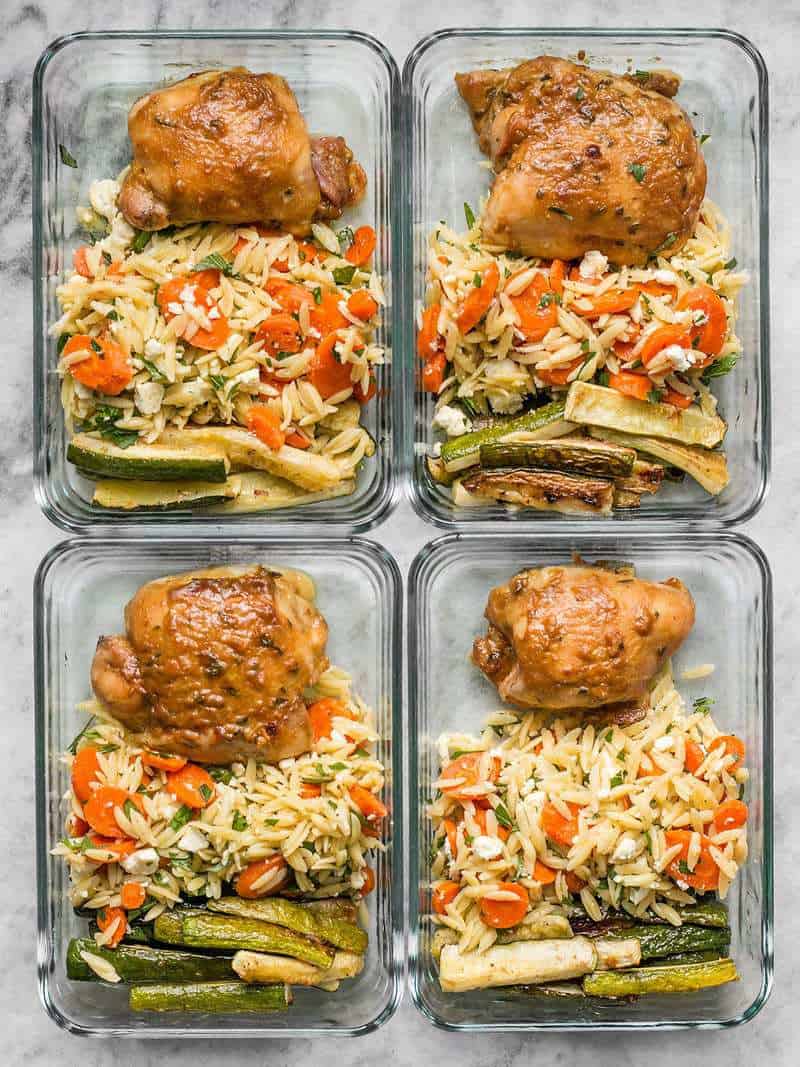 This meal Prep Includes:
Maple Dijon Chicken Thighs (6 servings): $6.70
Carrot and Orzo Salad (6 servings): $4.92
Roasted Zucchini (4 small zucchini + olive oil, salt, pepper): $2.07
Total Cost: $13.69
Cost per meal: $2.45
Cost of leftovers: $3.87 (two servings each of chicken, Carrot and Orzo Salad)

Roasting
All three of the items in this meal prep use the oven to roast, so let me give you an idea of how I timed it all. I began with the carrots and got those in the oven, then began on the zucchini. Once those were in the oven (on the lower rack), I started boiling water for the orzo for the carrot and orzo salad.
While the orzo was boiling and the vegetables still roasting, I prepared the maple dijon chicken. By the time the chicken was ready to go into the oven, the orzo was done so I poured that into a colander and let it drain while I attended to the chicken and carrots.
There was still a few more minutes left for the carrots to roast, so the chicken sat for about 5-10 minutes until the carrots were done. Once the carrots were done, I took them out, and put the chicken in the oven in their place. Since the zucchini went into the oven later and have a higher moisture content than the carrots, they still needed a little more time in the oven.
While the chicken and zucchini were roasting, I finished preparing the Carrot and Orzo Salad. Since the salad was finished before the zucchini and chicken were done, I popped that in the fridge for a bit.
Finally all three items were finished, they went into their meal prep boxes, and into the fridge! Easy. It's always good to go over all the recipes you're preparing to get an idea of how you want to orchestrate their preparation. How much multi-tasking can you handle? What needs to be in the oven, at what temperature, and for how long? Make a mental map of how it will all go before you begin. Start the longest recipes first and the shortest recipes last.
All of this comes with practice so you may not be a kitchen ninja at first, but the planning and execution skills will come with time. :)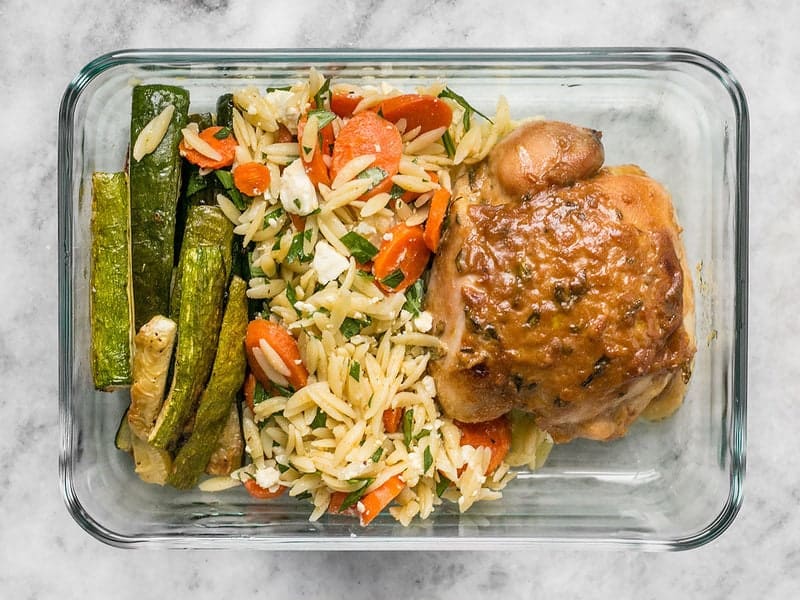 Leftovers
Both the Maple Dijon Chicken Thigh recipe and the Carrot and Orzo Salad recipe make around 6 servings, but you could certainly add a little more to each of your four lunch boxes to prevent having leftovers that go to waste. If you just redistribute the six servings to four, the cost of each of the four meals goes up to $3.42, which is still quite low for a meal compared to eating out.
I don't suggest freezing the orzo salad as I think it would get too dry during the freeze/thaw cycle. The Maple Dijon Chicken might freeze okay, although I haven't tried freezing this one because I always eat it too fast! It's super delish!
This post may contain affiliate links which won't change your price but will share some commission. As an Amazon Associate I earn from qualifying purchases.