Okay, I know this Mango Coconut Chia Pudding is a little out of the ordinary for me, since I don't usually hop on to health food trends, but let me explain. I have this obsession with seeing food in restaurants and cafés and wondering about how much less it would be if I made it at home. I was in Tennessee last week and we stopped by a coffee shop to grab coffee before our long drive home and when I looked around for something I could grab for breakfast and eat in the car, I spotted some tiny cups of chia pudding. And when I say "tiny" I mean TINY.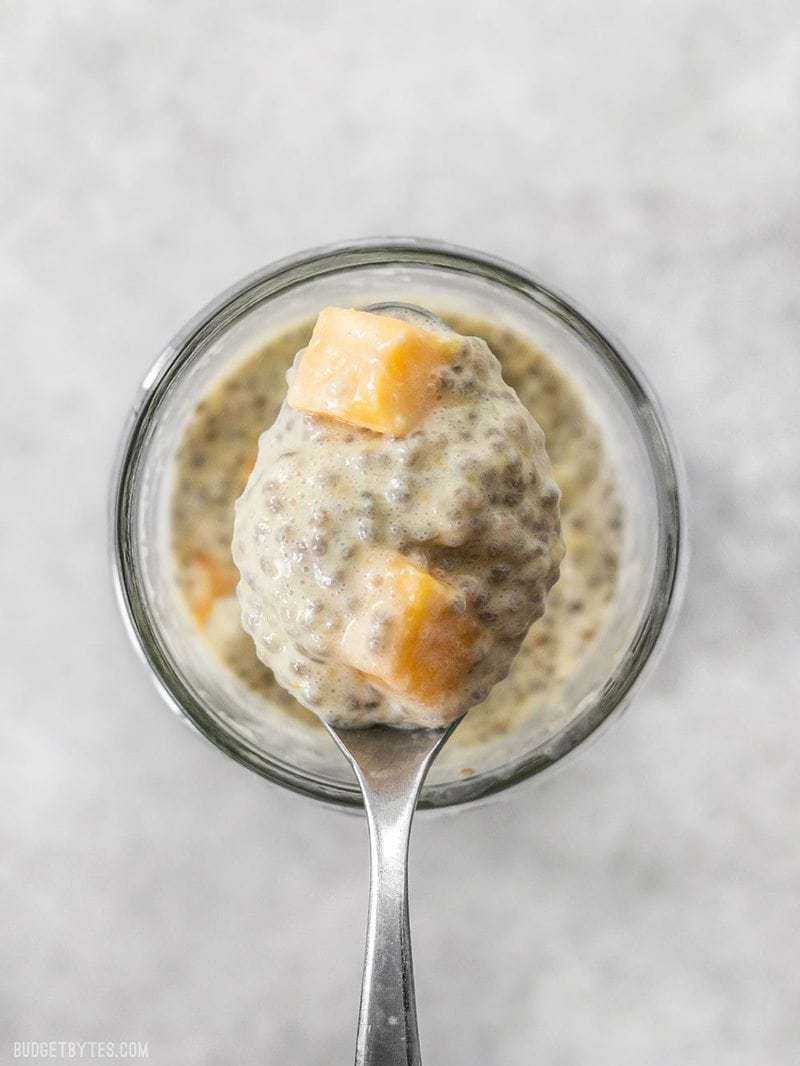 I couldn't find a price on the chia cups, but I have no doubt they were at least $3 (is anything in a coffee shop less than $3? lol). Knowing that chia pudding is usually just chia seeds mixed with some flavorful liquid, I just had to try to make it at home. And guess what? I'm really glad I did! The Mango Coconut Chia Pudding that I made is soooo good, less than $1.50 each, and at least a couple ounces larger than the cups in the café! They're light, fresh, filling, and not too sweet. I love them for breakfast or a snack, and I can't wait to try more flavors!
What Are Chia Seeds?
If you're not familiar with chia seeds, they're tiny little seeds that contain a lot of soluble fiber and they gel up when mixed with liquid. So it's almost like little tapioca beads with crunchy centers. They're very interesting and fun to eat! As for nutrition, people love chia because it's high in fiber, protein, omega-3 fatty acids, and other nutrients. I mainly like them because they're fun to eat. ;) You can find them at health food stores and if you don't plan to use them often, I suggest checking the bulk bins so that you can buy just the amount that you need.
And don't worry, if you're more of a comfort food person, I'm sure I'll be back to making things like Bacon Broccoli Mac and Cheese in no time. 😜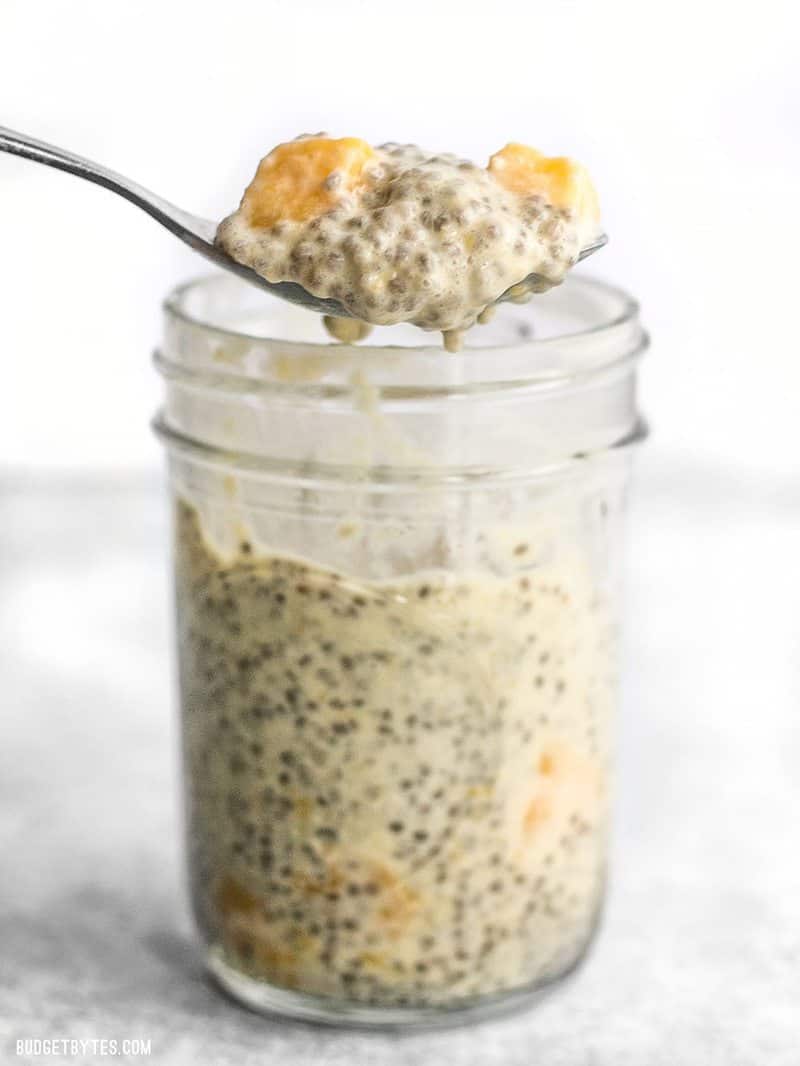 Mango Coconut Chia Pudding
These Mango Coconut Chia Pudding cups are a fast and easy make-ahead breakfast with tons of fiber and protein.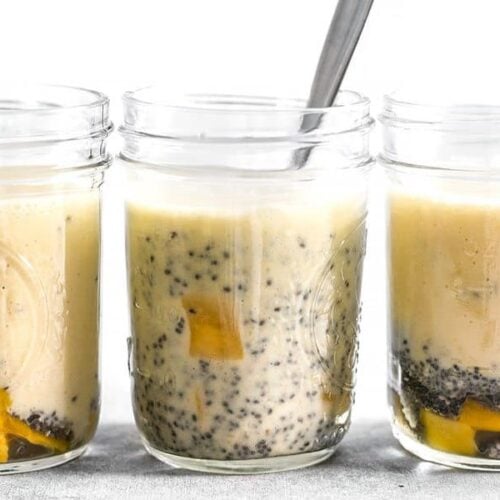 Ingredients
1/2

lb.

frozen mango chunks*

($1.65)

1

13oz. can

lite coconut milk*

($2.19)

1

tsp

sugar

($0.02)

6

Tbsp

chia seeds

($0.93)
Instructions
If the mango chunks are in large pieces, chop them into smaller, 1/4-inch pieces. Place half of the mango chunks , the coconut milk, and sugar in a blender and process until smooth.

Divide the remaining mango chunks between 4 small containers (10-12oz. containers). Add 1.5 Tbsp of chia seeds to each container. Finally, pour the mango coconut milk mixture into the containers, dividing it evenly between all four.

Stir the contents of each container to make sure all the chia seeds have adequate exposure to the liquid. Place lids on the containers and refrigerate over night, or up to 4-5 days.
See how we calculate recipe costs here.
---
Equipment
Notes
*Fresh mango can be used in place of frozen. You'll need about 2 cups of mango chunks.
**Do not use full-fat canned coconut milk as it has a lower moisture content and may not fully hydrate the chia seeds.
Nutrition
Serving:
1
Serving
Calories:
203.05
kcal
Carbohydrates:
21.05
g
Protein:
4.6
g
Fat:
12.18
g
Sodium:
21.35
mg
Fiber:
9.13
g
Read our full nutrition disclaimer here.
Want more cold breakfast ideas? Check out our Cold Breakfast Recipe Archives!
How to Make Mango Coconut Chia Pudding – Step by Step Photos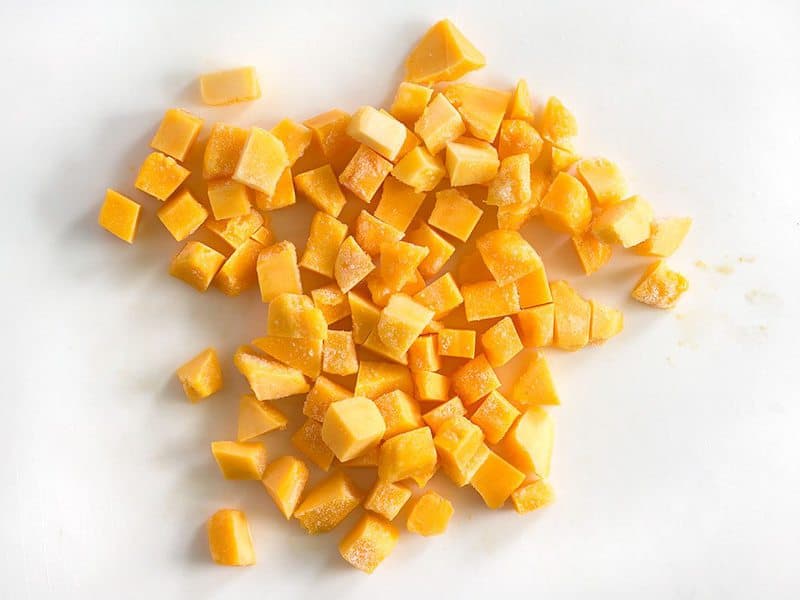 Chop 1/2 lb. fresh or frozen mango chunks into small 1/4-inch pieces (about 2 cups).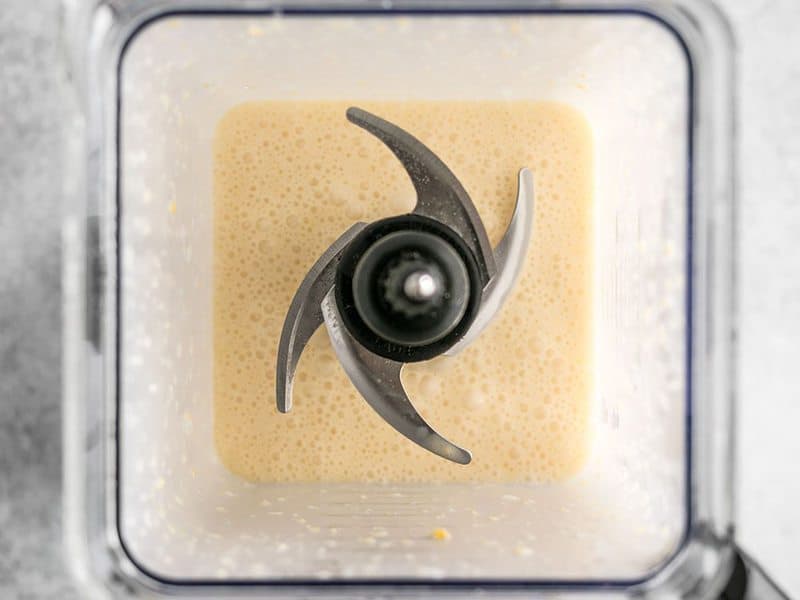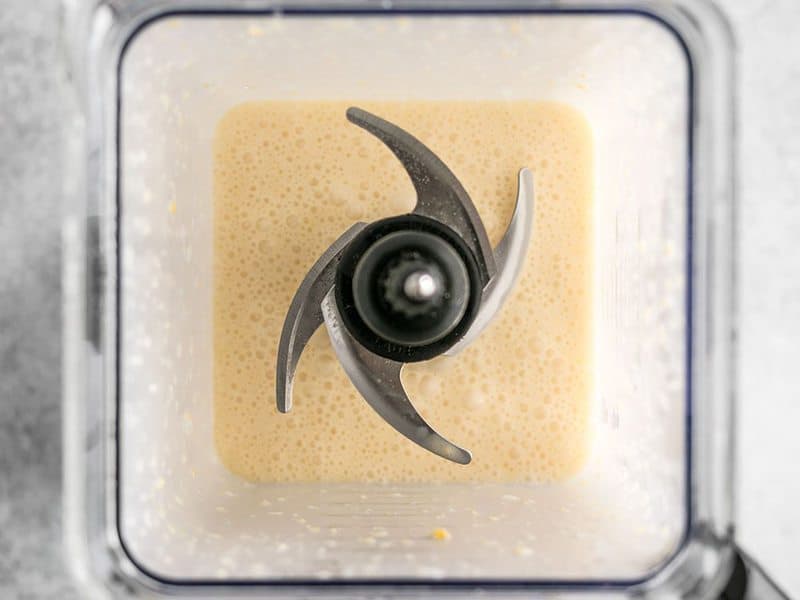 Add half of the mango chunks (about 1 cup), one 13oz. can lite coconut milk, and 1 tsp sugar (or your favorite sweetener) to a blender and purée until smooth.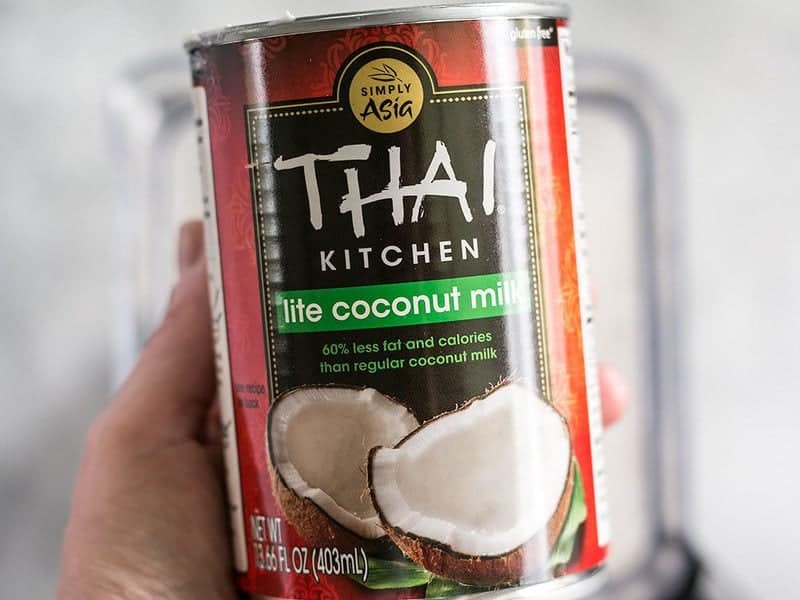 Make sure you're using lite coconut milk instead of full-fat because full-fat has a lower moisture content and it might not fully hydrate the chia seeds.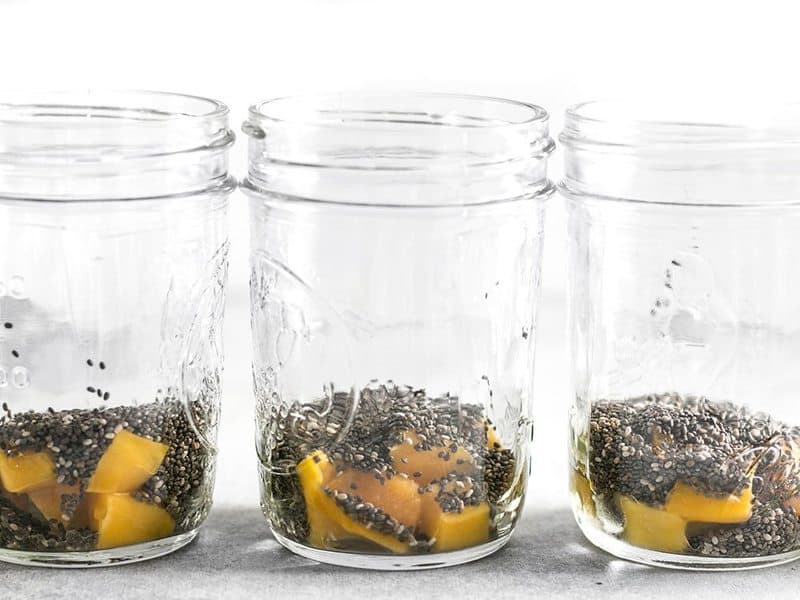 Divide the remaining mango chunks between four small containers. Place 1.5 Tbsp chia seeds in each container as well. I suggest a 10-12oz. container. These are actually 8oz. mason jars, but they were filled all the way up to the top, so a 10oz. would give you a little more wiggle room.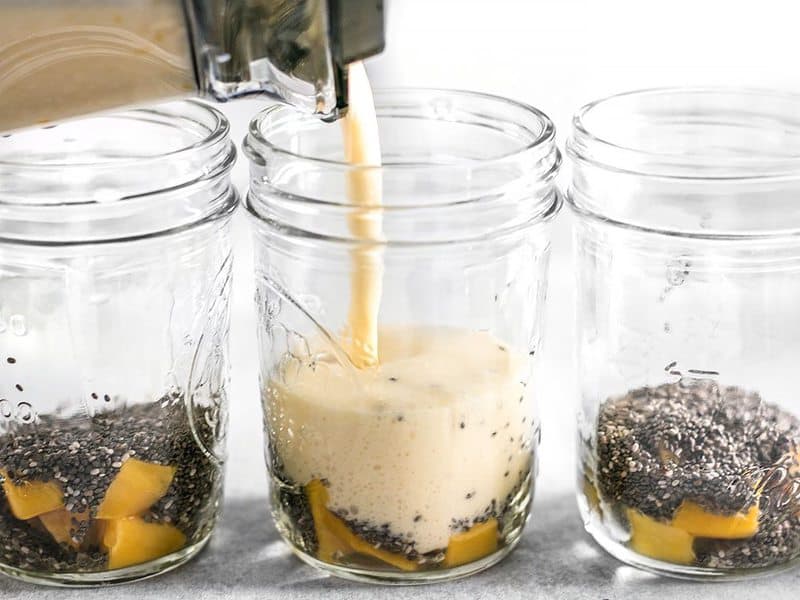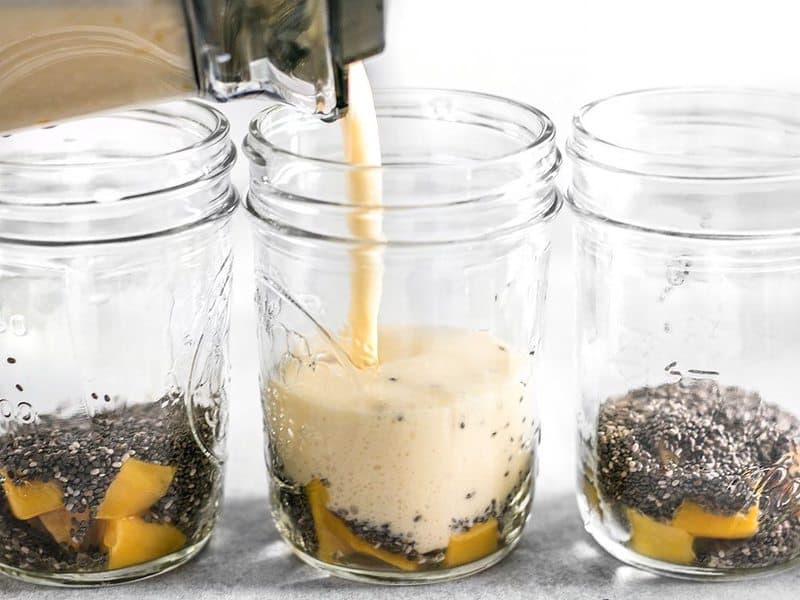 Pour the mango coconut purée over the mango chunks and chia seeds, dividing it equally between all four containers.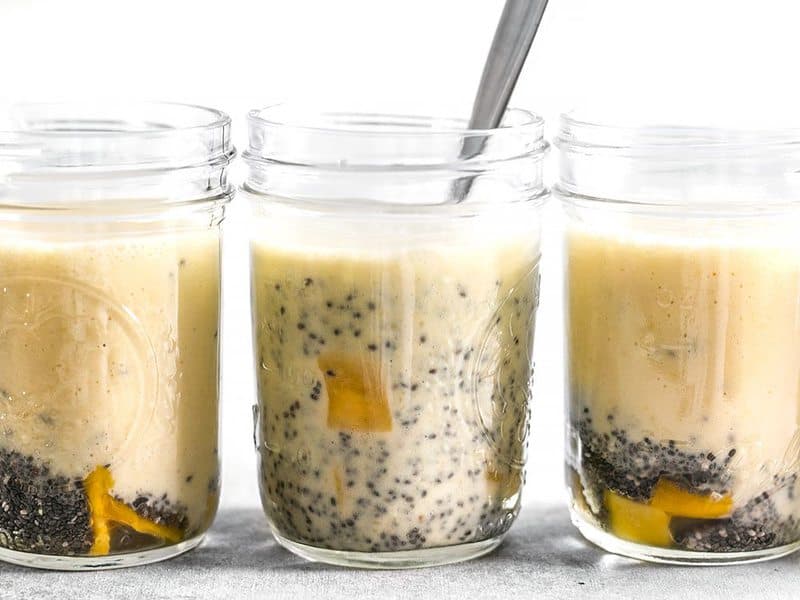 Stir each container of pudding to make sure all the seeds get exposure to the liquid. Make sure there are no clumps of seeds in the corners or on the bottom of the containers. Place lids on the containers and refrigerate over night.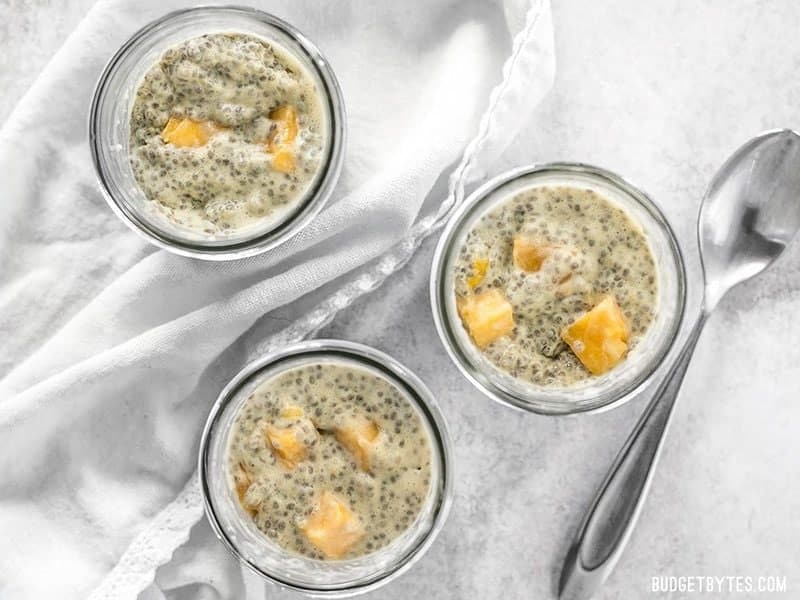 And then by morning the liquid will have gelled and thickened from the chia and you'll have delicious little "pudding" cups with chunks of mango!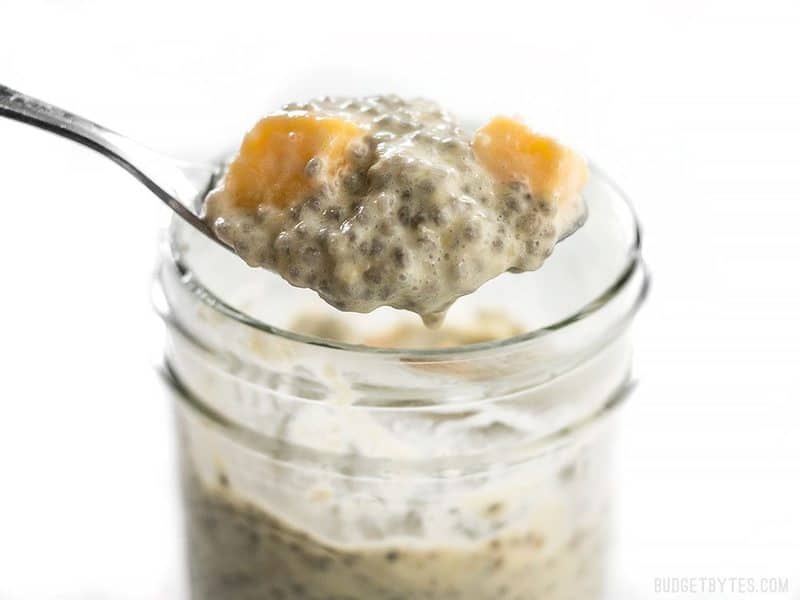 It might not be a looker, but this Mango Coconut Chia Pudding is quite good! :D