Spinach Mushroom and Feta Crustless Quiche
I'm a big fan of savory breakfasts and this Spinach Mushroom and Feta Crustless Quiche might be my new favorite. It has endless possibilities and is a cinch to make. …plus, it reheats well in the microwave for a quick dinner!
A quiche is basically an egg and milk custard filled with all sorts of other things (usually cheese and vegetables). Traditionally, quiches are baked into a pie crust but I felt that I had enough cheese in here to cover my fat ration for the day so I just skipped the crust. If you want your quiche in a crust, make this super simple 60 second pie crust.
To make this Spinach Mushroom and Feta Crustless Quiche recipe extra economical, use vegetables that are in season and on sale for a low price. You can do bell peppers, squash, broccoli, anything. I had some mushrooms that I had planned to use for my slow cooker marinara, but forgot about, so I used them in this. I also had leftover feta, parmesan, and mozzarella, so in they went! Lastly, I bought a super inexpensive box of frozen spinach. I probably went overboard on the cheese but I had it on hand, so I had to use it up!
More ways to use Feta cheese: Skillet Pasta with Sun-Dried Tomatoes, Walnuts, and Feta, Grape Feta and Bacon Salad with Creamy Dijon Dressing, Roasted Red Pepper and Feta Frittata, and Spinach and Feta Mashed Potatoes.
Spinach Mushroom and Feta Crustless Quiche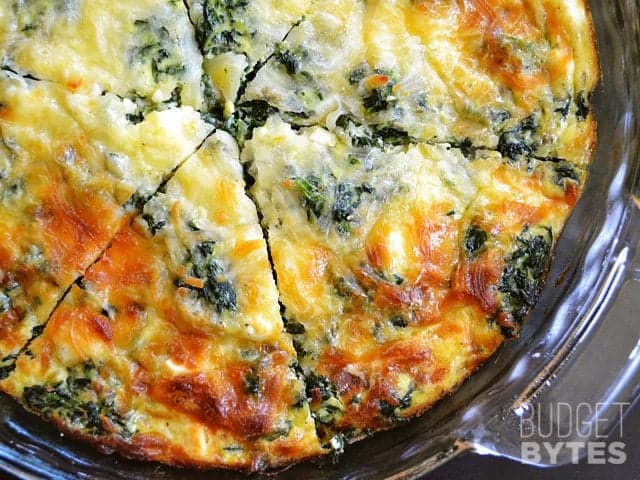 Spinach Mushroom and Feta Crustless Quiche
Ingredients
8 oz. button mushrooms $1.99
1 clove garlic, minced $0.08
10 oz. box frozen spinach, thawed $1.09
4 large eggs $0.83
1 cup milk $0.39
2 oz. feta cheese $0.87
¼ cup grated Parmesan $0.39
½ cup shredded mozzarella $0.50
Salt & pepper to taste $0.05
Instructions
Preheat the oven to 350ºF. Squeeze the excess moisture from the thawed spinach. Rinse any dirt or debris from the mushrooms, then slice thinly. Mince the garlic.
Add the mushrooms, garlic, and a pinch of salt and pepper to a non-skillet spritzed lightly with non-stick spray (or a splash of cooking oil). Sauté the mushrooms and garlic until the mushrooms are soft and all of their moisture has evaporated away (5-7 minutes).
Coat a 9-inch pie dish with non-stick spray. Place the squeeze-dried spinach in the bottom of the pie dish. Place the sautéed mushrooms on top of the spinach, followed by the crumbled feta.
In a medium bowl, whisk together the eggs, milk, and Parmesan. Season lightly with pepper. Pour the egg mixture over the vegetables and feta in the pie dish. Top with the shredded mozzarella.
Place the pie dish on a baking sheet for easy transfer in and out of the oven. Bake the crustless quiche for 45-55 minutes, or until the top is golden brown (ovens may vary). Cut into six slices and serve.
See This Spinach Mushroom and Feta Crustless Quiche Recipe in Action:
Step By Step Photos for Spinach Mushroom and Feta Crustless Quiche
The key to preventing a soggy Spinach Mushroom and Feta Crustless Quiche is to reduce the moisture in your vegetables. This is why the spinach is squeezed dry and the mushrooms get cooked before adding to the quiche. I start by draining the spinach in a colander and then squeeze the rest of the moisture out before adding it to the dish.
Next, move onto the mushrooms. Sometimes pre-sliced mushrooms are the same price as whole, but not this time around…
So I washed and sliced my own. I usually cut them in half first (to get a flat surface) and then slice them.
Mushrooms are like sponges that are secretly holding a lot of water, so you need to saute them before adding them to your quiche. I just placed them in a skillet coated with non-stick spray (and a little garlic for flavor) and then sprinkled them with salt and pepper. Just a touch. The salt will help draw out the moisture.
Turn the heat onto medium or medium high and saute them (cook while occasionally stirring) until the water cooks out. This picture is about half way through the process. You'll notice that the bottom of the skillet is covered with water that has seeped out of the mushrooms. Just keep cooking past this point until most of that water has evaporated off and the bottom of the skillet is relatively dry. This should take about 5-7 minutes, depending on how hot your skillet is. You can prepare the custard (egg and milk mixture) while you're waiting for the mushrooms to finish.
Coat the inside of a 9 inch pie dish with non-stick spray. Squeeze the rest of the water out of the spinach and place it in the bottom of the dish along with the cooked mushrooms and feta cheese… in no particular order.
To make the custard, begin by whisking together four eggs until they are fairly smooth and uniform in texture.
Next whisk in the milk and parmesan cheese… and a little more pepper or any other herbs that you might like.
Pour the custard mixture over the vegetables in the pie dish. Oh, and the quiche is much easier to get in and out of the oven if it's on a baking dish, so I put it on there before pouring in the liquidy custard mixture.
Sprinkle on more cheese (mozzarella in this case) if you want… again, I probably went overboard on the cheese but boy, was it tasty ;)
Bake the Spinach Mushroom and Feta Crustless Quiche in a preheated 350 degree oven until it is golden brown on top and the center is no longer liquid. This will take anywhere between 45 minutes to an hour depending on your oven. Just start checking it at 45 minutes. You'll notice as it cooks that it begins to puff up a bit. It will deflate once it comes out of the oven but the "puff" is a good way to tell which areas are cooked and which are still liquid.
Slice and serve! (I prefer my Spinach Mushroom and Feta Crustless Quiche with a healthy dose of sriracha!)