My meal prep this week was soooo good you guys! It's just two recipes, but totally delicious and with tons of flavor (and fiber, lol). I made a video for my Pork and Peanut Dragon Noodles this week, so I decided to make that the base for my weekly meal prep, and I paired it with my Roasted Broccoli Salad with Almonds and Simple Sesame Dressing. This Pork and Peanut Dragon Noodle Meal Prep is one that I will definitely be looking forward to eating allll four days of the week. ☺️
The recipe for the Pork and Peanut Dragon Noodles only makes about three servings, but since it's so very rich and has a decent amount of sugar, I decided to divide it up into four smaller servings and I made a double batch of my broccoli salad. So, each of my "lunch boxes" is about 2/3 broccoli salad and 1/3 noodles. I think that's a pretty good balance between healthy and indulgent. :D
For more information about meal prepping, how it works, and why I do it, check out Meal Prep 101: A Beginner's Guide to Prepping and Portioning Meals, or check out my entire Budget-Friendly Meal Prep Archive.
Pork and Peanut Dragon Noodle Meal Prep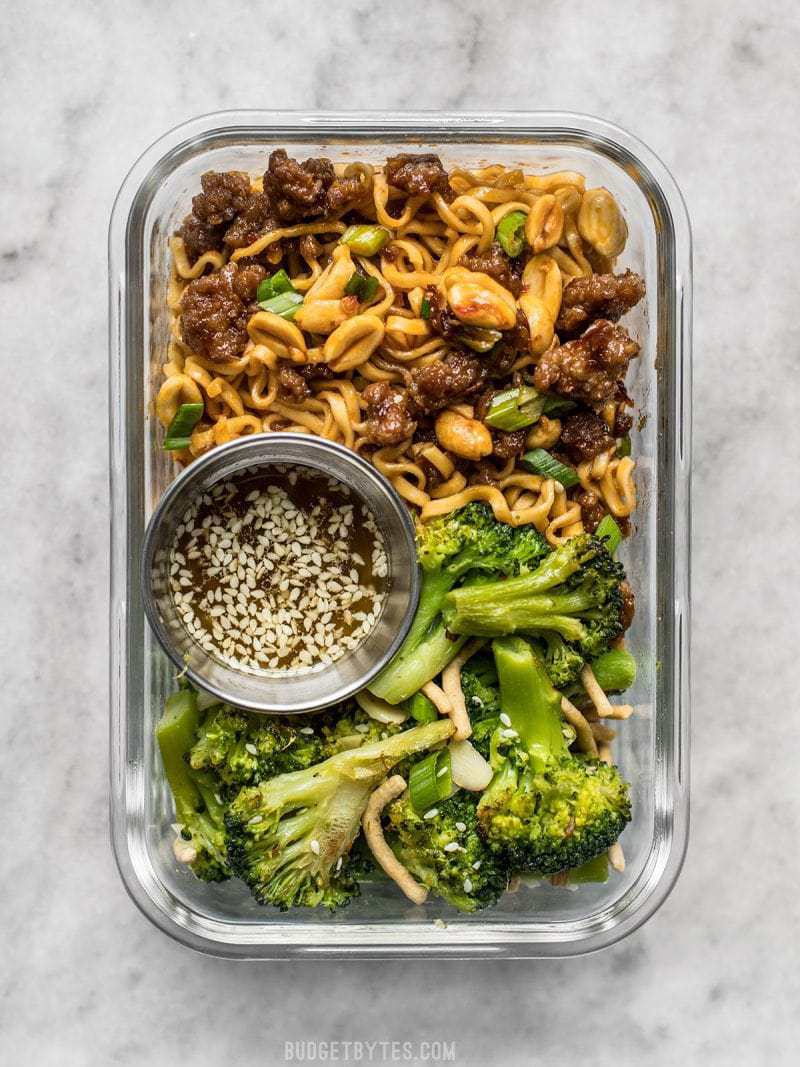 The glass meal prep containers pictured can be found here. And the small metal dressing cups here.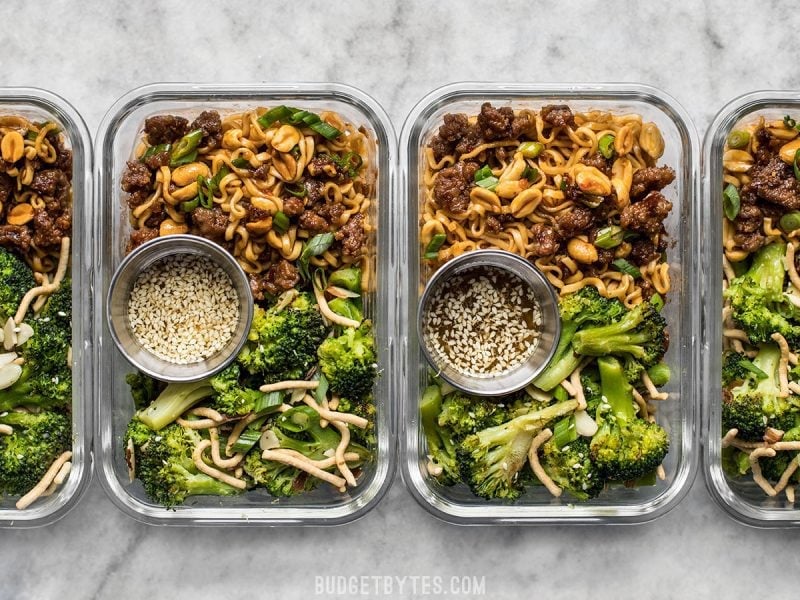 Notes:
Okay, so this meal prep presents a couple of issues for people who are very texture sensitive, but you have a few options. I am not very picky when it comes to leftovers, so honestly I just poured my dressing right on my broccoli salad after taking the photos and am storing it with the dressing on the vegetables. You can, as pictured, keep the dressing separate until just before you eat, if preferred. You can also keep those crunchy lo mein noodles out of your salad and just add them on top before eating if you want them to stay super crunchy.
The broccoli salad can be eaten cold, luke warm, or heated. So it's up to you whether you'd prefer to eat the salad cold before reheating the noodles, or just heat them both together.
The pork can be substituted with ground turkey or even fried tofu!