I love getting my hair done. It's great to just chill for a couple of hours and cut up with the salon folks. Obviously, food is always a topic of conversation (because who doesn't like food) and my stylist, Amy, has given me some inspiration for recipes in the past. As always, she filled me in on what she had cooked this week and I got inspired to make these Glazed Pork Chops. She hinted heavily that she wanted to be mentioned in the blog again so, this one is for you, Amy!
For these glazed pork chops, I made a basic rub out of brown sugar and spices. The brown sugar turns into a nice sweet glaze when it's cooked and you can pretty much season it with whatever herbs and spices you like. I went for spicy with cayenne and black pepper then rounded it out with paprika and garlic powder. A little salt for good measure and it was good to go! Super easy and very tasty. This Glazed Pork Chops recipe is a great week night main dish!
Goes great with: Skillet Potatoes and Green Beans, Smoky Roasted Sweet Potatoes, Nature's Candy, Apple Dijon Kale Salad
Post updated 5-26-16
Glazed Pork Chops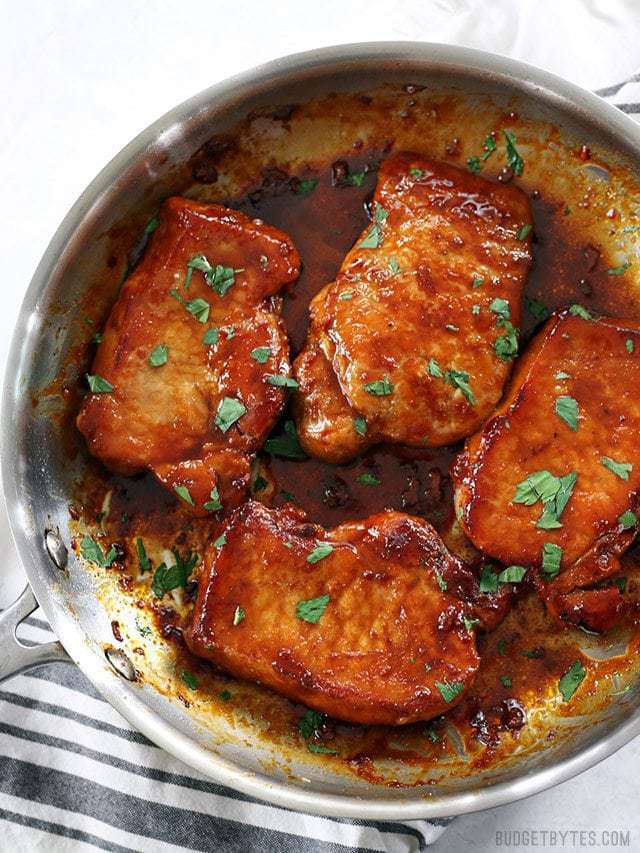 See This Recipe in Action:
Glazed Pork Chops
These juicy Glazed Pork Chops are sweet, salty, and a little spicy. The sugar glaze helps keep the chops moist and tender!
Ingredients
1/4

cup

brown sugar

$0.12

1/2

tsp

cayenne powder

$0.05

1/2

tsp

garlic powder

$0.05

1/2

tsp

paprika

$0.05

1/2

tsp

salt

$0.05

1/4

tsp

black pepper

$0.05

2

Tbsp

olive oil

$0.32

4

thick cut boneless pork chops

$5.97
Instructions
Preheat the oven to 350ºF. In a small bowl, combine the brown sugar, cayenne pepper, garlic powder, paprika, salt, and black pepper.

Remove the pork chops from their package and rub the seasoning mixture over all sides of each chop. The moisture from the meat will help the seasoning to adhere to the surface.

Heat olive oil in a large, oven­-safe skillet over a medium flame. When the oil begins to shimmer, add the pork chops. Cook the chops for about 5 minutes on each side, until nicely browned.

If your chops are greater than one-inch thick, transfer the skillet to the preheated oven for another 5­-10 minutes to finish cooking. Test the chops with a meat thermometer to make sure the internal temperature has reached 145ºF. Cook longer if needed.

Dredge the chops through the thick sauce in the bottom of the pan just before serving.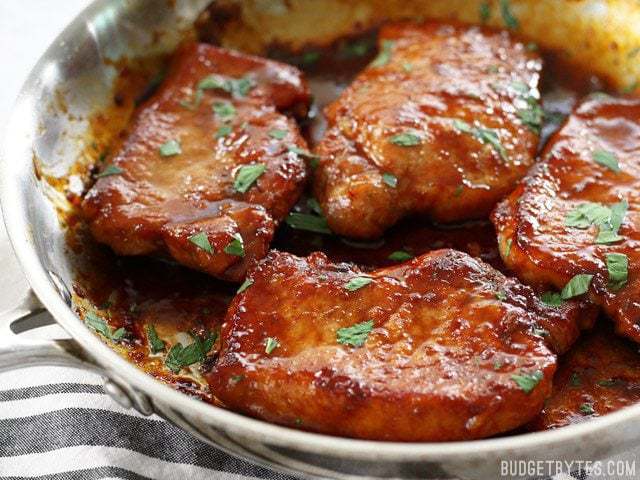 Step By Step Photos

In a small bowl stir together 1/4 cup brown sugar, 1/2 tsp cayenne pepper, 1/2 tsp garlic powder, 1/2 tsp paprika, 1/2 tsp salt, and some freshly cracked pepper.

Rub the spice mix over both sides of four thick-cut boneless pork chops. The moisture from the meat will dissolve the sugar and help the spices adhere to the surface.

Heat 2 Tbsp olive oil in a skillet over medium heat until the oil is shimmering. Place the chops in the pan and cook on each side for about 5 minutes or until browned.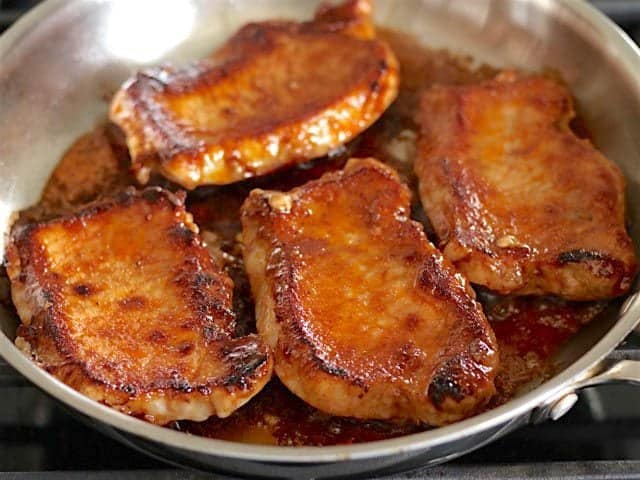 Depending on the thickness of the chops, you may need to transfer the skillet to the oven (only if using an oven-safe skillet) to finish cooking. These chops were about an inch thick and were cooked through once browned on both sides. Any thicker and you may need to finish in a 350 degree oven for 5-10 minutes.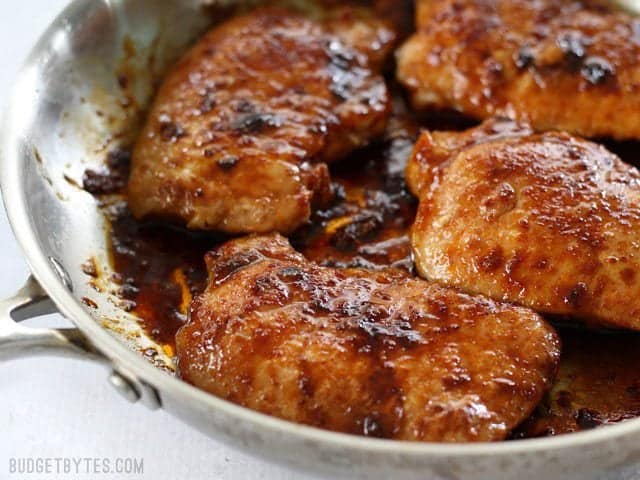 Dredge the chops in the glaze that has formed in the skillet before serving. You can also tilt the skillet and scoop it up with a spoon, then drizzle it over the chops.
😍😍😍 These glazed pork chops have me mesmerized!
I added a little chopped parsley just for kicks (or color, actually), but it's not necessary.
Old/Original Photos