Are you ready to blow everybody's mind at Thanksgiving this year? This insanely easy, but super posh side dish is the perfect way to say "Yeah, I own side dishes." No more marshmallow sweet potatoes or canned cream of mushroom soup green beans. We're stepping up Thanksgiving this year. These sweet potatoes are lesson numero uno.
Baked sweet potatoes are one of my favorite props. They are filling, inexpensive, delicious, and can serve as the base for about a bazillion different flavors. This fancy mix of sweet dates, tangy gorgonzola, and crunchy walnuts is the perfect mix of flavor and texture to take them over the top. And while dates, walnuts, and gorgonzola may be pricier ingredients, they're also super flavorful, so you really don't need to use a lot to get maximum flavor.
Gah! I'm getting hungry just talking about them. They're so droooooly delicious!
Date & Gorgonzola Stuffed Sweet Potatoes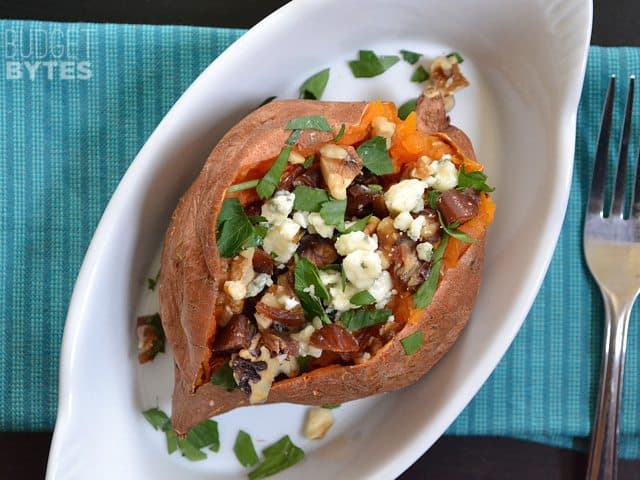 Date & Gorgonzola Stuffed Sweet Potatoes
These Date & Gorgonzola Stuffed Sweet Potatoes are a simple way to make a big impression. These potatoes are dressed to impress.
Instructions
Preheat the oven to 400 degrees. Wash the sweet potatoes and then dry the excess water from the skin with a paper towel or clean dish cloth. Rub the olive oil all over the surface of the sweet potatoes. Use a fork to prick each potato several times.

Cover a baking sheet with foil and then place the potatoes on top. Bake the sweet potatoes for 45 minutes to one hour, or until they are soft all the way through (squeeze the potatoes to test for doneness).

Allow the sweet potatoes to rest for a few minutes while you prepare the filling. Roughly chop the dates and parsley (and the walnuts, if not purchased pre-chopped). Mix the dates, walnuts, and parsley together.

Once the sweet potatoes are cool enough to handle, slice them from one end to the other, lengthwise. Pinch each end and push in towards the center to make the potato pop open. Mash the inside up a bit with a fork, then stuff with the date/walnut filling. Sprinkle 1 tablespoon of gorgonzola on each potato. Serve warm.
See how we calculate recipe costs here.
---
Nutrition
Serving:
1
Serving
Calories:
307.23
kcal
Carbohydrates:
42.28
g
Protein:
4.8
g
Fat:
15.35
g
Sodium:
237.03
mg
Fiber:
5.1
g
Read our full nutrition disclaimer here.
Step by Step Photo
Wash and dry the potatoes, then rub olive oil over the skins. Prick each potato several times with a fork to allow steam to escape as they bake. You'll want to use small sweet potatoes so that each one will be one serving. Use potatoes that are slightly larger than your fist. My potatoes were about 3/4 lb. each. (I intended to only make three, but had more than enough filling for four potatoes, so I wrote the recipe for four, even though the pictures show three).
Bake the potatoes in a preheated 400 degree oven for 45 minutes to one hour, or until they're soft all the way through. You'll want to bake them on a baking sheet, preferably covered with foil, because sugary juice likes to ooze out as they bake. That stuff will stick to the bottom of your oven and burrrnnnn.
The bulk bins at your grocery store will be your best friend for this recipe. I literally bought six dates, expecting to use two per potato. As it turns out, it was WAY more than I needed for three. I also used about 1/3 cup of walnuts and a handful of chopped parsley. If you've never seen a medjool date, look here. They're sweet and delicious like candy.
I decided it was much easier to just mix together the dates, walnuts and parsley and then top the potatoes, rather than sprinkling each one on individually. I added the gorgonzola by itself, though, because it's squishy.
And that's pretty much it! The warmth from the sweet potatoes will kind of melt the gorgonzola… Yummmm
Such a pretty side dish. Dressed to impress.
And how do you eat it? Just mix it all together with your fork and then savor every bite.