Sambal might be my new favorite sauce. There are a million different kinds, some sweet, some salty, some vinegary, but almost all are spicy. I recently bought a small jar of sambal oelek made by the same wonderful people who make my beloved sriracha sauce and I fell in love. This particular variety of sambal is very vinegary and very spicy. Sambal oelek is probably the variety that you're most likely to find in grocery stores in the U.S. Look in the Asian section of large grocery stores or in ethnic markets. If you can't find sambal, there may be something similar called "chili garlic sauce" which will also work (see a picture of chili garlic sauce in this post).
Anyway, I found this recipe while on break at work the other day. Someone had left behind an issue of Cooking Light and I found this wonderful Roasted Chile-Garlic Broccoli hiding in the back of the issue. I knew immediately that I had to make it.
As usual, I tweaked the recipe just a bit. First, I added a touch more brown sugar because I wanted to balance the heat of the sambal and I also wanted it to caramelize a on the broccoli and make just a hint of a sweet crust. It worked. Second, I reduced the sesame oil because, well, I was almost out of it. Plus, it is a little bit more expensive. Sesame oil is wonderfully potent so you only need a drop to add intense flavor. It can also be found in the Asian section of most major grocery stores in the U.S. Lastly, I reduced the garlic because I wanted the sambal to the the star of the show.
This broccoli turned out SO GOOD that I found myself snacking on it like I would chips or some other guilty pleasure. I will definitely be making this on a regular basis. It's so easy that there's just no excuse not to.
Broccoli Sambal
Broccoli Sambal
Sambal, a chunky chili and garlic sauce, makes this roasted broccoli extra flavorful!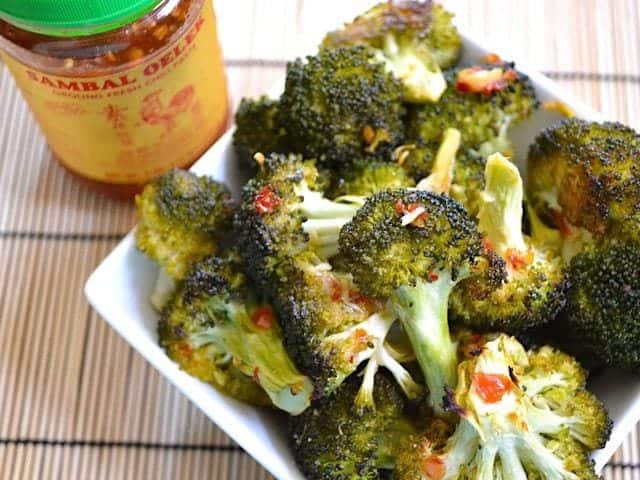 Ingredients
3

crowns broccoli (1.5-2 lbs)

($3.12)

2

Tbsp

vegetable oil

($0.08)

1

tsp

sesame oil

($0.12)

1 1/2

Tbsp

sambal

($0.42)

1

tsp

brown sugar

($0.02)

1-2

cloves

garlic, minced (1 tsp)

($0.06)

salt to taste

($0.05)
Instructions
Preheat the oven to 425 degrees. Cut the broccoli into "two bite" sized pieces. If the broccoli is cut too small, it may dry up too much in the oven. Too large and you'll need to cook it longer.

In a large bowl (big enough to hold all of the broccoli), combine the vegetable oil, sesame oil, sambal, garlic, and brown sugar. Stir until it is evenly combined. Add in the broccoli florets and stir until it is well coated in the sambal mixture (stir longer than you'd think and it will eventually coat the broccoli well).

Spray a baking sheet with non-stick spray and then spread out the seasoned broccoli florets so they are in a single layer. Sprinkle the broccoli generously with salt.

Roast in the oven for 25 minutes or until the broccoli is just softened but is still crisp in the center. The edges will be browned and slightly wilty. Eat it up!
See how we calculate recipe costs here.
---
Nutrition
Serving:
1
Serving
Calories:
231.85
kcal
Carbohydrates:
31.93
g
Protein:
12.93
g
Fat:
9.83
g
Sodium:
411.33
mg
Fiber:
11.88
g
Read our full nutrition disclaimer here.
Step By Step Photos

Cut the broccoli into florets that are just larger than bite-sized. Too big and they won't cook through, too small and they may dry out. Don't stress too much about the size, you can just keep an eye on them in the oven and adjust the cooking time as needed.

In a really large bowl, combine the vegetable oil, sesame oil, sambal, garlic, and brown sugar. Stir until it is evenly combined.

Add the broccoli to the bowl and stir and stir and stir until the broccoli is well coated with the sambal mixture. Spread the broccoli out on a baking sheet coated in non-stick spray and then sprinkle generously with salt.

Cook it in a preheated 425 degree oven for about 25 minutes or until the edges are wilty and brown. The broccoli will be slightly softened but will maintain a nice crunch in the center. And it will be wonderfully spicy and every so slightly sweet! Perfect!