After a week of vacation I'm so ready to get back to business, back to a good routine, and back to healthy eating. I made some awesome "bowl meals" yesterday to eat for the rest of the week, but as I was building my bowls I realized that this Sesame Kale really needed a recipe post all of its own. It's probably one of the easiest side dishes you'll ever make and it's absolutely scrumptious. Pair it with any Asian inspired dish to make sure your meal is well rounded and that you're getting your greens. :)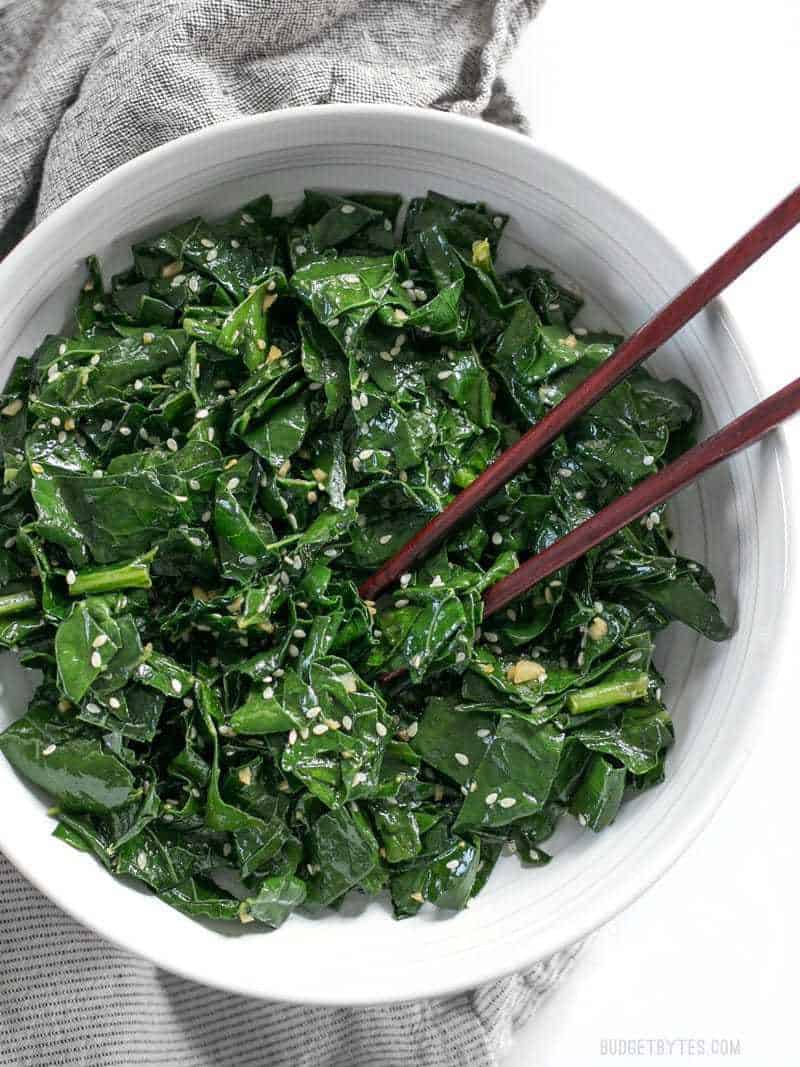 What Kind of Kale is Best for Sesame Kale?
I used lacinato kale (or dinosaur kale) because I really like the texture and appearance. I find the flat leaves a little easier to work with than curly kale and once cooked the appearance kind of reminds me of glossy seaweed. If you can't get lacinato kale or the curly kind is a bit cheaper, it really does work just as well as lacinato, so use whatever works for you.
I used this Sesame Kale in my Chili Garlic Tofu Bowls this week. :D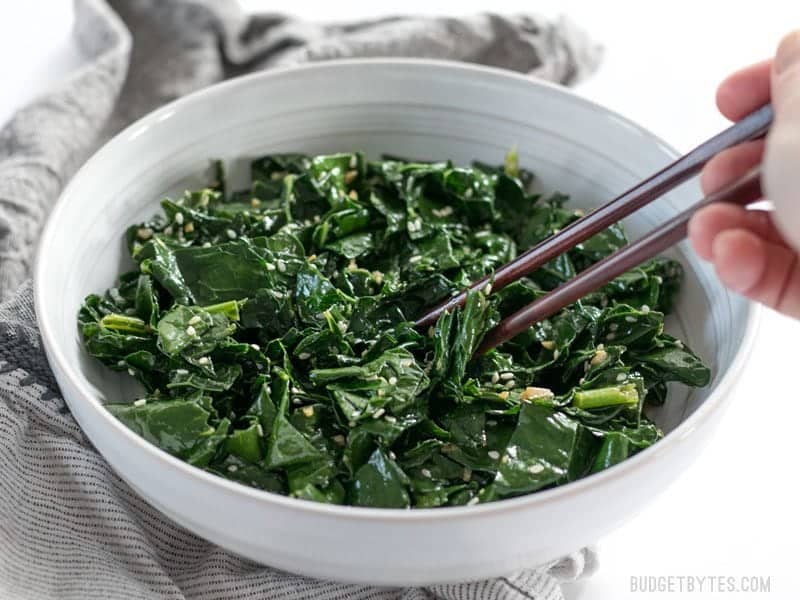 Sesame Kale
Sesame Kale is a quick and easy side dish that pairs perfectly with any Asian inspired meal.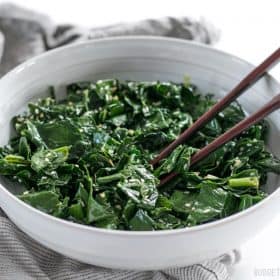 Ingredients
1

bunch lacinato (dino) kale

($1.49)

1

Tbsp

cooking oil

( $0.02)

2

cloves

garlic

($0.16)

1

Tbsp

soy sauce

($0.09)

1

tsp

toasted sesame oil

( $0.11)

1

Tbsp

sesame seeds

($0.08)
Instructions
Remove the woody stems from the kale leaves either by slicing down each side with a sharp knife, or by pinching the leaf at the base and pulling out toward the tip. Stack the leaves and then slice crosswise into one inch wide strips. Wash the leaves well in a colander with cool running water.

Mince the of garlic and add it to a large pot with one tablespoon of neutral cooking oil (or your favorite cooking oil). Sauté the garlic for about one minute over medium heat.

Add the washed kale leaves to the pot. Stir and cook the kale until it is wilted and glossy (about 5 minutes). If you prefer a more tender leaf, cook longer.

Add the soy sauce, toasted sesame oil, and sesame seeds to the pot. Stir to coat. Taste and adjust the seasoning to your liking. Serve warm.
See how we calculate recipe costs here.
---
Nutrition
Serving:
1
Serving
Calories:
67.95
kcal
Carbohydrates:
3.43
g
Protein:
1.85
g
Fat:
5.88
g
Sodium:
230.28
mg
Fiber:
1.3
g
Read our full nutrition disclaimer here.
How to Make Sesame Kale – Step by Step Photos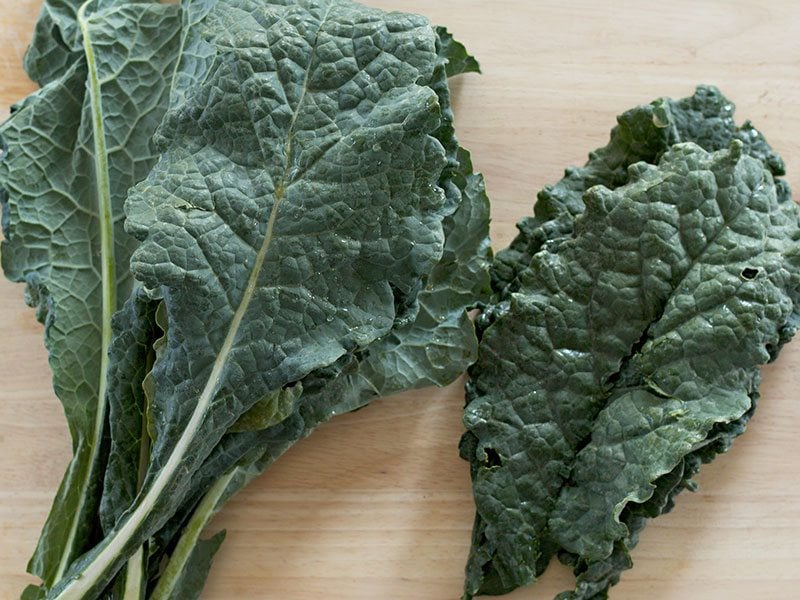 Start with one bunch of kale. I like to use lacinato kale because I find it easier to work with. Remove the stems either with a knife, or by holding the base in one hand, pinching near the base with the other hand and sliding it down toward the tip. The pinched fingers will pull the leaves from the stem and then the stem will naturally break where it becomes tender. Once the stems are removed, stack the leaves and then slice them crosswise into one-inch wide strips.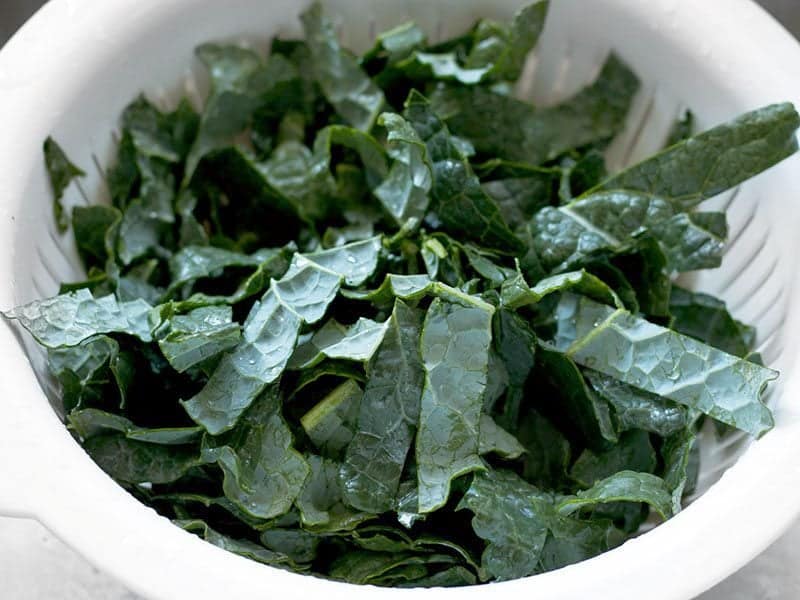 Wash the kale leaves well with cool water in a colander.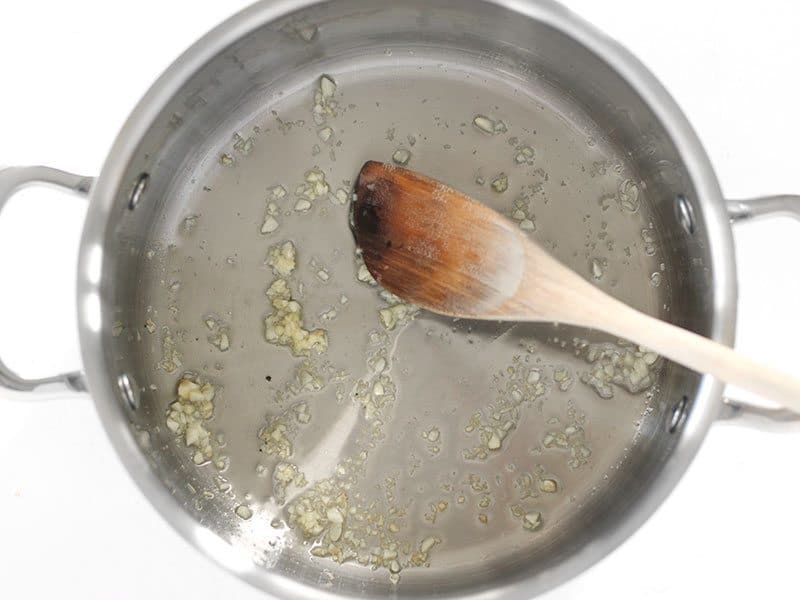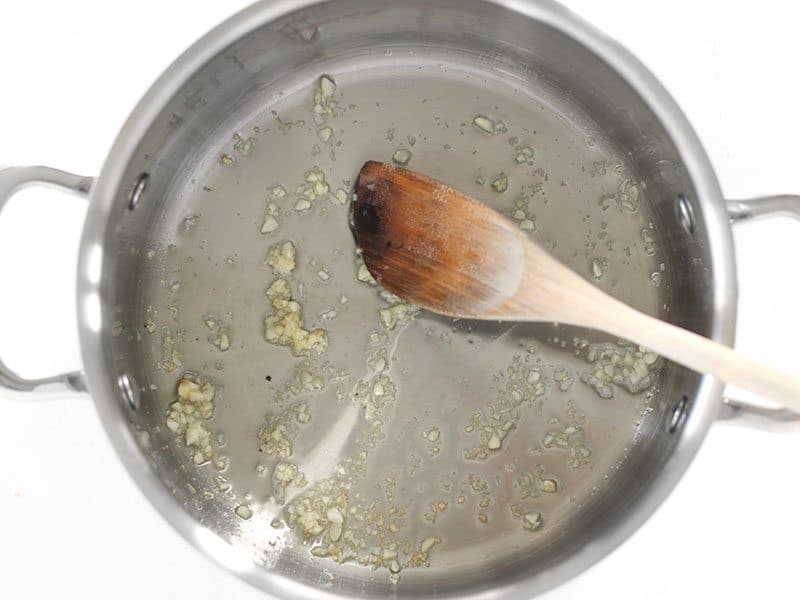 Mince two cloves of garlic and sauté them for about one minute in a large pot over medium heat with one tablespoon of your favorite cooking oil.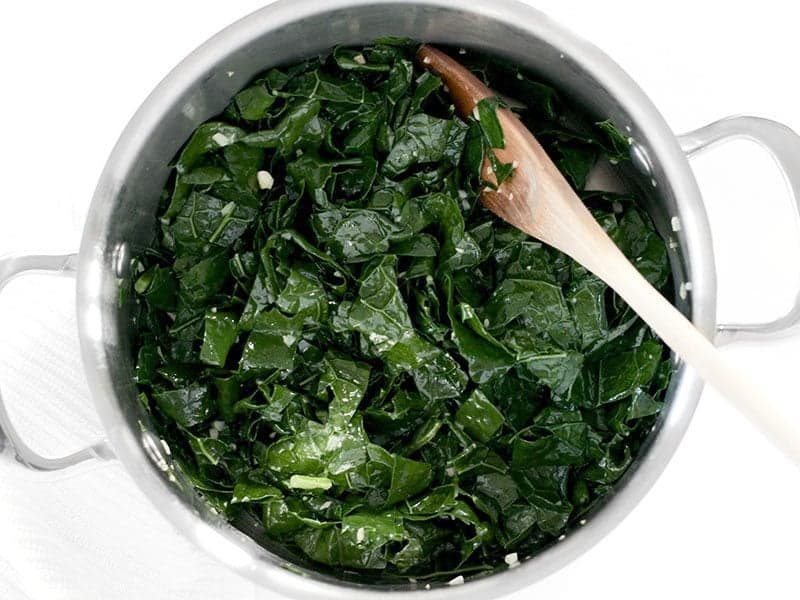 Add the washed kale to the pot. Continue to stir and cook until the kale is wilted and glossy. I like my kale to still have a bit of body and chew to it, so I only cook for about 5 minutes. If you like it softer, cook longer.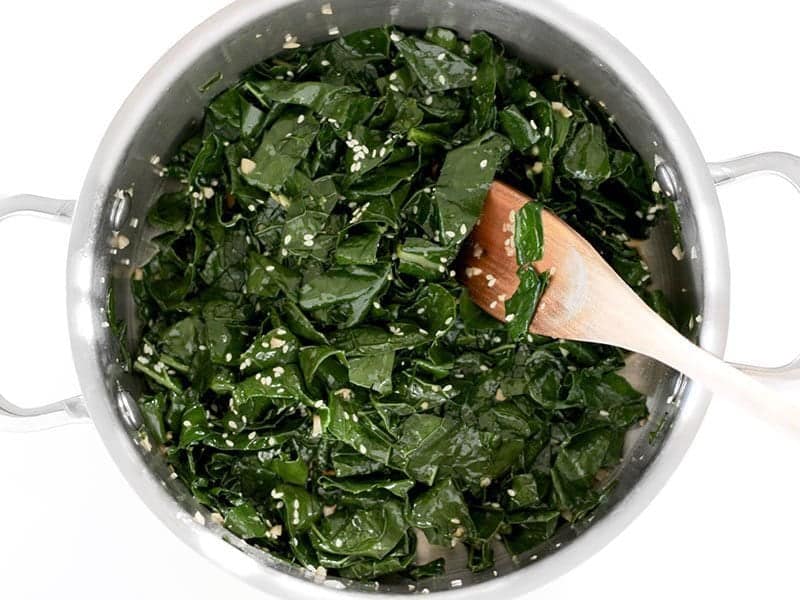 Finally, add 1 Tbsp soy sauce, 1 tsp toasted sesame oil, and 1 Tsp sesame seeds to the pot. Stir to coat the kale. Taste and adjust any of the seasonings to your liking, then serve. You can also add some red pepper flakes if you like things spicy, or a touch of honey if you prefer to soften the bitter flavor of the greens.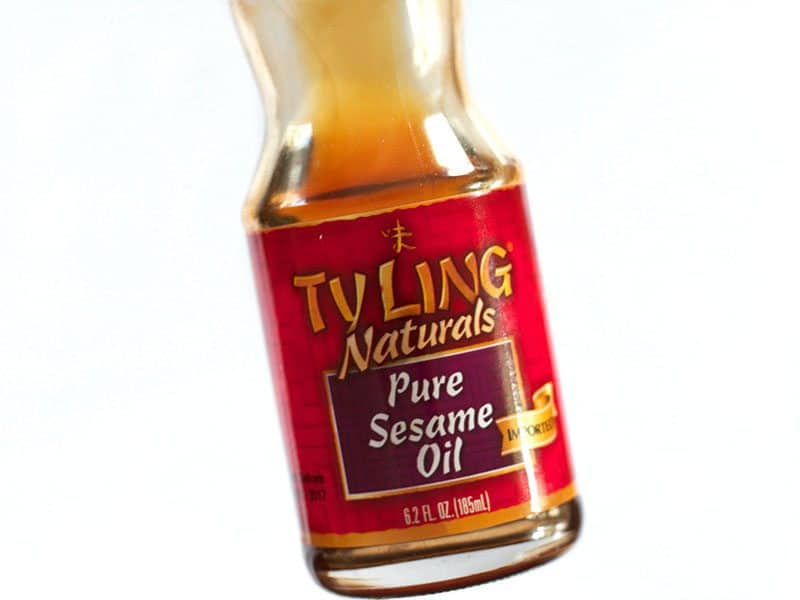 This is the toasted sesame oil that I used. The bottle doesn't specifically say "toasted" but you can tell that it is toasted by the dark amber color. Regular sesame oil is a light straw color, like canola. Toasted sesame oil has a MUCH stronger nutty flavor. It's more expensive, but because it's so potent you only need a little to make a big difference, so one small bottle like this will last a long time.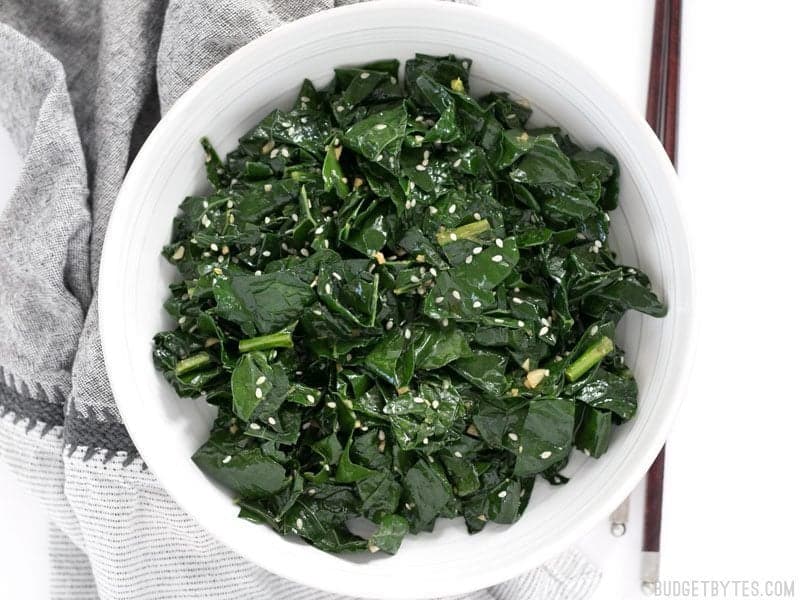 And that's it! I ate so much of this Sesame Kale while I was shooting the photos that I might just have to go back to the store and get more kale to make a second batch. :P