This one goes out to all of you "one pot pasta" lovers out there. …And I know there are a lot of you! Allow me to introduce to you this amazing One Pot Roasted Red Pepper Pasta!
This pasta dish combines roasted red peppers, fire roasted tomatoes, a hefty dose of garlic, sweet Vidalia onion, and dried basil for a smoky sweet pasta that practically cooks itself. Using vegetable broth in place of water gives the pasta extra depth and takes care of most of the need for the usual added salt and seasonings. The ingredients all simmer together in one pot (yes, even the pasta!) and creates its own thick, silky sauce. There's so much flavor here you'll wonder why you ever boiled pasta in plain water.
Want more One Pot Pastas? Check out our One Pot Meals Archives!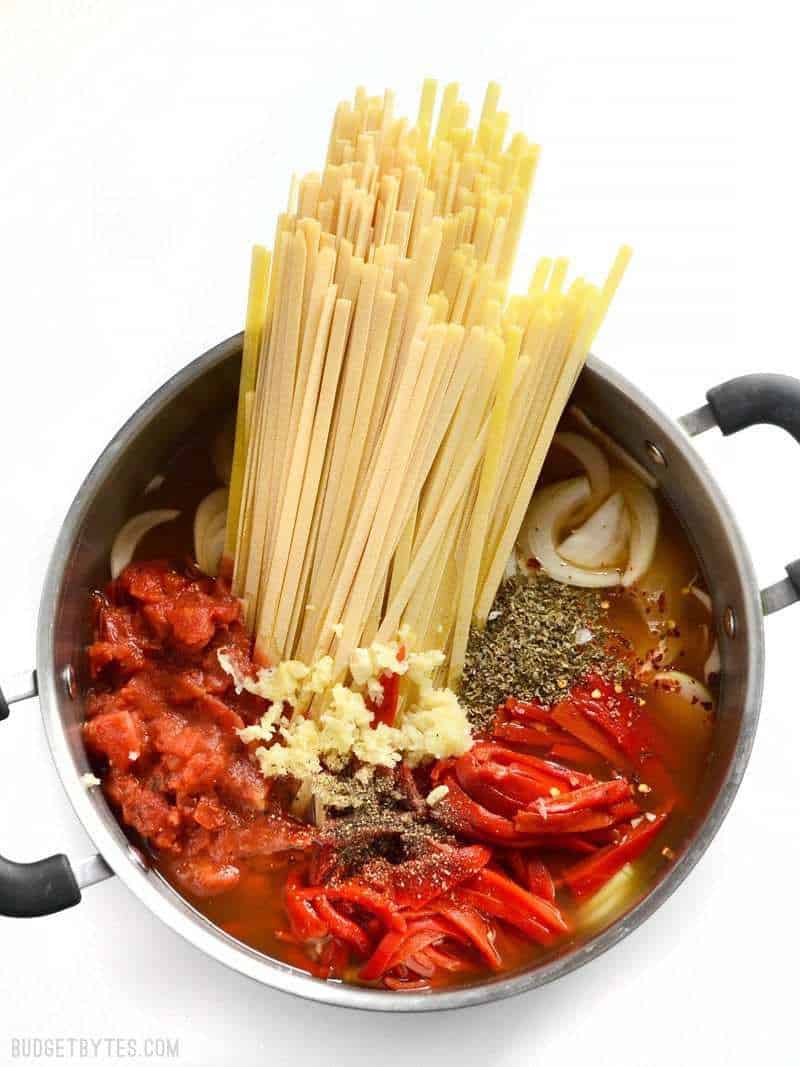 Make it Creamy or Not.
The other great thing about this One Pot Roasted Red Pepper Pasta is that you can choose to make it creamy (like I did) or not. Once my pasta was finished cooking, I stirred in a few dollops of cream cheese until it melted into the sauce and made the whole pot luxuriously creamy. It's a little indulgent with the cream cheese, but I also tasted it before adding the cheese and it was still amazing. So, you have the option of no cream cheese, full cream cheese, or even half cream cheese. It's up to you!
Can I Add Meat?
Yes, chicken or Italian sausage would both go great with this recipe! To add chicken, simply dice up a chicken breast or two and sauté it in the pot before adding the remaining ingredients. Or you can add shredded rotisserie chicken after cooking the pasta. To add Italian sausage, simply brown some sausage in the pot before adding the rest of the ingredients.
Tips for One Pot Pasta Success:
One pot pasta recipes can be a bit tricky at first, but once you get the hang of it, they're a breeze! Here are some tips to get you started:
Use heavy, thick cookware to make sure the ingredients heat evenly.
Make sure the pasta is simmering the whole time and adjust the heat as needed. If the heat is too low, the pasta will just get mushy.
Stir to prevent the pasta from sticking, but not too often or you risk breaking down the pasta.
Use your intuition. If the mixture dries up before the pasta is tender, add a splash more liquid. If the pasta is almost finished cooking and there is too much liquid, allow it to simmer without the lid for the last few minutes.
One Pot Roasted Red Pepper Pasta
This smoky, sweet, and creamy One Pot Roasted Red Pepper Pasta cooks in one single pot and can be on the table in about 30 minutes.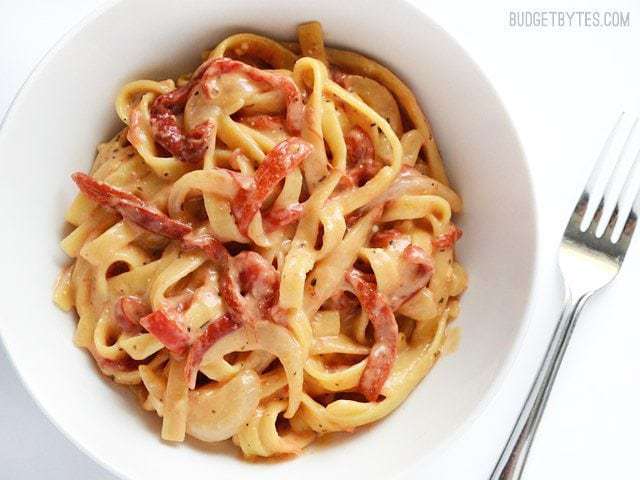 Ingredients
5

cups

vegetable broth

($0.60)

1

lb.

Fettuccine

($1.00)

1

small Vidalia onion

($0.61)

4

cloves

garlic

($0.32)

1

12oz. jar

roasted red peppers

($2.49)

1

15oz. can

fire roasted diced tomatoes

($1.29)

1/2

Tbsp

dried basil

($0.07)

1/4

tsp

crushed red pepper (optional)

($0.03)

Freshly cracked black pepper

($0.05)

4

oz.

cream cheese (optional)

($1.08)
Instructions
Thinly slice the onion and mince the garlic. Remove the red peppers from the liquid in the jar and then slice them into thin strips.

In a large pot, combine the broth, onion, garlic, red pepper slices, diced tomatoes (with juice), basil, crushed red pepper, and some freshly cracked black pepper (10-15 cranks of a pepper mill). Stir these ingredients to combine. Break the fettuccine in half, then add it to the pot, attempting to submerge the pieces as much as possible.

Place a lid on the pot and turn the heat up to high. As soon as the pot reaches a full boil, give it a quick stir to loosen any pieces that may have stuck to the bottom, return the lid, and turn the heat down to medium-low.

Let the pot simmer on medium low for 10-12 minutes, stirring every couple of minutes to make sure nothing sticks to the bottom. Return the lid as quickly as possible after each stir. After ten minutes, test the pasta to see if it is al dente. Once the pasta is tender, remove it from the heat. (If the pasta becomes too dry before it is tender, simply add a small amount of water and continue to simmer.)

Divide the cream cheese into tablespoon sized pieces, then add them to the pot. Stir the pasta until the cheese melts in and creates a smooth sauce (it will look lumpy at first, just keep stirring). Serve hot.
See how we calculate recipe costs here.
---
---
Notes
Breaking the pasta in half helps the larger pieces of tomato and pepper stir in evenly with the pasta. It also helps allow the pasta to be submerged under the broth.
Nutrition
Serving:
1
Serving
Calories:
410.38
kcal
Carbohydrates:
71.48
g
Protein:
12.02
g
Fat:
7.72
g
Sodium:
1049.45
mg
Fiber:
3.4
g
Read our full nutrition disclaimer here.
Scroll down for the step by step photos!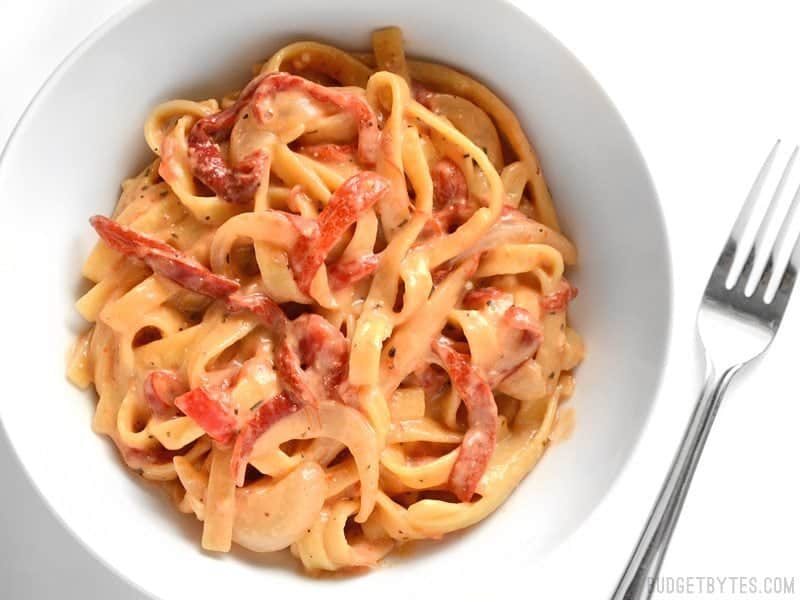 How to Make One Pot Red Pepper Pasta – Step by Step Photos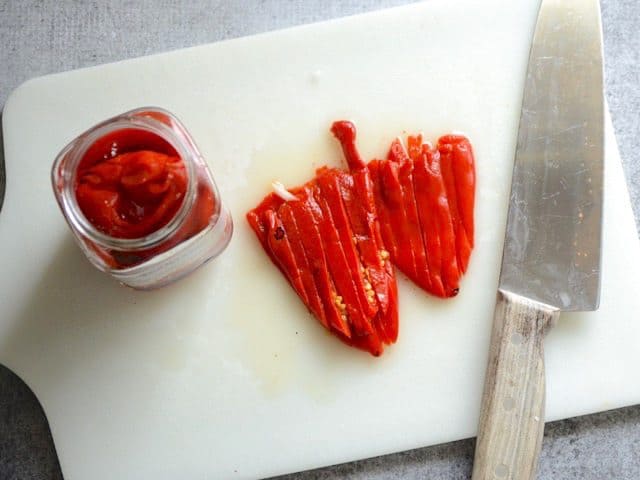 Begin by slicing one Vidalia onion and mincing four cloves of garlic. Remove the peppers from a 12oz. jar of roasted red peppers, and slice them into thin strips.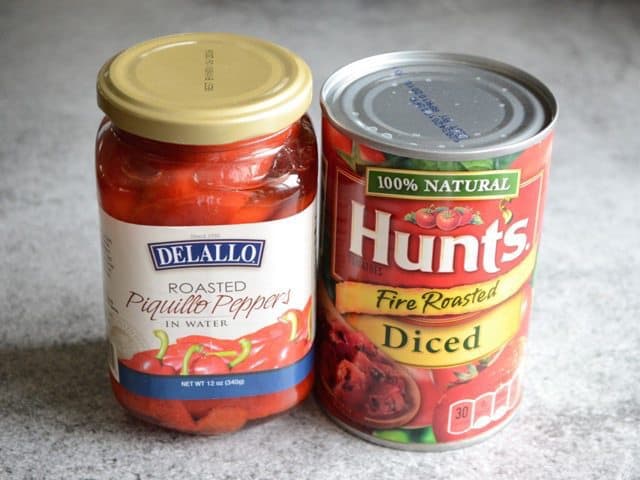 Using both fire roasted red peppers AND fire roasted diced tomatoes gives the pasta a slightly smoky/sweet flavor.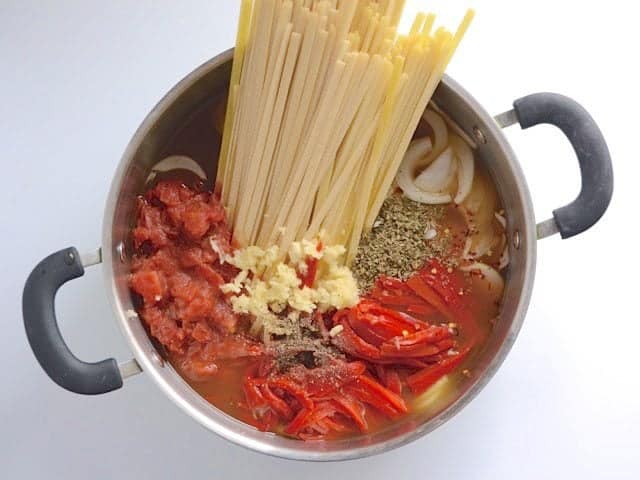 Now it's time to add everything to the pot. For the pictures, I added everything at one time, but it will help if you add everything in two steps. First add 5 cups of broth, the sliced onion, minced garlic, sliced red peppers, diced tomatoes (with the juices from the can), 1/2 Tbsp dried basil, 1/4 tsp crushed red pepper (optional), and some freshly cracked black pepper. Stir all those ingredients together, then break the pasta in half and submerge it under the liquid. Breaking the past in half helps it incorporate into the other ingredients better and makes it fit better in the pot (and under the liquid).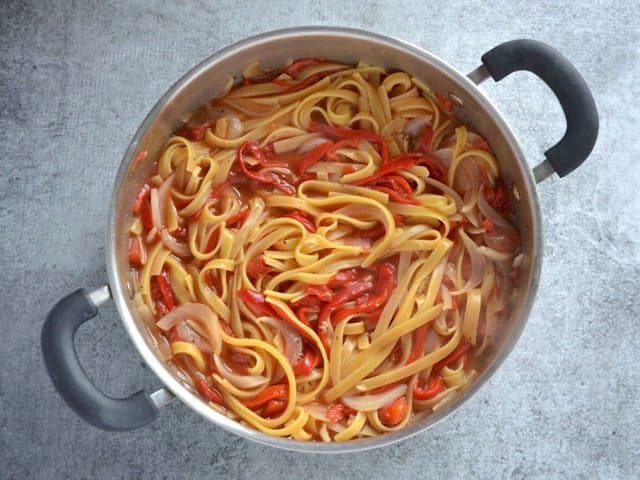 Place a lid on the pot and put it over high heat. Once it reaches a boil, stir the pot to loosen anything that has stuck to the bottom. Return the lid quickly, turn the heat down to medium-low, and let the pot simmer for 10-12 minutes. Stir the pot every couple of minutes or so to make sure nothing sticks, but always replace the lid quickly so that it keeps simmering and you don't loose too much of the moisture. After 10-12 minutes, the pasta should be tender, but still slightly firm (al dente). Remove it from the heat.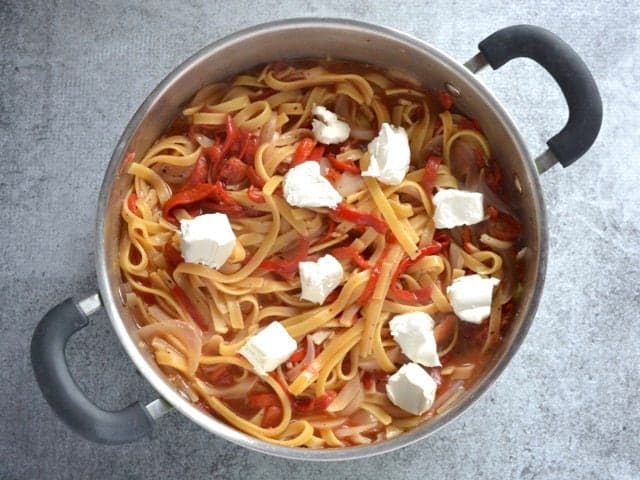 If you want creamy pasta, add 4 oz. of cream cheese in dollops to the pot. I added half of the 8oz. package, but I bet it would still be pretty creamy if you cut that amount in half. It's pretty flexible.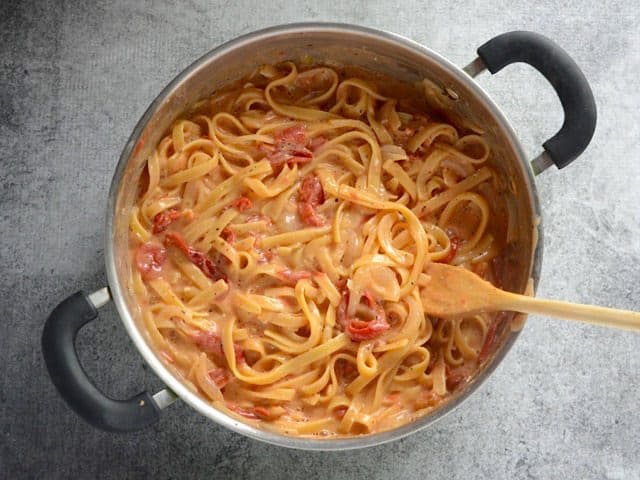 Stir the pot until the cream cheese is fully melted in. It may look a little chunky at first, but keep stirring and it will eventually become smooth and creamy.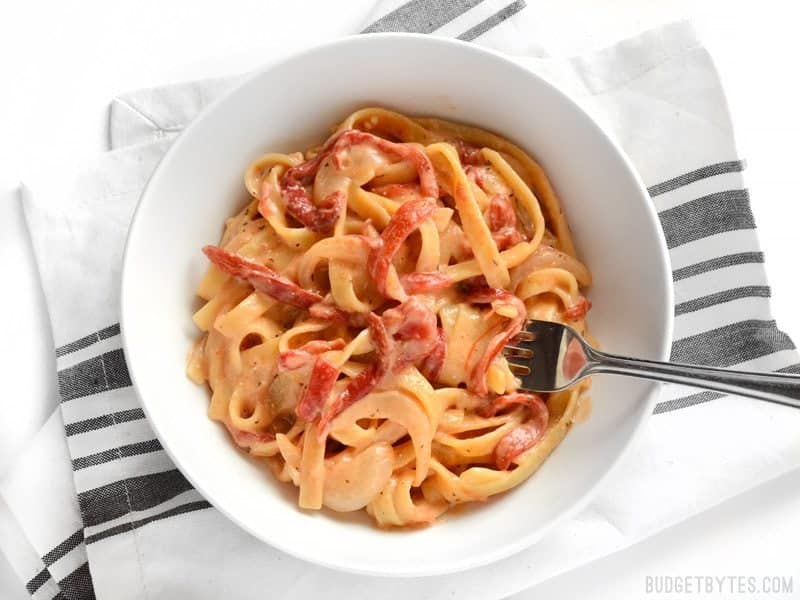 Then eat this delicious and creamy bowl of One Pot Roasted Red Pepper Pasta. :)
TRY THESE OTHER CREAMY ONE POT PASTA RECIPES