"Huh-wha? Coffee rubbed pork?"
Yep, that's what I said. I made a killer seasoning rub out of coffee (ground to a powder), brown sugar, cayenne, and the usual suspects (salt, pepper, garlic). Slow cooked pork is pretty much good anyway you fix it, but this rub adds just a touch of that deep, smokey, aromatic flavor that coffee has… plus a 'lil sweetness from the brown sugar and a 'lil kick from the cayenne. There really is just a hint of spicy from the cayenne that I think is necessary to balance the mellow coffee so I wouldn't suggest skipping it this time.
I liked this so much that I actually made two of them this week. The first roast I bought was small and extra fatty so after I cooked it, there wasn't much left. So, I went back to the store and bought a huge boston butt (or pork shoulder) and made another. And I'm so glad I did.
Pork shoulder or Boston butt is definitely the way to go for this roast. That cut has a decent amount of meat but still enough fat to keep it tender while it cooks. You can buy and cook it with the bone in if you'd like. My roast came bone in but it was about twice the size that I wanted. So, I cut half off and used it for this recipe and then froze the rest to make BBQ pulled pork on another day. You definitely get a discount if you buy the large roast as opposed to the smaller half size, so go ahead and buy it and freeze half. But please note, pork shoulder bones are a really crazy shape and unless you're familiar, you might have a difficult time removing it.
Coffee Rubbed Pork Roast
Coffee Rubbed Pork Roast
This coffee rubbed pork roast is cooked in a slow cooker for an extra tender texture and has a dip, rich, flavor thanks to a coffee spice rub.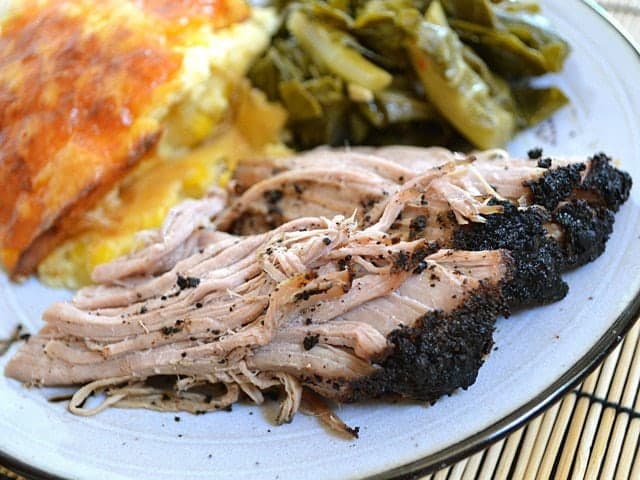 Ingredients
3.5

lbs.

Boston Butt or Pork Shoulder

($5.84)

1

oz.

approx 3 Tbsp coffee beans

($0.58)

1/2

cup

brown sugar

($0.16)

1/2

Tbsp

cayenne pepper

($0.15)

1/2

Tbsp

salt

($0.10)

15-20

cranks cracked black pepper

($0.05)

1

tsp

minced garlic

($0.24)

1/2

tsp

smoked paprika

($0.05)
Instructions
Grind the coffee beans into a powder. If using grinders in a grocery store or coffee house, choose the "espresso grind". Combine the coffee grounds, brown sugar, cayenne, salt, black pepper, garlic, and smoked paprika in a bowl.

Pat the mixed dry rub on all sides of the pork roast. It is okay if some falls. off. Place the pork roast in a slow cooker. Scoop up any of the rub that fell off and toss it in the slow cooker as well. Secure the lid, turn the heat on to low, and let cook for 8 hours.

After 8 hours, the pork should be tender and should shred easily with a fork. Carefully lift the roast out of the slow cooker and transfer to a serving platter. Enjoy!
See how we calculate recipe costs here.
---
Notes
If your pork roast is more than a few inches thick, you may want to cut it into two pieces to facilitate heat transfer to the center of the meat.
Nutrition
Serving:
1
Serving
Calories:
588.05
kcal
Carbohydrates:
20.52
g
Protein:
46.55
g
Fat:
34.35
g
Sodium:
656.23
mg
Fiber:
1.2
g
Read our full nutrition disclaimer here.
Step By Step Photos

First make the rub by combining all of the ingredients in a bowl: coffee (ground to a fine powder), brown sugar, cayenne, salt, cracked pepper, garlic, and smoked paprika.

Stir it up until it's evenly mixed.

This is the pork roast that I bought. It was huge so I cut half off for this recipe and then I froze the second half (after removing the bone) for later use. You can cook it with the bone in if you'd like. The meat will be so tender after cooking that it should fall right off of the bone. If you're leaving the bone in, cook it on high for the first hour to make sure the internal temperature reaches a safe zone quickly.

Pat the coffee rub all over the roast (even the underside). It should stick pretty well from the moisture in the meat. Some will fall off but you can just scoop that up and toss it into the slow cooker.

Place the pork roast in the slow cooker, secure the lid, and cook on low for 8 hours.

And then you have this. It looks black and scary, I know… but it's totally delicious. Promise.

Carefully lift the roast out of the slow cooker and serve. It will be tender and delicate so lift carefully if you want it in one piece!

It was so tender and delicious….
If you want a higher flavor to meat ratio, you can cut the pork into large chunks before adding the rub. That way, more surface will be in contact with the seasoning. I kept mine in one piece mainly for the photographs.
This recipe can be made in the oven using a covered dish like a dutch oven, but heating an entire oven for 8 hours it much less energy efficient than heating a small slow cooker. The slow cooker is basically like a miniature oven!