Okay, new rule: These Candied Almonds are NOT allowed in my house. I'm bringing them with me to work tomorrow. Hopefully, I can survive the night without eating them all. These are some dangerous little almonds… because once you start eating them it's nearly impossible to stop. Their sweet, buttery, toasty nut flavor is totally addictive.
But say you need a gift to bring to a holiday party and wine isn't up your alley. Making this candied almonds recipe would be the perfect alternative. Or, if you like to give homemade gifts for Christmas, these candied almonds will make everyone will love you. I mean really, really love you.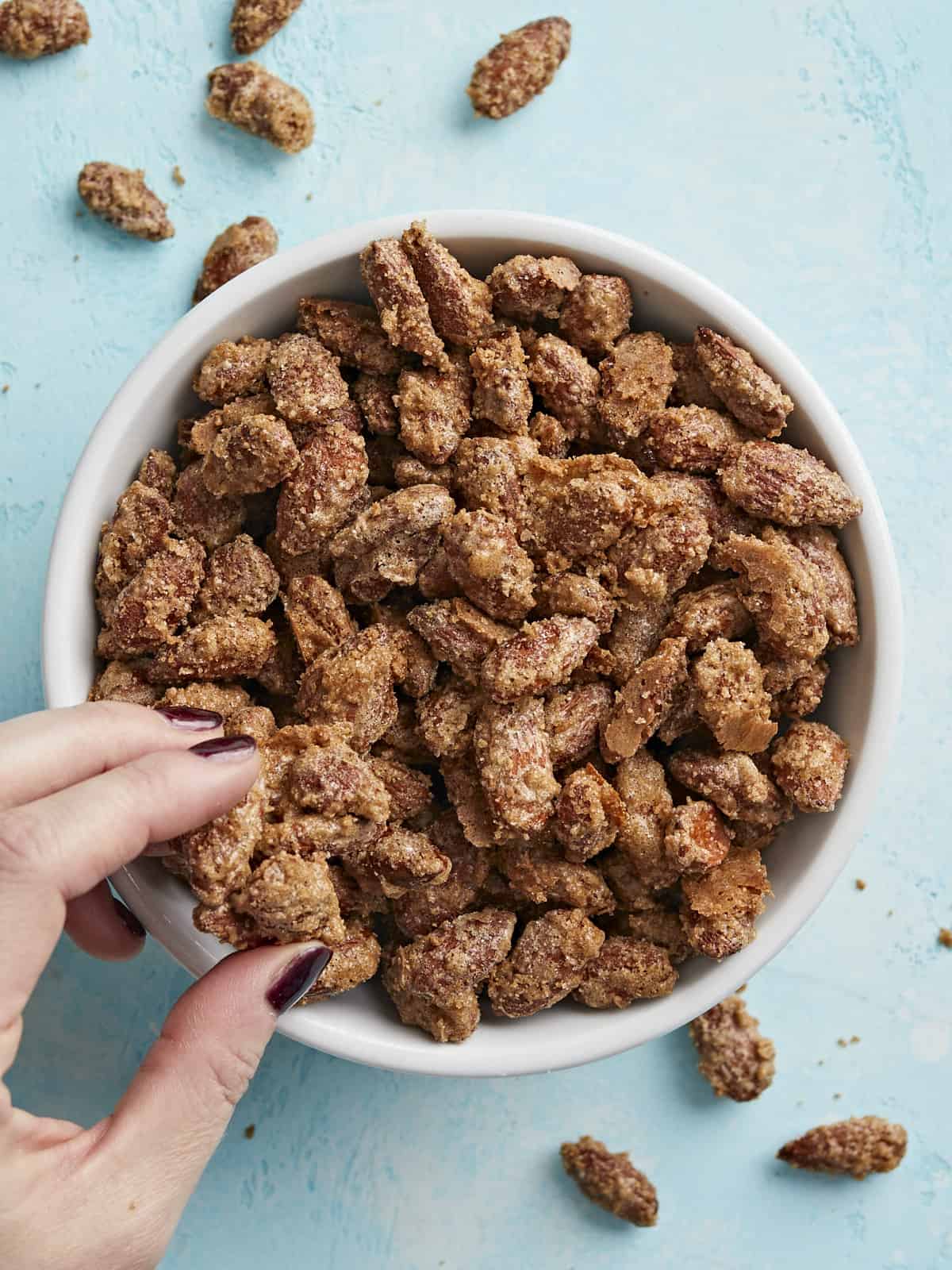 This recipe makes about 3 times what you would get in one of those little paper cones from the mall kiosk, all for about the same price. Now that you've unlocked their secret, the smell of sugar-coated roasting nuts wafting from their kiosk will no longer hold any power over you. You are free.
Ingredients for Candied Almonds
These candied almonds are incredibly easy to make. Here is what you'll need to make your own homemade candied almonds:
Raw Shelled Almonds: Make sure to get raw almonds because they will be roasted in the oven. If you buy pre-roasted almonds they may overcook. Hot tip: if you have an ALDI near you, they have the absolute best prices on nuts!
Sugar: We use a combination of white and brown sugar for this recipe. The white sugar helps crystalize the coating on the nuts, giving them that crunchy finish, while the brown sugar gives them a deep, rich caramel-like flavor.
Cinnamon: Cinnamon gives these nuts a super cozy, Christmasy flavor.
Salt: A little bit of salt goes a long way toward making these candied nuts extra flavorful. It really helps all those flavors POP.
Egg White: Egg white acts as the binder, helping the sugar coating adhere to the nuts as it bakes and it creates an airy-texture in the crystalized sugar, making it extra crispy and crunchy instead of a glossy glaze.
Vanilla: Vanilla adds warmth to the flavor of the nuts.
How to Store Candied Almonds
Make sure you let your almonds cool completely at room temperature before packing them into an air-tight container. This makes sure there is no residual moisture in the nuts that can cause them to get sticky or moldy during storage. Once cooled and packed in an air-tight container, they'll keep for up to one week at room temperature.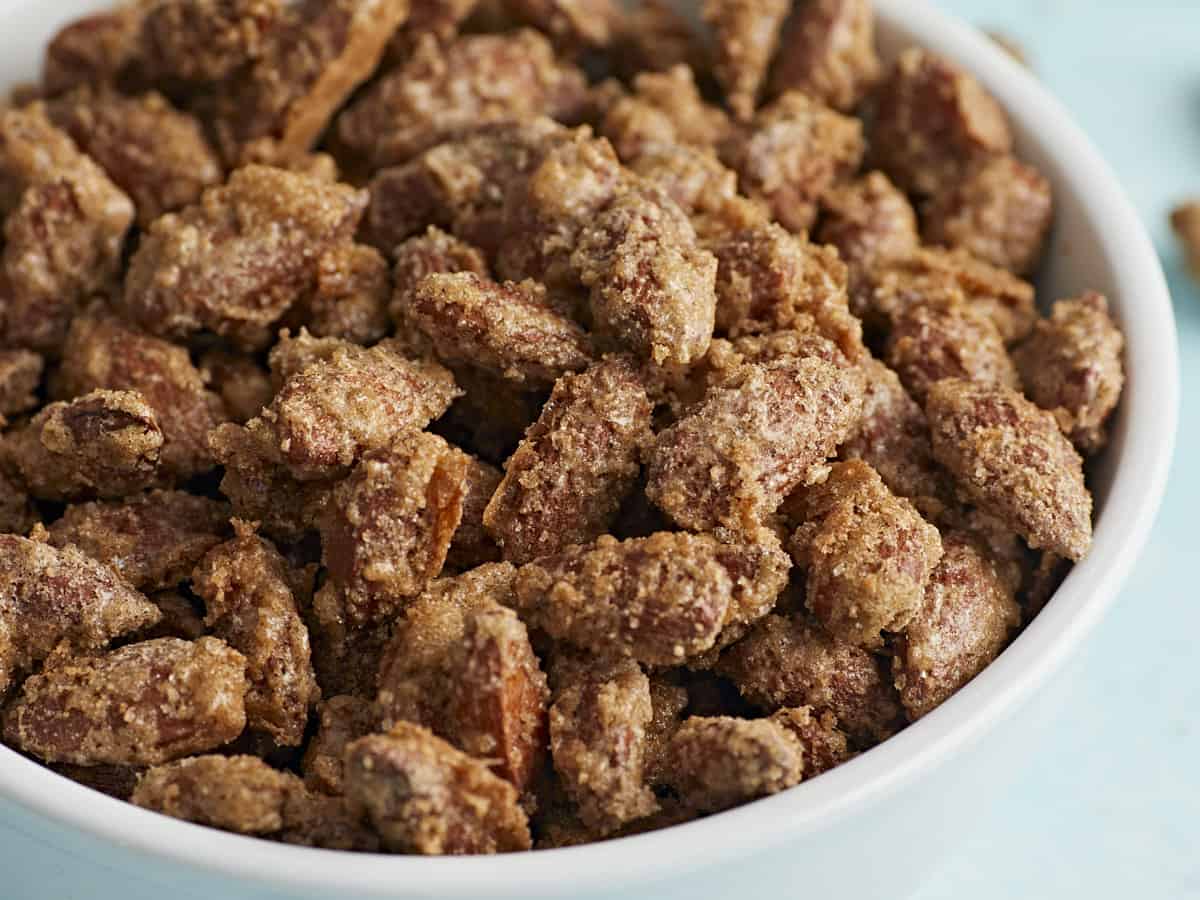 Candied Almonds
These sweet and nutty candied almonds are the perfect snack for the holidays and make wonderful homemade Christmas gifts!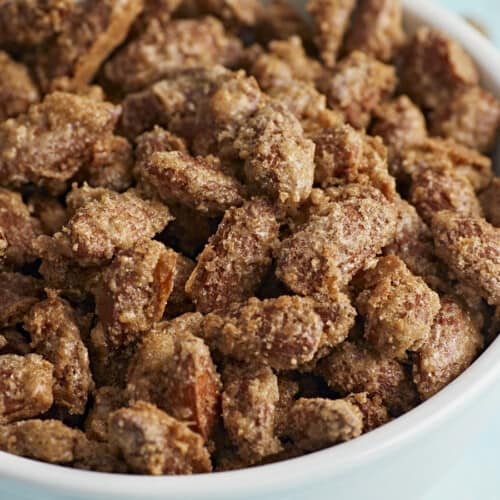 Ingredients
1

lb.

raw shelled almonds

($5.99)

1/3

cup

brown sugar

($0.11)

1/3

cup

white sugar

($0.05)

1

tsp

cinnamon

($0.05)

1/2

tsp

salt

($0.02)

1

large

egg white

($0.25)

1/2

tsp

vanilla extract

($0.14)
Instructions
Preheat the oven to 300ºF. In a small bowl, stir together the brown sugar, white sugar, cinnamon, and salt until evenly mixed.

Separate the egg white from the yolk. Place the white in a large glass or metal bowl and whisk until light and frothy, but it is not yet forming peaks (no clear liquid should remain in the bottom of the bowl). Add the vanilla extract and whisk again until incorporated.

Add the almonds to the egg whites and stir to coat. Add the sugar spice mixture and stir to coat again.

Spread the sugar coated almonds out on a baking sheet lined with parchment paper or foil coated with non-stick spray. Bake for 30 minutes, stirring once half way through. After baking, allow the almonds to cool, during which time coating will solidify into a crunchy candy shell.
See how we calculate recipe costs here.
---
Nutrition
Serving:
0.25
cup
Calories:
213
kcal
Carbohydrates:
16
g
Protein:
7
g
Fat:
15
g
Sodium:
83
mg
Fiber:
4
g
Read our full nutrition disclaimer here.
Scroll down for the step by step photos!
How to Make Candied Almonds – Step By Step Photos
In a small bowl, stir together 1/3 cup brown sugar, 1/3 cup white sugar, 1 tsp cinnamon, and 1/2 tsp salt until evenly mixed.
Separate one large egg and whisk the whites until they are light and fluffy, but not yet forming peaks. Make sure there is no clear, liquid white left on the bottom of the bowl. Add ½ tsp vanilla extract and whisk it into the egg whites.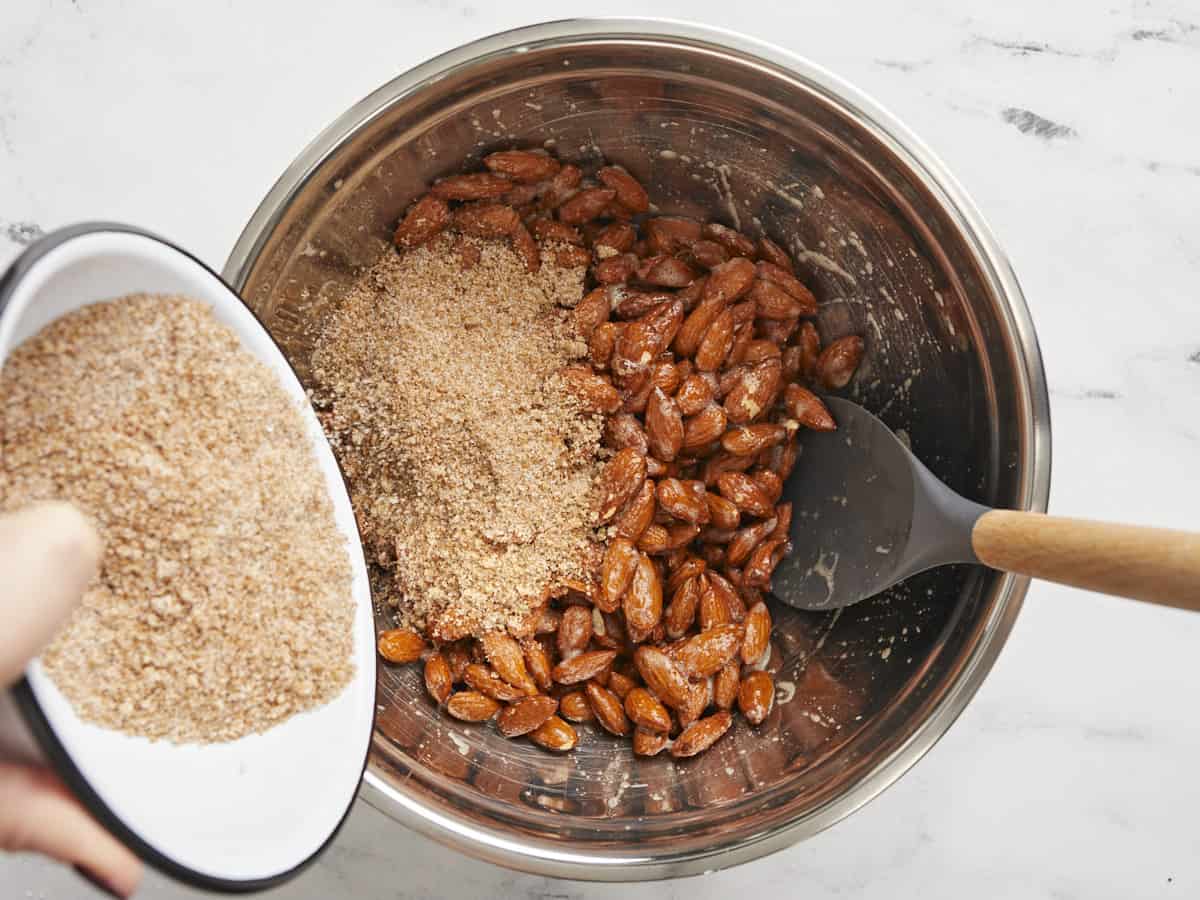 Add the almonds to the egg whites and stir to coat. Pour the cinnamon sugar mixture over the nuts and stir until the almonds are evenly coated in sugar.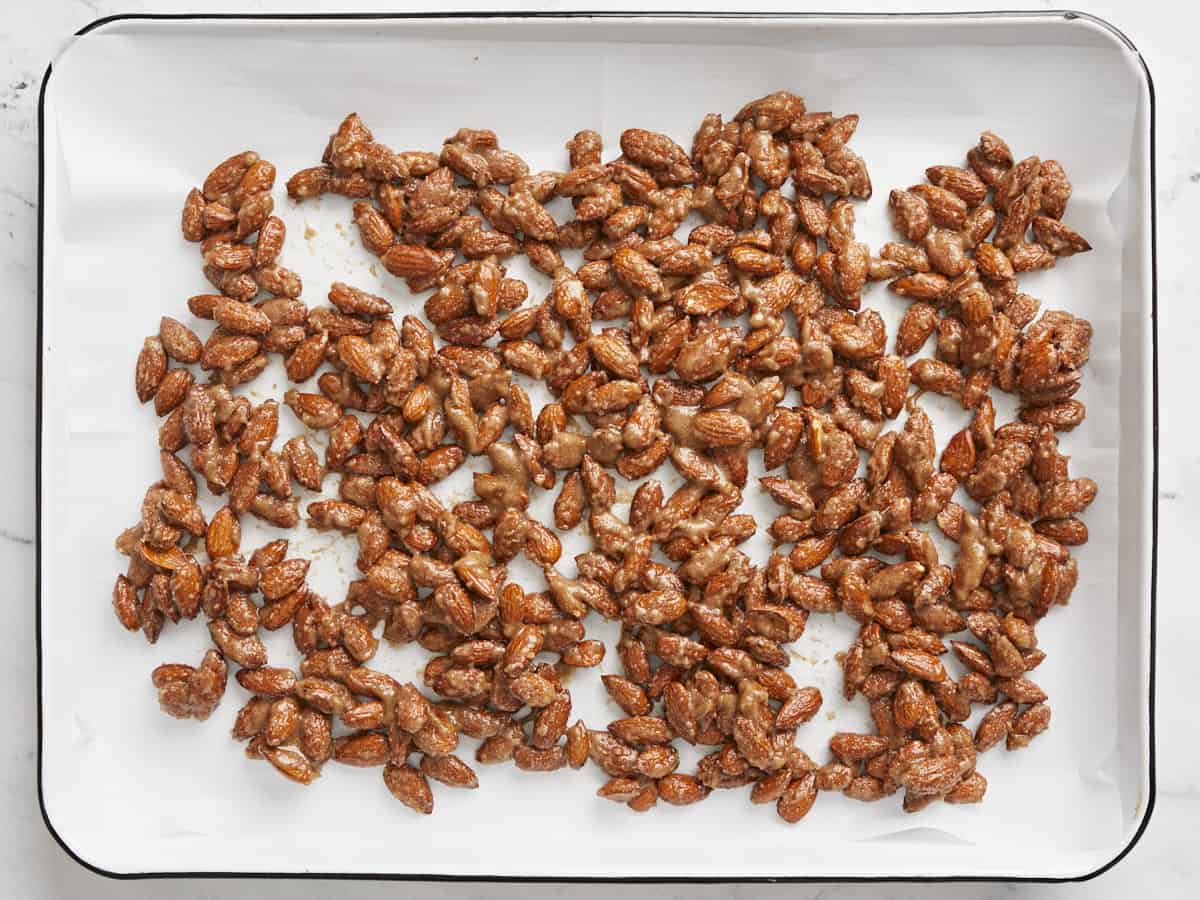 Spread the coated almonds out on a baking sheet covered with parchment paper. Bake in a preheated 300ºF oven for 30 minutes, stirring once halfway through.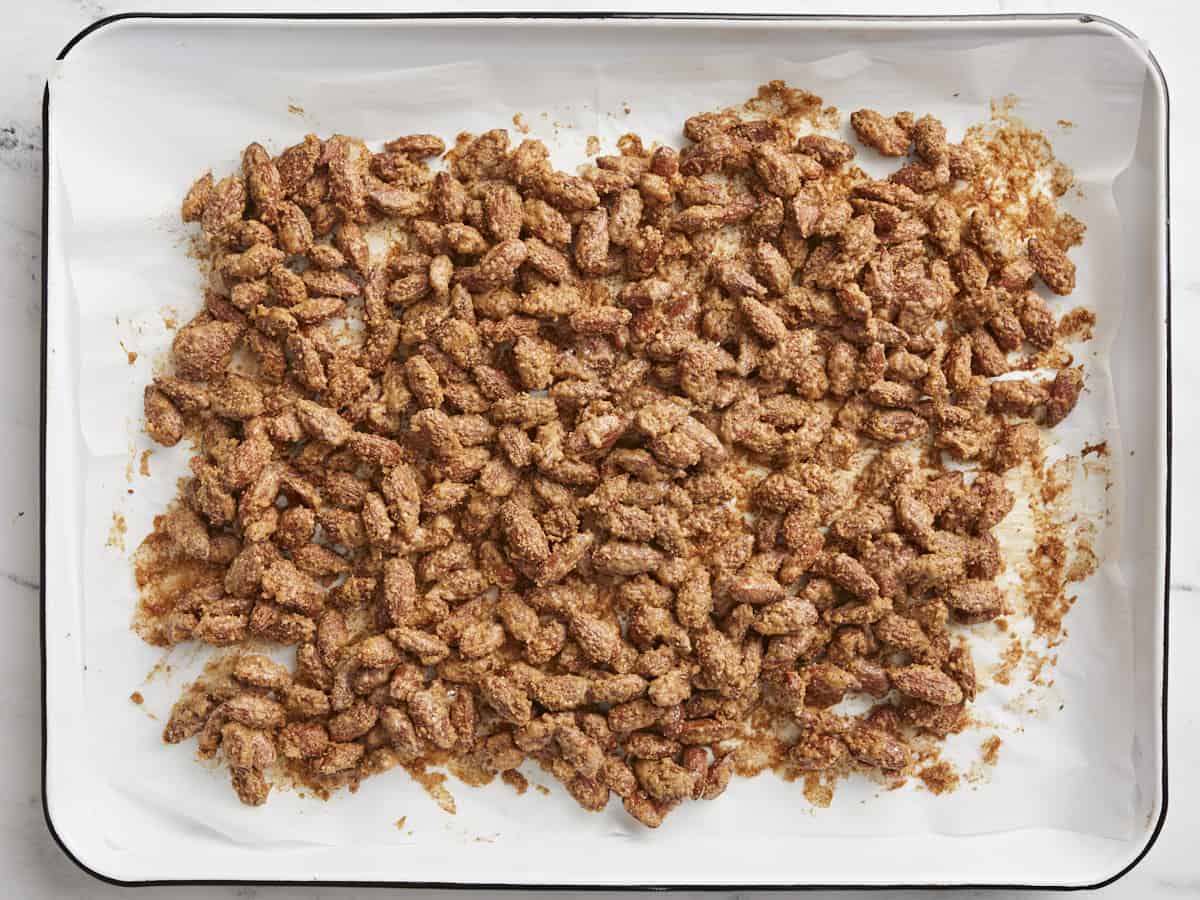 After baking allow the almonds to cool so that the candy coating can harden and get nice and crunchy.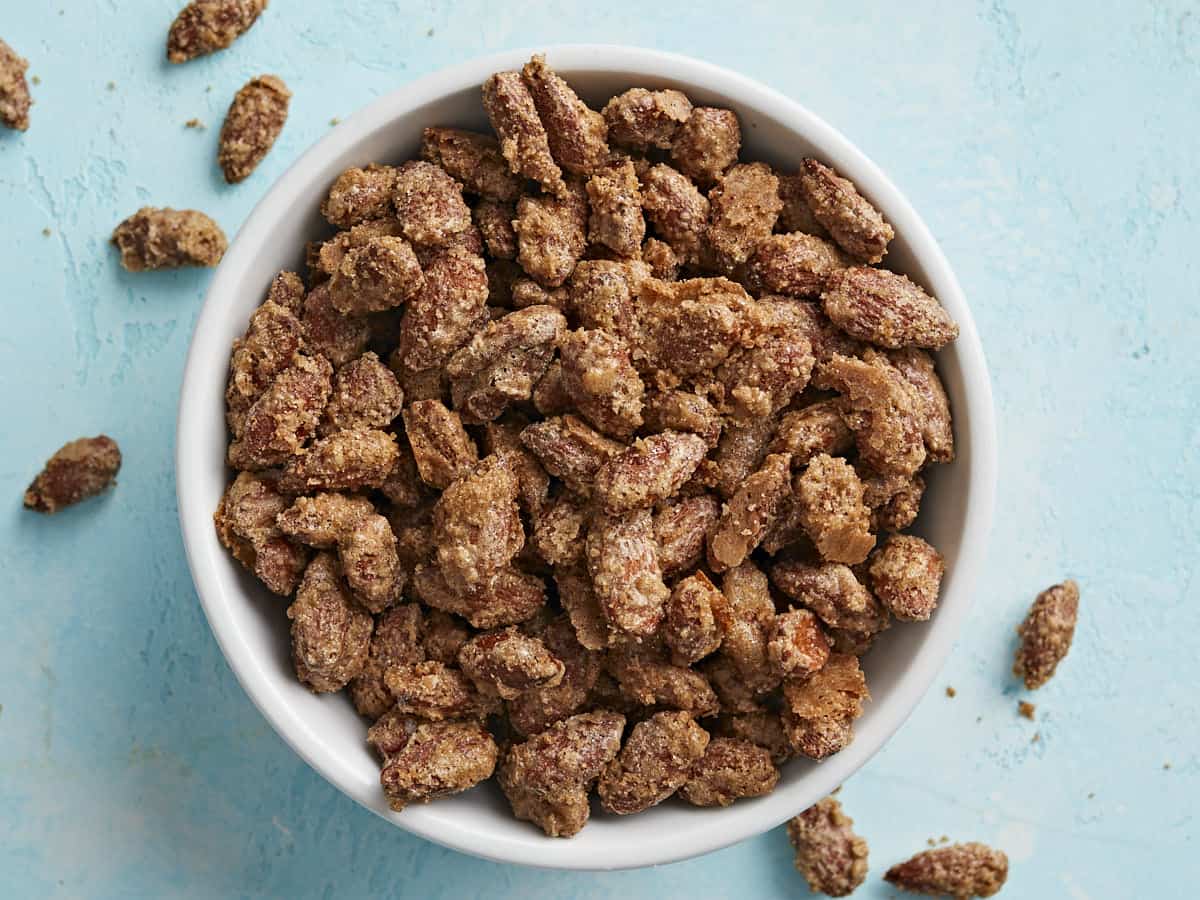 And now you have a whole pound of seriously addictive Candied Almonds. Oh boy. #sorrynotsorry