Cabbage is one of the green vegetables that I loved as a kid and my mom made quite often. It was inexpensive and a quick side dish that could feed our large family. Now if you grew up mainly eating boiled cabbage like me, first, I totally understand, and second, you'll be surprised how many more ways you can enjoy this extremely economical vegetable. From cabbage soup recipes and cabbage rolls, to cabbage stir-fries, coleslaws, and more; cabbage is a versatile and budget-friendly hero!!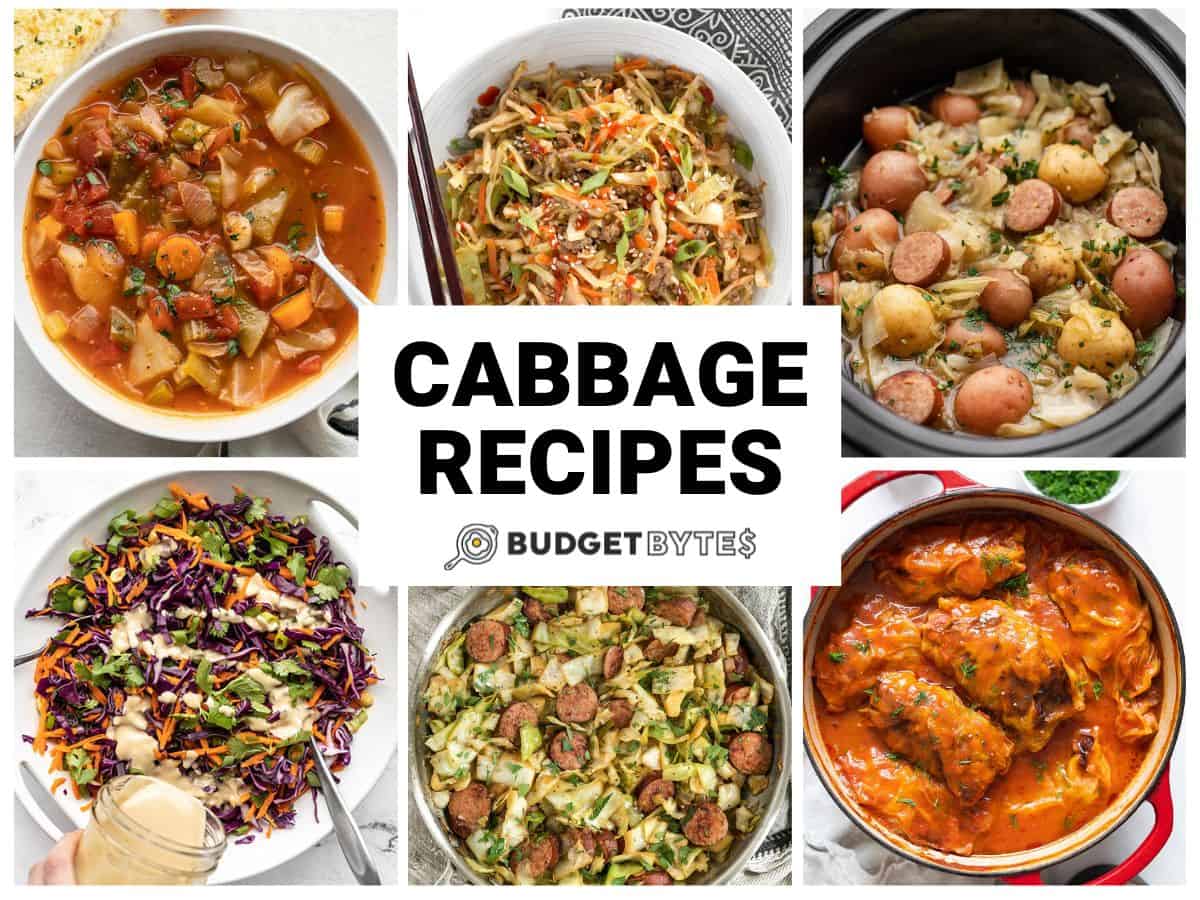 Here are our top cabbage recipes we think you should try!
We're starting things off with our super flavorful Cabbage Soup! It's loaded with veggies and made with a simple herb-filled broth. And this recipe makes a LOT so it's perfect to enjoy throughout the week or freeze some for later.
If you love quick stir fry recipes, this popular Beef and Cabbage Stir Fry is one to keep in your weekly rotation. It's full of vegetables and kind of addictive…don't say we didn't warn you ;)
This Kielbasa and Cabbage Skillet is one of my favorite go-to weeknight dinner meals. It includes sautéed or fried cabbage, smoked sausage, onion and a tangy stone ground mustard vinaigrette!
This Crunchy Cabbage Salad made with our yummy sesame ginger dressing is perfect for a quick lunch, a vegetable side dish or it works great for dinner, especially when you add some teriyaki chicken or honey sriracha tofu on top!
Cabbage Rolls are a hearty, comfort food recipe that includes tender cabbage leaves, meat, and rice, and can easily feed a large family.
With just seven simple ingredients this Fried Cabbage and Noodles recipe is insanely easy to make, inexpensive, and makes a great side dish or base for a bigger meal.
Homemade coleslaw is simple to make and tastes way better than store-bought. Try this Easy Creamy Coleslaw recipe made with a simple dressing, then tossed with shredded cabbage, carrots, and green onions. It's definitely creamy crunchy heaven!
I love sheet pan meals! Especially when they're simple and easy like this Sheet Pan Roasted Kielbasa and Cabbage Dinner. Very similar to our sausage and cabbage skillet meal, but with potatoes added for an even more filling dinner recipe!
Beef and Cabbage Soup is another delicious and surprisingly light cabbage soup recipe. It includes ground beef, cabbage, and stewed tomatoes. Perfect on a cool day or any time of the year!
Colcannon is a great budget-friendly recipe that combines two inexpensive vegetables, (potatoes and cabbage or kale) to make a super filling and delicious dish.
Wanna switch up your coleslaw recipe? Try our light, crunchy, and refreshing Apple Slaw! It's made with sliced apples, shredded cabbage, veggies, and a creamy dressing.
I'm sure by now you know we love slow cooker recipes, so of course we had to make a Slow Cooker Cabbage and Sausage meal! Cabbage and sausage cooked in a slow cooker turns out tender, brothy (almost like a cabbage and sausage soup), and totally delicious.
This Cold Peanut Noodle Salad is a super simple salad recipe that comes together with just a few ingredients like red cabbage and whole wheat spaghetti and is topped with a creamy, tangy, peanut-lime dressing.
Sautéed Beef, Cabbage, and Rice is a cozy, satisfying, and budget-friendly meal without a lot of effort and fuss. It's made with simple ingredients and its quick enough to make on those busy weeknights.
Spice up dinner tonight with these Cajun Cabbage and Noodles. It's a simple and satisfying recipe with just the right amount of kick. And it comes together in just 30 minutes!
Green Goddess Salad is a delicious and refreshing cabbage salad recipe made with 4 simple ingredients and served with a creamy green goddess dressing.
BBQ Beef and Cabbage is a simple skillet meal that combines beef and cabbage with a little homemade BBQ sauce and fresh cheddar cheese on top. Its flavorful, filling, and gets you a good dose of vegetables!
Check out more of our favorite recipe roundups below!