You know how some people have an addiction to purchasing things when they're on sale, whether they need them or not? Like, they see a wedding dress on sale for 70% off and can't say no, despite the fact that they're single? Yeah, I think I'm teetering on the edge of being like that with food sales. Not quite at that level yet, but it's really hard for me to say no to a good sale.
Last week I stumbled upon a bunch of amazing sales on meat. Sales so good that they made me all giddy. The problem was that the meat didn't meet my new higher quality standards. I literally went back and forth down the aisle trying to decide if I was going to purchase it, swinging back and forth from "Yes! Imagine all you can do with it!" to "No! Stand up for what you believe in!" In the end I gave in and bought the meat.
I'm not beating myself up about it, though, because I know new habits take time to form. Failure is not the opposite of success, it's part of the journey towards it. I've already shopped again for this coming week and I had the strength to say no to even better sales, and was able to make the higher quality meat fit in my budget.
And as a reminder, working on a tight food budget isn't just about finding the cheapest food available. It's about balancing cost, need, convenience, and priorities, which will be different for every person. As my priorities have shifted, so have my shopping habits and buying preferences, but my dedication to staying on a budget has stayed the same.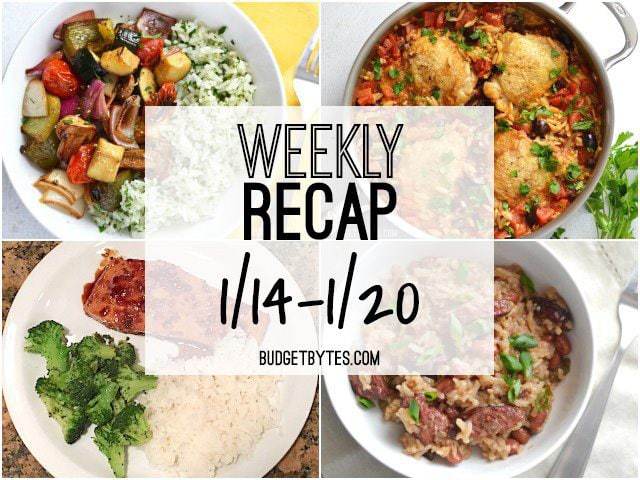 I didn't have many staples that needed replenishing this week, which gave me a lot of leeway with my grocery budget. I only really needed to replenish my milk. Not bad!
I had been craving good old fashioned red beans and rice lately, so that was the first recipe to go on my menu for the week. I also knew that I had four chicken thighs saved in the freezer and a box of orzo in my pantry, so I thought up a quick tomato/olive/orzo chicken skillet dish. Lastly, since both of my options so far were a bit meat heavy, I decided to make a marinated vegetable kebab over seasoned rice for my last pick (which I later decided to make without the skewers, for convenience).
So, with my staples and ingredients for those recipes, my shopping list looked like this:
I wanted to get a loaf of French bread and make some garlic mozzarella toast to go along with the Skillet Chicken with Orzo and Olives, but I was really close to my budget, so I passed on it last minute.
After checking the sale circulars, there wasn't much on sale at either store that was on my list. I did see an amazing sale on Atlantic Salmon at my local store, though, and thought I might as well check it out when I got there… It doesn't hurt to look, right?
Here are my receipts: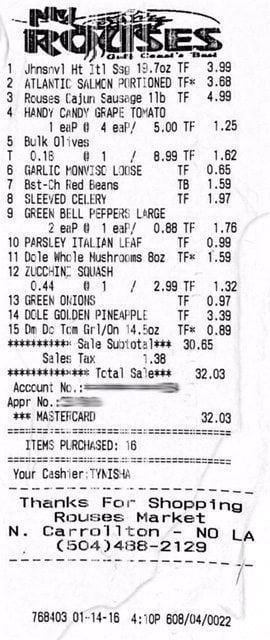 Grand Total: $38.74
I ended up giving it and buying the salmon. I couldn't resist. It was a huge 0.82lb. piece for just $3.68 ( $4.49/lb). The salmon ended up being our dinner that night and and I was like, "Sorry, not sorry. This is GOOD." It was such a treat.
The other sale that got me was the Johnsonville sausage. They're normally priced at $5.99 per pack and they were on sale for $3.99 each. It was really hard for me not to buy one of each (Italian sausage, chorizo, and brats). I love them all. But I ended up getting the hot Italian sausage because it's just so versatile. That sausage went straight into the freezer to be saved for a rainy day.
And then I had to get some smoked Cajun sausage for my red beans and rice. *sigh*
Anyway.
I got another pineapple because they were still at a good price and I love me some pineapple! That never goes to waste.
As usual, I grabbed a handful of olives off the olive bar for my recipe, so I could avoid buying a whole $6 jar. I also happened upon a great little mini-pack of grape tomatoes for only $1.25, which was the perfect amount for my broiled vegetable mix. Normally they come in large pint-sized containers and run around $3-$5. So that was a great find!
And mushrooms were also on sale for an astonishing $1.59/8oz. Usually they're $2-$2.49 for the same size. #win I couldn't find the price tag for the zucchini, though, and they ended up being $2.99/lb., which is way higher than I like to pay. At least I only needed one small one this week.
What Did I Eat?

The salmon that I impulse bought turned into this lovely and quick dinner on the night that I did my grocery shopping (I don't like to cook anything too complicated or time consuming on the day that I do my "shop"). I had a half used jar of teriyaki sauce in my fridge that I marinated the fish in, and a half bag of frozen broccoli that I used to make Oven Roasted Frozen Broccoli. I roasted the salmon in the oven at the same time as the broccoli and made some plain jasmine rice for filler. It was a simple, yet fantastic meal!

As I mentioned, I was craving red beans and rice, so I decided to give them a shot in my new Instant Pot. Well, I got the liquid ratio all wrong (oops!) and it didn't quite work out well enough to post the recipe, but it was still super delicious and it made a huge batch, which kept us fed all week. If you want to try red beans and rice yourself, I have two recipes already posted to the blog: Louisiana Red Beans and Rice, and Vegan Red Beans and Rice. Check 'em out!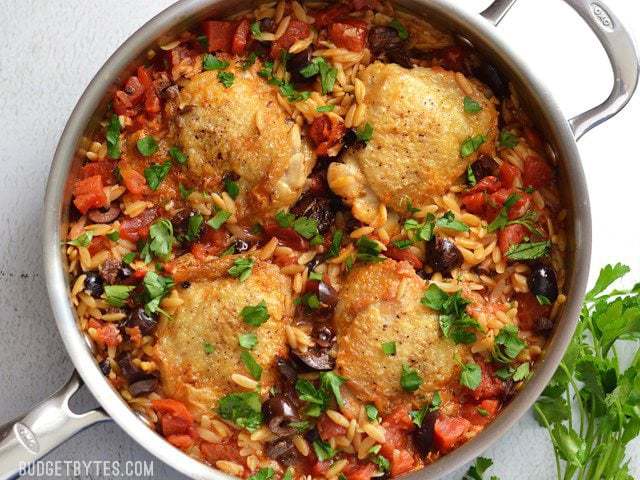 I used the olives from the olive bar to make this Skillet Chicken with Orzo and Olives. I love how easy these one skillet meals are. They're not only easy to make, but they're just as easy to photograph and blog about. Ha! That's a win for both of us. ;)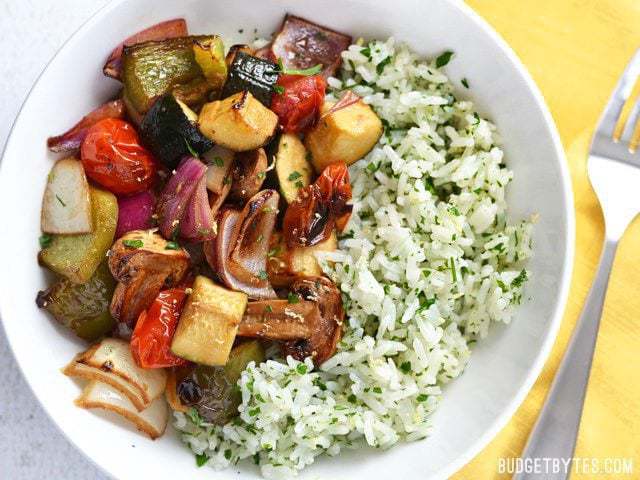 And just to make sure I'm balancing my vegetable and meat intake, I made this mouth-watering Broiled Balsamic Vegetables with Lemon Parsley Rice. Seriously, though. Lemon Parsley Rice with everything from now on! It's so good!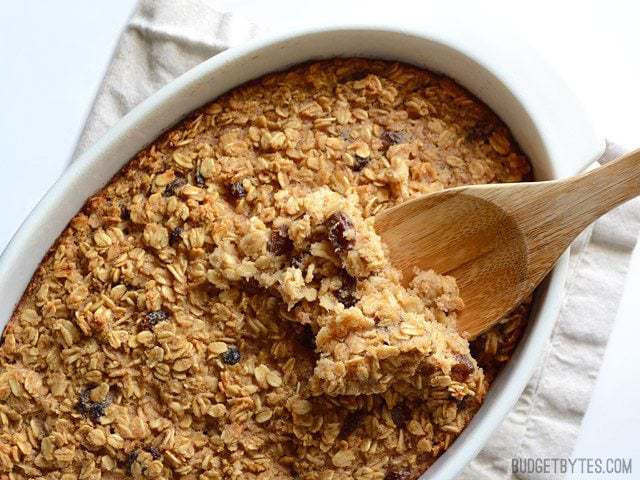 I had everything on hand to make this "Oatmeal Cookie" Baked Oatmeal, so I thought, "Why not?" Gotta change up breakfast every now and then. Plus, it's been all cold out and stuff, so this warm breakfast is perfect. Plus, it's super easy to make so it didn't feel like I was really adding to my work load for the week.
A couple of times I used that Lemon Parsley Rice as the base for a breakfast bowl, topped with a fried egg and a little sprinkle of mozzarella and sriracha. I just love savory breakfast bowls and that Lemon Parsley Rice really adds a new dimension to it. :)
And then on top of all that goodness, we ate out two times this week. Wow, that's a week full of food! Oh, and I may or may not have (I DID) make Stove Top Popcorn a couple of times.
Final Thoughts
I've been working out again and I can definitely tell that my appetite has increased. Without a doubt.
AND I'm really glad that my flubbed red beans and rice was still edible (delicious, even) because that would have been a lot of food in the garbage.
I still feel a little guilty about my meat purchases this week, but again, working on a budget means balancing many factors. Sometimes price swings to the top of the list above other priorities. It's okay to have a fluid and ever changing set of needs. Every little bit of effort counts and is not negated by slip ups or back slides.
This post may contain affiliate links which won't change your price but will share some commission. As an Amazon Associate I earn from qualifying purchases.