The title of this post should be, "Weekly Recap and the Case of the Missing Bananas"
Because I can't find my bananas.
I remember picking up the bananas, weighing the bananas, adding the price to my tally, and then… later at home, there were no bananas. No bananas on the receipt, either. I can only conclude that I left the bananas right there on the scale in the produce department. I'm that crazy lady wandering around the grocery store picking things up and setting them down in random places.
Ugh.
Other than that, this week went really well! Luckily, I had the last few tangerines and some frozen fruit from before the September Challenge, so I didn't go without fruit completely this week. Crazier things have happened, I suppose. …Like that time my entire grocery cart full of items disappeared. That really happened, but it's a story for a different time. Let's get back to business.
What I Bought
I had a few expensive purchases this week, like ground turkey, arugula, and mozzarella cheese. Those ate up most of my budget, so the overall number of items this week was low. Luckily I scored with sales on avocado ($1 each), and red and orange bell peppers ($0.88 each). The only staples I had to restock on were flour, eggs, and milk.
I decided to do the extra work and cook my beans from dry for my chili instead of buying three cans because I didn't have much wiggle room in my budget ($1.65 for dry versus three cans at $1.19 each). I used my slow cooker to cook the beans the day before, so it wasn't much work, it just required planning ahead.
The turkey came in a 19oz. package, so I used half for my chili and froze the second half. That will be a nice money saver in a future week when my budget is running tight, or I want to splurge on something a little more pricey (nuts? frozen fruit?).
Here is what my grocery list and receipts looked like… (no bananas!)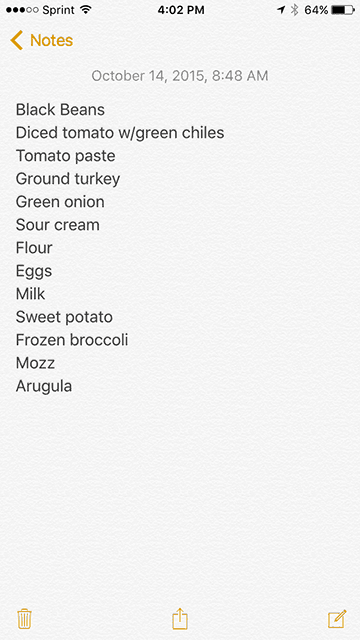 The grocery store was out of green onion (!!), so I got cilantro to top my chili instead. I ran out of room in my budget to replenish my frozen broccoli, so that just had to wait until the following week. That was just so I had supplies on hand to make Bowties and Broccoli (my favorite emergency meal), so it didn't affect my menu for the week. Everything else on the list went as planned! I love it when that all works out nicely.
What I Ate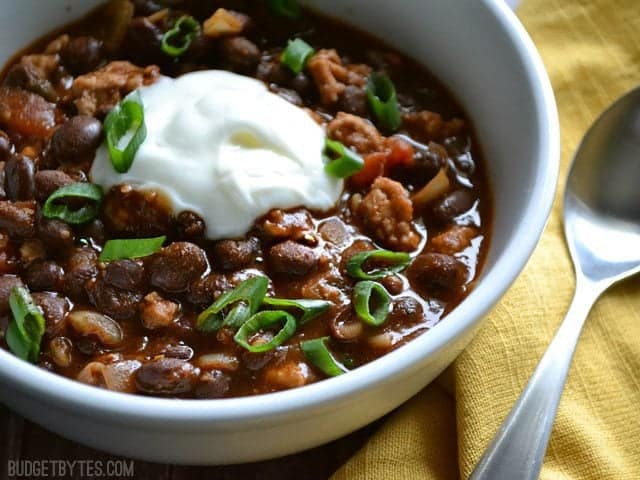 My main meal this week was this super easy Weeknight Black Bean Chili. I topped it with either diced avocado or dollops of sour cream, and some cilantro. I actually didn't make it through all the servings this week, but that's okay because it freezes great! And that's more variety for later.
I made this amazing Sweet Potato Cornbread to go with the chili, and sometimes I also ate it for breakfast with eggs… because YUM!
Seriously the best breakfast ever. I added a little maple syrup to the cornbread at breakfast. OMG I'm drooling just typing it out…
For a little more vegetabley-ness, I made this cold Pasta Salad with Sausage and Arugula. My other main reason for making this was to use up a couple of links of sausage that I found in the freezer. Can't let that good stuff go to waste! This made a HUGE batch, so I actually couldn't get through all of it this week, and a couple servings went into the trash at the end of the week. :/ Unfortunately this one doesn't freeze well because of the fresh vegetables.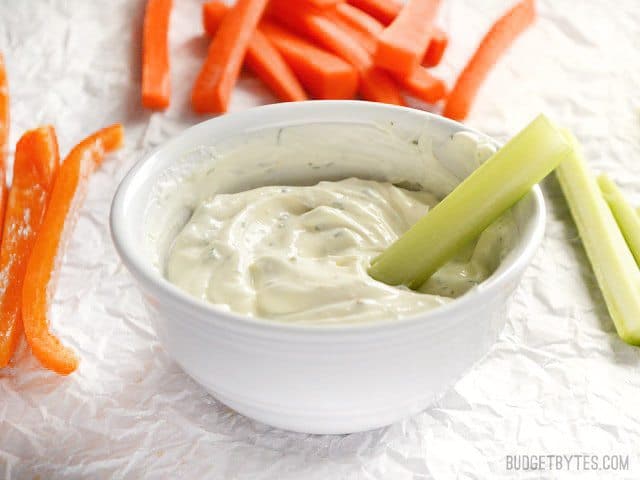 And lastly, I made use of left over carrots, celery, and dill from last week's Matzo Ball Soup to make a delicious Dilly Vegetable Dip with crudités. These crunchy fresh vegetables were an awesome snack throughout the week and now I want to keep them on hand more often. I was also just super psyched to have been able to use the sour cream in THREE different dishes this week (chili topper, cornbread, and vegetable dip). Not a drop of that tub went to waste.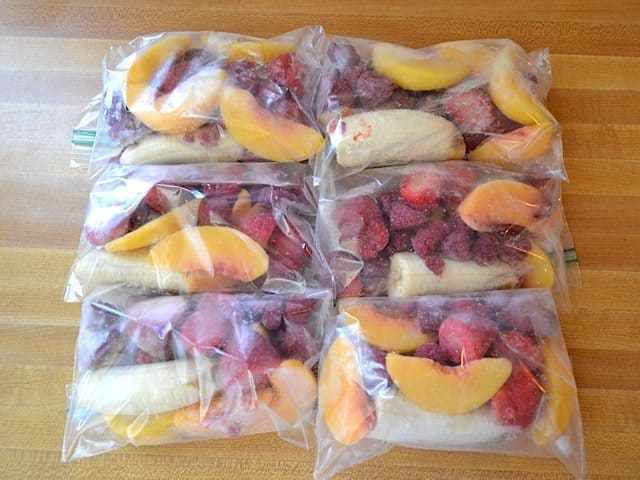 I also ate one or two smoothies using frozen fruit that I had tucked in the back of the freezer from a couple months ago (not the fruit pictured above, but that's a good visual representation). I'm sure I would have been craving fruit HARD had I not been lucky enough to have that stash in the freezer. I'm almost out of my big bag of frozen berries that I got at Target for $10 and I want to buy more. I need to figure out how to work that into one of my weeks, despite it being 1/3 of my usual budget.
I ate out twice again this week: date night on Friday and brunch with friends. Two "eat outs" per week is one more than I'd like, but I'm still figuring out how to manage dating and social time without it involving food, especially in such a food-centric city like New Orleans!
Summary
I'm very happy with how this week turned out. I felt well fed and my menu had plenty of vegetables and protein. I did feel bad throwing away a chunk of that pasta salad, but in the grand scheme of things, it's still probably far less than the average household (we're always our harshest critics!).
I've also noticed how this $30/week limit has broken me of my dairy addiction. I'm addicted to cheese and addicted to yogurt. Yogurt probably isn't a terrible thing to be addicted to, but it IS expensive and I used to eat it every day. This week did have a decent amount of dairy with the sour cream, cheese, and milk (that goes in my coffee), but it's still a major reduction in my cheese consumption. Now that it's a luxury, I realize just how much I was eating before. Yikes!
I'm still learning and discovering new things every week! That's a win!