I had a hankering for some balsamic marinated mushrooms the other day but after searching for recipes, I decided to try a batch of regular marinated mushrooms before trying the balsamic variety. There were many recipes out there but I finally went with this one from Tyler Florence, found on the Food Network website. Of course, I don't need two pounds of marinated mushrooms so I cut the recipe in half and it was just right. These mushrooms are SO GOOD that I couldn't stop popping them into my mouth. They make a great party appetizer or you can put them on sandwiches or salads. The best part is, a little jar of these will cost you $5 easy at the store and only have half as many mushrooms… and probably less of a vibrant fresh flavor. They're quick and easy so if you're a mushroom fan, give them a shot!
Marinated Mushrooms
Marinated mushrooms are easy to make, bursting with flavor, and go great in a variety of dishes like salads, sandwiches, pasta, and more!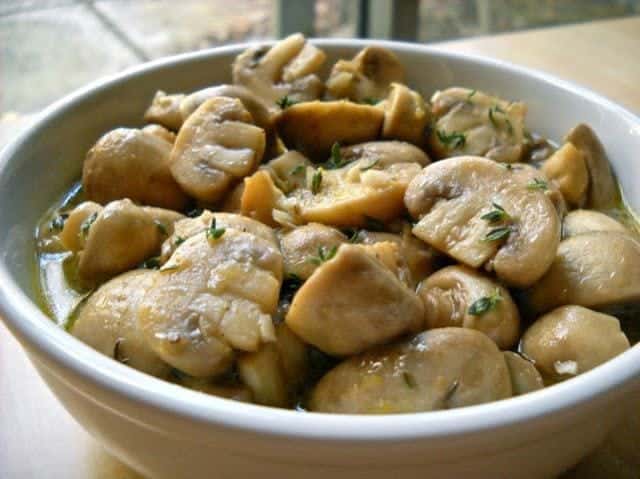 Ingredients
1

lb.

fresh button mushrooms

($2.98)

1

fresh lemon

($0.25)

2

cloves

garlic

($0.12)

1/4

cup

olive oil

($0.42)

5

sprigs

fresh thyme

($0.63)

1

bay leaf

($0.05)

salt and pepper to taste

($0.05)
Instructions
Rinse your mushrooms with cool water in a colander to remove any dirt and debris. Cut them in half or in quarters to make them all about equal size and set them aside. Peel and mince the two cloves of garlic and set them aside. Zest and juice the lemon and set it aside.

In a large skillet, cook the mushrooms in half of the olive oil (2 Tbsp) until they are soft and have released most of their water (about 5 minutes). They will be smaller and a deep taupe color when they are done. There will still be juices in the pan, this is okay. See photos below

Turn off the burner and add the lemon juice, zest, minced garlic, thyme leaves, bay leaves, 2 Tbsp olive oil, salt and pepper. To easily remove the thyme leaves from the sprigs, simply pinch the top of the sprig and pull backwards (from top to bottom) and all of the little leaves will pop right off.

Stir the mixture well and allow to come to room temperature in a bowl. This will allow the flavors to mix and the mushrooms to marinate. Enjoy!
See how we calculate recipe costs here.
---
Nutrition
Serving:
0.25
recipe
Calories:
156
kcal
Carbohydrates:
7
g
Protein:
4
g
Fat:
14
g
Sodium:
152
mg
Fiber:
2
g
Read our full nutrition disclaimer here.
How to Make Marinated Mushrooms – Step By Step Photos

Cook the cleaned and quartered mushrooms in a skillet with olive oil to cook down.

When they have released their water and they are a deep taupe color, they are done.

Turn off the heat and add the lemon juice, zest, garlic, bay leaf, thyme, olive oil, salt and pepper.

Mix it all up and let it come to room temperature to marinate!
NOTE: I think the fresh thyme really made a difference in this recipe. I had not planned on using fresh but then I remembered that I had bought a pack of fresh thyme for my Thanksgiving Turkey back in November. I looked in my refrigerator and, sure enough, the thyme was still in there! I opened up the package and it still smelled and looked fresh… two months later. So, I used it and it was fantastic. Now I know that spending $2.50 on a pack of fresh thyme is not wasteful because even though I only used about 1/4 of the pack for each recipe, the rest stays good for A LONG time. Crazy, huh?

See? Looks like new!
This is a great recipe for when you find mushrooms on sale. Mushrooms can easily cost $2.99 for a 1/4 pound so be sure to check around for prices. I bought mine at the produce market for only $1.49 per quarter pound. When the mushrooms get close to the expiration date, they WILL go on sale. Don't be afraid of dark or bruised mushrooms, that happens easily because they contain so much water and since you will be cooking them down anyway, the bruises won't be noticed in the finished product.