A couple of weeks ago I asked the Budget Bytes Facebook community to share their favorite game-changing cooking tips, and boy did you guys deliver! The thread was so alive with great tips and people swapping ideas with each other that I just had to share the top tips here for everyone to enjoy. The thread is still going strong and more tips and comments are being added every day, so you can check it out here to see the latest!
Here were the top tips, as of a week or so ago, according to the number of comments and interactions (in no particular order). I hope you enjoy and feel free to discuss in the comments below or hop on over to Facebook to join the conversation!
Top Cooking Tips
1. Make Measuring a Breeze
Coating a measuring spoon or cup in oil to make ingredients like honey or peanut butter come right out.

Jenn
2. Take Your Grilled Cheese Up a Notch
Mayo on bread versus butter for a grilled cheese.

Shawna Cotton Beidler
3. Most Loved Kitchen Gadget
Less a trick, but splurging for an immersion blender was an amazing investment!

Gina Zaneri
4. Add Flavor to Soups, Stews, and More
Using Better Than Bouillon in soups, sauces and gravy for some extra depth of flavor.

Jennifer Keefer
5. Improve the Texture of Tofu
Freeze and defrost tofu. I learned it from you!

Julia Anker
For context, freezing tofu changes the texture of the tofu, which is perfect for recipes where you want more texture and less softness. :)
6. Perfect Steak Every Time
When cooking steak on a stovetop use two pans. Put one on high and one on low. Use the hot pan to first sear the edges of the steak before cooking it on low/med. Searing the edges locks in the fluids and gives you a juicer steak.

Kyle Hudson
7. Rethink Boiled Eggs
Steam eggs rather than boil.

Lois Thurstan
See our guide on how to Steam Eggs Here.
8. Add Extra Umami to Your Recipes
Adding a bit of anchovies (or miso) to tomato sauce and adding butter at the end. Makes it super umami tasty and creamy.

Mandy
9. Quick and Easy Corn on the Cob
Wrapping fresh corn on the cob (in the shucks) with a paper towel, running under water to wet the towel, and steaming in the microwave for 5 minutes. Comes out perfect every time.

Donna Woodliff
10. Make Cleanup Easy
Using parchment paper when baking rolls and cookies so you don't have to scrape the pan

Anonymous
11. Pressure Cooker Eggs
Hard boiled eggs in the instant pot!

Marianne
12. Swap Your Skillet for the Oven
13. Frozen Vegetables for Convenience
I learned this from you- but using frozen vegetables. I always bought fresh and I would dread washing and cutting and then I would waste a lot because it goes bad so fast. I still use fresh vegetables some but I keep frozen vegetables to roast for easy dinners too!

Paige Wright
14. Easy Grease Cleanup
I just learned this recently from watching the Julia Pacheco cooking show. After frying up meats like ground meat or sausage , take a paper towel and with tongs or spoon or whatever move it around in the pan to remove the grease. Then just toss the paper towel. Saves from having to wash a greasy colander too!

Eileen
15. Perfect Sautéed Mushrooms
Cooking mushrooms in a pan with 1/4 cup water and once the water is evaporated and the mushrooms are soft finishing them with butter for taste and shine. They don't get nearly so greasy as when you cook just in oil or butter. Tip learned from this video.

Mindy
16. Portion and Freeze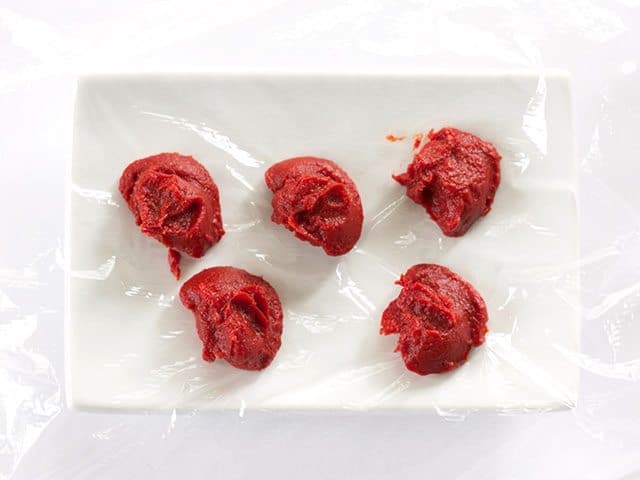 Freezing tomato paste in ice cube sized portions – now I buy a large can when I need tomato paste & freeze what I don't use. Recipes I used usually called for 1 tablespoon so I always had left over paste.

Anonymous
17. Recipes are Memories
Acceptance- i can't make certain recipes as well or even close as some family members. So cherish the recipe for safe keeping holds special meaning since I can't taste it.

Heather Miker
Yesssss! 👏 🙌 Recipes can hold so many lovely recipes. They can be as nostalgic as a photo album.
18. Bulk Cook Beef
I made a bunch of ground beef for a taco night at church last week. Made it in the crock pot. I don't think I'll ever make it in a skillet again if I don't have to! Soooo good! I cooked 5 pounds and it was perfect. So 5 pounds in the crock pot and divided up for future meals. Easy peasy.

Kim Scott
20. Stay On Top of the Mess
CLEAN AS YOU GO so much easier that way.

Sofia K.
21. Bright Your Food with Acid
1. Clean as you go!

2. Better Than Bouillon is the best broth base.

3. Add lemon juice or vinegar if your food is tasting a bit bland – the acid gives it a kick!

Elise Durand
22. Salt is Everything
Salt is your friend! Samin Nosrat taught me that when food is properly salted it will have a "ZING" when you taste it. My cooking has improved exponentially since I have been following her advice.

Also- taste the water in which you boil pasta, potatoes or vegetables. It should taste pleasantly salty like the ocean. Your mashed potatoes will need much less butter and milk!

Kristin Bergamini
Check out Samin Nosrat's book, Salt, Fat, Acid, Heat: Mastering the Elements of Good Cooking.
23. Mashed Bananas
Squishing a banana before peeling for muffins.

Camille
24. Colanders Are Multipurpose
Super silly but … using the holes in a colander to pull through herbs like rosemary, lavender, cilantro.

Capi Zabala
25. Lump-free Soup and Gravy
My friend showed how she takes a Mason jar, puts flour in it with milk and shakes it to make a slurry for gravy or thickening soups. It never gets lumpy doing it like that. Like a 1/4 flour to 1 cup milk.

Erin Bosco
26. Easy Creamy Sauces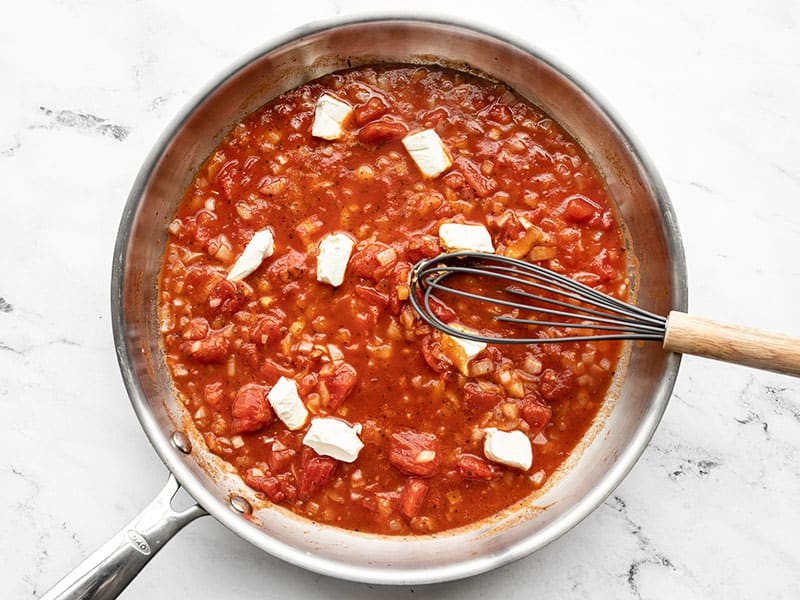 Cream cheese makes just about any sauce creamier, more stable, and more rich. It's like magic. Cream cheese in spaghetti sauce makes it super rich and creamy and cuts down on the acid content. We always called it "Better Spaghetti".

Velah
27. Sheet Pans For The Win
Sheet pan pancakes in the oven.

Samantha Johns
28. Parmesan for Umami
Adding some parmesan rind to a soup or sauce adds flavor/umami. Yum!

Laurie Gannon
29. Mise En Place
Not a trick exactly, but the best thing I learned was mise en place, or putting everything in order before you begin, and reading through the full recipe before I start to cook. It makes all the difference in getting a good result, eliminating mistakes, and ease of cooking anything.

Marion M.
Solid advice!! If you want more tips on how to execute a recipe, check out our 10 Tips for Recipe Success.
30. Use Technology to Your Advantage
Let a machine cook the rice for you. Because I certainly can't.

Lindsay
There's no shame in getting a little help from technology! :)
31. Perfect Poached Eggs
Poaching eggs in a frying pan instead of a pot. Water is shallow and more room for poaching multiple eggs! (I don't know why I never thought of it!)

Regan
32. Cook Tomato Paste
Browning your tomato paste first before adding. The flavor is soo much better. Brown in butter or a little olive oil until it turns a dark brick red.

Samantha Kelly
33. No More Tears
Use clear swim googles to cut onions. It looks hilarious, but I don't cry anymore when I chop onions!

Tori
34. Easy Egg Shell Removal
Shaking boiled eggs in a mug for easy shell removal.

Brandy Ragsdale
So what do you think? Did you learn any new cooking tips? Share a cooking tip or trick that was a total game changer for you in the comments below!