How many half-used bottles of condiments would you say you have in your refrigerator at this very moment. Five? Ten? Twenty? I don't know how many I have but I know it's too many. So when I have the opportunity to make a sauce or condiment from things I already have on hand insteading of buying yet another bottle, I'm going to do that. I love sweet chili sauce, but I only use it maybe once or twice per year and each time I'm left with half a bottle that haunts the back of my fridge for-ev-er. So this time I decided to make my own smaller batch of easy sweet chili sauce using a few simple ingredients that I usually have on hand (including another condiment that commonly haunts my fridge!).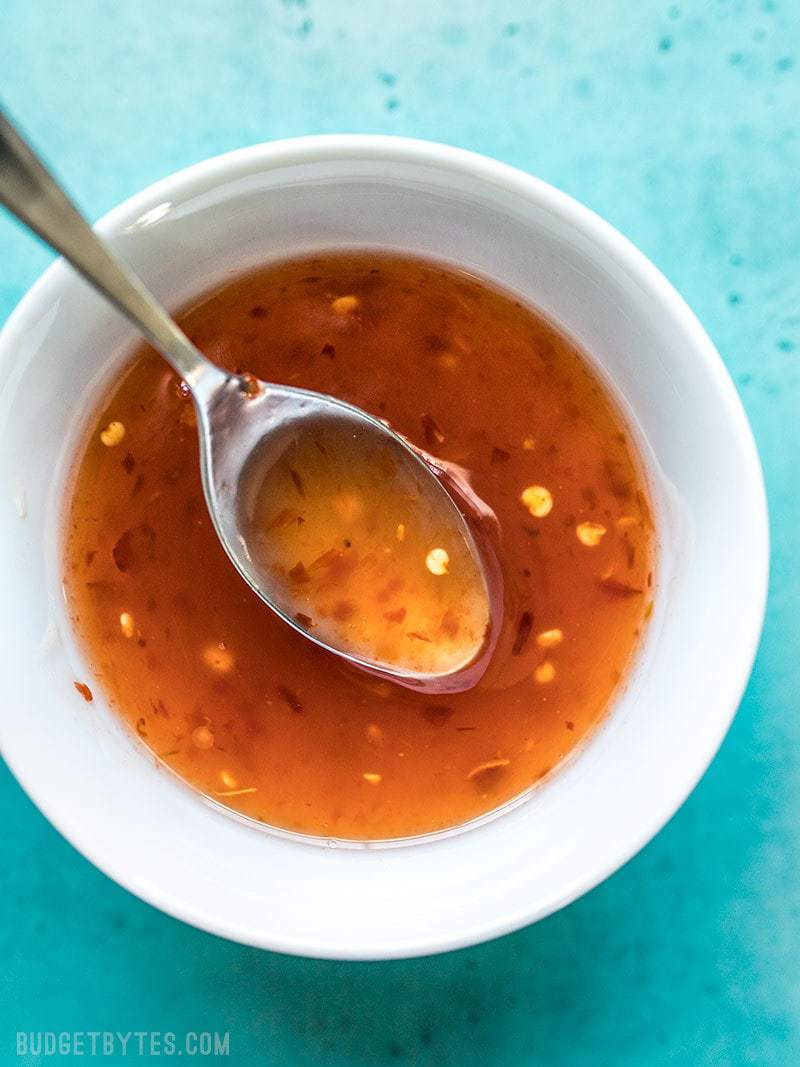 What is Sweet Chili Sauce?
This incredibly simple sauce, sometimes called Thai Sweet Chili Sauce, is sweet, sour, and spicy. If you're a fan of the classic sweet and sour sauce, this is quite similar, but with a delightfully spicy kick. This sauce goes great on tofu, chicken, seafood (especially shrimp and salmon), and vegetables. If you'd like to try the traditional Thai version of sweet chili sauce, check out this recipe from Hot Thai Kitchen, or this recipe from Thai Cookbook.
How to Use Sweet Chili Sauce
Sweet chili sauce is great for dipping or drizzling over your favorite foods. Here are a few recipes where I've used sweet chili sauce in the past:
It would also make a great dipping sauce for baked chicken wings, chicken nuggets, or dumplings.
Short Cut Sweet Chili Sauce
This isn't a from-scratch, authentic sweet chili sauce. Sweet chili sauce is usually made with fresh red chiles, but I rarely see those at the store, so I took a short cut. I used sambal oelek, which is basically just red chiles and vinegar. Since vinegar is another main ingredient in sweet chili sauce, this using sambal oelek is a great shortcut.
Where Can I Buy Sambal Oelek?
Thankfully, sambal oelek is really easy to find in major grocery stores these days. Just look in the international foods aisle, near the sriracha. There is another product, chili garlic sauce, which is similar but has garlic in addition to the red chiles and vinegar. You can use that for your sweet chili sauce, but it will add a slightly garlicky flavor.
How else can you use sambal oelek? It's great in all sorts of stir fry sauces, I like to put it on my eggs, rice bowls, soups, and more. It's extremely versatile and can be used on just about anything. Here is the archive of recipes that use sambal oelek on this site.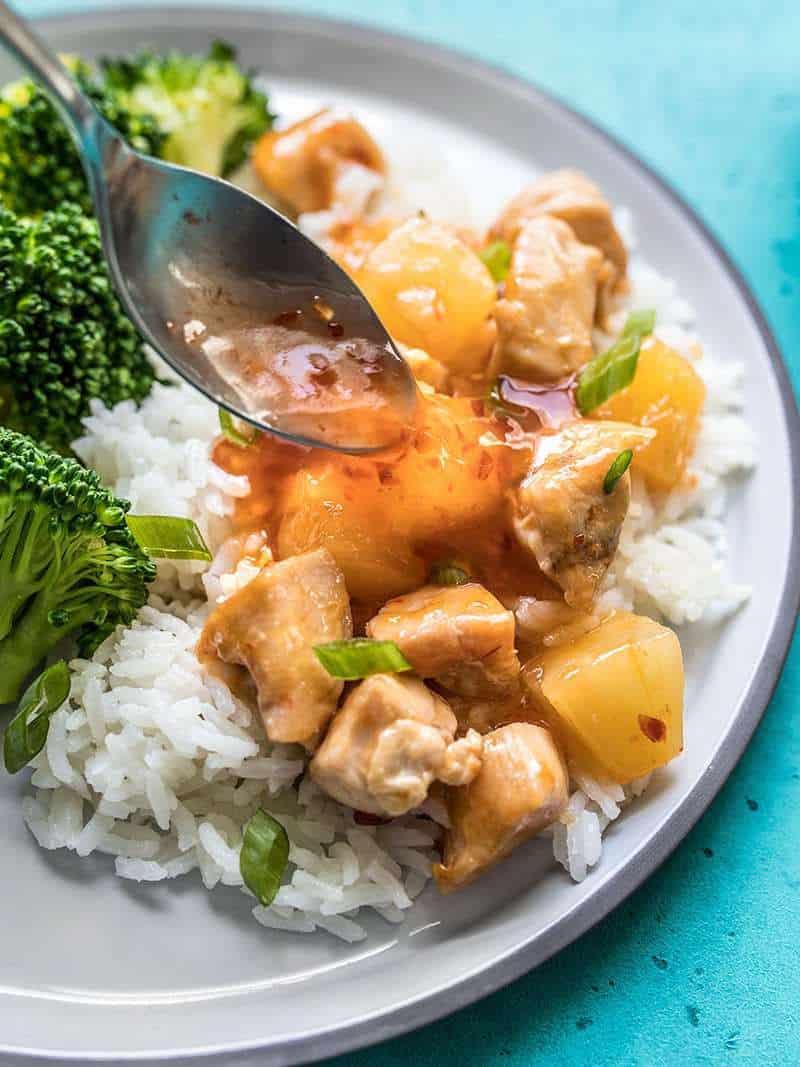 Easy Sweet Chili Sauce
This incredibly quick and Easy Sweet Chili Sauce only requires four ingredients and can be mixed up in minutes. Pour it over meat, tofu, or seafood!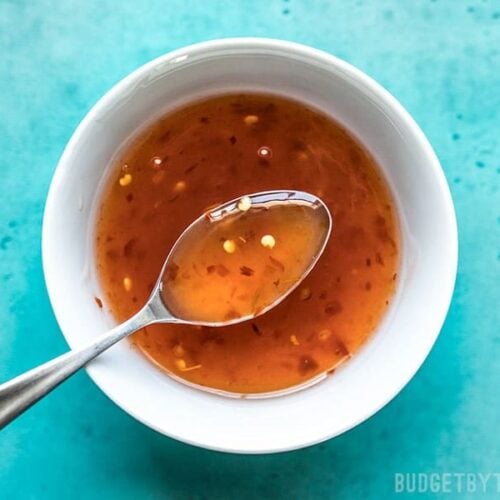 Ingredients
1/4

cup

rice vinegar

($0.47)

1/4

cup

sugar

($0.08)

1/4

cup

water

($0.00)

1

Tbsp

sambal oelek

($0.13)

1/2

Tbsp

cornstarch + 1 Tbsp water

($0.02)
Instructions
Add the rice vinegar, sugar, water, and sambal oelek to a small sauce pot. Heat and stir the mixture over medium heat until the sugar fully dissolves.

Stir the cornstarch into 1 Tbsp water until dissolved, then pour it into the sauce pot with the sweet chili sauce. Continue stirring and heating until the mixture comes up to a simmer, at which time the cornstarch will thicken the sauce and go from appearing cloudy to clear.

Use the sauce immediately, or refrigerate and use within one week.
See how we calculate recipe costs here.
---
Nutrition
Serving:
1
Serving
Calories:
18.83
kcal
Carbohydrates:
4.93
g
Protein:
0
g
Fat:
0
g
Sodium:
75.1
mg
Fiber:
0
g
Read our full nutrition disclaimer here.
How to Make Homemade Sweet Chili Sauce – Step by Step Photos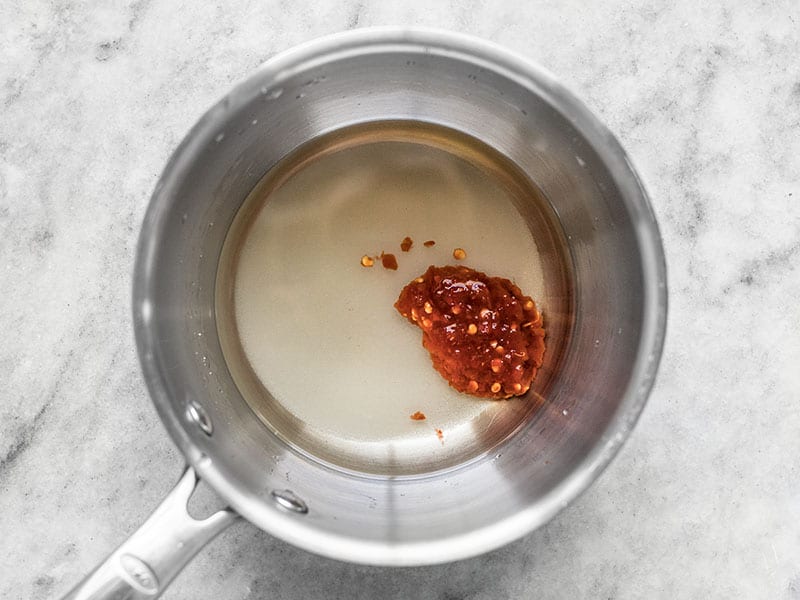 Combine 1/4 cup rice vinegar, 1/4 cup cup sugar, 1/4 cup water, and 1 Tbsp sambal oelek in a small sauce pot.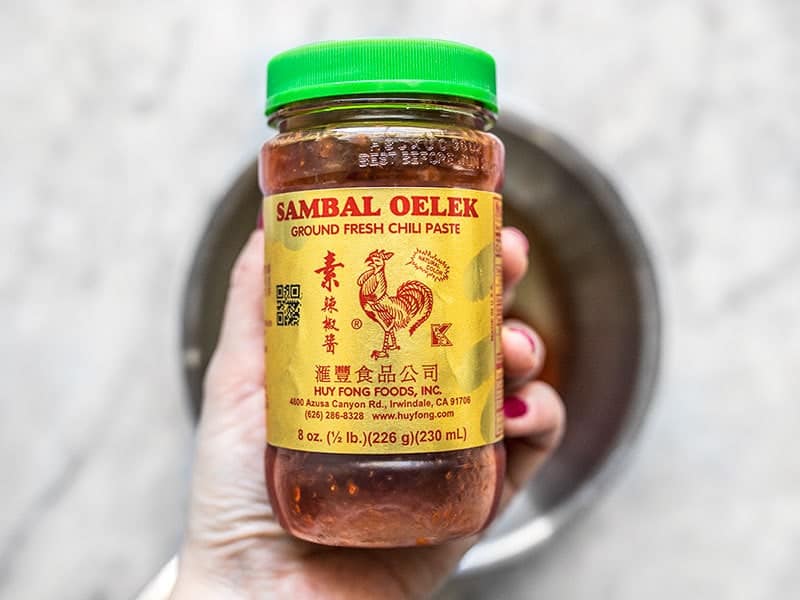 This is what sambal oelek looks like. This is the same brand that makes the most popular brand of sriracha, so you can usually find it in stores that sell sriracha. It's just a mixture of red chiles and vinegar. Super simple, but really good, and extremely versatile! I put it on everything. :)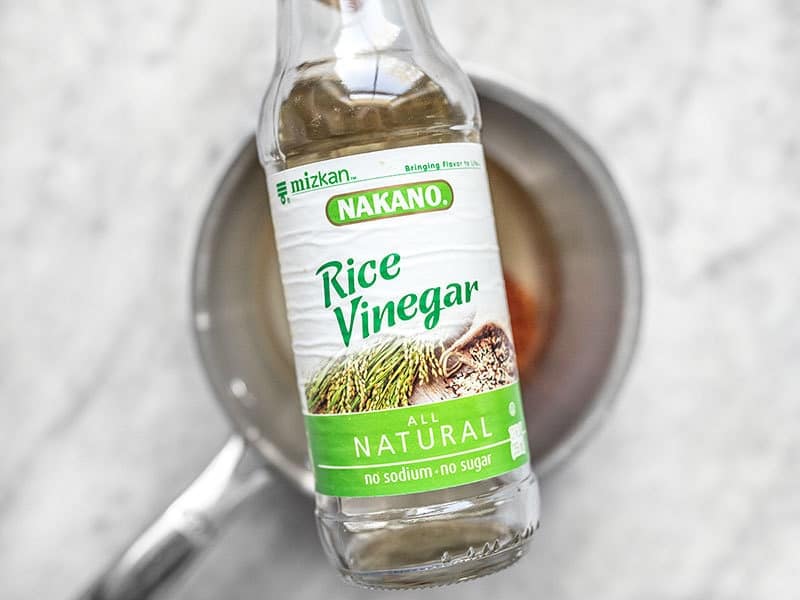 This is the rice vinegar I use. It's important to use rice vinegar because it is more mild than other types of vinegar and will make the sauce tangy without being overly sour. I do not suggest using a different type of vinegar.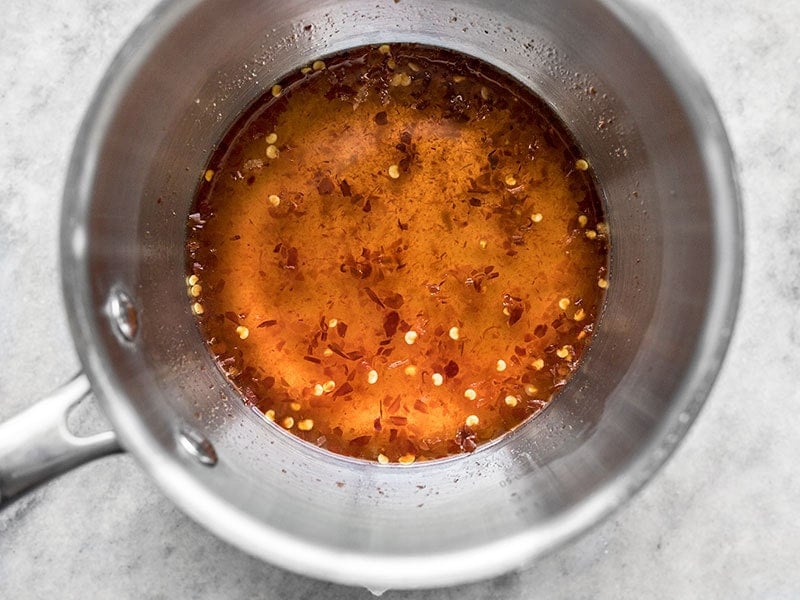 Heat and stir the mixture in the sauce pot over medium heat until the sugar fully dissolves and the mixture looks clear. This should happen very quickly, within a few minutes.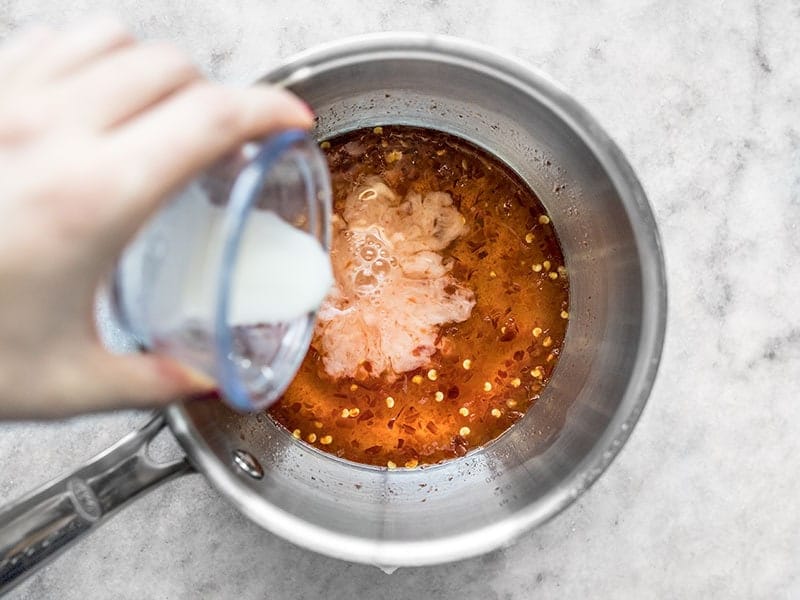 Dissolve 1/2 Tbsp cornstarch in 1 Tbsp water, then pour that into the sauce pot. Continue to stir and cook over medium heat until it comes back up to a simmer. The cornstarch mixture will make the sauce look cloudy and white, but that will change…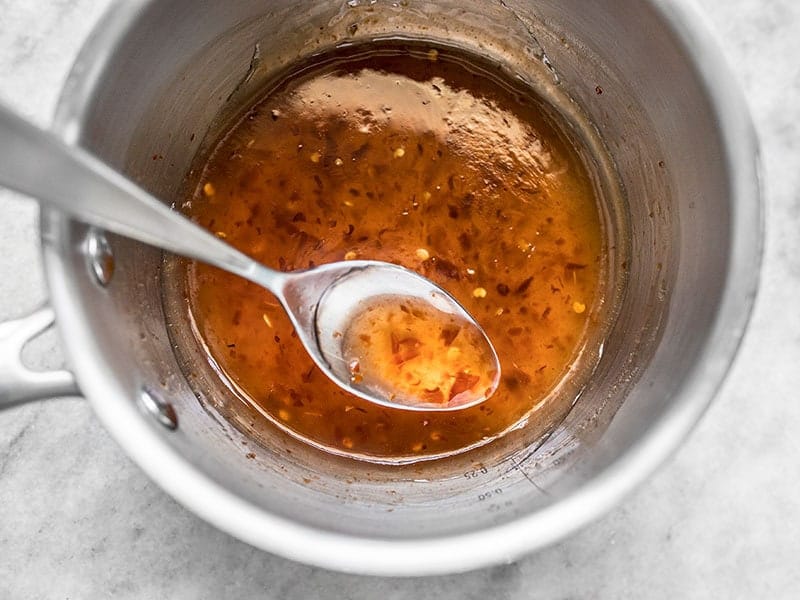 When the sauce reaches a simmer, the cornstarch will thicken the sauce. At this point you'll also notice the cornstarch going from white and cloudy to clear. And now your Easy Sweet Chili Sauce is finished!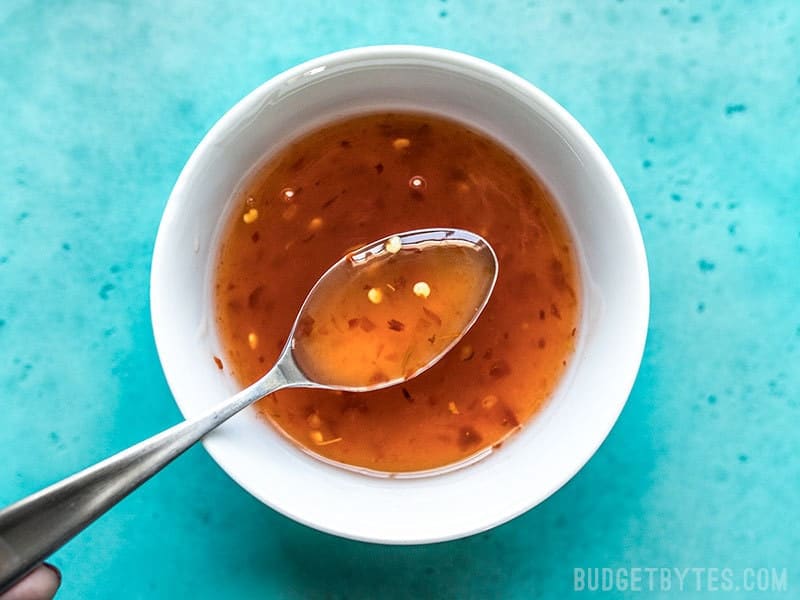 You can either use the sauce immediately, or refrigerate it and use it within a week.