It's kind of silly how excited I get when I come up with ways to use my leftover ingredients. This week when I peeked into my fridge I noticed that I still had a lot of leftover fresh dill, carrots, and celery from my amazing Matzo Ball Soup. I almost made a second batch of soup (because I liked it that much), but decided to repurpose the leftovers into a delicious dilly vegetable dip and crudités. What was once produce "on its way out" was now a delicious and fresh between-meal snack. Woot!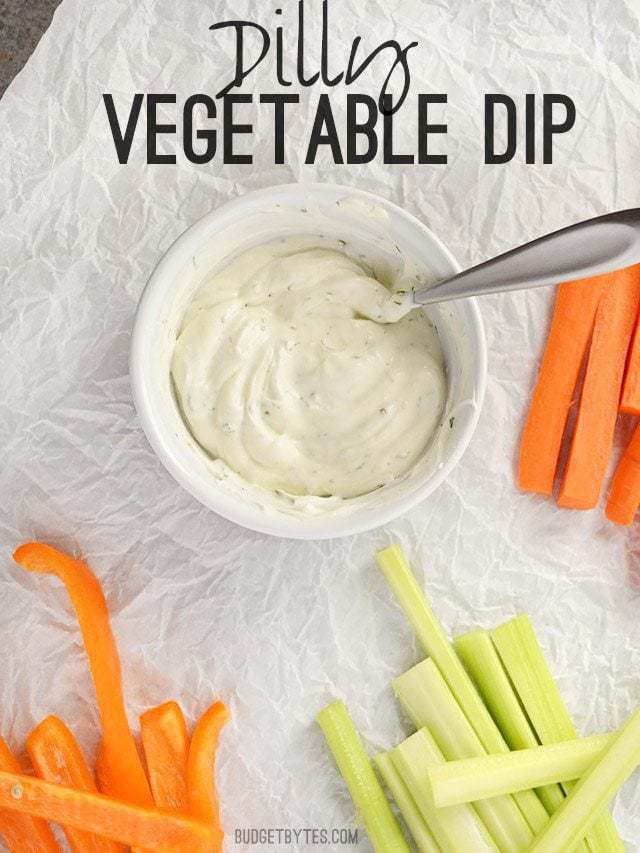 What's in Dilly Vegetable Dip?
This vegetable dip is ultra simple: sour cream, a little garlic powder, lemon pepper, salt, and fresh dill. DONE. It tastes great immediately, but the flavors blend a bit and get more smooth after sitting in the fridge for a bit. If you have leftover green onion, that would be a great substitute for the dill, or even an addition to it. I made a small batch because it was just for me, but this recipe can easily be doubled or tripled for a bigger crowd.
How to Use the Dip
It's obviously great for dipping fresh vegetables (carrots, celery, broccoli, cherry tomatoes, bell peppers, cauliflower), but it would also be great as a spread on a vegetable sandwich or a veggie filled wrap sandwich. And since the flavors go really well with Greek inspired dishes, I wouldn't be opposed to putting this on a Greek salad or Shawarma wrap.

Dilly Vegetable Dip
This super quick and flavorful vegetable dip makes snacking on fresh produce easy and delicious. Use as a vegetable or chip dip, or sandwich spread.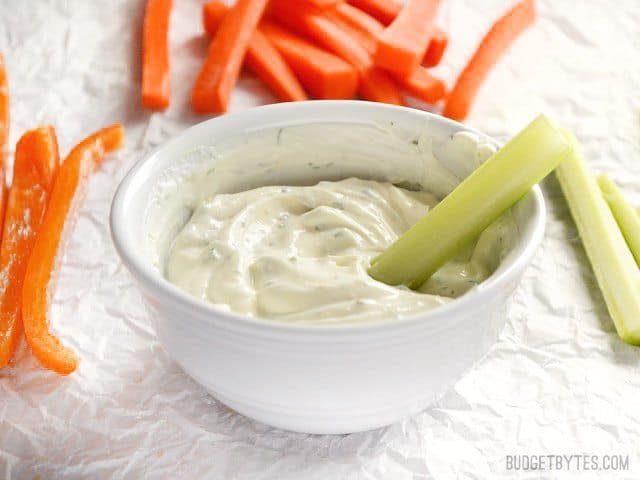 Ingredients
1/2

cup

sour cream

($0.47)

1/4

tsp

lemon pepper

($0.03)

1/4

tsp

salt

($0.02)

1/16

tsp

garlic powder

($0.01)

1

tsp

chopped fresh dill

($0.30)
Instructions
In a small bowl, combine the sour cream, lemon pepper, salt, and garlic powder.

Pull the wispy pieces of dill from the stems, then roughly chop. Stir the chopped dill into the sour cream. Taste and adjust the salt if needed.

Serve immediately or refrigerate until ready to eat.
See how we calculate recipe costs here.
---
Nutrition
Serving:
2
tbsp
Calories:
57.13
kcal
Carbohydrates:
1.38
g
Protein:
0.7
g
Fat:
5.58
g
Sodium:
191.6
mg
Read our full nutrition disclaimer here.
Scroll down for the step by step photos!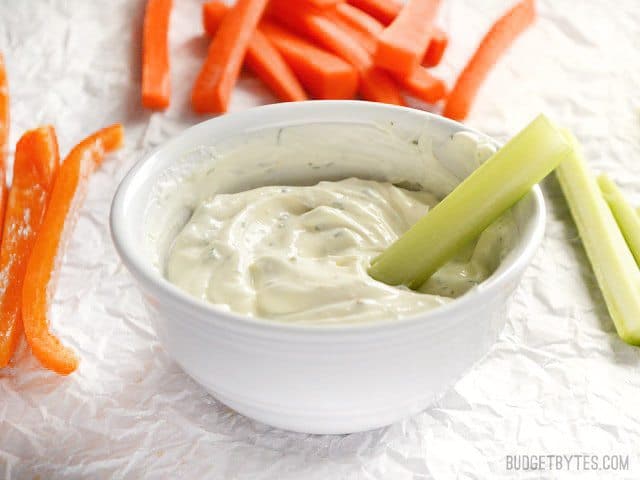 How to Make Dilly Vegetable Dip – Step by Step Photos
In a small bowl, stir together 1/2 cup sour cream, 1/4 tsp lemon pepper, 1/4 tsp salt, and 1/16 tsp garlic powder (I just estimated half of my 1/8 tsp measuring spoon).
This is the lemon pepper seasoning that I used. This is pretty common in the United States and is made by several brands. It's a pretty useful spice blend and it's actually pretty good on vegetables just by itself (if you want a lower fat option for your crudités). If you can't find this, you can try adding a little freshly ground pepper and a dash of lemon juice, but your dip will be a little less thick.
Take a few sprigs of dill and pull the wispy pieces off the stems, then give them a rough chop. I used about 1 tsp of the chopped dill, but it's flexible.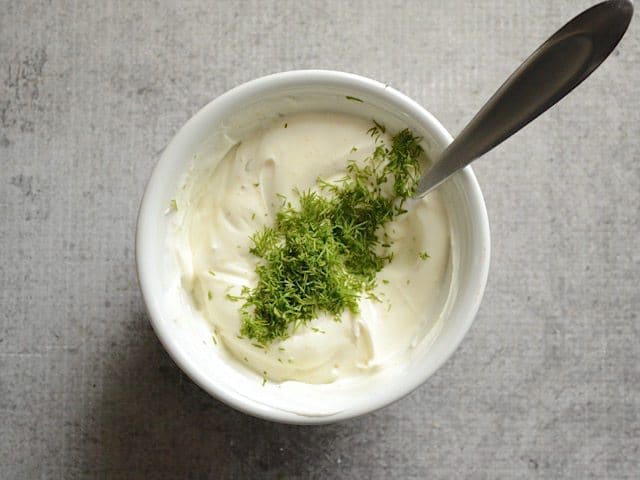 Add the fresh dill to the dip and…
Now you've got a really tasty dip for vegetables!
Soooo good. Especially with really crunchy vegetables. Here's a tip: the vegetables will stay ultra crisp if you store them in water. I just place the vegetable sticks in plastic storage containers, then cover with water. They'll stay ultra cold and crisp this way. :D