If you've been a follower of this blog for a while, you may already know that I'm obsessed with roasted vegetables. Oven roasting vegetables makes their flavor sweeter and deeper, transforming them into something really quite special. If you (or a loved one) dislikes vegetables because of their slightly bitter flavor, roasting may be the secret key to finally making vegetables that you absolutely love. These Curry Roasted Carrots might be a good place to start.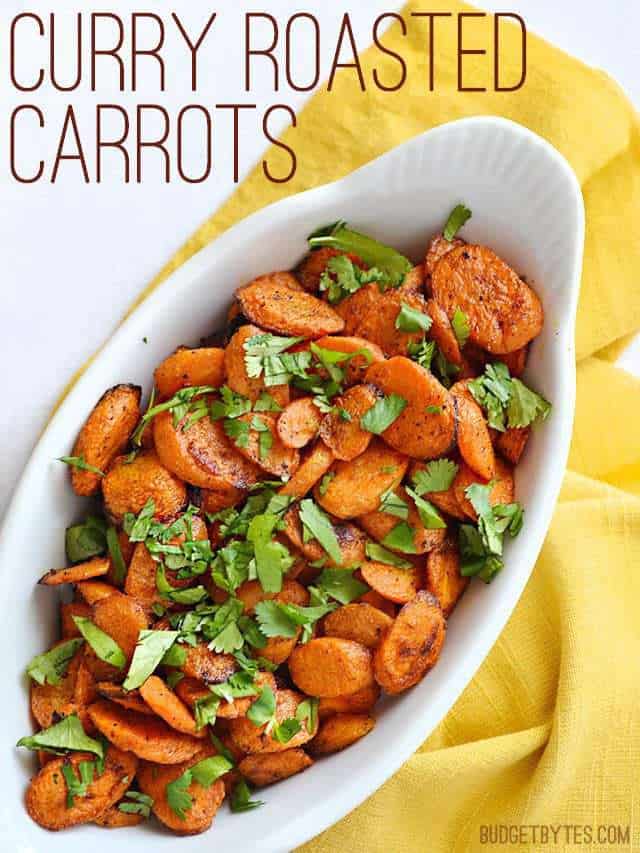 Curry powder is like a magic bullet in the kitchen. It adds a ton of flavor to whatever you're cooking and it goes well with just about any meat or vegetable. Most vegetables are good when roasted with curry powder, but I like how the carrots' natural sweetness balances with the earthy curry powder. It's a match made in heaven.
I made a small batch of these Curry Roasted Carrots, using just a one pound bag of carrots, but this recipe is easy to double or even triple if needed. Just keep in mind that if you do make more, you'll likely want to use two baking sheets instead of one to keep the carrots separated as they roast. Crowded carrots trap juices and you'll end up with stewed carrots instead of roasted carrots. :)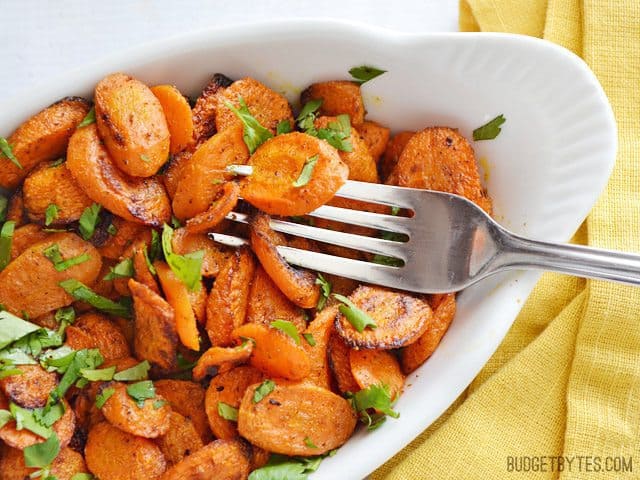 Curry Roasted Carrots
Sweet oven roasted carrots balance the earthy and spicy flavor of curry powder in these incredibly simple but flavorful Curry Roasted Carrots.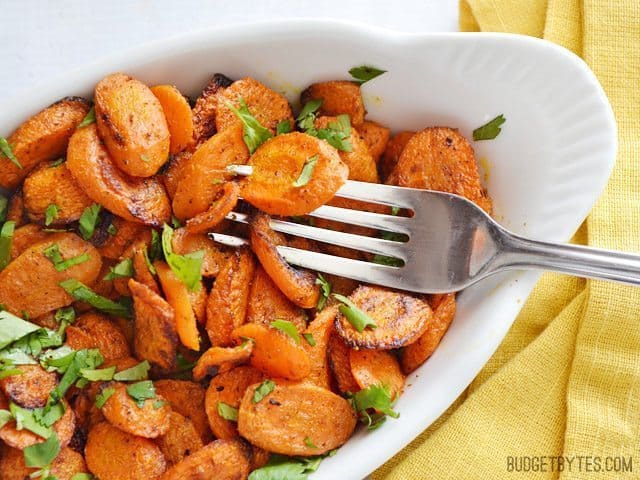 Ingredients
1

lb.

carrots

($1.09)

1

Tbsp

olive oil

($0.16)

1/2

Tbsp

curry powder (hot or mild)

($0.15)

1/4

tsp

salt

($0.02)

Handful fresh cilantro (optional)

($0.20)
Instructions
Preheat the oven to 400 degrees and line a baking sheet with foil. Peel the carrots and cut off the rough ends. Slice the carrots on a diagonal, into 1/4″ thick slices.

Place the carrot slices in a bowl, drizzle with olive oil, then sprinkle the curry powder and salt. Toss the carrots until they're evenly coated in oil and spices.

Spread the carrots out over the prepared baking sheet in a single layer. Make sure they're not piled on top of one another. Roast in the oven for 30 minutes, stirring once half way through. Serve warm with a handful of freshly chopped cilantro over top.
See how we calculate recipe costs here.
---
Nutrition
Serving:
1
Serving
Calories:
68.85
kcal
Carbohydrates:
1.85
g
Protein:
0.4
g
Fat:
7
g
Sodium:
303.15
mg
Fiber:
1.15
g
Read our full nutrition disclaimer here.
How to Make Curry Roasted Carrots – Step by Step Photos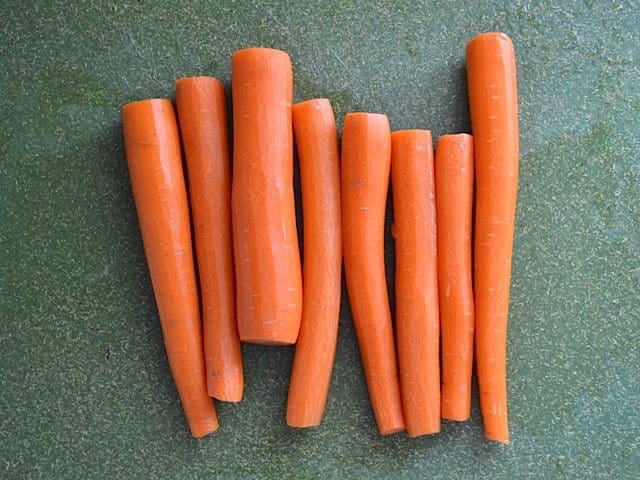 Start by cleaning a one pound bag of carrots. Peel the carrots and cut off the rough ends. Also preheat the oven to 400 degrees.
Slice the carrots and place them in a large bowl. I like to slice them on a slight diagonal to make them prettier.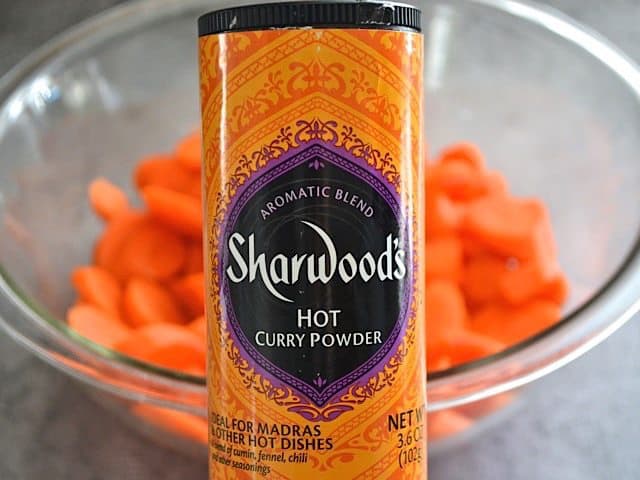 Drizzle 1 Tbsp of olive oil over the carrots, then add 1/2 Tbsp of curry powder and 1/4 tsp salt. This is the curry powder I used. It's just something I picked up at my local grocery store, but it turned out to be pretty awesome. Every curry powder is going to be slightly different, so you may need to try a few before finding one that you *really* like. You can use hot or mild curry powder for this recipe. If you only have mild curry powder on hand, but prefer a spicy dish, you can always add a pinch of cayenne to turn it into a hot curry powder.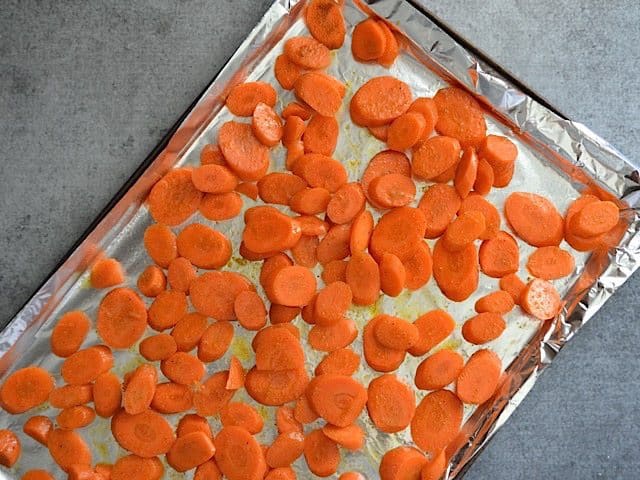 Toss the carrots in the olive oil and curry powder until evenly coated. Spread the carrots out over a baking sheet covered with foil, so they are in a single layer.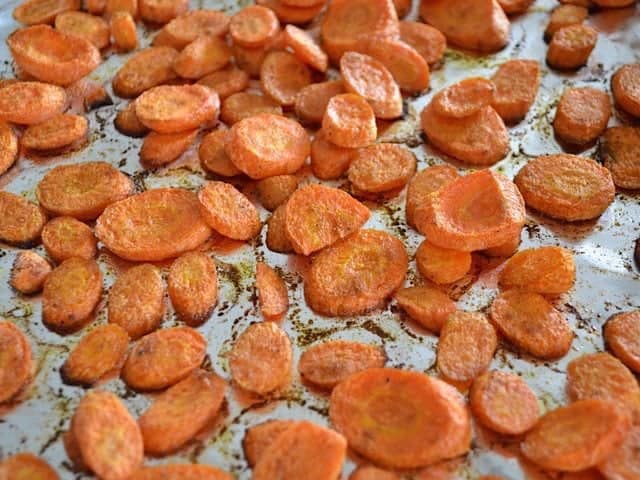 Roast the carrots for 30 minutes in the preheated oven, stirring once half way through. After 30 minutes they should be tender and slightly wrinkly in appearance. If your carrots are cut a bit thicker, they may need a few more minutes.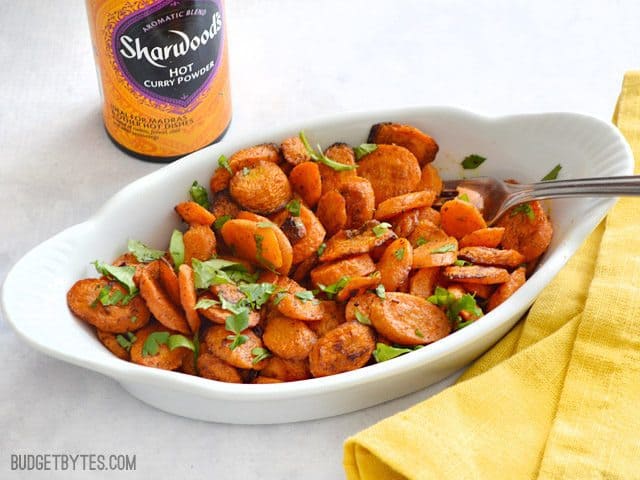 Serve the carrots warm with some freshly chopped cilantro over top. Goes great with Mujaddara!