With so many people going back to work but without the luxury of being able to use their break room microwaves or refrigerators, classic cold lunches like tuna salad are making a comeback! So let's talk about tuna salad a bit, shall we? Tuna salad doesn't have to be the gloppy mess you find in a cafeteria. I've got a classic tuna salad recipe below, a few tips for making a good tuna salad with plenty of flavor and texture, plus a few modifications to make it your own. So let's go get it!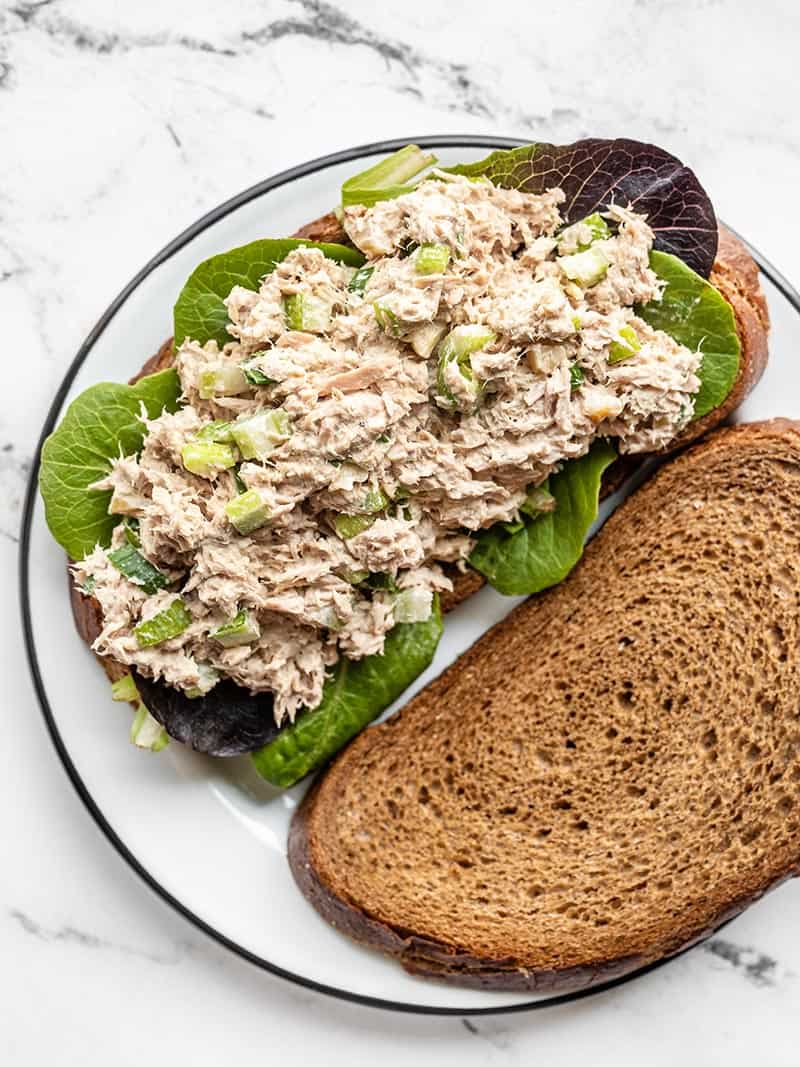 What Makes a Good Tuna Salad?
I think tuna salad gets a bad rap for being gloopy, bland, and smelly. But it doesn't have to be (well, I'm not sure I can do much about the smell). To make a good tuna salad you want to use good tuna, make a dressing that has flavor dynamic, and add in some crunchies to give the salad some texture, something to chew on. No more bland mush.
What Type of Tuna to Use:
There are several canned tuna varieties to choose from, depending on your needs. "Chunk light tuna" is probably the most common and one of the less expensive options. Chunk light is smaller pieces and may appear a little shredded. "Solid albicore" is more expensive, but you'll get nice big solid chunks of fish that will give your tuna salad more texture, and it can be a little less smelly. For more canned tuna language defined, check out Tuna Terms You Need to Know from Cooks Illustrated (they have great photos, too).
As for whether you should get your tuna packed in oil or water, that is a personal choice. Oil pack will give you a richer tuna salad, while water pack will give you a less caloric tuna salad. I find oil pack to be messy and difficult to drain, so I choose water pack for that reason alone.
Tuna Salad Dressing:
To give my tuna salad dressing flavor, I make sure to add in a little lemon juice to brighten it up and cut through the heaviness of the mayonnaise. I add a couple sliced green onions to add a little savory layer of flavor, and plenty of freshly cracked black pepper for a pop of flavor. They're small additions that add up to a big difference in flavor.
Add Texture:
There are several things you can add to your tuna salad to add texture (and flavor). I like to add celery and walnuts. They each have their own "brand" of crunch that really adds to the interest of the tuna salad as you chew (mushy is boring). Here are some other ingredients you can add in to your tuna salad for texture:
sunflower seeds
shredded carrots
pickle relish
shredded radish
olives
capers
dried cranberries
white beans
hard boiled eggs
How to Serve Tuna Salad
The recipe below is for the tuna salad only (not the sandwich fixings) because there are several ways you can serve tuna salad. We're all familiar with the classic tuna salad sandwich, which is often built on toast with lettuce. You could also serve your tuna salad sans-bread, over a bed of greens, as an actual salad. Sometimes I eat it with just some crackers or celery for dipping, or you can stuff it into a pita or tortilla as a wrap. Also check out my Tuna Salad Lunch Box. Lots of options, all delicious!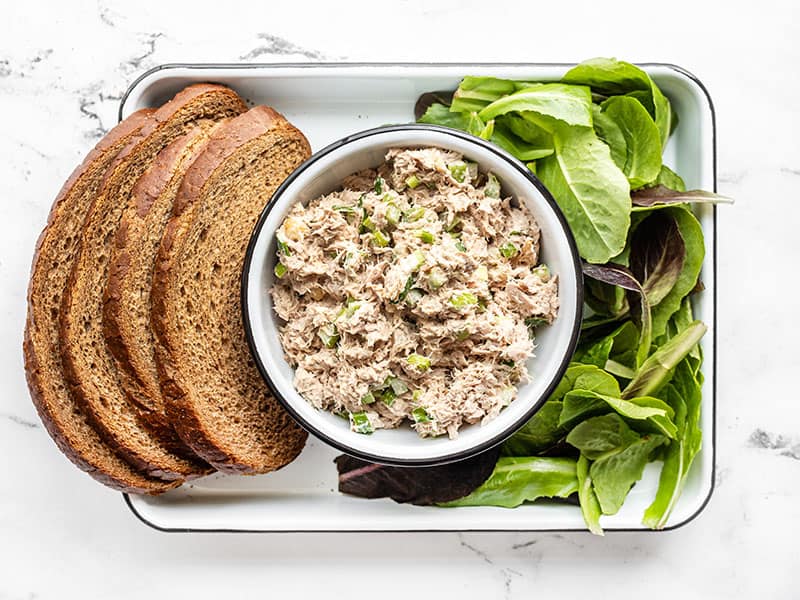 Classic Tuna Salad
Say goodbye to gloopy, bland tuna salad and hello to a delicious tuna salad packed with flavor and texture! Perfect for brown bag lunches.
Ingredients
2

12oz. cans

chunk light tuna in water

($3.98)

1

cup

diced celery (about 2 ribs)

($0.35)

1/4

cup

chopped walnuts

($0.30)

2

green onions, sliced

($0.12)

1/2

cup

mayonnaise*

($0.40)

1

Tbsp

lemon juice

($0.04)

1/4

tsp

freshly cracked black pepper

($0.02)

1/4

tsp

salt

($0.02)
Instructions
Drain the canned tuna well. Finely dice the celery, chop the walnuts, and slice the green onions.

Combine the tuna, celery, walnuts, green onions, mayonnaise, lemon juice, pepper, and salt in a bowl. Stir to combine.

Serve as a sandwich, salad over a bed of greens, or with crackers and vegetables for dipping. Refrigerate up to four days.
See how we calculate recipe costs here.
---
Notes
*I like my tuna salad a little on the "dry" side. Add more mayonnaise if desired.
Nutrition
Serving:
1
cup
Calories:
462.38
kcal
Carbohydrates:
2.85
g
Protein:
41.98
g
Fat:
31
g
Sodium:
1215.78
mg
Fiber:
4.55
g
Read our full nutrition disclaimer here.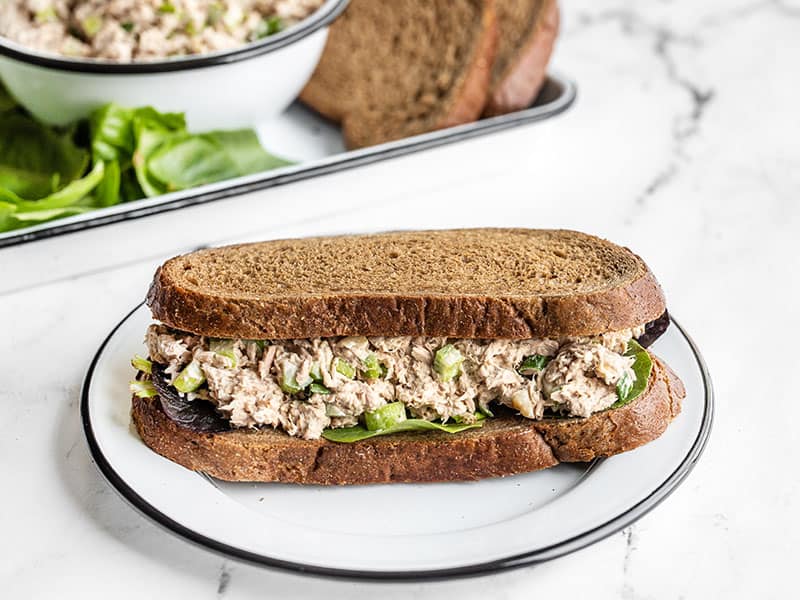 How to Make Classic Tuna Salad – Step by Step Photos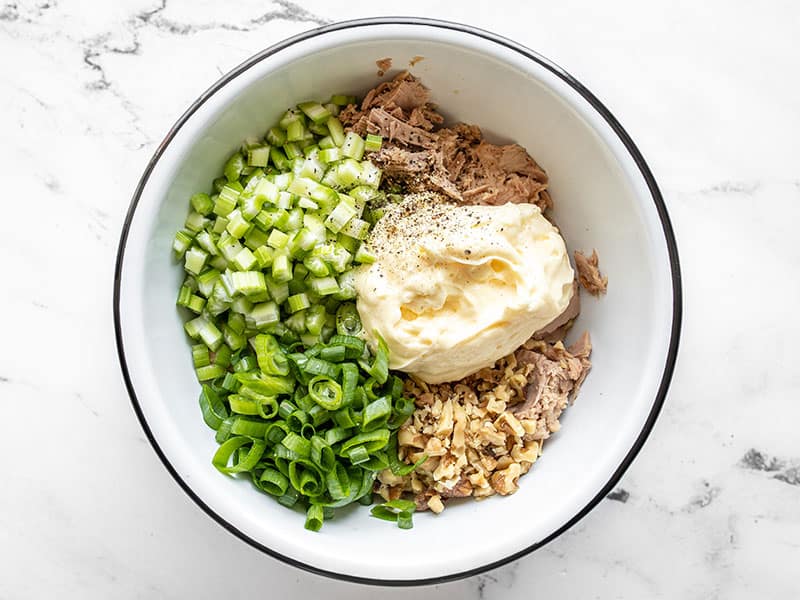 Drain two 12oz. cans of chunk light tuna in water. Finely dice about one cup of celery, chop 1/4 cup walnuts, and slice two green onions. Add the tuna, celery, walnuts, green onions to a bowl with ½ cup mayonnaise, 1 Tbsp lemon juice, ¼ tsp salt, and ¼ tsp freshly cracked black pepper.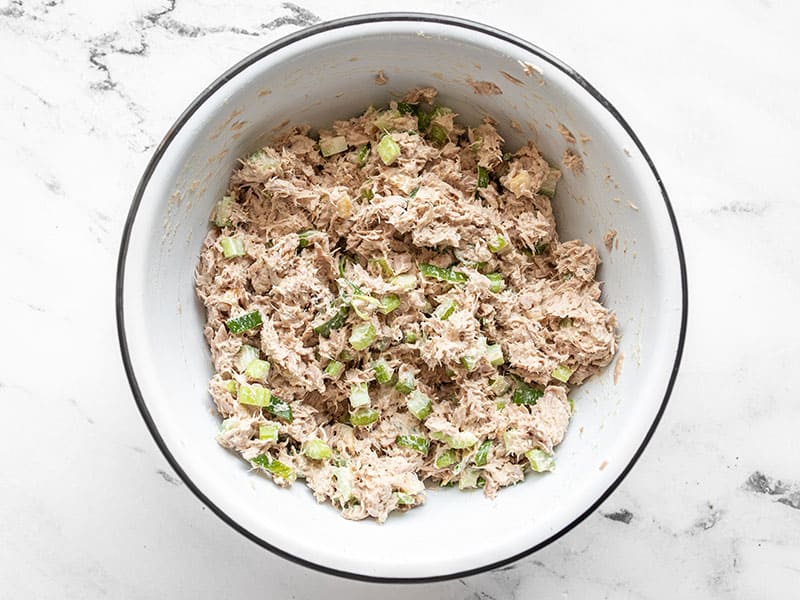 Stir the ingredients to combine, then serve, or refrigerate up to four days. I do like my tuna salad a little bit dry, so if you prefer you can always add an extra tablespoon or two of mayonnaise to make it a little "softer."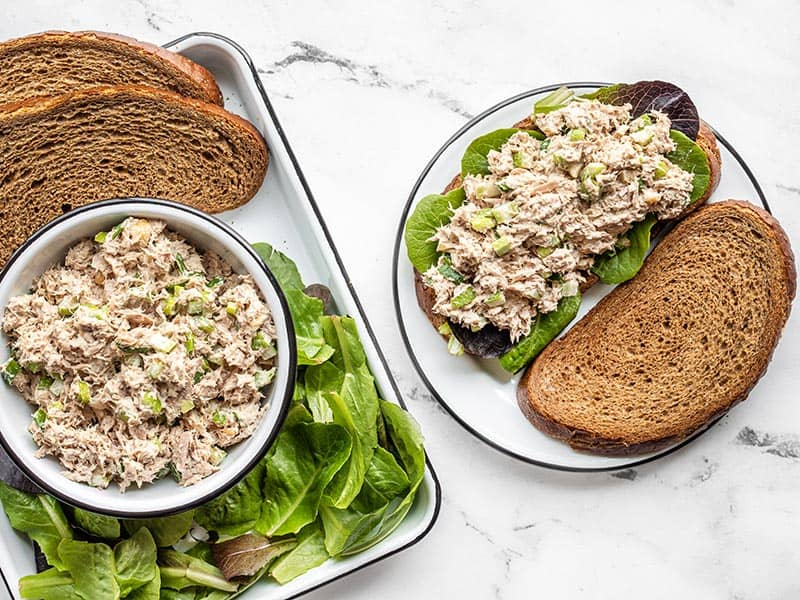 Serve your tuna salad as a sandwich, a salad (over a bed of greens), with crackers and vegetables for dipping, or stuffed into a pita or tortilla/wrap!