I'm really not one to use all sorts of fancy "health food" ingredients but strangely enough, I enjoy the flavor and texture of things like bran and flax meal. So, when I spotted a box of flax meal at the store for less than $3, I grabbed it. I love to sprinkle the stuff on my oatmeal or in my yogurt.
On the back of the box I found this recipe for apple flax muffins. I thought it looked interesting and it kind of reminded me of the morning glory muffins that I made and loved so much… except even healthier.
Well, I switched around some ingredients, made a couple of substitutions and came up with a version all my own. Flax seed contains a bunch of good fat so it wasn't necessary for any extra oil to be added to the batter. The texture of the batter is definitely different (a little stiff/gooey) and I almost thought the recipe was going to be a flop, but while they were in the oven magic happened. They puffed up and turned into delicious, light, yet hearty muffins!
After they cooled, I zipped them up tight in a freezer bag and popped them into the freezer. Now I can pull out one muffin at a time, thaw it in the microwave for 30 seconds and enjoy the yummy muffin goodness whenever I want!
Apple Flax Muffins
Apple Flax Muffins
A muffin that is truly healthy enough to be called breakfast. These apple flax muffins are chock full of fiber and not overly sweet, yet still delicious.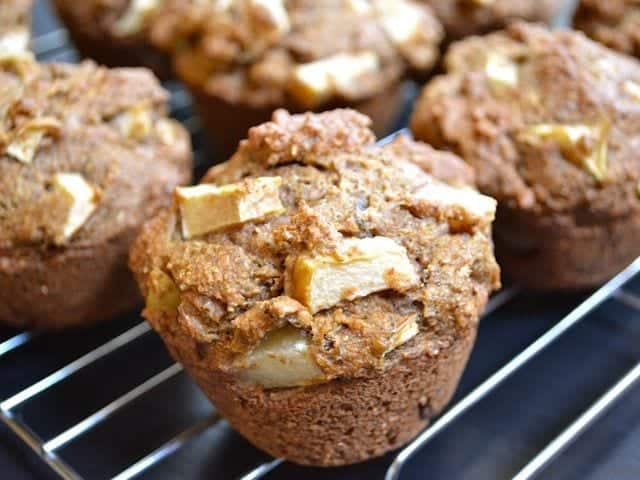 Ingredients
1 3/4

cups

whole wheat flour

($0.28)

3/4

cup

ground flaxseed

($0.27)

2

tsp

baking soda

($0.08)

1/2

tsp

baking powder

($0.02)

1/2

tsp

salt

($0.02)

1/2

tsp

cinnamon

($0.02)

1/2

cup

brown sugar

($0.16)

1

large egg

($0.18)

1/2

cup

unsweetened applesauce

($0.25)

1/2

cup

plain non-fat yogurt

($0.25)

1/2

tsp

vanilla extract

($0.14)

2

medium apples

($1.81)
Instructions
Preheat the oven to 400 degrees. In a large bowl combine the dry ingredients (flour, ground flax seed, baking soda, baking powder, salt, and cinnamon).

In a medium bowl, whisk together the wet ingredients (egg, brown sugar, yogurt, apple sauce, and vanilla). Core and chop the apples into small pieces.

Pour the wet ingredients into the bowl of dry ingredients. Stir just until combined. Fold in the chopped apples just until they are evenly distributed. Try not to over stir the mixture or else the muffins may become tough or rubbery.

Spray a muffin tin with non-stick spray or line with paper cups. Evenly distribute the muffin batter between 12 muffin cups. Bake in the preheated 400 degree oven until golden brown and a toothpick inserted in the center comes out clean (about 20-25 minutes). Remove the muffins from the tin and let cool on a wire rack.
See how we calculate recipe costs here.
---
Nutrition
Serving:
1
Serving
Calories:
164.47
kcal
Carbohydrates:
29.73
g
Protein:
4.73
g
Fat:
4.02
g
Sodium:
341.03
mg
Fiber:
4.66
g
Read our full nutrition disclaimer here.
Step By Step Photos

This is the ground flax seed that I bought. I put it on just about everything. Flax seed meal, ground flax seed and milled flax seed are all the same thing. Because of the delicate omega-3 fatty acids, it needs to be kept in the refrigerator once opened.

In a large bowl, combine the dry ingredients: flour, ground flax seed, baking powder, baking soda, salt, and cinnamon. Because of the way it dissolves, we're counting brown sugar as a wet ingredient. Oh, go ahead and start preheating the oven to 400 degrees.

In a smaller bowl, whisk together the wet ingredients: brown sugar, egg, apple sauce, yogurt, and vanilla.

It will look a little something like this.

Before you combine the wet and dry, make sure you have your apples ready. You can use any type of apple depending on how sweet you like things. I used gala apples which are a little on the sweet side, but there isn't much sugar in the batter so they worked well.

Core and chop the apples. I left the skin on but that's up to you. Next time I think I'll cut the apples a bit smaller. The long rectangles weren't that visually appealing.

Now it's time to combine the wet and dry ingredients. Pour the wet into the dry and stir just until everything is moist and then fold in the apples. Try not to over stir.

This is what my batter looked like. It was a little thick and I had to scoop it into the muffin tin rather than pouring like a regular muffin batter. I was worried, but once it was in the oven everything turned out okay.

Fill the muffin cups all the way up to the top (or just divide the batter evenly among the 12 cups). Place them in the preheated oven and bake until they're nice and brown on top (about 20-25 minutes).

I was really pleased with how well they rose once in the oven. I thought for sure the batter was too thick to yield a nice fluffy muffin but I was wrong. I guess the flax meal just creates a different texture in the batter.

Take the muffins out of the tin and allow them to cool. If left in the muffin tin to cool, steam will cause the bottoms to get soggy. Soggy muffins = sad muffins.