Hellooooo and happy Friday! I skipped the weekly recap for the week between Christmas and the New Year because it was just crazy crackers. There was so much going on between parties, holidays, and visiting family that we really didn't eat at home much. I'm considering that a "vacation" week. BUT, I started right back up on New Years Eve.
Shopping on the day before any holiday is never fun, but I had no choice but to do my weekly shop on New Years Eve. The place was insanely packed with people buying party food (or so I assume) and just when we got in line to check out the entire computer system went down for every single register (kind of gives new meaning to "POS"). I felt so bad for the store employees. It was a nightmare. They had all 15 lanes open that day and each line was 4-5 people deep, yet there was not a single "bleep!" of a scanner to be heard.
Anyway, when the computers finally started to reboot, they still weren't ringing up items correctly, so in attempt to at least start moving people through the lines, the cashier had to manually look up each item, then type in the price under a generic PLU code. So, my receipt this week is a bunch of generic line items that I hastily tried to scribble the correct item next to as soon as I got home from the store. #chaos
A couple items had the incorrect price typed in, but I'm not going to worry about it. Adding to the stress of those employees was definitely not worth 20 cents.
So anyway, let's take a look at how the plan for the week went…
What Did I Buy?
The staples I needed to replenish this week were: milk, eggs, brown sugar, garlic, and peanut butter (I put the PB last because it wasn't critical).
I planned to make a Vegetarian Shepherd's pie with my leftover potatoes from the week before, a Falafel Salad to pack in some vegetables, and a vegetable plate to snack on. I wanted to be really vegetable focused this week since the week before was so full of cookies and other heavy things. The sour cream served as a dip for the vegetables (seasoned with lemon pepper).
Just before shopping, I checked my freezer and found one last bag of Chili Rubbed Pulled Pork, which I decided to use for some really simple pulled pork bowls (more on that in the "What I Ate" section). I realized that I don't like to cook a big meal on the day that I go shopping, so pulling something from the freezer is a great option for my first day of the week. The salsa and avocado were purchased for the pulled pork bowls.
The store was out of cilantro, so I had to make a second trip a couple days later just to get that and a couple more ingredients for another last minute recipe.
As usual, I stopped at Whole Foods first to see what I could get for a good deal there, then picked up the remaining items at my local grocery store. Here are the receipts:
And photos of the grocery "haul":

I didn't get a lot at Whole Foods this week, just some eggs, bananas, an avocado (on sale, yay!), a cucumber (because the cukes at my local grocery are always terrible), and loose carrots, which are STILL on sale for only $0.79/lb.

And then I got the rest of the items at my local store. The bell peppers are for snacking. I also forgot to put the gallon of milk in this photo… so just imagine a big gallon of milk in there.

And then later in the week I had to run to the store again to pick up the cilantro for the Falafel Salad, and fresh spinach and diced tomatoes for the pasta that I decided to make last minute (although I didn't end up using the diced tomatoes).
What Did I Eat?

Just before I went grocery shopping, I found one last bag of Chili Rubbed Pulled Pork in the freezer. To make the "bowls" I made a quick pot of rice, then added the pork, some salsa, and a few slices of avocado. Super fast and easy. There was enough pork for three bowls, so that helped a lot. I used the last bit of avocado on in a pita with egg and sriracha for breakfast. My favorite! ;)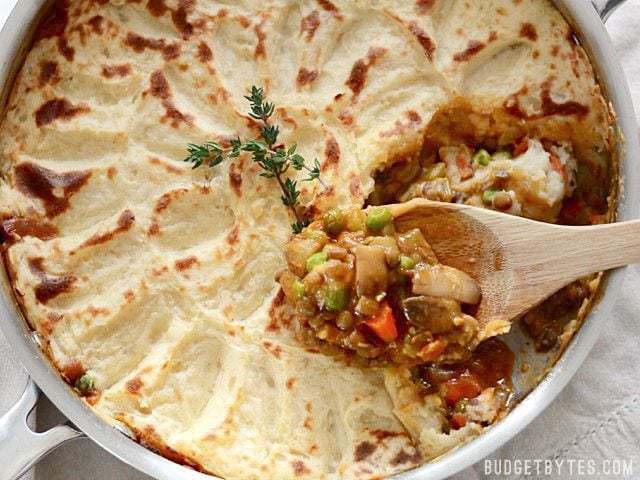 My main entrée this week was this amazing Vegetarian Shepherd's Pie. OMG it was just so satisfying and the leftovers tasted so good. Definitely a winner. This made six servings, but they were gone in no time between the two of us.

Because we went through the Shepherd's Pie so quickly, I had to think fast and make something really easy and filling. Luckily I had a couple cans of artichoke hearts in the pantry that were bought-I-don't-know-when for some freelance project and had been sitting there ever since. So I picked up a bag of baby spinach and made a batch of this 20 Minute Creamy Artichoke Pasta. It was so good and we ate it so fast that I used the second half of the bag of spinach and the second can of artichoke hearts to make another batch just a couple days later. :P (Which was good because I have a ton of pasta "remnants" in my pantry taking up space.)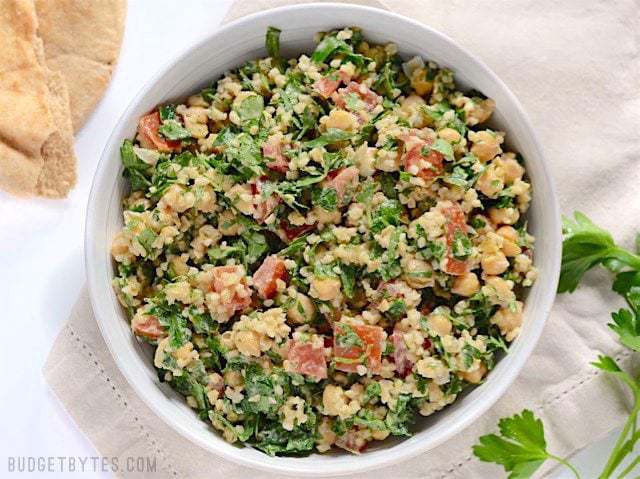 I really wanted a lot of vegetables in my menu this week, so I made a batch of Falafel Salad. I had just enough tahini left in my jar, some chickpeas in the freezer, and some dry bulgar in my pantry, so all I had to buy was the parsley, cilantro, and tomatoes.

I really enjoyed having crunchy vegetables to snack on a few weeks ago, so I decided to get some more. Nothing fancy, just carrots, bell pepper, and cucumber, all of which are usually pretty inexpensive. I bought a small 8oz. container of light sour cream and stirred in a hefty dose of lemon pepper seasoning (and a little salt). The dip is better after it sits in the fridge a bit, but it's a pretty good "quick fix" dip. That lemon pepper just needs a little time to infuse into the sour cream.
Breakfast this week was usually eggs in pita with sriracha because I finally started working out again and when I do that I always want to eat eggs constantly (not just protein, but eggs specifically). I also ate bananas as snacks, which were delicious, and I used the "wrap the stem in foil" trick to help keep them from going bad so quickly. I can't decide if it worked or if they kept longer just because it was cold in my house (finally). Either way, the bananas were a great choice.
Oh! I almost forgot, I use half the gallon of milk to make another batch of yogurt because I'm really digging the fact that I can have cheap yogurt thanks to my Instant Pot. I usually eat it with a handful of dry oats stirred in plus a little drizzle of honey or maple syrup. It's an excellent snack! …as a matter of fact, I'm going to go fix a bowl right now. ;)
P.S. A few people have asked if I have a yogurt recipe for the instant pot, but I don't. I just use the instructions that came with the machine, which isn't really a recipe.
What Didn't I Eat?
Unfortunately, I have to be honest and admit that I didn't finish all the snack vegetables. I had to toss the last bits of that today because they were no longer snack-worthy and I didn't have a fly by the seat of my pants use for the leftovers. I also didn't get through all the Falafel Salad.
Closing Thoughts
Be nice to service and retail personnel. Although the job may look easy, it can be very mentally and emotionally taxing, especially during the holidays.
-Signed a former retail/grocery/food service worker.
This post may contain affiliate links which won't change your price but will share some commission. As an Amazon Associate I earn from qualifying purchases.