So, I was sitting on my porch yesterday when my neighbor wandered up looking rather forlorn and wistful. "What's wrong?" I asked. "I'm hungry and too tired to go pick up food or make anything myself." Poor, sad panda. He works over 60 hours a week, is single (read: no girlfriend to cook for him), and is wasting away to nothing.
We've all been there – over worked and so tired and hungry that even the thought of driving down the street to pick up take-out seems too difficult. I've been there, I get emails every week from readers who have been there, but with a little planning ahead this nightmare can be avoided.
This, my friends, is why I take a few hours on my days off to stock my freezer with delicious, filling, freezer friendly, single serving meals.
While I can't be feeding every stray tom cat that wanders onto my porch, I can help teach them how to survive. So, I've decided to compile a list of my favorite top ten dishes for stocking my freezer. These are the meals that I happily reach into my freezer for when I'm the hungry, tired, sad panda. They're tasty, stand up to freezing well, and most importantly are very filling and satisfying.
Most of these recipe are pretty easy to prepare and hold up to freezing very well. Even if they require some time to cook, the hands on time is minimal so you can have them simmering away while you do other things. Once they're finished cooking, divide them into single serving, reusable containers, cool them down in the refrigerator, and then freeze. A quick zap in the microwave and you've got yourself a delicious home cooked meal.

Top 10 Freezer Meals

This recipe tops the list. It has only a few ingredients, requires very little preparation, is insanely tasty, and healthy to boot. It's easy to see why this is the number one favorite recipe of Budget Bytes readers. You will need a slow cooker, but mine was less than $25 dollars and has more than paid for itself. Do yourself a favor and get one!
2. Jambalaya

There is a reason that jambalaya has been a staple in the south for generations. It's delicious, inexpensive, and very filling! This easy jambalaya recipe uses simple, easy to find ingredients and is easy enough to whip up on a week night after work.

I love how easy these quesadillas were to make, how much they explode with flavor, and how incredibly healthy they are! This was my favorite after work snack for quite some time. I could take one straight from the freezer and warm it in a skillet until the inside is warm and melty and the outside is crispy and brown. Perfect! It was a sad day when I ate the last one!

What is more satisfying than meatballs? Not much. Slather them in a tangy teriyaki sauce, throw them on top of a bed of fragrant jasmine rice, sprinkle some fresh green onions on top, and you've got a winner. All of your coworkers will be jealous when they smell this reheating in the microwave.

This hearty soup/stew has been a reader favorite since the day it was posted (hey, wow, it was posted on my birthday!). This stew is chock full of vegetable, heart healthy lentils, and meaty sausage. Every time I make this I am pleasantly surprised with how much flavor is packed into this humble stew. I could eat it every day, forever.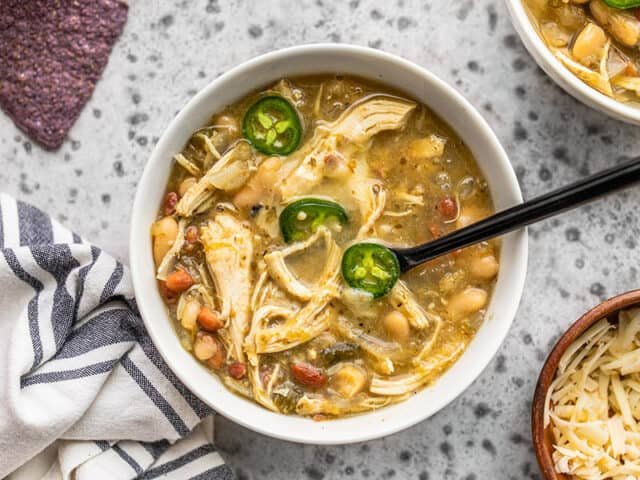 I rarely get a chance to make a recipe twice because I'm always trying to make new things for the blog. But this recipe, oh I'll make time to cook it. In fact, I've made it several times just to make sure I always have some in the freezer. There's something about it that I just can't get enough of. Plus, I love how you just put everything in the slow cooker and let it simmer for a while. Super easy!

Mmmmm, homemade sloppy joe sauce! It's way better than the can. Tangy, sweet, and made with fresh ingredients. To stretch out the cost of ground beef, I filled out these sloppy joes with some lentils – that's the "plus". So, how does this work in the freezer? Freeze sandwich sized portions of the filling, then just microwave to reheat and stuff into a fresh bun, pita, or whatever bread you have around! Coincidentally, bread and buns freeze quite well also!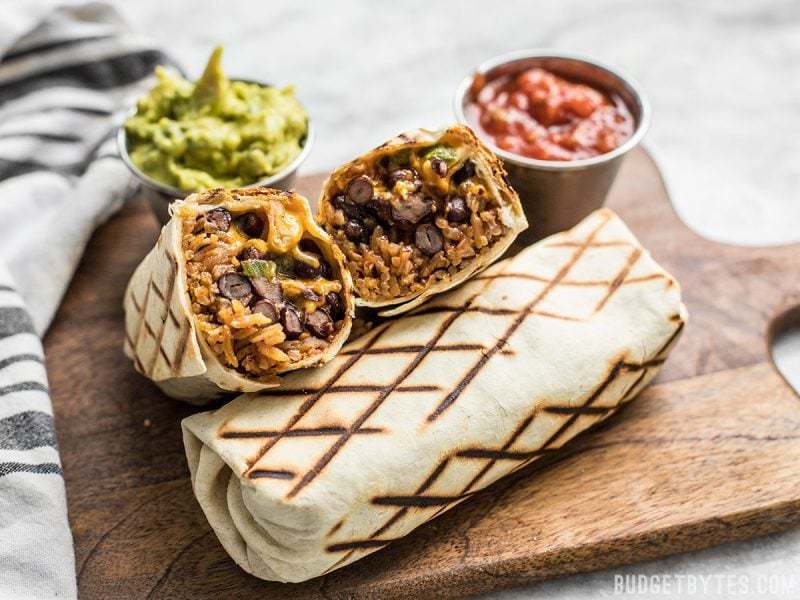 I've made a few versions of freezer burritos in the past (here are plain bean and cheese), but these were my favorite. I didn't even plan on posting the recipe (which is why I never got good pictures), but they turned out so good that I just had to. This recipe makes ten BIG burritos so your freezer will stay stocked and your tummy will stay full for quite a while!

It's tomato soup on steroids! Tomato soup is great and all, but it never fills me up. But when you add a bunch of vegetables and make the grilled cheese built right in, it does the job! It's definitely been too long since I've made a batch of this delicious soup!

I saved this one for last because it's not actually a meal, but it is a great item to have stocked in your freezer. Having homemade marinara on hand is unbelievably helpful. If you're really in a pinch, just grab a portion out of the freezer, warm it up, and pour it over some pasta. Not to mention, it can be used to make any number of casseroles and other dishes. I don't freeze mine in jars like in the picture, but in resealable plastic containers or even in quart sized freezer bags.
So there they are. My favorite things to make when I know I'm going to be busy and won't have time to cook for myself. Just a little planning ahead and you won't wilt away to nothingness out of hunger and desperation!
;)