I'm a firm believer that side dishes should be kept simple. I like my main dish to be the star of the show, and who wants to make dinner any more complicated than it needs to be? Keep it simple. So, when I was contemplating a side for my Lemon Pepper Chicken with Orzo this week, I knew I wanted something simple and fresh. This Simple Tomato Cucumber Salad, one of my favorite summer salads, was a perfect match. The light and bright flavors of fresh tomato and cucumber perfectly contrast the deep simmered flavors of the Lemon Pepper Chicken with Orzo.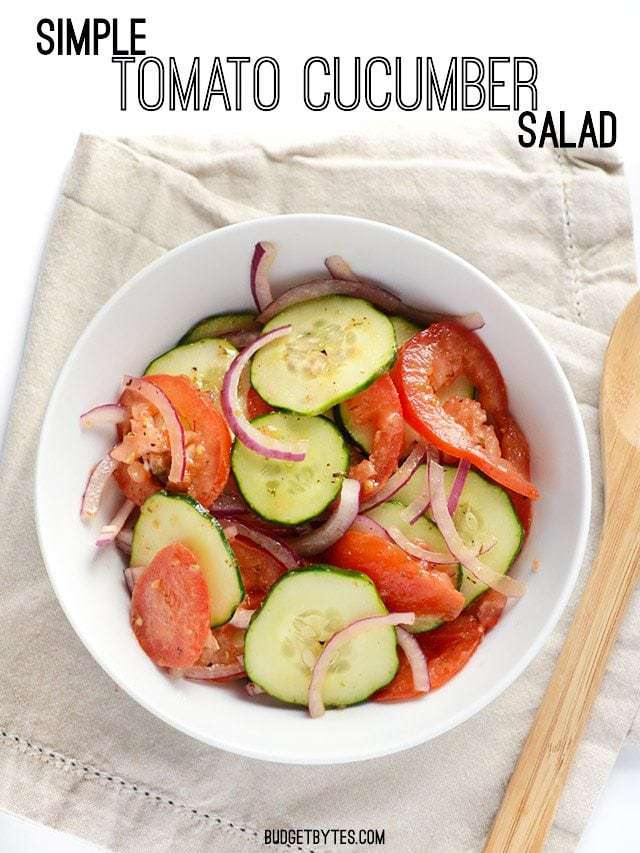 Other Salad Add-Ins & Variations
I love showcasing very "basic" recipes like this for the new cooks in my audience. Why are simple recipes like this great? Because they're SO easy to build on! The salad presented below is bare bones and, while delicious as is, can be taken to the next level with any number of add-ins. Try these delicious variations:
Make it creamy! Creamy Cucumber Salad is a summer classic and the simple creamy dressing is a breeze to make.
Give it a Greek flare with some feta, olives, or even toasted pieces of pita bread (Panzanella style!) to soak up that delicious dressing.
If you're feeling adventurous, try adding some cubed watermelon for a nice sweet-salty contrast.
Got fresh herbs? Toss them in there.
And of course, you can customize the dressing by using different kinds of vinegar or lemon juice, infused oils, or by adding fresh garlic.
Learning a basic recipe like this is the first step toward getting creative in the kitchen.
So back to the basic formula…
Cucumber Tomato and Onion Salad
Take advantage of summer's fresh produce with this super Simple Tomato Cucumber Salad. With endless ways to customize, this recipe is a must have.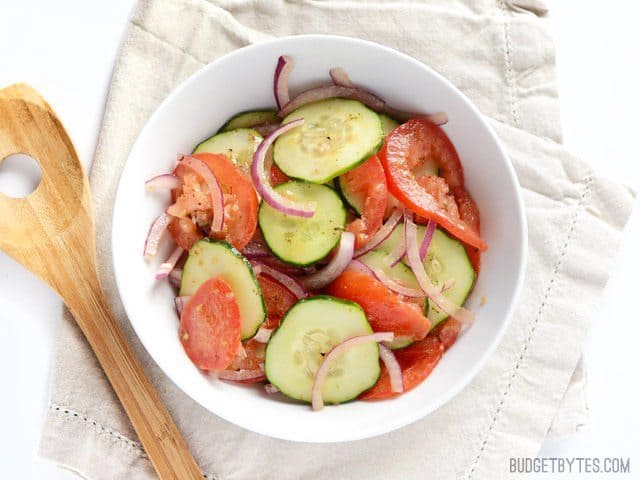 Ingredients
SALAD
4

Roma tomatoes (or two medium tomatoes)

($1.48)

1

cucumber

($0.34)

1/2

red onion

($0.36)
Instructions
Whisk together the olive oil, red wine vinegar, oregano, salt, and some freshly cracked pepper in a bowl, or combine them in a jar and shake until mixed. Set the dressing aside to allow the flavors to blend.

Thinly slice* the tomato, cucumber, and red onion. Place them in a large bowl.

Pour the dressing over the sliced vegetables and toss to coat. Serve immediately, or refrigerate until ready to eat. The onions will become more mild as they marinate in the dressing.
See how we calculate recipe costs here.
---
Notes
*The vegetables can be cut into small chunks if preferred.
Nutrition
Serving:
1
Serving
Calories:
142.65
kcal
Carbohydrates:
4.7
g
Protein:
1
g
Fat:
13.73
g
Sodium:
360.48
mg
Fiber:
1.48
g
Read our full nutrition disclaimer here.
How to Make A Tomato Cucumber Salad – Step by Step Photos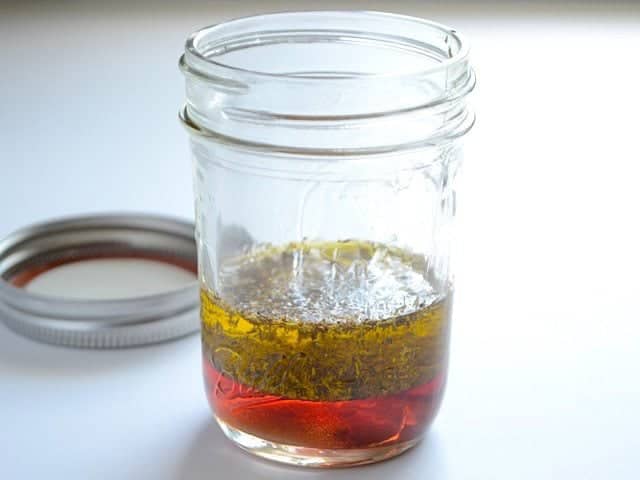 Begin by making the dressing to allow the flavors a little time to blend. In a small bowl or jar, combine 1/4 cup olive oil, 2 Tbsp red wine vinegar, 1 tsp dried oregano, 1/2 tsp salt, and some freshly cracked pepper. You can customize this dressing by adding some fresh minced garlic, changing up the dried herbs, or even using a different type of vinegar. I wanted this salad to have a REALLY light and fresh flavor, so I kept the ingredients simple and didn't complicate the flavors.
Shake or whisk the ingredients until combined. This very simple dressing does not contain an emulsifying agent, so it will begin to separate as it sits. That's quite alright. It will still taste great once it's coating the vegetables. Give the dressing a taste and add more salt, pepper, or herbs, if necessary. If the dressing is too bitter or tart for your liking, you can always add a 1/4 tsp sugar to help mellow it out (I like my dressing to have a bite).
I try to get equal amounts of tomato and cucumber, with about half as much onion. So, I used 4 Roma tomatoes (because they were the best deal at the store that day), one cucumber, and half of a small red onion. Thinly slice the cucumber, tomaotes, and onion, and place them in a bowl (you can cut them into a large dice if that's easier).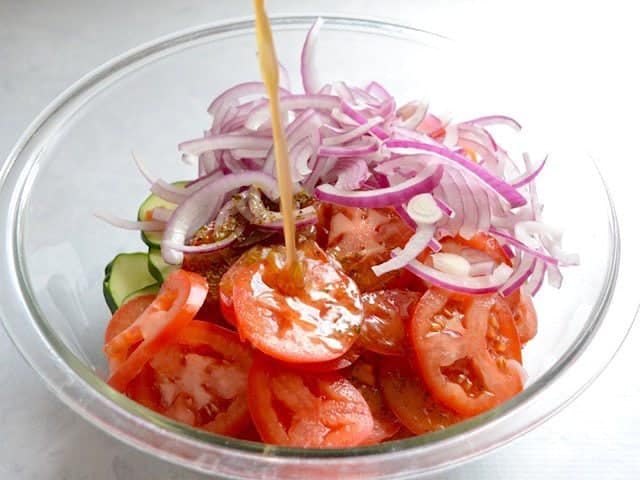 Give the dressing a quick stir or shake, then pour it over the vegetables.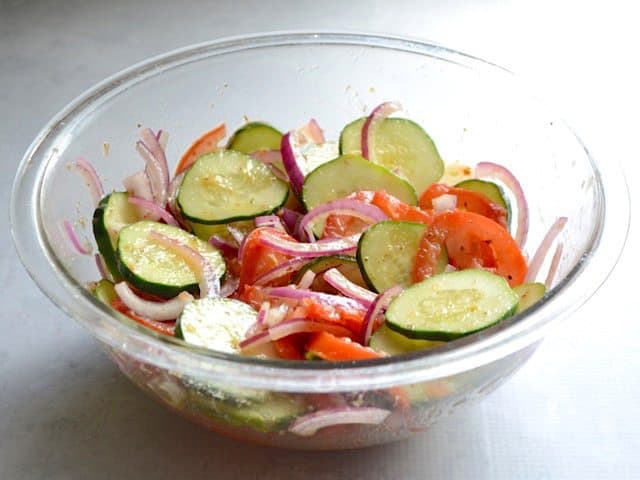 Then toss until everything is coated in the dressing. All done! You can serve it immediately, or refrigerate it for later. I find that the onions tend to mellow out a bit as they marinate in the dressing. So, if you have a hard time with fresh onions, making this ahead of time may help.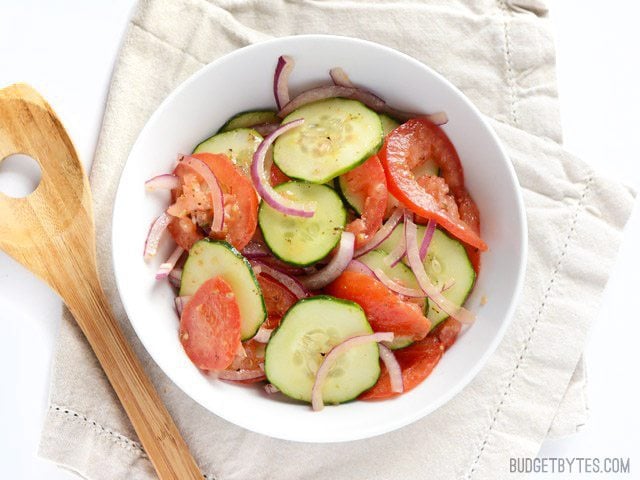 Simple Tomato Cucumber Salad — the BEST summer salad!!