I saw this recipe that Gonna Want Seconds had posted to Tastespotting recently and I knew that I needed to make them soon. My mom used to make lemon bars for us growing up and they have been one of my favorites ever since. The addition of coconut is just like icing on top of the already-there-icing on the cake! I never made lemon bars before because I had this crazy idea that they were time consuming and complex to make. Wow, I was really really wrong. These bars came together in a matter of minutes (minus the baking time) and only used a few ingredients. The only problem with these lemon coconut bars is that I keep eating them… even though my stomach says to stop!
I made one change from the Gonna Want Seconds version, I only used 1/2 cup of butter rather than 3/4 cup. They still turned out perfect so I guess I'm glad I was too lazy to open up another stick of butter!
Lemon Coconut Bars
Lemon Coconut Bars
It's the perfect combination of sweet and sour. Lemon coconut bars are a classic treat.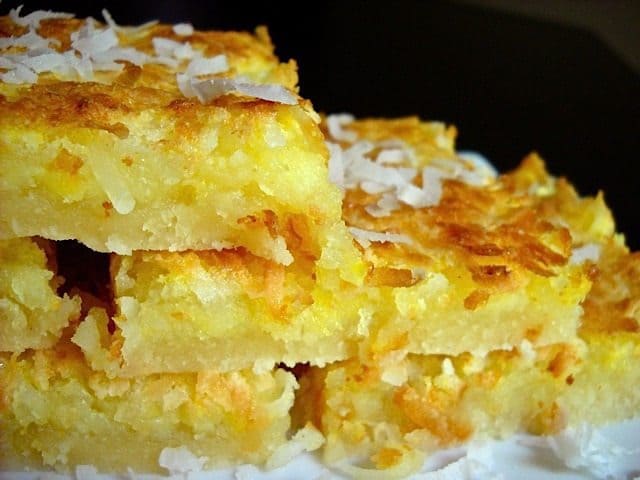 Ingredients
1 1/2

cups

all-purpose flour

($0.12)

1/2

cup

powdered sugar

($0.09)

1/2

cup

butter

($0.40)

4

large eggs

($0.67)

1 1/2

cups

granulated sugar

($0.27)

1/2

cup

lemon juice

($0.43)

1

tsp

baking powder

($0.02)

3/4

cup

shredded coconut

($0.38)
Instructions
Preheat your oven to 350 degrees. In a medium bowl, combine the flour and powdered sugar. Mix until evenly combined. Using a food processor, blend in the butter until the mixture has small granules the size of peas. If you do not have a processor (I don't), let the butter come to room temperature and then just work it into the flour mixture with your hands. I like to call this technique "smearing it in" (yes, I made that up). See the photos below for what it should look like when thoroughly mixed.

Lightly spray a 9×13 inch glass casserole dish with non-stick spray. Pour the flour/butter/sugar mixture evenly into the dish and press it down with your hands until it is compacted. Bake for 15 minutes.

While the crust is baking, combine the eggs, granulated sugar, lemon juice and baking powder in a bowl (I used the same bowl). Mix it well until the sugar is dissolved. The baking powder will react with the acidic lemon juice and begin to foam, don't worry.

When the crust is finished baking, quickly re-whisk the filling then pour it over the crust. Sprinkle the shredded coconut on top and bake the whole thing for 20 more minutes or until it is golden brown on top. Let cool for 10 minutes before slicing.
See how we calculate recipe costs here.
---
---
Nutrition
Serving:
1
Serving
Calories:
232.56
kcal
Carbohydrates:
35.22
g
Protein:
3.19
g
Fat:
9.3
g
Sodium:
102.77
mg
Fiber:
0.57
g
Read our full nutrition disclaimer here.
Step By Step Photos

This is what your crust mix should look like after you have worked the butter into the flour and sugar. Kinda sandy looking with small clumps.

Pour the crust mixture evenly over the bottom of your glass dish and then press it down with your fingers until it is very compact. Bake the crust for 15 minutes at 350 degrees.

While the crust is baking, whisk together the eggs, lemon juice, granulated sugar and baking powder.

It will be this nice lemony, frothy liquid when you're done mixing. Pour this over the crust when it finishes baking, sprinkle the shredded coconut on top then bake for about 20 minutes.

Take it out of the oven when it is nice and golden brown on top. Let cool before slicing or else it will stick all over your knife and you won't be able to get nice clean squares.
So I either paid way too much for flour last time I bought it or I seriously miscalculated because today, I bought a 5 lb. bag for $1.50 which comes to only $0.12 for the 1.5 cups used in this recipe. When I made my Lemon Ricotta Cookies, I calculated $1.08 for 2 cups of flour. I don't remember where I bought that other bag of flour but it must have been a serious rip off!