Okay guys, I thought I'd do something a little more all-American, comfort food style for this week's meal prep. This Garden Vegetable Turkey Loaf Meal prep contains my veggie-packed Mini Garden Vegetable Turkey Loaves, my new favorite Skillet Mac and Cheese, and some simple green beans with butter, salt, and pepper. It's a classic combo that you'll look forward to eating each day. And let me tell you, I didn't realize how amazingly delicious the ketchup glaze on the loaves would be when paired with the sharp cheddar mac. OMG. It is like heaven.
The other great thing about this combo is that because the two side dishes are really fast and easy to make, I was able to clean up my dishes AND prepare the two sides while the turkey loaves were in the oven. The Mini Garden Turkey Loaves do take some work with all the vegetable prep, but once they're in the oven you can multi-task and have the whole meal done in by the time they're finished baking. Oh, and if you have a food processor, you can have the vegetables shredded in about 30 seconds using the processors shredding attachment and save a LOT of work. 👍
If you're not into mac and cheese another option for a side dish for these little mini Garden Vegetable Turkey Loaves is Spinach and Feta Mashed Potatoes. That's what I paired the loaves with the first time I made them and it was great!
For more information about meal prepping, how it works, and why I do it, check out Meal Prep 101: A Beginner's Guide to Prepping and Portioning Meals, or check out my entire Budget-Friendly Meal Prep Archive.
Garden Vegetable Turkey Loaf Meal Prep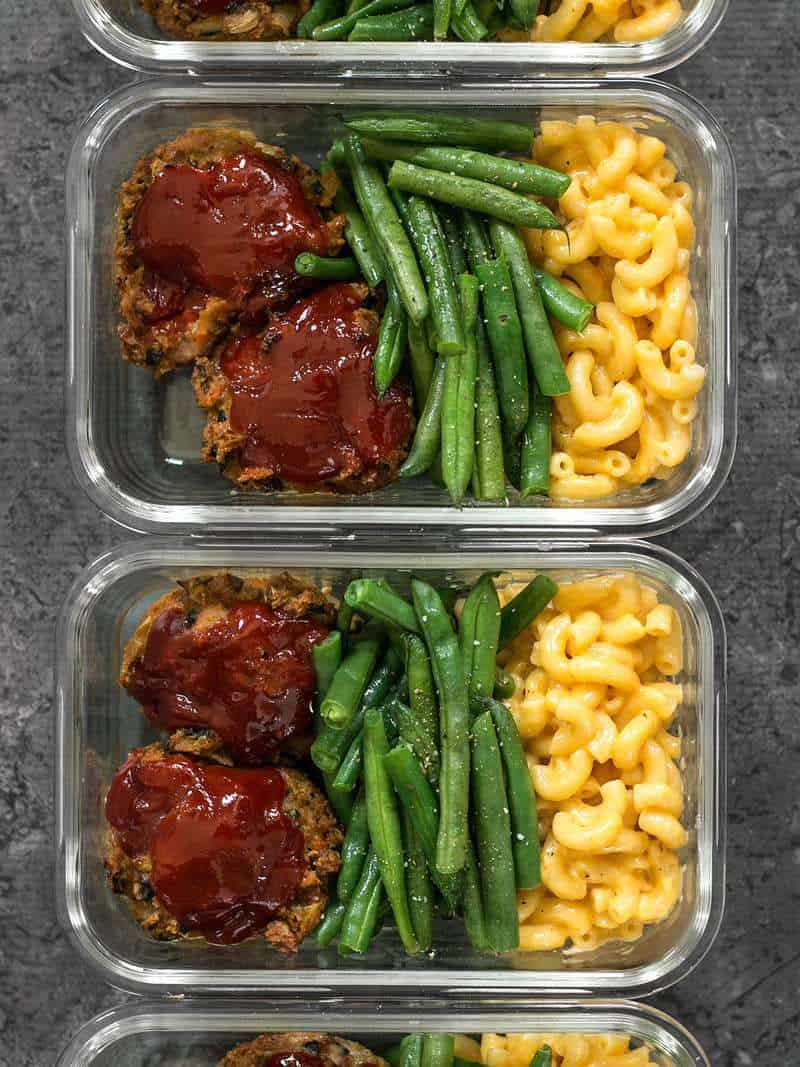 These containers look small, but they're quite deep. There is quite a bit of food packed in there.
This Meal Prep Includes:
8 Mini Garden Vegetable Turkey Loaves (2 per box): $6.29
1 Recipe Skillet Mac and Cheese: $2.59
1 lb. Green Beans + 1 Tbsp butter + Salt & Pepper: $2.33
Total Cost: $11.21
Cost Per Meal: $2.80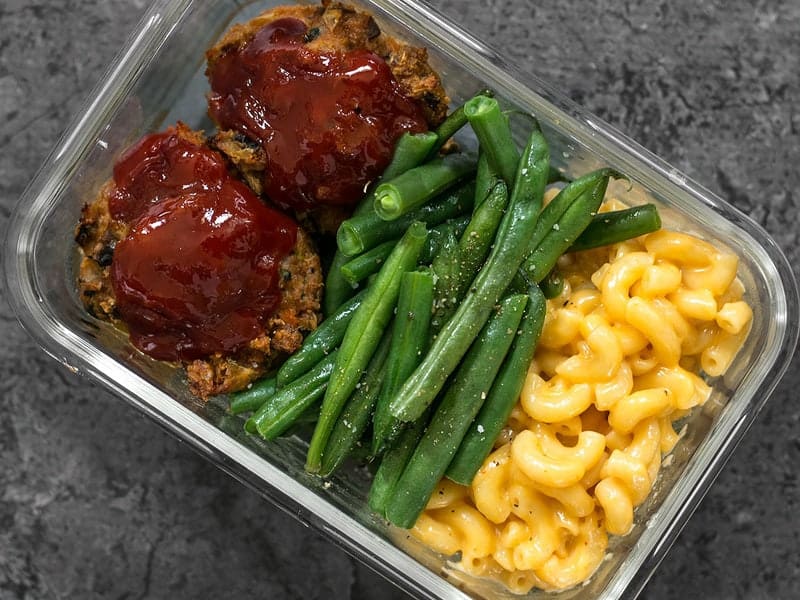 Notes:
The recipe for the Mini Garden Vegetable Turkey Loaves makes 12 mini-loaves. These little guys are freezable, so you can freeze the extra four, or if you have a big appetite, give each meal box three little loaves.
The recipe for the Skillet Mac and Cheese is listed as two servings, but those are HUGE servings. I easily had enough for four side dishes.
I cooked the green beans by placing them in a pot with about one inch of water. Place a lid on the pot and turn the heat on to medium-high. Let the water boil and steam the beans just until they become slightly tender. Keep them slightly under cooked so they do not over cook when you reheat your boxes. Drain the water, add the butter, stir, and then top with salt and pepper.
If you don't like your food touching, consider using a divided container, like these.
Go ahead, make your coworkers jealous. ;)
This post may contain affiliate links which won't change your price but will share some commission.