It's hot outside. Like molten hot, and that calls for some cold, no-heat meal prep ideas! I'm all about huge salads full of yummies that are filling and totally meal-worthy. Cobb salad is a classic "meal salad" and is perfect for meal prepping, since it has a ton of low-moisture ingredients, which helps keep lettuce wilting to a minimum. And with the proper layering technique, this Cobb Salad Meal Prep will stay fresh and delicious for days.
For more information about meal prepping, how it works, and why I do it, check out Meal Prep 101: A Beginner's Guide to Prepping and Portioning Meals, or check out my entire Budget-Friendly Meal Prep Archive.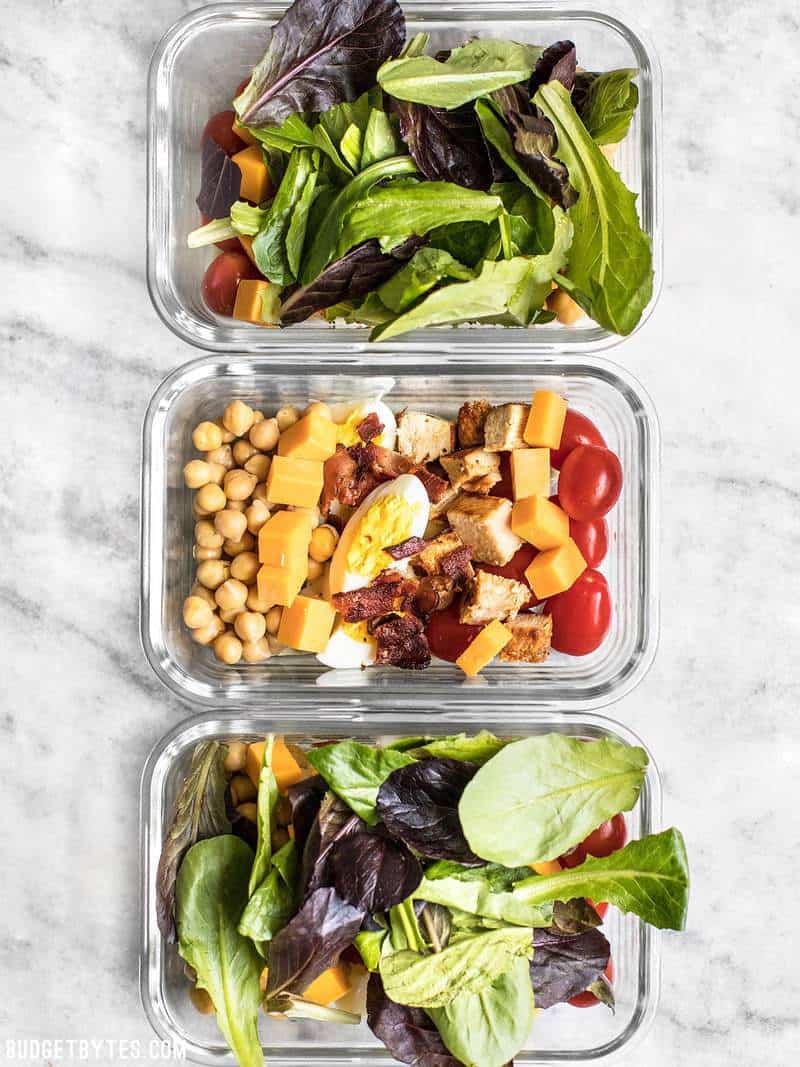 It's All About The Layers
Have you guys noticed that huge "salad in a jar" trend that happened a few years back? Well, that trend took off not just because people are obsessed with mason jars, but because of the special layering technique that prevents your pre-packed salad from wilting within 24 hours. The technique is this: wettest and heaviest ingredients on the bottom, lightest and most delicate ingredients on top. This keeps your lettuce hydrated, but not squashed or too wet, and your salad stays beautiful for daaayyyys. Well, this same technique translates perfectly to larger, more salad-appropriate containers too.
Ingredient Options
Romaine is the classic green used for Cobb salad, but I find that once washed and chopped it wilts a little fast, so I switched it out for some baby romaine that doesn't need to be cut and comes already triple washed and dried. Too much water on your greens will make them wilt FAST, so if you do wash and chop your own, make sure to dry them well, either with a salad spinner or by patting them dry with a lint-free towel.
If you don't want to cook and chop your own chicken, you can sub store-bought rotisserie chicken, or even sliced deli meat.
Cobb salad usually has avocado in it, but I wanted to keep costs down and a lot of people aren't a fan of pre-packing sliced avocado due to the browning, so I opted for a creamy avocado dressing for my salad, but feel free to use whatever dressing you like best. To stay in the Cobb theme, I'd choose something creamy, like ranch, blue cheese, or even a creamy Caesar.
Cobb Salad Meal Prep
The special layering technique and low-moisture ingredients keep this Cobb Salad Meal Prep fresh and beautiful for days!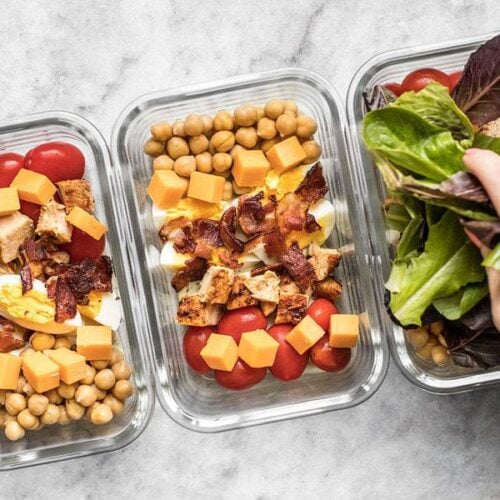 Ingredients
1

boneless, skinless chicken breast* (about 2/3 lb.)

($2.00)

1

pinch

salt and pepper

($0.05)

1/2

tsp

smoked paprika (optional)

($0.05)

1

Tbsp

cooking oil

($0.04)

4

large

eggs

($0.93)

4

slices

bacon

($1.00)

1

15oz. can

chickpeas, rinsed and drained

($0.55)

1

pint

grape tomatoes

($1.99)

4

oz.

cheddar (cubed or shredded)

($0.75)

2

oz.

spring mix or baby romaine*

($2.00)

1/2

cup

salad dressing*

($0.71)
Instructions
Cook the chicken first, to ensure it has time to cool before you build your salads. Warm chicken will cause the greens to wilt prematurely. Cover the chicken with plastic, then pound with a rolling pin until it an even thickness. This will help the breast cook evenly. Season both sides of the chicken breast with salt, pepper, and smoked paprika.

Heat 1 Tbsp cooking oil in a skillet over medium heat, then swirl to coat the surface of the skillet in oil. Add the chicken to the skillet and cook on each side for 5-7 minutes, or until it is well browned on the outside and cooked through. Transfer the chicken to a clean cutting board, let it rest for five minutes, then dice it into small pieces. Place the chopped chicken in a bowl and refrigerate while you prepare the rest of the ingredients.

Add one inch of water in a pot, place a lid on top, then bring to a boil over high heat. Place four large eggs in a steaming basket, and once the water is boiling, carefully lower the basket into the pot. Replace the lid on top and allow the eggs to steam for 12 minutes. After 12 minutes, transfer the steaming basket and eggs to a bowl full of ice water to cool.

Place four slices of bacon in a skillet and cook over medium heat until brown and crispy (I used the same skillet that was used for the chicken). Once fully browned, transfer to a paper towel covered plate to drain.

To build the salads: Place 2 Tbsp dressing on the bottom of your container. Next, layer the chickpeas, tomatoes, and chopped chicken. Peel the eggs, slice or cut them into quarters, and add them to the dish. Crumble the bacon over top, followed by the cheese. Lastly, place a couple handfuls of fresh greens on top. Be sure not to pack it too tightly. Allowing air-flow will help keep the greens fresh.

The salads will keep about four days (depending on your specific ingredients, containers, and refrigerator environment). To serve, simply stir the salad or shake the closed container to distribute the dressing throughout.
See how we calculate recipe costs here.
---
---
Notes
*See the paragraphs above for substitution options for the ingredients marked.
Nutrition
Serving:
1
Serving
Calories:
689.28
kcal
Carbohydrates:
31.78
g
Protein:
42.43
g
Fat:
43.65
g
Sodium:
1173.35
mg
Fiber:
8.75
g
Read our full nutrition disclaimer here.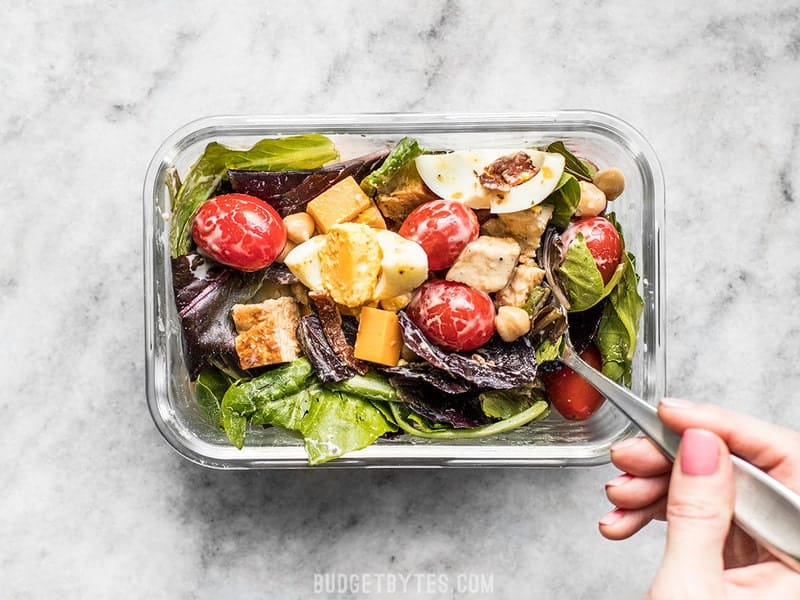 How to Make Cobb Salad Meal Prep – Step by Step Photos
Cook the chicken first so it has time to cool before you assemble your salads. Warm chicken will essentially steam and wilt your greens, so it needs to be chilled when you build your salads. Cover your chicken breast with plastic, then pound it out to an even thickness (with a rolling pin) to help it cook more evenly. Season the chicken with a pinch of salt, pepper, and smoked paprika.
Add a tablespoon of cooking oil to a skillet and heat over medium. Once hot, swirl the oil to coat the skillet, then add the chicken. Cook it on each side for about 5-7 minutes, or until it's well browned on the outside and cooked through. Transfer the cooked chicken to a clean cutting board, let it rest for 5 minutes, then dice it into small pieces. Once diced, place it in a bowl and transfer to the refrigerator to cool.
Next, cook your eggs. If you have a method for hard-boiling that you usually use, go ahead and do that, but I prefer to steam them. Add 1 inch of water to a pot, place a lid on top, and bring it to a boil over high heat. Once boiling, carefully lower a steaming basket with 4 eggs into the pot. Place the lid back on top and let it steam over the boiling water for 12 minutes. Then, immediately transfer to a bowl of ice water to stop cooking and cool the eggs.
Next, cook four strips of bacon (I froze the rest). There is no special technique here. I just added them to the same skillet that I used for the chicken to prevent having to dirty another dish, then cooked over medium until they were brown (flip the pieces as needed). A splatter screen is incredibly helpful, too.
Now, it's finally time to build your salads! The order in which you layer the ingredients is VERY important. Dressing goes on the BOTTOM to keep the lettuce from getting wet. I used 2 Tbsp dressing per salad. Next, add some grape tomatoes…
The chopped chicken, one egg for each container… (you can either slice or quarter the eggs)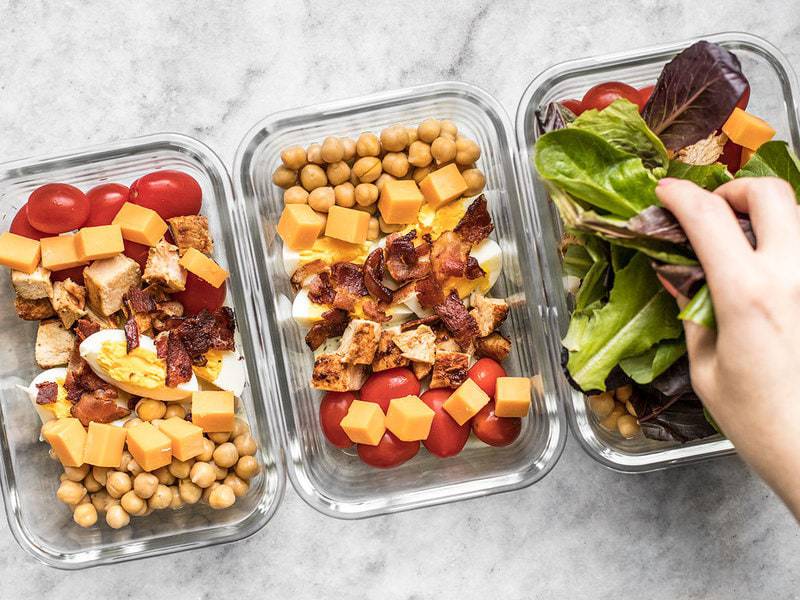 Also add the rinsed and drained chickpeas, about 1 oz. cheddar per container (diced or shredded), one slice of bacon crumbled on top, and FINALLY the lettuce goes on the very top! You want to use a pretty roomy container for this so the lettuce doesn't get smooshed really tightly inside. Giving it a little room for air to circulate also helps keep it from wilting faster than normal.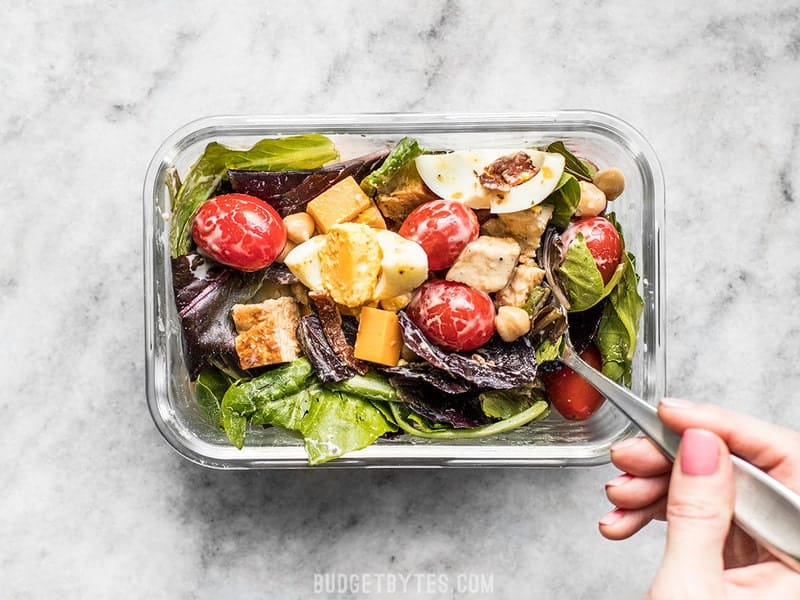 And that's it! When you're ready to eat you just stir it up or shake up the closed container to distribute the dressing. The salads stay fresh for about 4 days, but of course this can vary. Enjoy you Cobb Salad Meal Prep!