I'm continuing my quest to use up items in my pantry and freezer, which led to this delicious Blacked Tilapia. A while back I bought a bag of 12 individually wrapped tilapia filets for $9.99. I've made a couple batches of Baked Tilapia with Tomatoes (YUM!), but wasn't quite sure how to use the rest. Then it hit me. When in doubt, add spices!
"Blackened" fish or meat isn't burned. It's "black" because it's coated heavily in spices, which turn dark when cooked in a skillet with butter. The process is super simple and adds a LOT of flavor. You really can't go wrong with that formula. I used my left over tilapia here, but this will also work well with chicken. Just be sure to pound your chicken into thin filets so that it cooks quickly in the skillet before the outside has an opportunity to burn.
I paired this awesomely spiced fish with my Sautéed Corn and Tomatoes. They're a perfect pair. Perfect for summer cookouts and perfect for Father's Day!
Blackened Tilapia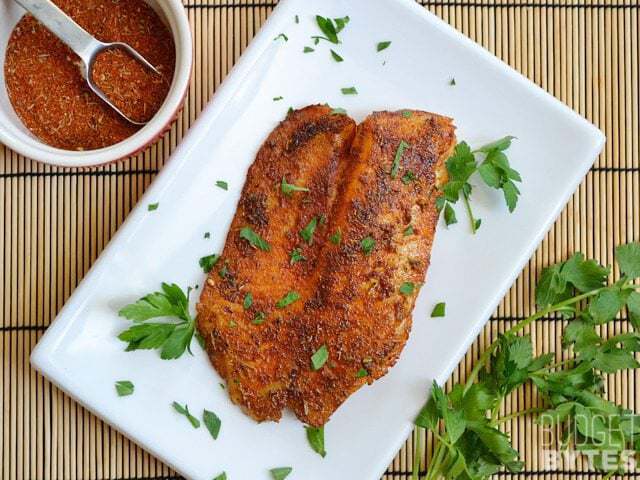 Pictured with parsley for color. Parsley not needed to achieve amazing flavor. It's amazing all by its wonderful self.


Blackened Tilapia
Blackened Tilapia means big flavor with little effort. This homemade blend of spices is sure to wow and the fish cooks in just minutes in a hot skillet.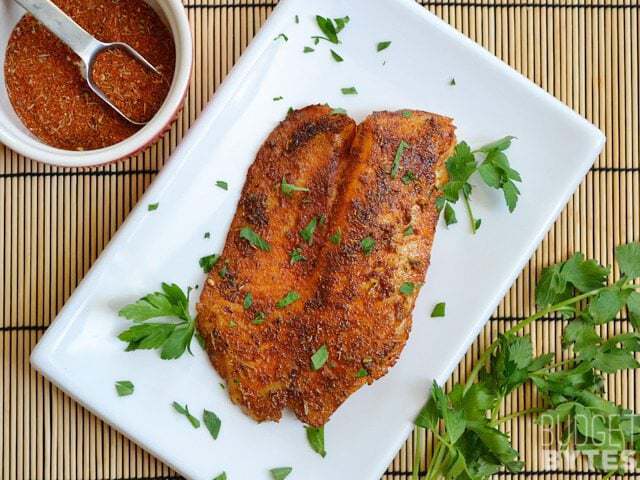 Ingredients
1

Tbsp

smoked paprika

($0.30)

1

tsp

cumin

($0.10)

1

tsp

thyme

($0.10)

1

tsp

oregano

($0.10)

1/4

tsp

cayenne pepper

($0.02)

1/4

tsp

garlic powder

($0.02)

1/4

tsp

salt

($0.02)

Freshly cracked pepper, about 20 cranks of a pepper mill

($0.05)

1

Tbsp

butter

($0.15)

4- 4 oz each

tilapia filets

($3.33)
Instructions
In a small bowl, combine the paprika, cumin, thyme, oregano, cayenne, garlic, salt, and pepper. Liberally coat both sides of each tilapia filet with the spices. The moisture from the filet will help the spices adhere. If the fish is very wet, pat it dry with a paper towel before beginning, so that it is just damp.

Melt 1 Tbsp of butter in a skillet over medium heat until it begins to foam. Add two of the fish filets at a time and cook for about two minutes on each side, or until the spices have turned a deep burgundy color and the fish is cooked through. Repeat with the second two filets, adding more butter before beginning, if needed. Serve hot.
See how we calculate recipe costs here.
---
Notes
If smoked paprika is not available, spicy or sweet paprika may be used in its place.
If you prefer a spicier fish, increase the cayenne pepper to 1/2 tsp.
Nutrition
Serving:
1
Serving
Calories:
143.45
kcal
Carbohydrates:
1.9
g
Protein:
23.1
g
Fat:
5.23
g
Sodium:
291.33
mg
Fiber:
1.03
g
Read our full nutrition disclaimer here.
Pictured with Sautéed Corn and Tomatoes.
Step by Step Photos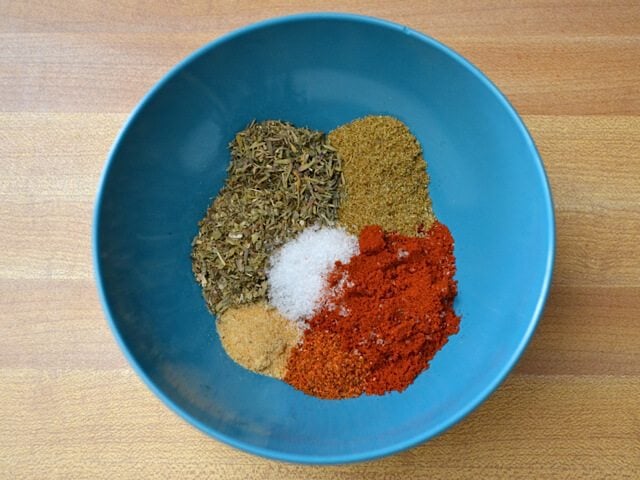 First mix together the spices for the Blackened Seasoning. In a small bowl combine 1 Tbsp smoked paprika, 1 tsp cumin, 1 tsp oregano, 1 tsp thyme, 1/4 tsp cayenne pepper, 1/4 tsp garlic powder, 1/4 tsp salt, and about 20 cranks of a pepper mill. Smoked paprika adds an amazing smoky element to this, but if you don't have that you can use regular paprika. If you want a spicier fish, increase the amount of cayenne pepper. You can test the spiciness after it is mixed together and add more as needed.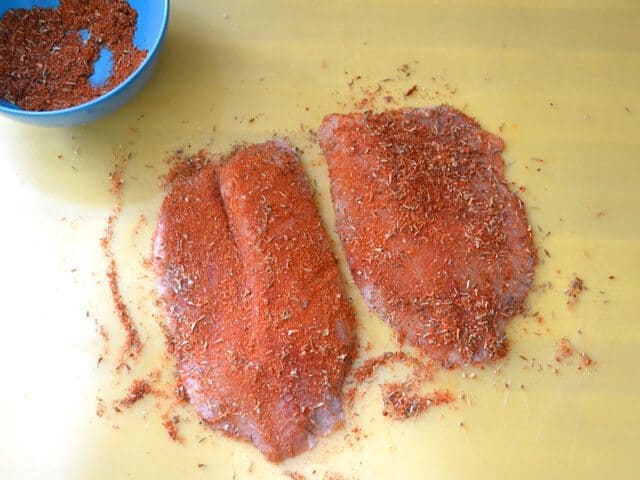 If your fish is really wet, dry it off slightly with a paper towel. You want it to be damp so that the spices will adhere, but not dripping wet. Coat both sides of the filets liberally with the spice mix. This spice mix is enough for about four 4-oz. filets.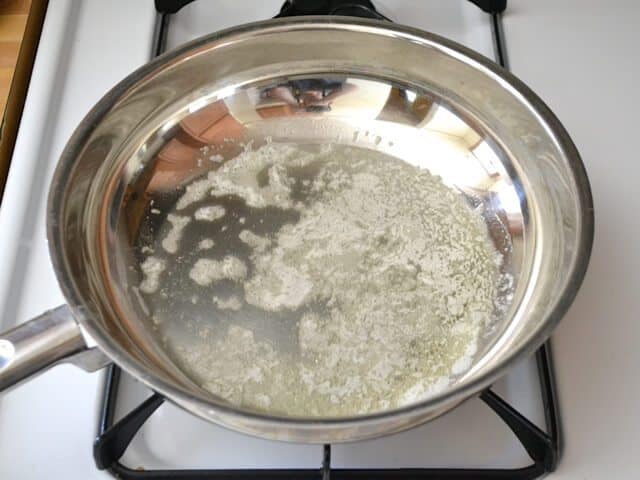 Melt 1 Tbsp of butter in a skillet over medium heat until it is foamy. If the butter begins to turn brown, take it off the heat immediately! Burned butter is the last thing you want. A little tan is okay, but if it begins to brown before the fish is even added, it will likely go too far and burn while the fish is cooking.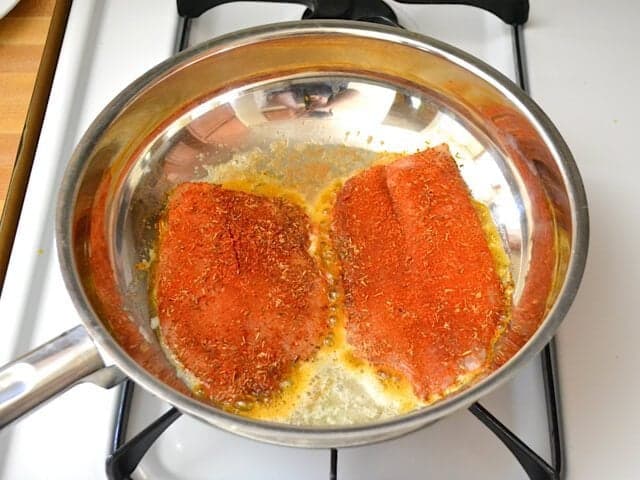 Add two filets at a time to the skillet. It should sizzle a bit. Let the fish cook for about two minutes on each side. Flip carefully with a spatula.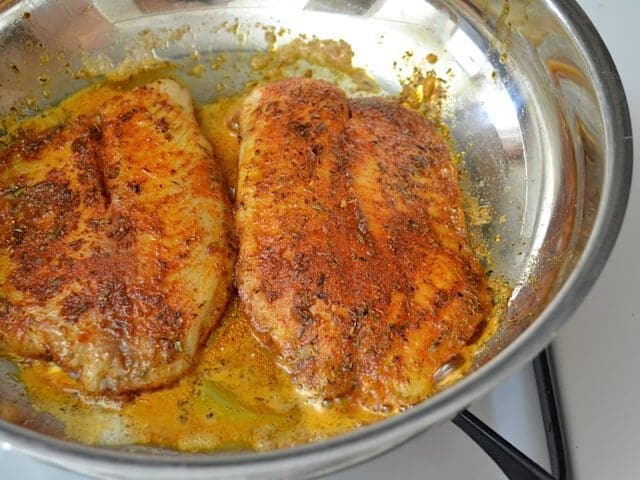 See how the spices turn a really nice dark brown color? Beautiful.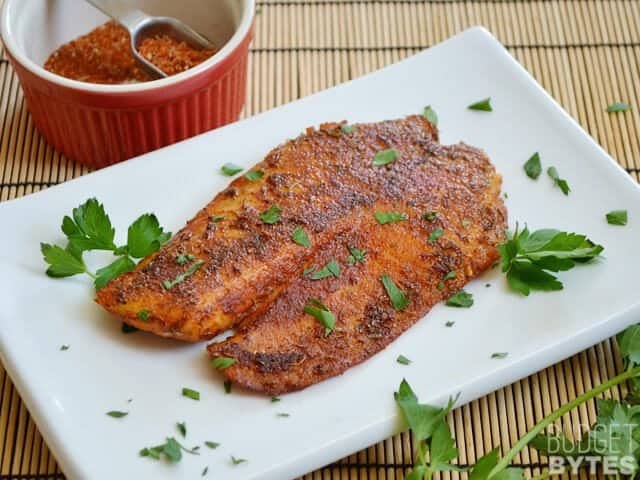 And then it's ready to serve! Tilapia cooks very quickly, so it doesn't need to be in the skillet long. Just until it's tender enough to flake with a fork.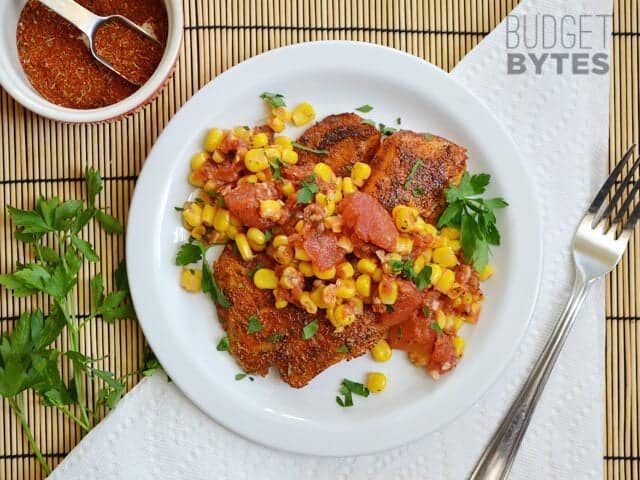 Seriously. The sweet Sautéed Corn with Tomatoes plus the spicy Blackened Tilapia? A match made in heaven.