Why can't vegetables be plentiful and yummy all year long? I don't know but I intend to enjoy them while they're around, using this Summer Vegetable Tian.
I like to enjoy vegetables and their natural subtle flavors. I'm not all for frying or smothering with thick, rich sauces… but sometimes, I want something a little more. This vegetable tian lands half way between both worlds. The vegetables are sliced thin, seasoned only with a little salt, pepper, and thyme and then topped with just a small amount of flavorful cheese. Roasting the vegetables magnifies their flavor and gives them just a hint of sweetness. It's veggie-tastic.
Creamy cheeses work really well with this dish but I happened to have a four cheese Italian blend on hand so I used that.
Summer Vegetable Tian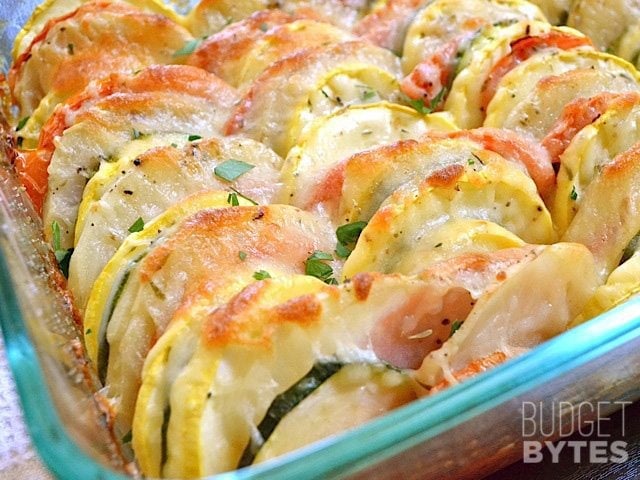 summer vegetable tian
Ingredients
1 medium yellow onion $0.70
2 cloves garlic, minced $0.08
1 Tbsp olive oil $0.11
1 medium zucchini $0.71
1 medium yellow squash $0.85
1 medium potato $0.91
1 medium tomato $1.65
1 tsp dried thyme $0.05
to taste salt & pepper $0.05
1 cup shredded Italian cheese $1.49
Instructions
Preheat the oven to 400ºF. Finely dice the onion and mince the garlic. Sautê the onion and garlic with olive oil over medium heat until the onions are soft and transparent (about 5 minutes).
While the onion and garlic are sautéing, thinly slice the remaining vegetables. Make sure the potatoes are very thin so that they soften quickly while in the oven.
Coat the inside of an 8x8" casserole dish with non-stick spray. Spread the sautéed onion and garlic in the bottom of the dish. Arrange the other sliced vegetables, stacked vertically like dominos, in an alternating pattern. Season the top of the vegetables generaously with salt, pepper, and dried thyme.
Cover the dish with foil and bake in the preheated oven for 30 minutes. Remove the foil and top with the shredded cheese. Bake for an additional 15-20 minutes, or until the cheese is golden brown.
Step By Step Photos
This is what I started out with: tomato, potato, onion, zucchini, yellow squash, and garlic.
Dice the onion and get it cooking with the garlic and olive oil in a skillet.
Meanwhile, slice the veggies very thin. (I didn't dare try to use my mandolin again!) That tomato was really large, so I cut it in half before slicing, BTW. That's why it looks like there are two.
When the onions are soft and translucent, place them in the bottom of a baking dish (8×8 or round pie size). I sprayed the inside of my dish to make sure nothing would stick… I have a hunch that rubbing it with butter would add amazing flavor but I didn't think of that till just now.
Alternate the vegetables in the dish. They don't have to be pretty. I started out with it looking nice and in a distinct pattern but then I realized that I had a bunch left over and just started jamming them in there… I didn't want to waste any precious veggies. It all worked out in the end. Oh yeah, sprinkle generously with salt, pepper, and thyme. GENEROUSLY.
Cover the dish with foil and bake in a preheated 400 degree oven for 30 minutes. Remove the foil, sprinkle with cheese and bake for another 15-20 minutes or until the cheese is nice and golden brown. ENJOY!
Reader Interactions